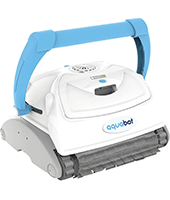 Should you buy the Aquabot Breeze IQ pool cleaning robot? Read our 2023 review to find out!
We select, test, review and suggest the best products. We may earn a commission, if you buy something through our links.
The Aquabot Breeze IQ robotic pool cleaner is the high-tech way to clean your pool in a fraction of the time you'd spend using more primitive methods.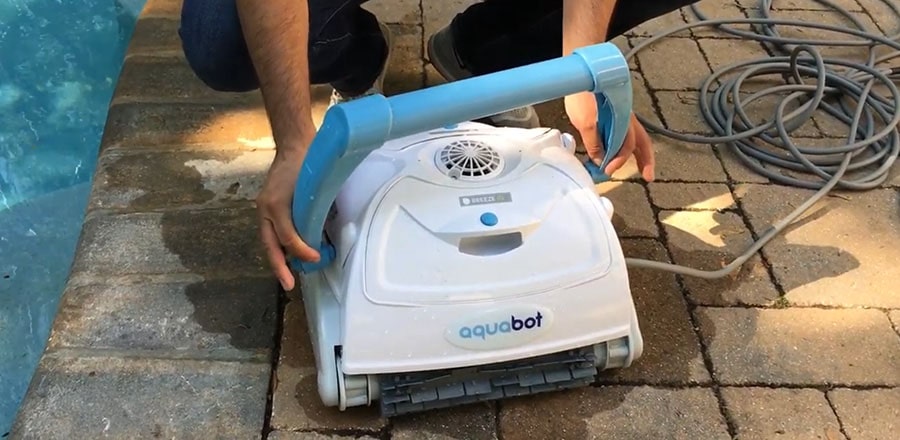 Aquabot Breeze IQ is the high-tech way to clean your pool
With the Aquabot, there are no hoses or vacuum hoses to mess around with. Merely drop the Aquabot in, run your errands, and come back to a sparkling clean pool.
With the Aquabot Breeze, you'll spend 100% of your time enjoying the pristine cleanliness of your pool and 0% engaged in backbreaking pool cleaning duties.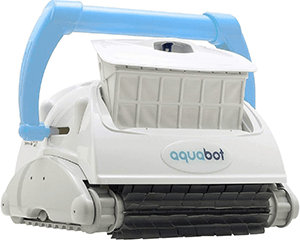 Key Features
Energy-efficient operation saves money;
Safe for all surfaces ( including vinyl liners);
Superior filtration ability;
Perfect for inground pools up to 50 feet;
Pros

The Aquabot comes jam-packed with features that'll make it exceedingly easy to keep your pool clean.
Cutting-Edge Technology
The Aquabot Breeze's cutting-edge technology uses advanced algorithms to rapidly clean your pool's floor, waterline, and walls.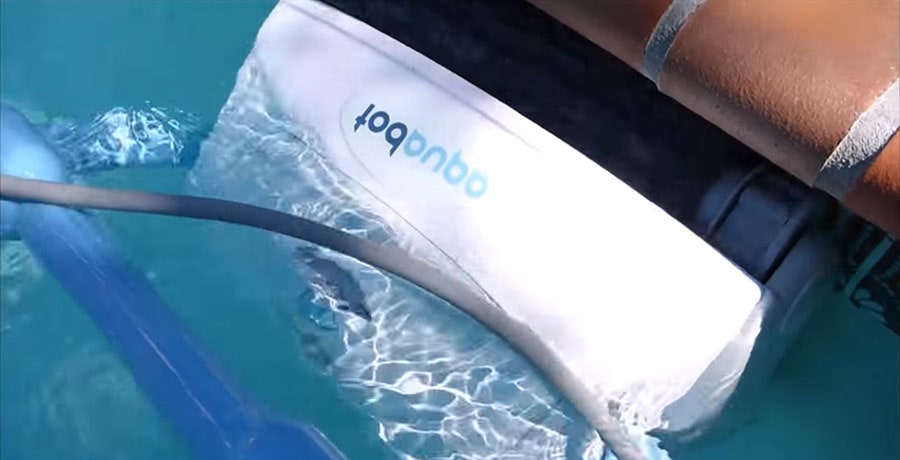 The Aquabot comes jam-packed with useful features
Using the artificial intelligence of its electronic brain, it efficiently maps out the shortest possible trajectory around the pool.
Exceptional Filtration
This robot is engineered with superior filtration to screen out particles as small as two microns. Pollen grains are 30 microns, dust particles are 10 microns, and bacteria are two microns.
This means the Aquabot Breeze can significantly reduce the bacteria in your pool.
Saves You Money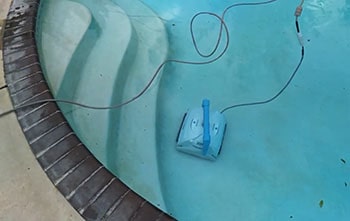 The Aquabot saves you wads of cash in several different ways. With this exceptional machine, you won't need a professional coming in to tidy up things.
This means you'll be able to finally fire your expensive pool boy!
The Aquabot will get your pool sparkling clean in under two hours with a cleaning cost of only five cents per hour. Over time, this can save you loads of cash on your electricity bill.
Because the Aquabot does such a good job keeping your pool clean, you won't need as many pool chemicals. This, too, saves you money.
Easy to Clean Filters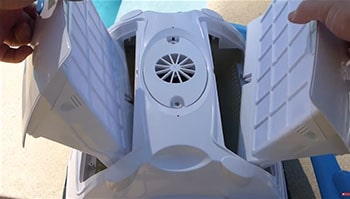 You'll love the dual top access micro-filter baskets that are super easy to empty. There's a dirty filter indicator to alert you when the filters need to be cleaned.
After each cleaning cycle, you can pull the filter baskets out with the press of a button to discard their contents. There's no need to touch any disgusting debris bags–something you might have to do with some other cleaners.
The filters are composed of a fine cloth-like material that you can easily wash off with a hose.
Exceptional Climbing Abilities
The Aquabot Breeze has exceptional climbing abilities and will clamber up inclines, walls, and waterlines with little difficulty.
Active Scrubbing Brushes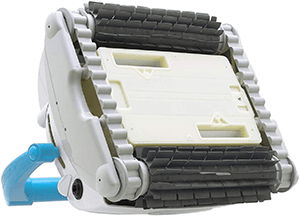 There are two durable all-terrain PVC active scrubbing brushes on the unit's bottom that vibrate. Most users find that they provide sufficient cleaning power to easily get out stubborn stains and stuck-on algae.
The brushes are situated at the front and back of the machine.
This way, they can effectively loosen dirt simultaneously in every direction. These brushes are made from a soft gray rubber that won't leave unsightly streaks on your pool surfaces.
Extra-long cable
The Aquabot Breeze has an extra-long 60-foot cable, so it won't have any problem getting to every nook, cranny, and crevice of your pool.
This cable has an anti-tangle swivel. With this feature, you won't have to be constantly unraveling your underwater buddy every time it gets himself into a jam.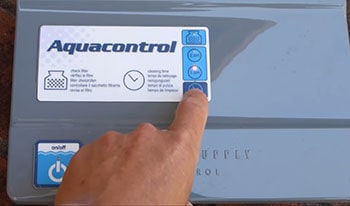 Programmable Timer
The unit comes with a programmable timer with two cleaning cycles: 1.5 hours or two hours.
This makes owning a pool robot even more convenient because you won't have to worry about when to shut it off.
Silent Operation
When the Aquabot is underwater, it's mostly silent. You'll hear it when it churns up at the surface of the water, but that's about it.
This makes it perfect for nighttime operation.
Great at Getting Rid of Insects
The Aquabot is terrific at sucking up all the repulsive bugs that settle on your pool's bottom.
This not only makes your pool more aesthetically pleasing but also makes it more pleasant to swim in.
Cons

Although this doesn't happen to every user, some people complain that their Aquabot Breeze gets stuck in the center section, repeatedly going over it until it's rescued by a human.
Others said that they expected more substantial suction power. They also thought that the materials the unit is constructed from to be more durable. The durability issue extends to the filters, which some buyers say are a little too fragile.
Some people say that their Aquabot struggles to climb up the walls of their pool or climbs up halfway and then falls back down. However, this lack of climbability usually means the robot isn't correctly adjusted per the manufacturer's instructions.
If you were hoping for Bluetooth or WIFI connectivity, forget it because this robot doesn't have them.
Who's it for
The Aquabot Breeze IQ is for anybody tired of paying for expensive pool services.
It's also for time-strapped professionals who would rather come home at the end of a busy day and relax by the side of a pool where they can enjoy a nice refreshing drink.
You can enjoy watching the Aquabot do all the work as you drink your beverage because you won't have to lift a finger!
Alternatives to the Aquabot Breeze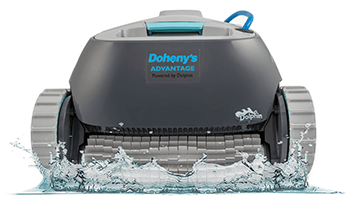 Although there's no denying the Aquabot Breeze is an excellent cleaner, let's see how it stacks up against similar machines.
We'll start with the Dolphin Advantage. The Dolphin Advantage has a weekly scheduler built into the unit.
With it, you can schedule your bot to clean every day, every other day, or every third day.
The Aquabot Breeze doesn't have weekly scheduling functionality—it only comes with a programmable timer. However, the Aquabot Breeze has superior filtration abilities.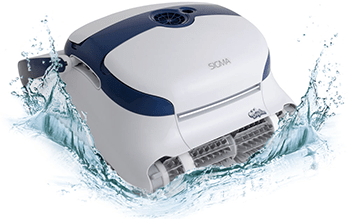 Now, we'll find out how the Aquabot Breeze compares to the Dolphin Sigma.
Although maneuverability is pretty good on the Aquabot Breeze, the Sigma is the first-ever robotic pool cleaner with gyroscopic control.
The Sigma also has hypergrip treads.
Both these things make the Sigma more agile.
My Final Verdict: Should You Buy the Aquabot Breeze IQ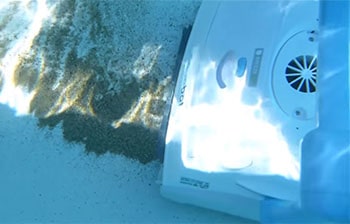 The Aquabot Breeze IQ robotic pool cleaner is loaded with features that make it an exceptional pool cleaning robot.
With this handy robot, you'll vastly simplify swimming pool maintenance. What I'm most impressed with is its first-rate filtration abilities, how it saves you money, and the active scrubbing brushes that power out stubborn stains.
My Final Verdict? You should buy the Aquabot Breeze. Just remember that if you do and find that its ability to climb walls isn't as good as you expected, you might have to make a slight adjustment.
This would be to the handle (which helps the unit to float). This should fix the problem.
If you're thinking of buying the Aquabot or another pool robot, you might want to check first our buying guide on the subject.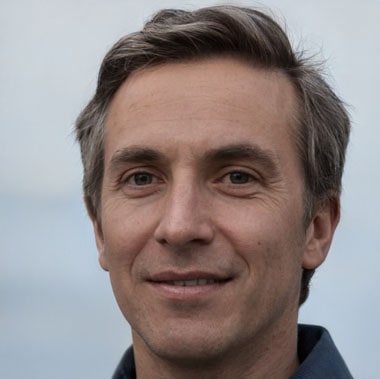 Author
Our pool maintenance expert, Luke Reed, earned his BS in Civil Engineering from Georgia Tech in 1998. Since then, he's worked in a variety of industries, including design and construction of luxury swimming pools.
---
Pool Maintenance Tips & Tricks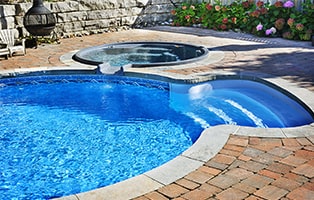 With all the different types of swimming pools available, such as in-ground and above-ground, it can be difficult to decide which one to get. Our guide including pros and cons can help you make that choice.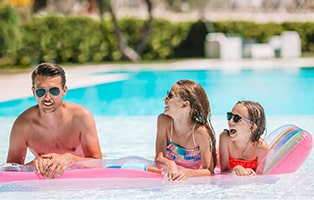 Germs and bacteria can cause life-threatening illnesses in a swimming pool. Find out what the dangers are and what you can do about them by reading our article.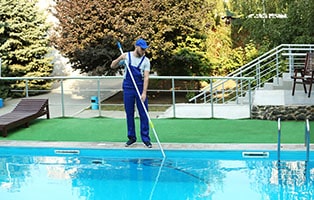 Dreaming of entrepreneurial success? Check out our guide on how to start a pool cleaning business. You'll find everything you need to know to set one up.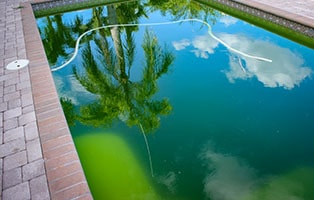 Is your swimming pool too murky to swim in? In our informative article, you'll discover the causes of a cloudy pool and how to fix the problem.