Do You Really Know How to Mop a Floor?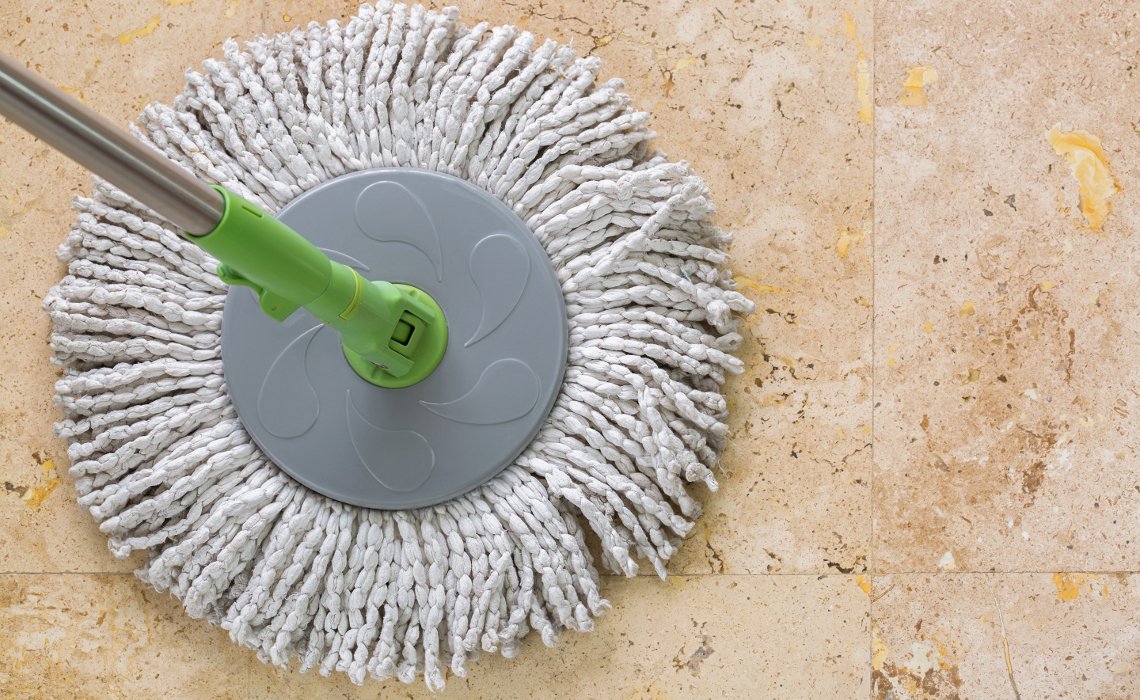 You may have been mopping since you were old enough to hold a mop, but that doesn't mean you're doing it right. There's really no rocket science to it, but tweaking a few of your techniques could help get your floor cleaner without damaging it.
For starters, you may be mopping too often. Unless you have a high traffic floor that gets dirty quickly, you'll probably only need to mop twice a month. Otherwise, you may leave sticky cleaner residue all over the floor. This dulls the shine and feels terrible on bare feet.
When it's time to mop (with any sort of mop), brush off crumbs, dust and hair from all portable furniture like dining chairs, bar stools, and small tables. Don't forget to brush off the chair glides, caster wheels, etc. They catch a lot of hair and dust. Then move the furniture out of the room.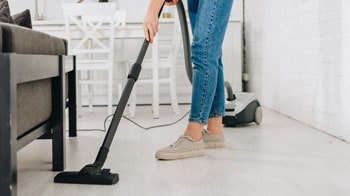 Your next step is very important, so listen close. Always. Vacuum. First. Yes, vacuum (or sweep) before you mop! Every time. A lot of people skip this part. Their floors suffer for it.
When you mop an unswept floor, you might as well be using sandpaper on it. Mopping over loose debris will leave scratches, especially on wood and laminate.
Got that? Good. Once you've swept the floor, be sure you're using the right mop for the job and know the cleaning recommendations for your floor type. For instance, wood and laminate do not fare well with wet mops. Only dry or damp mops should be used on most of these floors. For steam mops, put on the cleaning pad BEFORE you turn it on, or you could burn your hands. Also, don't leave a steam mop sitting while it's on. It could burn your floor.
Now, here is a surprising technique for mopping vinyl, tile, or other completely sealed flooring.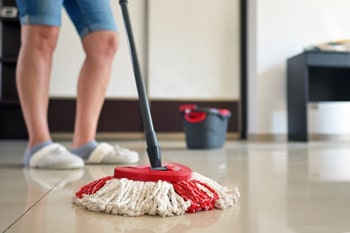 Fill your mop bucket or sink.
Add floor cleaner (make sure it's safe for your flooring type) and DON'T add too much. Less is more. You can also use vinegar or a little dish soap.
Dip the mop into the bucket. Give it a few seconds to soak up water.
Lift from the water and let it drip into the bucket for 2-3 seconds.
Then, slop that very mop on the floor. Yep, don't wring it first.
Move the mop with 3-4 back and forth strokes.
Return the mop to the bucket and let the cleaner do its job on the floor for a few seconds.
Rinse the mop, THEN wring it out really well.
Repeat the back and forth motion, which will soak up all that dirty water.
Repeat all these steps, working in small sections until the floor is clean!
Read More