How to Use a Pressure Washer Safely and Efficiently
Nothing beats pressure washing years' worth of grime and build-up from a dirty surface. From mildew to tree sap and even old chewing gum, a pressure washer is your best friend in removing these stubborn sticky messes. Pressure washers are gas or electric powered machines that rely on water pressure to produce the cleaning power needed for such dirty jobs.
They do this by pumping water through a very narrow hose and wand, which increases in pressure the narrower it gets. On the wand is a hand-squeezed trigger that activates the jet. Some pressure washer wands feature an adjustable nozzle, while others have separate detachable nozzles. Both types allow for more control over the angle and pressure needed for different tasks.
Regardless of what kind you have, it's important to remember how dangerous these machines can be. Be sure you carefully follow any and all of the safety rules and guidelines offered in your devices owners manual. In general, here are a list of things that you should do and you should not do while using a pressure washer: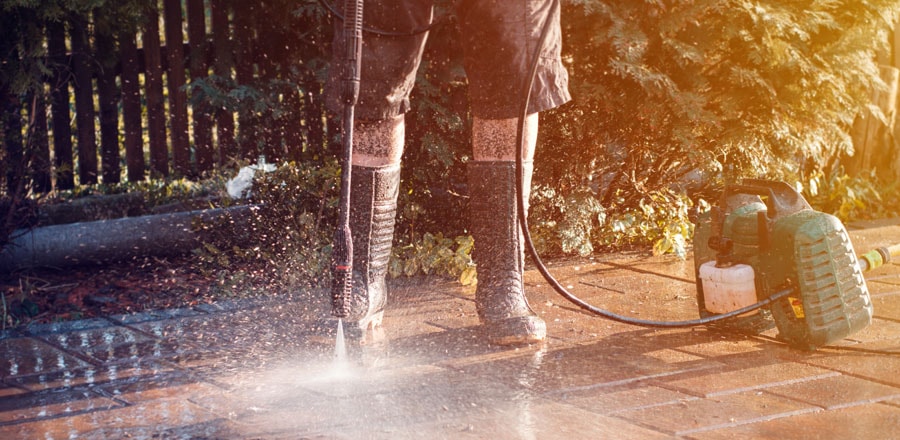 The Do's and Don'ts

Do's:
Wear sturdy footwear, long pants, and goggles
Start with the widest spray angle
Hold the nozzle at least two feet away from the surface, only getting closer if needed
Turn off the engine and drain excess water before changing your nozzle
Perform a test on a small, unseen patch to ensure the surface is suitable
Always read the manufacturer's manual


Don'ts:
Never point it towards anyone, including yourself and animals
Never use extension cords
Never use your washer closer than six inches from the surface you're cleaning. It can quickly puncture your car's tire, damage the paint, put holes in wood, etc
Never leave the engine running for long without pressing the trigger, or it will overheat
Never pressure wash from a ladder

General Steps
To ensure that you are using your power washer efficiently, follow the tips below: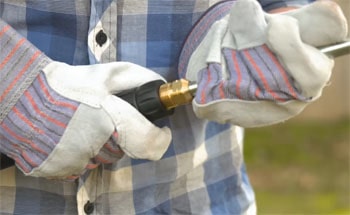 Make sure you sweep off any debris or dirt lying on the surface
Securely connect the water inlet and the garden hose
Check for any leaks in the hose connection
Release air pressure from the wand by squeezing the trigger
Ensure that the faucet is turned on fully
Turn on the machine. For the gas machines, pull the starter cord
For about a minute, let the water run through the machine. This will prime the device properly. However, never leave the washer idle for more than three minutes or the engine can overheat
Use a low-pressure nozzle first and work your way up later
Ensure you are holding the wand with both hands while your feet remain firmly on the ground
Start at least two feet away from the cleaning surface. Hold the wand at a 45-degree angle and move in a side-by-side motion
Read More