Best rated Spin Mops of 2023 – No messy wringing or back pain needed for clean floors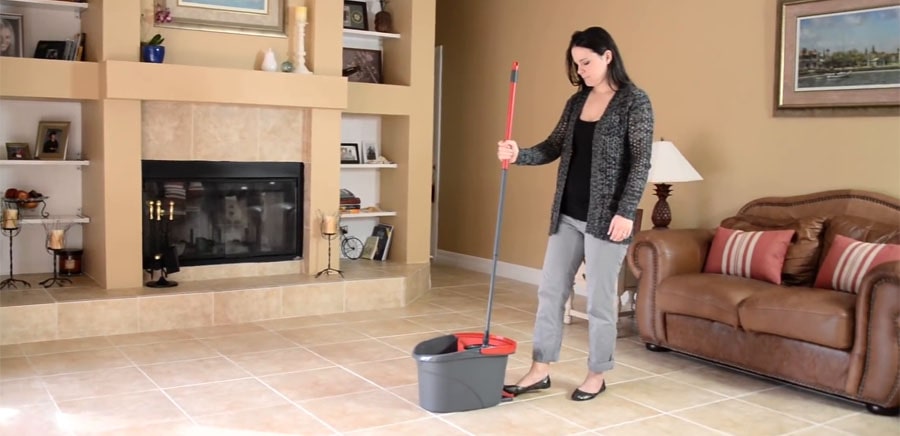 If you're tired of the damp, germ-harboring traditional mops stinking up your cleaning closet, then it's time to browse our selection of the best spin mops. No electricity, batteries, filtered water, or warm-up time needed! No more chapped hands from wringing out a yarn-head mop or back pain from bending over a bucket.
Our Top Picks
We select, test, review and suggest the best products. We may earn a commission, if you buy something through our links.
Spin mops come in a variety of styles for every budget. Our 2023 reviews feature some of the best spin mops on the market today from brands like Bissell, O'Cedar and newer brands like Mopnado. Plus, we'll tell you what to look for when shopping for the perfect spin mop for your home.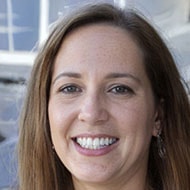 When choosing a spin mop, think about where you'll be using it. If you have a lot of small, tight spaces, choose a mop with a smaller head. For large spaces, wider mop heads save you time. Extra mop heads are also a must! Then you can have a clean one ready to go for that inevitable spill.
Before you decide on which spin mop is best, here are a few things to consider:

The size of your room(s): If you have a large kitchen and/or bath or hard floors throughout your house, a mop with a big spin head will probably save you some time. For small rooms with tight spaces, look for mops with smaller heads that will fit behind toilets and under furniture.
Mop head material: Most spin mops have microfiber fabric, which is gentle on floors and absorbent. However, some also come with scrubbing surfaces or other materials for heavy-duty jobs.
Handle length and build: Most spin mop handles are stainless steel or aluminum. Stainless steel is sturdier, but heavier. Also, if you're tall, the length of the handle is important. Some models come with telescoping handles or extensions that can prevent back strain.
Bucket design: These can vary widely. Ease of use is the key here. Look for a pour spout to make dumping dirty water easier. Splash guards will keep excess water from sloshing on your floors. A bucket with wheels will keep you from having to lift it so often.

Spinner mechanism: Some buckets have foot pedals for the spin action. Others spin by pressing down on the handle. Handle spinners are often more convenient and easier to use.
Agitator: If you usually have very dirty floors, a spinning agitator in the bottom of the bucket will do a great job of washing the dirt from your mop so you're not pushing dirt around the floor.
Accessories: Which extras would be most helpful to you? Some of these include: scrubber accessories, built-in soap dispensers, drain plug, etc.
Price: Anything less than $30 will likely not last long if you mop frequently. Anything over $60 – $70 may be more than you need, but will likely be sturdier and have many more features and accessories.
More
Top 5 Spin Mops – 2023 Reviews & Comparison
---
---
---
---
---
The evolution of mopping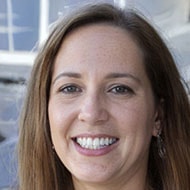 For centuries, people have tackled the dreaded task of scrubbing floors. At first that meant down on hands and knees, scrubbing a soapy rag over hard stone. That resulted in painful conditions like bursitis of the knee, aptly nicknamed, "housemaid's knee." Later, yarn-head mops helped with the knee pain, but still resulted back pain and chapped hands. Thankfully, mopping has come a long way since then!
The rise of mopping technology
Brilliant innovations in mop design have revolutionized floor cleaning. Twenty-five years ago, inventor Joy Mangano forever changed how we mop with her Miracle Mop, the first self-wringing mop that brought a collective sigh of relief from homeowners all across the US.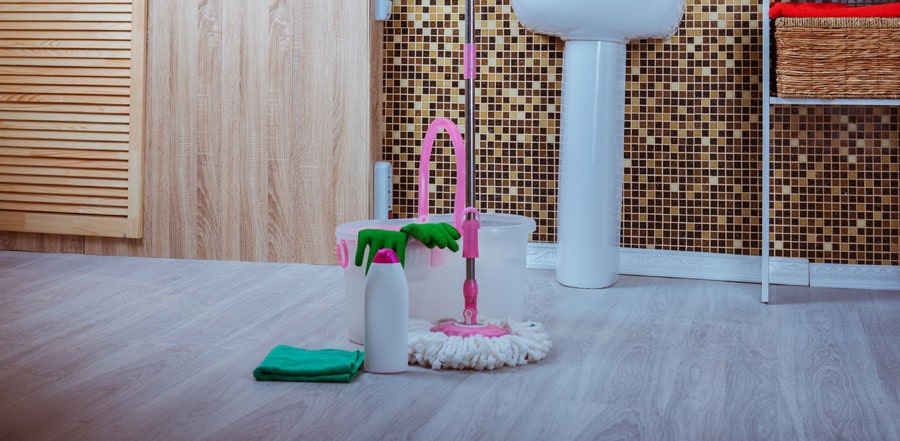 Since then, thousands of other mopping products have hit the shelves. From simple self-wringing mops to robotic mops, we have a huge variety to choose from that fits into everyone's budget.
Spin mops are one just of those options. They are hugely popular for several reasons.
Hands free mopping – the spinning self-wringing action keeps hot water and cleaning chemicals off your skin.
Water control – most spin mops can be used wet or dry or anywhere in between thanks to advanced spinning technology.
Quicker drying time – better wringing means less water left on the floor so you can get right back on it.
It's fun – okay, so mopping still isn't at the top of our list of "fun" chores, but the spinning action can be fun to watch and the results satisfying.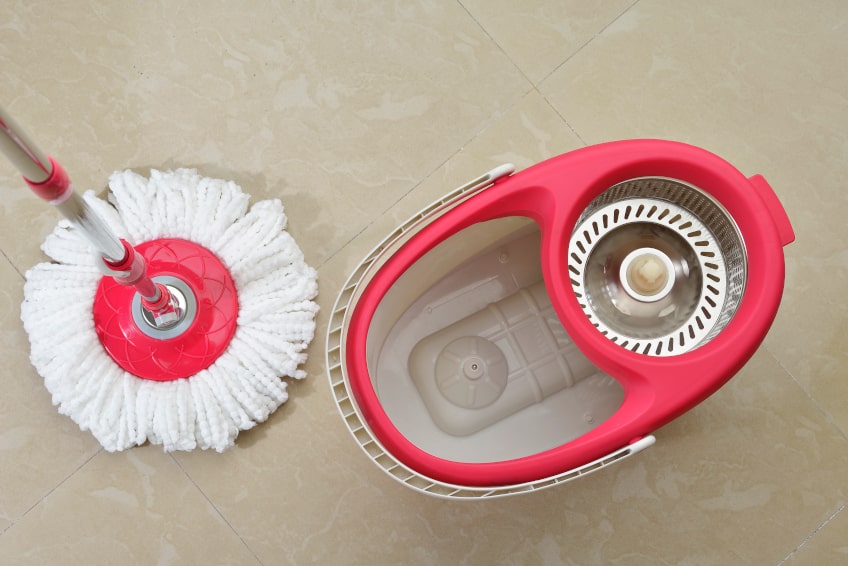 How do spin mops work?
If you think back to science class, you might remember something called centrifugal force. That's an inertial force that acts outward on an object moving around a center. The spinning baskets in a spin mop bucket use that centrifugal force to remove water effectively.
Basically, the longer and faster you spin it, the more centrifugal force will push water out of the mop. So you can easily have only a slightly damp mop if needed.
How you use a spin mop depends on how it's designed. Some have foot pedals on the bucket that operate the spinning basket. Some are activated by pumping down on the mop handle. Still, others are electric or battery powered.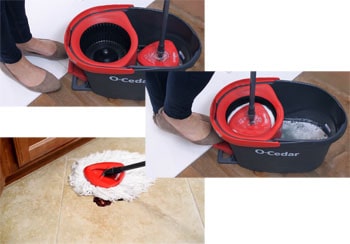 But the basic operation of most spin mops looks like this:
Fill the bucket then add your preferred cleaning solution.
Dunk the mop head in the water, lift and place it in the spinning basket.
Either use the foot pump or handle to spin the basket until the mop is as wet or dry as you want.
Mop a section of floor.
Repeat.
Some buckets have a built in agitator in the bottom that works like a washing machine. It works just like the spinning basket, but is used for rinsing out the mop. They're usually quite effective too, so you're not left with a bunch of dirt and debris in the mop that gets slopped right back on the floor.
Tips to get the most out of your spin mop
Did you know that spin mops aren't just for floors? You can use them for: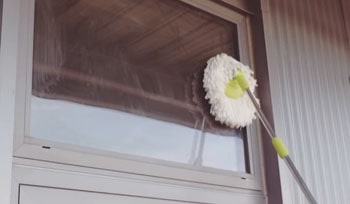 Tiled bathroom walls
Shower doors
Windows
Blinds (dry for simple dusting)
High cabinet doors
Tops of appliances like refrigerators
Car roofs
Here are some other tips & tricks for spin mopping:
Spin mops usually have a locking mechanism on the handle. It should be UNLOCKED for spinning/rinsing and LOCKED while mopping the floor.
For a quicker, more thorough mopping, remove all rugs, trash cans, chairs, and other small furniture out of the room to clear your work space.
Angle the mop at about 45 degrees for general mopping.

When spinning or rinsing in the bucket (and when changing mop heads sometimes), you have to keep the mop straight up and down at a 90 degree angle to the floor. If yours isn't spinning correctly, make sure 1. that the handle is UNLOCKED and 2. that you have it standing straight up and not at an angle.
ALWAYS sweep or vacuum before you mop. If you have a lot of dust/hair that the broom or vacuum misses, use your microfiber mop heads DRY as a dust mop to pick all that loose debris up before you wet mop. Just rinse it out before mopping.
Wood floors, unless completely sealed, do not like water. Spin the heck out of that mop before cleaning hardwood floors.
For spin mops with round heads, work in a figure 8 pattern to make the most of the scrubbing power by using all the surfaces of the mop head.

Start mopping in the far corner of your room and mop toward the door.
If you have trouble lifting a full bucket, or you have a sink that's too shallow for filling the bucket, try this hack. Use a pool noodle as a makeshift hose. Put one end on your faucet and the other in your bucket. You may have to hold it in place while filling, but this will keep you from having to lift a full bucket twice.
If you don't want to change the water between rooms, mop the kitchen first, then other hard floor areas, and the bathroom last. This will keep bathroom germs contained to the bathroom only.
Rinse the mop head frequently during mopping, and change the rinse water as soon as it looks murky or brown. This will prevent redistributing dirt on your clean floors.
What we hope to see in the future
While researching customer experiences, we came across several good suggestions that we hope more spin mop manufacturers implement soon. Some of these are already featured in many of the mops we listed. But you rarely find these all in one model.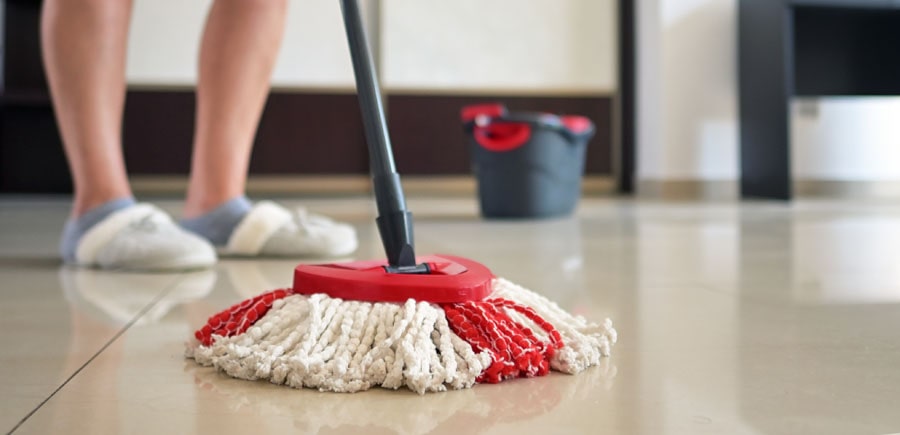 Separate compartments for clean and dirty water in the bucket
Drain plugs on all buckets
Wheels AND extendable handles for people who can't easily lift a filled bucket
More than one extra mop pad included
More colors offered
Interchangeable large and small mop heads
Variable speed settings (on electric models)
---
Recap: Features of a good spin mop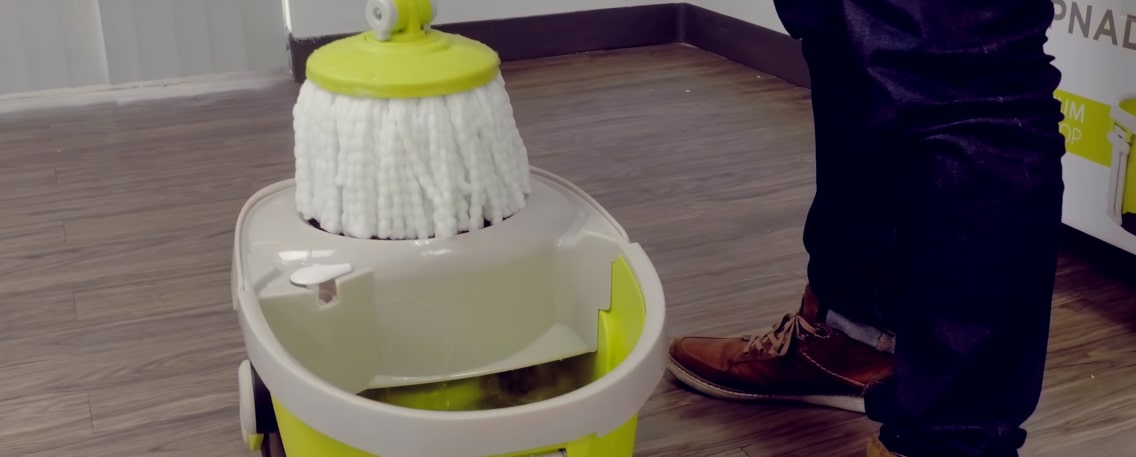 The best spin mops will make your life easier, not more frustrating. Ease of use may be your primary deciding factor. The bucket/mop system should be easy to spin, easy to rinse, easy to change mop heads, easy to maneuver in tight spaces, and easy to move from place to place.
Look for features like: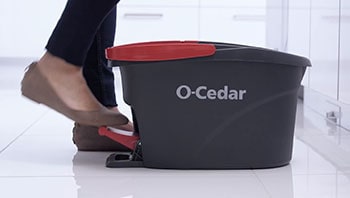 The spinning mechanism – Is it operated with a foot pedal or handle pump? Which would you prefer? Hardware in a foot pedal can sometimes be a bit flimsy, so keep that in mind.
Agitator – This will keep the excess dirt out of your mop so you won't have to change water or slop dirt back onto the floor.
Soap dispenser – Though not a biggie, it can be more convenient to just fill up a built-in dispenser with cleaning fluid so you're not having to scrounge around for the bottle.
Accessories – Spin mops are pretty light when it comes to accessories. But some do come with scrubber brushes, cleaning gloves and extra mop heads that can come in handy.
Drain plug – This is surprisingly not a common feature on spin mop buckets, but it should be. It makes dumping the dirty water a lot easier and less messy.

Splash guard – One of these on the mop bucket will keep dirty and excess water IN the bucket where it belongs and not on your floor (or you).
Wheels – If you still have nightmares about carrying around heavy buckets of dirty mop water that splashed all over your feet, wheels will be a dream come true. A good compromise is a self-balancing bucket that will make carrying easier.
The mop itself is important too, especially the size and shape of the mop head. A triangular shape will usually clean corners better than a circular one. A larger mop head will clean a larger room faster, while a smaller one will fit behind toilets, under furniture and other tight spaces.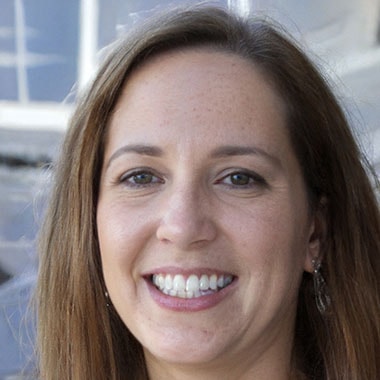 Author
Melba Espinal is a proud mother and self-professed "neat-freak." She started a successful cleaning service to earn money while obtaining her degree in Environmental Engineering from the University of Washington. After growing the business from a part-time job to a full operation with a fleet of vehicles and a team of employees, she now focuses on helping homeowners with her expert tips and advice!
Mop Tips & Tricks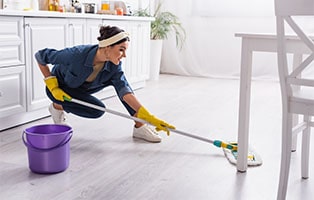 Everyone thinks they know how to clean floors. However, do you really know the steps you need to follow so you don't damage expensive surfaces? Check out what we wrote to find out.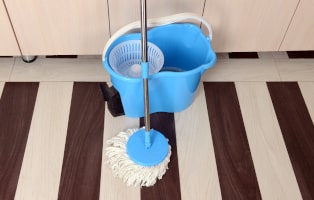 Wood floors need a bit more TLC than other hard floors. The wrong cleaners can dull them, hard shoes can scratch them, and water can warp them. Here are our tips to clean, mop, and maintain any wood flooring.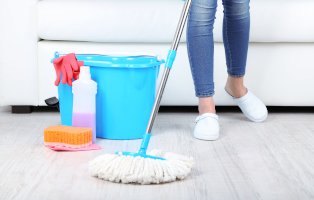 Mopping isn't rocket science, but there are some tips and tricks to get the most out of that not-so-fun task. Here, we'll tell you some of the best ways to mop floors using spin and steam mops.