Best Steam Mops of 2020 – Independent Ratings and Expert Reviews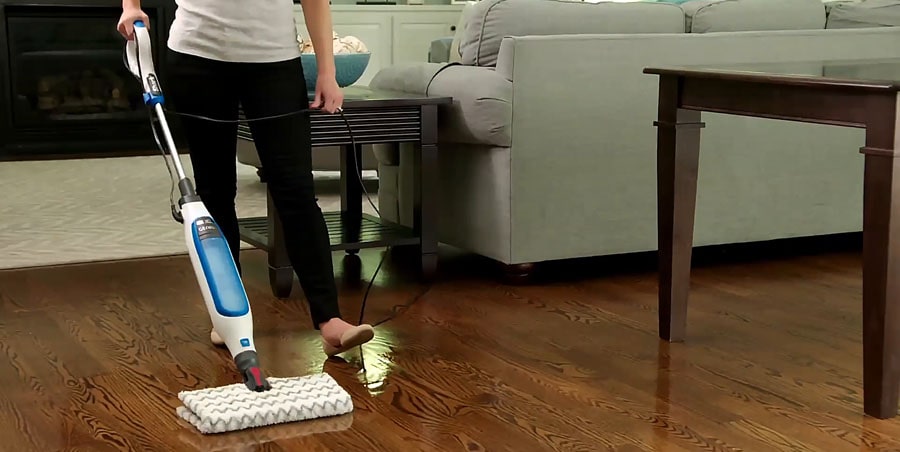 If you're here, you're probably looking for the best rated steam mops because you're tired of lugging around a sloshing bucket full of murky water, not to mention all the wringing and rinsing. You may be concerned about your kids or pets coming into contact with chemical residue from floor cleaners. All of these are great reasons to shop for the best rated steam mops on the market.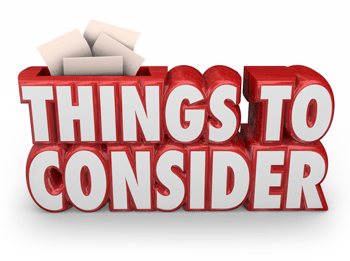 Steam mops, sometimes called steamer mops, come in a wide variety of styles for every budget. Our 2020 reviews feature products from well-known brands like Shark and O'Cedar. But before you shop, here are some things to consider when looking for the best steam mop for your home.
Make sure your floor can handle a steam mop. You should almost never use a steam mop on a wood floor. It leaves behind moisture that can seriously warp and damage the wood. The high steam temps can also damage the finish. Steam mops work best on fully sealed floors like tile and some vinyl. Check with your flooring manufacturer to see if a steam mop is safe to use on your floor type. Your warranty is in danger of being voided if you use steam mops on certain manufacturers' floors.
How big are the rooms you need to mop? If you have large spaces to clean, you'll want a steam mop with a reservoir that doesn't have to be refilled every 10 minutes. You'll also need a mop with a long power cord.
Are extra features worth the money? Some steam mops come with on-off buttons while many turn on by plugging in. Some allow you to control the amount of steam. Some come with accessories for cleaning carpet, windows, blinds, and more. Pick those with features you'll actually use.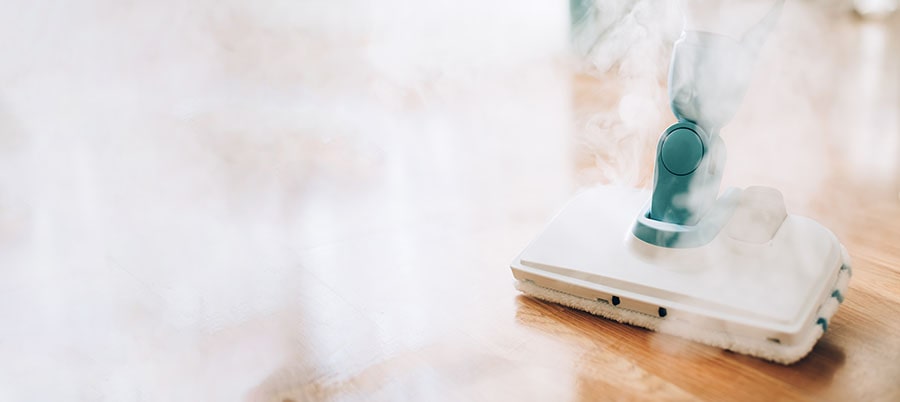 Let's look at the best models…
Top 5 Steam Mops of 2020
---
---
---
---
---
Why bother with a steam mop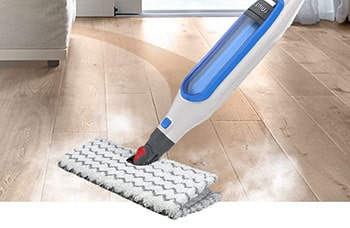 First of all, there's nothing wrong with a good old-fashioned mop and bucket. They're cheaper and if you buy the right regular mop, it can do a great job on any type of floor. We've listed several top rated ones on this site.
But a steam mop provides a few things a regular mop just can't do. They require no chemical cleaners whatsoever. All you need is water and a power outlet. For families with babies and pets who are often in contact with the floor, a steam mop will eliminate the residue left behind from cleaning solutions. Some adults and children are also allergic to several components of cleaners so a steam mop reduces those allergens.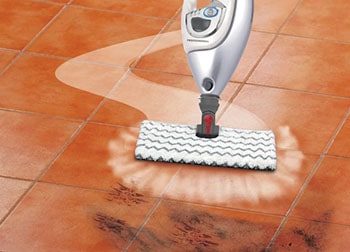 As far as sanitizing, most steam mops claim to kill 99% of all germs, which may or may not be accurate. The hot steam (up to 212 F or higher) produced by steam mops can definitely kill germs, providing you're using clean water and a clean pad. The pads are machine washable, so you're also saving money in the long run by not having to buy cleaners and disposable pads.
Steam can also loosen up sticky things like jam that have dried on the floor so you can mop it up easier. Nobody likes to resort to scratching icky stuff off with their fingernails. With quick pad release options on some models like the Shark Genius, you may not have to touch the dirty stuff at all.
Who should not buy a steam mop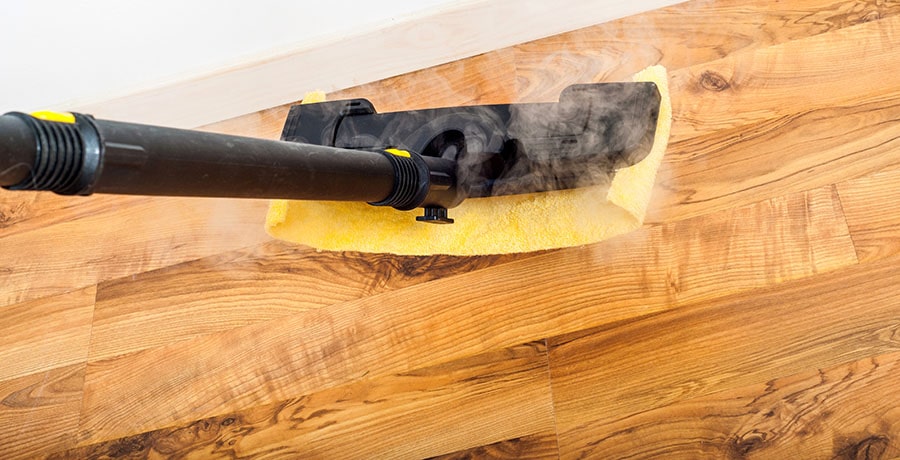 Beware that residual moisture and steam could destroy your wooden floor
This really depends on your floors. Steam mops are only safe for completely sealed floors. For some hardwood floors, steam mops are a no-no. They can leave behind a lot of moisture, and the steam pressure can push it into the cracks between the wood. This can lead to the wood buckling and warping. Steam can also strip off polish and other coatings, leading to damage and dull floors.
Laminate and vinyl floors aren't always impervious to steam either. Steam can loosen the adhesive on engineered and laminate wood flooring, causing the material to swell and buckle. Even vinyl could potentially be damaged by hot steam, causing discoloration and damage to the outer layers.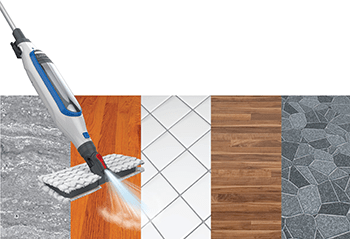 What floors are safest for steam mops
If you have glazed tile, sealed granite or other stone floors, these are usually the best match for a steam mop. On these floors, they can actually do a better job than a regular mop by penetrating the grout and natural surface irregularities.
Some wood, laminate and vinyl can hold up to a steam mop. But before you get one, check with your manufacturer to see if that's the case. Using a steam mop can actually void the warranty on some floors. You should avoid that if at all possible.
What kind of steam mop should you buy
This can be a big challenge to decide because there are so many on the market. The limiting factors are budget, ease of use, accessories, and functions. If you're willing to pay more, you'll likely get a multi-functioning steam mop that can also steam clothes and clean above-the-floor surfaces like cabinets, appliances, toilets, blinds, etc. The more budget-friendly options can work just as well, but usually will only clean floors.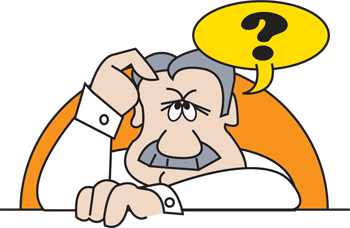 As far as features, here are some important ones we looked for when reviewing steam mops. Even the best rated ones sometimes lacked one or more of these features. Decide which of these are most important for you when shopping:
Steam control – Basic steam mops have one steam setting. You plug it in, it heats up, and then it's ready to go. But on some floors, you may want more or less steam depending on grime level. So mops with adjustable steam control are handy for that.
On-off switch – Basic steam mops turn on by plugging in and turn off by unplugging. An on-off switch is handy if you need to turn it off quickly without having to go all the way to the outlet to unplug.
Ability to stand on its own – As simple as this sounds, it's a very handy feature. Steam mops are top heavy, so if you need to move furniture out of the way and have to prop the mop up on a wall, it can easily fall down. The stand-up feature eliminates that aggravation.

Detachable water tank – This makes filling and emptying SO much easier than those that don't detach. There's no keeping up with a refilling cup and no having to turn the mop upside down to drain it when you can remove the water tank.
Extra cleaning pads – Steam mops that come with extra cleaning pads save you time in that you can always have a clean pad handy while you're dirtying up another one. Some steam mops come with only one pad, so you'll have to buy extras separately.
Power cord length – The bigger your mopping area, the longer your cord should be unless you don't mind pausing to hunt down an outlet mid-mop.

Water tank capacity and water level indicator – Again, the bigger your space, the more capacity you'll want in the tank or you'll have to refill a few times while mopping. Also, a clear water tank that allows you to see the water level is really handy, especially in models that don't have a removable tank.
Touchless tech – Steam mops with a hands-free cleaning pad release eliminate the risk of burning your hands when removing a dirty pad.
Steam-mopping tips
Avoid tap water – Use distilled or demineralized water instead, especially if you have hard water. Tap water can leave streaks on the floor and the minerals in it can clog up your steam mop. If you must use tap water, descale your mop regularly with vinegar unless the owner's manual says otherwise.

Mind the heat – Steam mops can heat water to 200 degrees F or more. Once you turn off the mop, it can take a good 5 minutes for it to cool down enough to remove the pad (unless it has a touchless release). Also, don't leave it sitting for any length of time on your floor, or your floor could get damaged.
Always sweep first – We can't say this enough. Remove all loose dirt, hair and debris as thoroughly as you can with a broom or vacuum before you mop, or you'll just push it around and scratch the floor.
Change pads regularly – Using an overly-dirty pad is just as bad as not sweeping first. Once the pad is saturated with dirt and water, it will stop absorbing and you'll just push the grime around, including any germs that go along with it.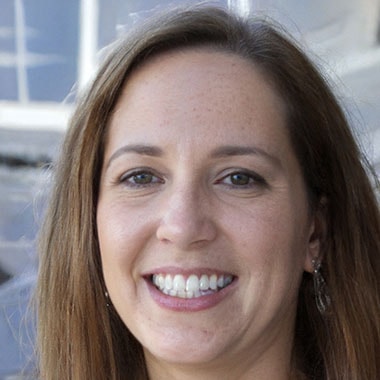 Author
Melba Espinal is a proud mother and self-professed "neat-freak." She started a successful cleaning service to earn money while obtaining her degree in Environmental Engineering from the University of Washington. After growing the business from a part-time job to a full operation with a fleet of vehicles and a team of employees, she now focuses on helping homeowners with her expert tips and advice!
Mop Tips & Tricks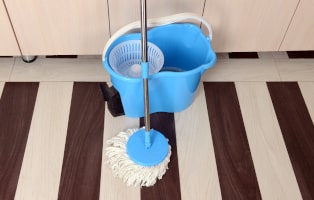 Wood floors need a bit more TLC than other hard floors. The wrong cleaners can dull them, hard shoes can scratch them, and water can warp them. Here are our tips to clean, mop, and maintain any wood flooring.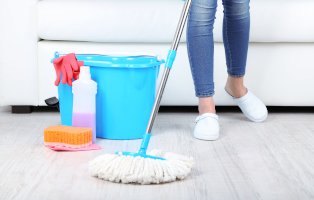 Mopping isn't rocket science, but there are some tips and tricks to get the most out of that not-so-fun task. Here, we'll tell you some of the best ways to mop floors using spin and steam mops.