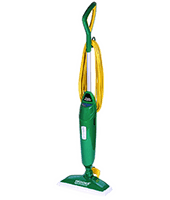 The BISSELL BigGreen Commercial BGST1566 has some amazing features. But is it the best steam mop for you? Find out in our 2023 review.
We select, test, review and suggest the best products. We may earn a commission, if you buy something through our links.
With the Bissell BigGreen Commercial PowerSteamer Mop, you can power away your toughest messes without working up a sweat. It cleans more than two times better than your average steam mop.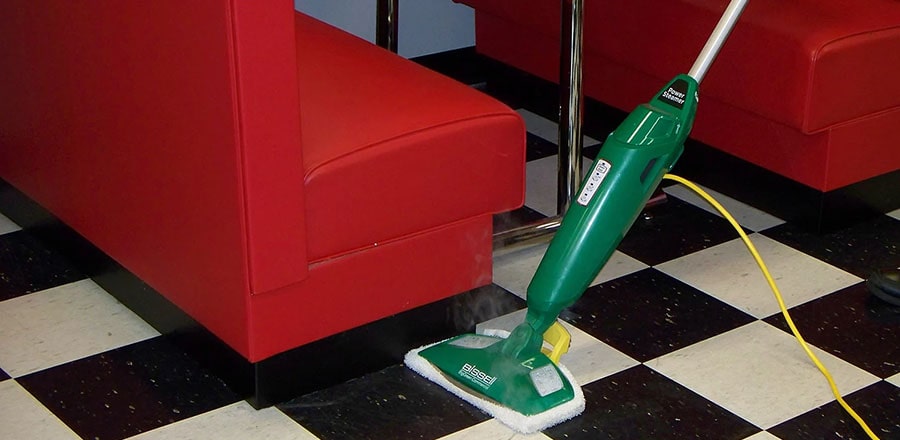 BigGreen Commerical cleans dried-on spots much faster
It's fantastic for pet owners. If your canine companion likes to track in mud, you'll need one of these handy dandy devices at your beck and call.
This is one heck of a steam mop, and it'll make your life so much easier!
Features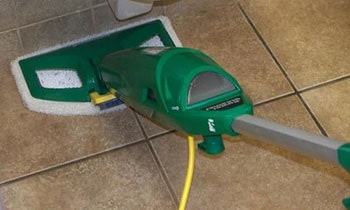 Excellent at scouring away mold and mildew;
Commercial grade-durable enough for heavy use;
No more hauling around mops and buckets;
Less than half the time of traditional mops;
Cleans naturally with water —no more streaks or residue;
Perfect for cleaning bathroom tile
Pros

Although it's not the most aesthetically pleasing mop on the planet, the Bissell BigGreen boasts a ton of features that'll make formerly exhausting household chores a breeze.
One terrific thing about this eminently practical steam mop is it eliminates 99.9% of germs and bacteria. That way, you won't have any nasty pathogens lurking in a half-forgotten corner of your home.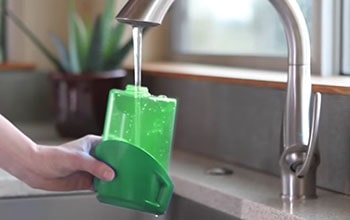 The BSGT1566 doesn't require you to rush out and buy cases of distilled water. All it needs to do an excellent job on all your household surfaces is water straight from your tap.
You get three washable microfiber mop pads—two soft pads for routine spills and one scrubby pad for hard-to-remove messes.Compared to the regular microfiber mop pad, the scrubbing pad has a coarser surface designed to tackle heavy messes and provide additional grit for sticky spills.
What's more, you can toss these pads in the washer so they're ready to use the next time you spill a gallon of cream of zucchini soup on your kitchen floor. That'll save you bucketloads of money on replacement costs.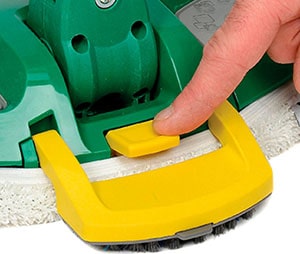 It has variable speed, which means you'll always have the right amount of power at your fingertips when you need it. The built-in Easy Scrubber that conveniently flips down lets you clean stubborn spots and stains with ease.
The swivel mophead makes it super easy to maneuver around corners and under tables and counters.
Its extra-long cord means you can clean two rooms without having to unplug the unit. Unlike some lesser models, it's pretty stable—it can stand up on its own without falling over.
It's incredibly lightweight, too—you won't give yourself a hiatal hernia by lugging it around your home.
Cons

Unfortunately, there's no indicator to show the water reservoir level if the pump runs dry. This means your motor can burn out without warning.
I hope on the next iteration of this model, the manufacturer adds this much-needed feature.
Some users complain that the BigGreen leaves their floors a little too wet. While it's supposed to clean all floor types, it's not too effective on porous stone floors.
Alternatives to the Bissell Commercial BSGT1566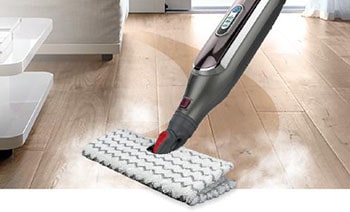 Although the BigGreen stands up pretty well on its own, let's see how it stacks up against a few other models.
We'll start with the Shark Genius Hard Floor Cleaning System. The Shark Genius costs a little less, so it beats the BigGreen on price. At 15 ounces, the BigGreen's water tank handily beats the one on the Shark Genius, which is only seven ounces.
The BigGreen has a flip-down scrubber. That's something the Shark Genius doesn't have. However, the Shark Genius has a steam blaster. This mechanism produces a powerful burst of targeted steam to attack tough, stuck-on messes and easily loosen debris from grout lines, crevices, and corners.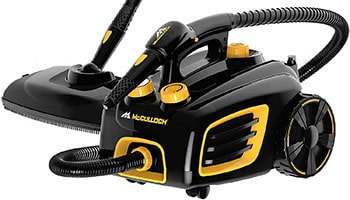 Now, let's compare the BigGreen to the McCulloch MC1375 Canister Steam Cleaner. The BigGreen is a tad less expensive than the McCulloch. The McCulloch has a 48-ounce water tank, and the BigGreen has a 15 ounce one.
The BigGreen is an upright steam mop, while the McCulloch is a canister-type steam cleaner that does other types of steam cleaning than just floors. However, if you only want to clean your floors, the BigGreen beats the McCulloch hands down.
My Final Verdict: Should You Buy a Bissell Commercial BSGT1566
For what you'll pay, the Bissell BigGreen is an outstanding steam mop that'll make quick work of your toughest cleaning jobs.
It's a fantastic accessory for pet owners who valiantly struggle with keeping up with the messes their animal friends make. It eradicates pathogens, helping to keep your family safe and healthy.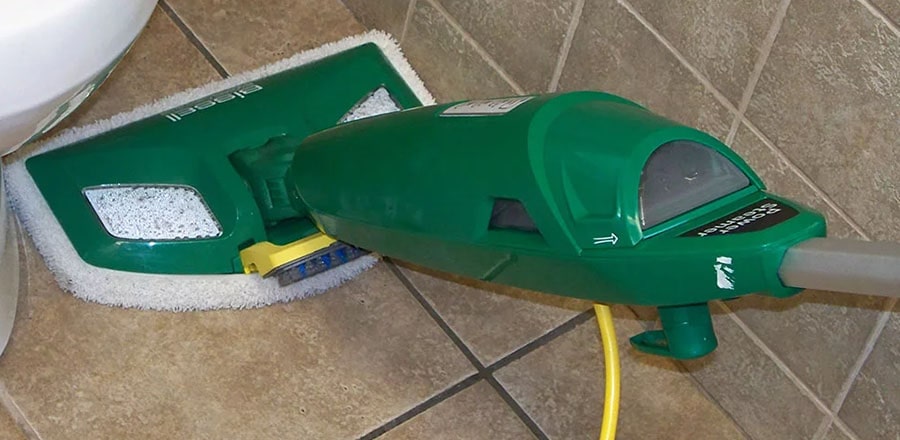 BISSELL BigGreen Commercial is a fantastic accessory for pet owners.
When the power of the BigGreen itself isn't sufficient to clean out particularly nasty stains, you have the ever so convenient Easy Scrubber to take care of them.
With all these incredible features and benefits, my final verdict is to recommend the BigGreen.
For more steam mop reviews, check out our guide.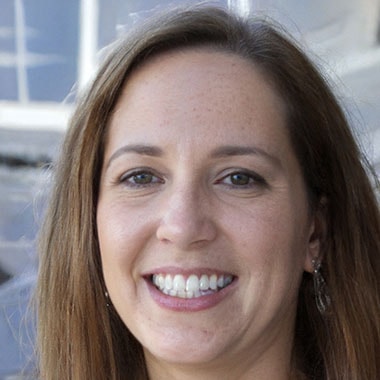 Author
Melba Espinal is a proud mother and self-professed "neat-freak." She started a successful cleaning service to earn money while obtaining her degree in Environmental Engineering from the University of Washington. After growing the business from a part-time job to a full operation with a fleet of vehicles and a team of employees, she now focuses on helping homeowners with her expert tips and advice!
---
Mop Tips & Tricks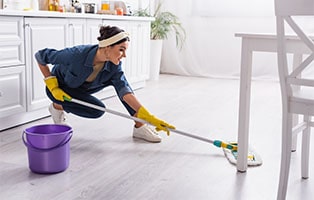 Everyone thinks they know how to clean floors. However, do you really know the steps you need to follow so you don't damage expensive surfaces? Check out what we wrote to find out.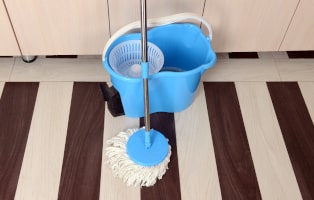 Wood floors need a bit more TLC than other hard floors. The wrong cleaners can dull them, hard shoes can scratch them, and water can warp them. Here are our tips to clean, mop, and maintain any wood flooring.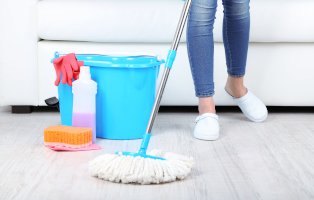 Mopping isn't rocket science, but there are some tips and tricks to get the most out of that not-so-fun task. Here, we'll tell you some of the best ways to mop floors using spin and steam mops.