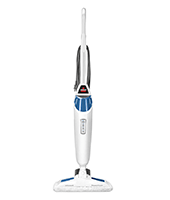 The BISSELL PowerFresh steam mop rated #2 on our list of top 5 steam mops. Read all the pros and cons in our 2023 review.
We select, test, review and suggest the best products. We may earn a commission, if you buy something through our links.
The BISSELL PowerFresh is an impressive steam mop that scored #4 on our list of top 6 steam mops. It performs well and won't put a big dent in your wallet. With all its features and grime-busting power, it's a real heavy hitter.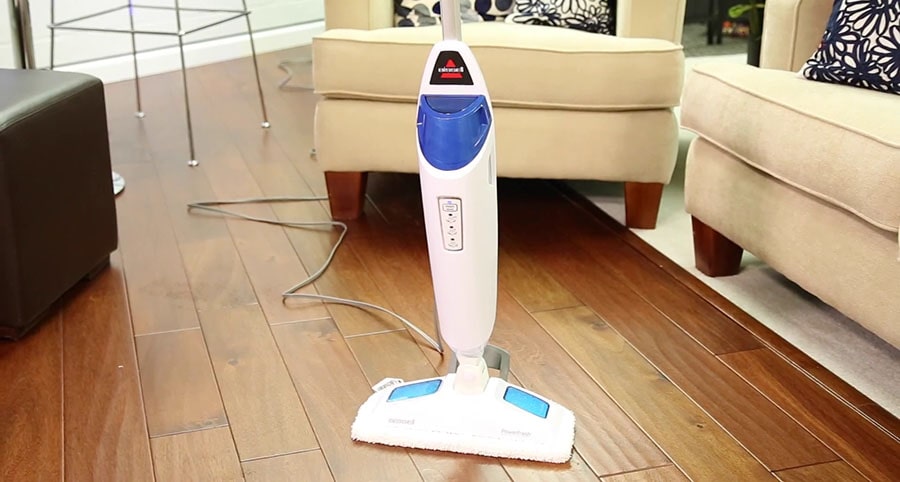 From quick heat-up time to a removable tank and adjustable steam levels, it's versatile enough for any sealed hard floor you throw at it. There are a few drawbacks however, mostly with quality control issues. It does have a 2-year limited warranty that can help if you experience any problems.
What do you get with the BISSELL PowerFresh
When you open the box, you'll find the mop in 3 pieces (mop head, lower body & handle), 1 soft microfiber cleaning pad, 1 scrubby microfiber cleaning pad, user guide, carpet glider attachment, and 2 scent disks (the "fresh" part of the mop). Assembly is super easy. Just snap the mop head onto the lower body. Then slide the handle assembly into the body and tighten with one screw.
Key Features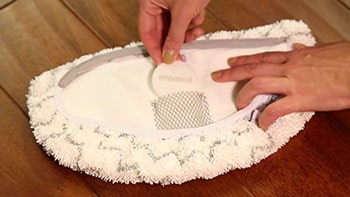 Flip-down easy scrubber – Just flip down the gray piece on the mop head when you come across stubborn, stuck-on messes. Stiff bristles will loosen it up so you can mop it away. It's also great for cleaning grout.
Spring breeze fragrance discs – For when you want a little more freshening. These OPTIONAL disks slide into a mesh pocket inside the mop pad. You don't need to use them if you're sensitive to fragrances. The cleaning pads themselves are fragrance free.
SmartSet digital steam control – 3 settings for the steam level you need – low, medium, or high.
30-second heat-up – As soon as you plug it in, the mop begins heating. Then you choose a steam level once it's ready.
Product Dimensions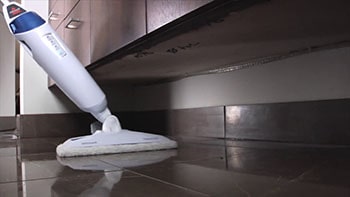 The PowerFresh mop head is about 8 inches front to back and 13 inches wide. That may prevent it from reaching behind toilets and other narrow spaces. The front side of the mop head is straight while the back side of the mop head with pad is curved outward.
This could possibly help with any curved edges where your floors and walls meet. Otherwise, it may just add unnecessary depth, whereas a straighter and narrower shape could be more beneficial for those tight spots.
Length – 43 inches
Width – 13 inches
Depth (body & mop head) – 9.5 inches
Weight – 6 pounds
Cord – 23 feet
Water tank
The PowerFresh has a generous 16 ounce water tank. Better yet, it's removable. It simply pops in and out. With no handle, however, it can be a challenge to remove if your hands are wet, or for those with arthritis
You fill it via a cap on the bottom, then pop the tank back into the body. There is no tank filling cup included as with some steam mops, but it's really not necessary since the opening is wide enough to fill it easily.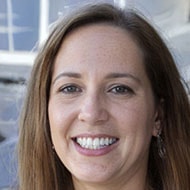 As with most steam mops, the manufacturer recommends using only distilled or demineralized water to avoid mineral deposits that can clog the internal parts and leave dull residue on your floors.
There is no need to add anything else other than water to the tank. It could damage your steam mop. So just don't. If you really have to use a cleaner, spray it on the cleaning pad OR spray it on the floor in front of you section by section as you mop.
Note: There's a Powerfresh Deluxe (model 1806) that costs a little more but has a few key differences. One being the water tank – the tank can be filled from the top and comes with a filling cup. However, the tank is not removable.
Cleaning pads
The PowerFresh comes with 2 washable, fluffy microfiber pads. One is for regular scrubbing and is solid white. The other has gray chevron pattern stripes and is used for heavier duty scrubbing.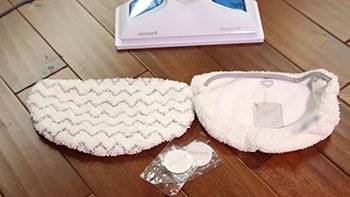 On the inside of each pad, there's a gray mesh pocket where you can slide in one of the 2 included spring breeze fragrance discs to add some extra scent while you mop. If you don't want a lot of scent, you CAN cut those in half or even in quarters. Please note that these are completely optional. If you have any fragrance sensitivities, simply toss the fragrance disks in the garbage and go on with your life. It's really that simple.
Remember to wash the cleaning pads only in detergent. Don't use fabric softener or bleach. Air dry.
Note: In the Powerfresh Deluxe (model 1806), the scent disks can either be slid into a slot on the mop head for light fragrance or placed in the cleaning pads for a heavier scent.
Carpet glider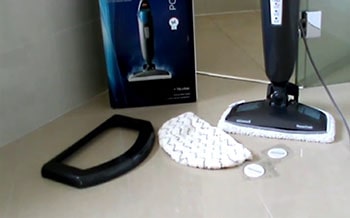 The mophead with cleaning pad simply sits on top of this rectangular plastic attachment. It doesn't snap in place. This is only to be used for "refreshing" or "deodorizing" your carpets and can be used with the fragrance disks.
It is NOT a carpet cleaner. All it does is glide the steam mop over the carpet. Never let the steam mop sit in one spot on the carpet for longer than 20 seconds.
Flip-down easy scrubber
The PowerFresh has a flip-down easy scrubber you can engage with your foot. It's designed to clean stuck-on stains, but can also be used for grout. It may not be great on deeper grout, and you may need to add a little more pressure for it to be effective.
Note: In the Powerfresh Deluxe (model 1806), there is a spot boost brush on the body itself. You remove the body from the mophead, then use the brush on the end of the body along with steam to clean stuck on stains or grout.
How to operate the Bissell PowerFresh Steam Mop
Using this mop is easy peasy. One really good thing we loved about it – it stands up on its own! No having to prop it against anything if you need to move a chair or something. For full operation instructions, please refer to the user manual.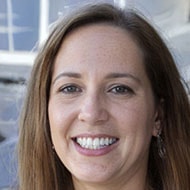 Before you even think about mopping, make sure you have swept or vacuumed the hard floor thoroughly to remove all loose debris and hair. Otherwise, you'll just smear it around the floor and potentially scratch the surface.
Setup – Click the body into the mophead. Slide the handle into the body and tighten the screw to secure it. Boom – it's assembled.
Add cleaning pad – If using the scent disk, first slide this into the pocket in the cleaning pad. Slide the mophead into the cleaning pad.
Fill the water tank – Remove the water tank. Unscrew the cap from the bottom and fill with distilled or demineralized water. Replace the cap and place the tank back into the mop.

Plug it in – Unwrap the cord from the cord wrap and plug it in. Pretty self-explanatory.
Let it heat up – The steam select light will blink until it's ready to go, then there will be a solid green light.
Choose your steam level – Press the steam select button until you see the indicator light above the level of steam that you want.
Start mopping – Glide the mop slowly in back and forth lines, overlapping as you go across the floor. To sanitize an area, let it sit for 15 – 20 seconds over the selected area. Don't let it sit for longer than 20 seconds in one spot.
Refill if needed – While mopping, if the mop stops emitting steam, remove the tank, refill it, replace, and keep on going.
Shut it down – Unplug the steam mop, remove the cleaning pad with the quick release tab. Remove the scent disk from the pad. Empty any leftover water from the tank. Wrap the power cord around the cord wrap. Store the mop in a safe, dry area.
---
What are customers saying about the Bissell PowerFresh Steam Mop
Customers generally agreed on several advantages this mop had over others. The cord length (23 feet) was one of them, although a few people thought it was too short. They loved the easy assembly. A favorite feature was the 3 steam control settings. They also appreciated how easily it swiveled and how lightweight it was.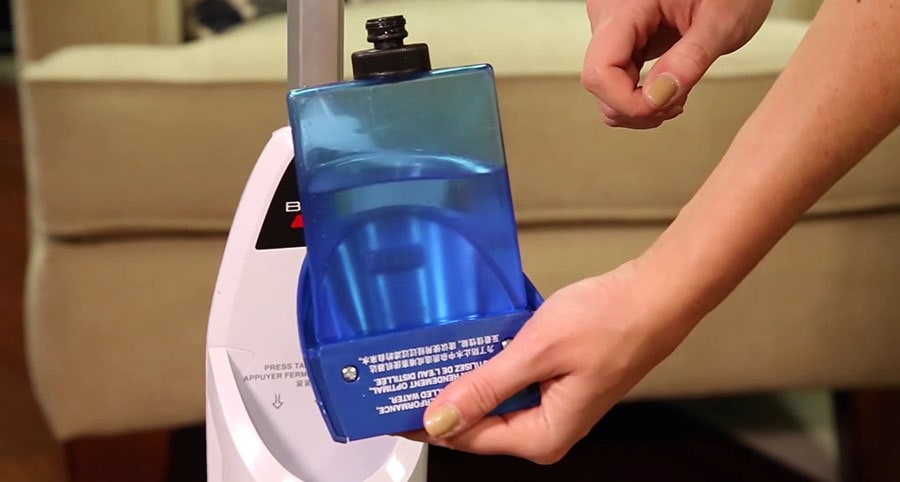 Removable tank is a huge convenience factor for many customers.
The removable tank was a huge convenience factor for many customers. They also complimented the flip-down scrubber for stuck-on dirt and getting into grout. They loved how quickly their floors dried as well. Most customers were highly impressed with the cleaning performance.
Complaints were mostly due to quality control issues. One common problem was that the cap on the water tank got stuck or broken, which led to leaks. High heat also left burn marks on one customer's laminate flooring. So, we recommend:
Check with your flooring manufacturer to see if it's safe to use a steam mop and
Start with the lowest steam setting and test it first in a small area to see if there are any issues (discussion).
Some customers said their steam mop broke down after having it for less than a year. It's unclear whether they were using tap water instead of distilled water, however. In most cases, Bissell customer service seems to respond quickly and offers troubleshooting tips as well.
Conclusion

PROS:

Affordable
30-second heat-up
Stands on its own
Removable water tank
Long cord
3 steam settings
Flip-down scrubber for stuck-on dirt and grout
2-year warranty
Optional spring breeze fragrance discs


CONS:

Water tank can be hard to remove
Cap on water tank may stick or break
No on/off button
Higher steam settings may leave floors really wet
Lack of accessories other than a carpet glider
No tray to set it on between uses

Optional accessories:

If you're looking for a fragrance alternative, try Bissell's scented demineralized water in 3 choices: eucalyptus mint, citrus, or spring breeze. Just pour it right into the tank and get your fragrance on!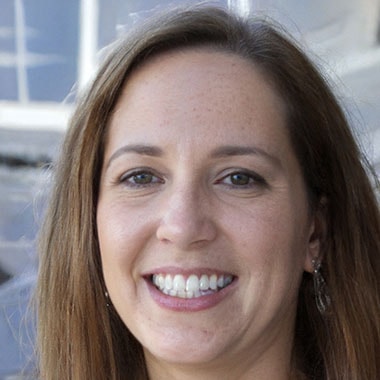 Author
Melba Espinal is a proud mother and self-professed "neat-freak." She started a successful cleaning service to earn money while obtaining her degree in Environmental Engineering from the University of Washington. After growing the business from a part-time job to a full operation with a fleet of vehicles and a team of employees, she now focuses on helping homeowners with her expert tips and advice!
---
Mop Tips & Tricks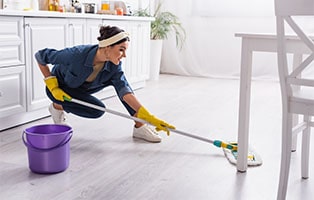 Everyone thinks they know how to clean floors. However, do you really know the steps you need to follow so you don't damage expensive surfaces? Check out what we wrote to find out.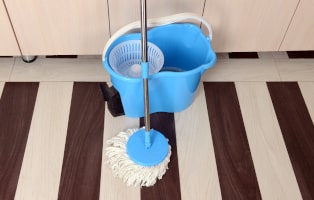 Wood floors need a bit more TLC than other hard floors. The wrong cleaners can dull them, hard shoes can scratch them, and water can warp them. Here are our tips to clean, mop, and maintain any wood flooring.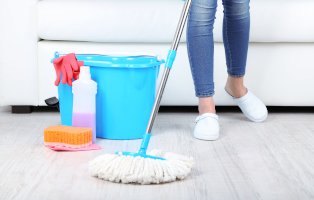 Mopping isn't rocket science, but there are some tips and tricks to get the most out of that not-so-fun task. Here, we'll tell you some of the best ways to mop floors using spin and steam mops.