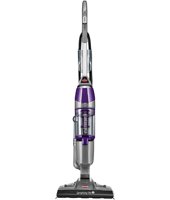 Read our Bissell Symphony Pet Steam Mop And Vacuum Cleaner Model 1543A 2023 review to find out what makes it such an outstanding machine!
We select, test, review and suggest the best products. We may earn a commission, if you buy something through our links.
The Bissell Symphony Pet Steam Mop is one of the best steam mops you'll find anywhere, because it's like getting two machines in one–a steam cleaner and a vacuum cleaner.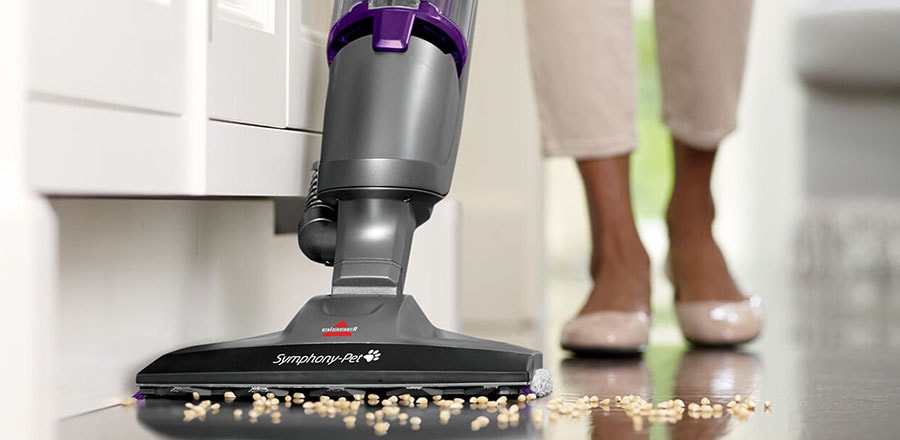 Symphony Pet is one of the best steam mops you'll find anywhere.
What's more, you can use it around your little ones and your animals without having to worry about toxic chemicals because it derives its cleaning power from 100% pure water.
And because it uses only water and no harmful chemicals, it's so much better for the environment.
Read on, and find out what makes the Symphony such an indispensable device: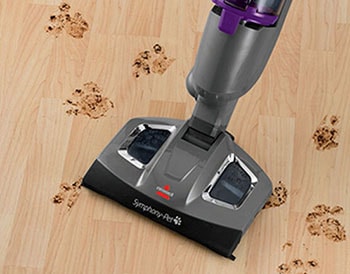 Features
Combines steam cleaner/vacuum cleaner in one incredible machine;
Great for the environment;
Reusable microfiber pads save you money
Cleans all sealed floors;
Hands-free dirt emptying keeps fingers clean;
Powerful suction keeps carpets free of pet hai.
Who's it For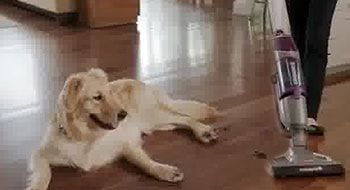 The Bissell Symphony Steam Mop is music to the ears of every pet owner on the planet.
That's because you get both a steam and a vacuum cleaner all in one spectacular unit.
You can even do both things at once—which means you'll have more time for the things that truly matter, like spending time with your family.
What's Good About It

With the Bissell Symphony Pet Steam Mop, you can finally vacuum and steam clean your floors at the same time!
Few other steam mops do this, making the Symphony of the most versatile machines you can buy. For most household tasks, there are the reusable microfiber pads.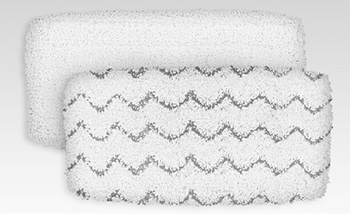 Just toss them in your washing machine and let them air dry. The pads ready to use the next time you want to spiff up your place. Having reusable pads saves you wads of your hard-earned cash.
It also comes with disposable pads. Say you have a particularly disgusting mess to clean up (such as when your dog has an accident on your expensive living room carpet). You can use a disposable pad to clean it up. They're soaked in a cleaning solution and leave a fresh scent. As soon as you're done cleaning up the nasty mess, all you need to do is toss the pad away in the trash (preferably outdoors).
Having both types of pads is a genius move on Bissell's part, and makes the Symphony even more versatile. What's more, it has the extraordinary ability to steam cleans any type of sealed floor—from hardwood to tile and ceramic to linoleum. If your canine companion is in the habit of leaving messy pawprints all over your kitchen floor, take out the Symphony. They'll be gone in a matter of seconds—with no unsightly residue left in its wake.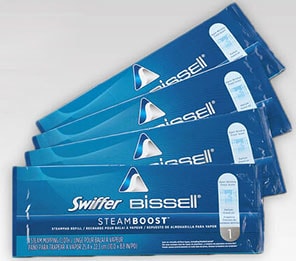 For maximum deodorizing power, order the optional scent discs. So, not only will the Symphony get your home sparkling clean—it'll smell fantastic too!
You can also purchase scent waters, which is fragrant-smelling demineralized water you can use to clean with. Choose from spring breeze, eucalyptus mint, or citrus to make every room in your house smell fresh and inviting.
Another welcome feature of the Symphony is that it's freestanding. This means you no longer have the annoying problem of laying your mop up against a table when it's time for a coffee break.
It comes with a removable measuring cup for super easy filling. In fact, it's easier to refill than almost any other steam mop on the market, because you don't even have to remove the tank. When you're done adding more water, you can conveniently store the cup on the machine's handle.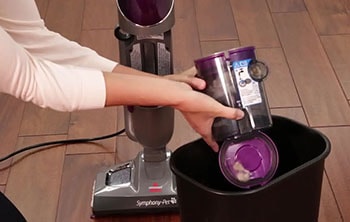 Another thing I like about this model is you can empty all the dirt you vacuumed up without ever getting your hands dirty. This is accomplished by having a plunger at the top of your dirt tank. Push down on it, and all the nasty filth the machine sucked up from your carpet gets ejected through the bottom.
What's more, innovative technology keeps moisture out of the dirt tank, preventing all the debris you collected from turning into a mucky mess.
It has a lightweight design, weighing just under ten pounds. This makes it easy to move from one room to another when you need to quickly spiff up your home before company comes over.
There are 25 feet of cord, making it long enough to reach most outlets—even in bigger rooms.
What's Not So Good

With the amount of money you'll pay for this machine, you think the manufacturers could have installed an on/off button. Not having one means it fires up the second you plug it in.
As far as steam mops go, the tank is a bit on the small side, holding only around 12.8 ounces of water. This means that for most rooms, you're going to have to fill the reservoir multiple times.
Some customers report that the tank cracks after only a short time using it, causing it to leak.
What Customers Are Saying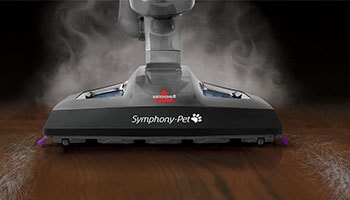 Many customers are over the moon that they can simultaneously steam mop and vacuum. This means that while they're sucking up all the stray hair that seems to be everywhere when you own a dog, they can also deep clean their linoleum floor.
No need to sweep beforehand!
Other purchasers of this fantastic product remarked on how much suction the device has. One individual who owns 15 dogs who are always shedding large clumps of hair reported that the unit always sucks it up with jaw-dropping efficiency.
Alternatives to the Bissell Symphony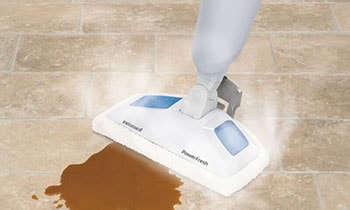 Let's compare the Symphony to a few other models. We'll start with the Bissell PowerFresh. The PowerFresh has a bigger tank—16 ounces compared to the Symphony's 12.8 capacity.
This means that with the PowerFresh, you can clean for a longer time without having to refill. Also, some customers report that the PowerFresh has slightly better steam power action than the Symphony.
Next, let's see how the Symphony stacks up to the Shark Genius.
Most users believe that the Shark Genius has a lighter and a more powerful motor than the Symphony. Other customers like the Symphony better because you don't have to vacuum the floors before steaming them—you can do both things at once.
My Final Verdict: Should You Buy the Bissell Symphony
While it's not perfect, the Bissell Symphony Pet Steam Mop is one of the steam mops you'll find anywhere.
With its ability to perform two cleaning actions at the time, its unsurpassed power to pick up pesky pet hairs, and demonstrated excellence in cleaning any type of sealed floors, your cleaning chores just got exponentially easier.
So, my final verdict is to buy the Symphony.
You'll be glad you did!
If you want to read more about what we think are the" best-of-the-best" steam mops, click here.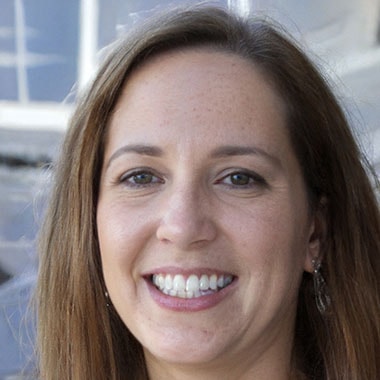 Author
Melba Espinal is a proud mother and self-professed "neat-freak." She started a successful cleaning service to earn money while obtaining her degree in Environmental Engineering from the University of Washington. After growing the business from a part-time job to a full operation with a fleet of vehicles and a team of employees, she now focuses on helping homeowners with her expert tips and advice!
---
Mop Tips & Tricks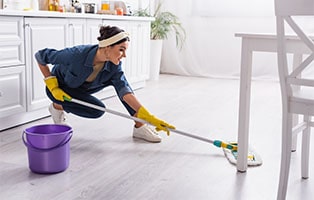 Everyone thinks they know how to clean floors. However, do you really know the steps you need to follow so you don't damage expensive surfaces? Check out what we wrote to find out.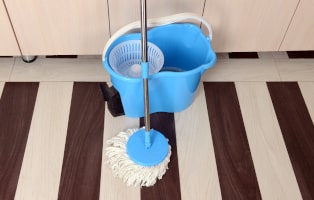 Wood floors need a bit more TLC than other hard floors. The wrong cleaners can dull them, hard shoes can scratch them, and water can warp them. Here are our tips to clean, mop, and maintain any wood flooring.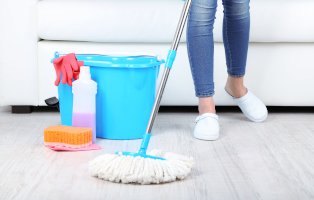 Mopping isn't rocket science, but there are some tips and tricks to get the most out of that not-so-fun task. Here, we'll tell you some of the best ways to mop floors using spin and steam mops.