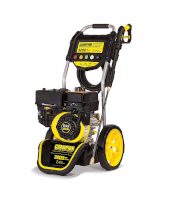 Is the Champion 3200 PSI 2.4 GPM gas pressure washer right for you? Find out in our 2023 review.
We select, test, review and suggest the best products. We may earn a commission, if you buy something through our links.
Gas pressure washers like the Champion 3200 PSI Model #100384 are great for those medium to heavy-duty outdoor cleaning jobs. As far as gas power washers go, this model is very affordable. This dolly-style machine is compact and offers all the features you need for exterior home & garden cleaning purposes.
This is a relatively lightweight machine that would be good for homeowners who want to try gas pressure washers for the first time or who want to upgrade from an electric pressure washer.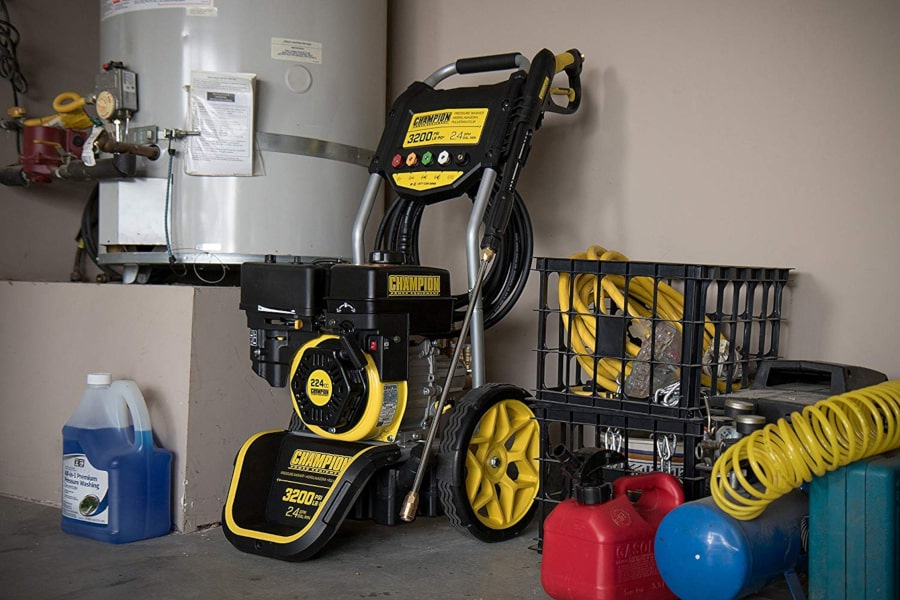 Dolly-Style
Why choose a gas pressure washer
When you have a lot of exterior surfaces to clean or a lot of heavy-duty cleaning, nothing beats the power of a gas pressure washer. They'll do everything from removing old oil stains from your driveway to stripping paint from barn siding. For farms or industrial jobs, they're a must. You don't need a power outlet, so as long as you have access to a water supply, you're good to go.

Here are the pros of a gas pressure washer over electric:
No power cord to limit reach & no power outlet needed
Great for quick cleaning of large areas
Best for tough stain and grime removal
Versatile for a variety of jobs
Many gas pressure washers between 3000 and 4000 PSI can run between $300 – $1000, the Model #100384 from Champion is about as budget-friendly.
What do you get with a Champion 3200 PSI Model #100384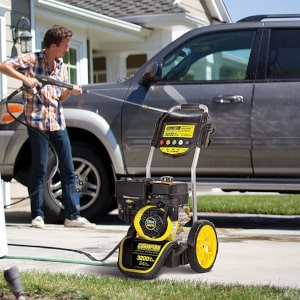 5-quick connect nozzles with onboard storage (0, 15, 25, 40 & soap)
224 cc single-cylinder OHV engine
3200 PSI
2.4 GPM
CU score: 7680
25-foot hose
4-foot detergent hose
Two 0.5 gallon detergent tanks
High-performance Annovi Reverberi axial cam pump
Oil funnel
12-inch wheels with never-flat tires
2-year limited warranty
Free lifetime tech support
Most accessories, including the nozzles, hoses, and trigger gun, have onboard storage to keep everything at hand. The Annovi Reverberi axial cam pump is a high-quality pump designed to last a long time and to provide steady pressure for consistent cleaning performance. As one customer noted, however, the pump has a permanently sealed, non-serviceable bearing in the pump, so if that goes out, plan on purchasing a new pump or a new machine if the warranty is expired.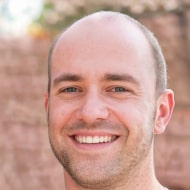 There's no onboard storage for the oil funnel, but one customer used some zip ties to attach it to the back of the dashboard over the hose storage so he wouldn't lose it.
The fuel tank holds about 0.9 gallons. The oil capacity is rather only 0.6 quarts, but there's a low oil shut-off sensor to protect the engine. Only 10W-30 oil is recommended.
For environmentally-conscious homeowners, this washer is EPA-certified and CARB compliant. Champion offers a 2-year limited warranty for both pressure washer and pump in residential applications and free lifetime tech support should you need it.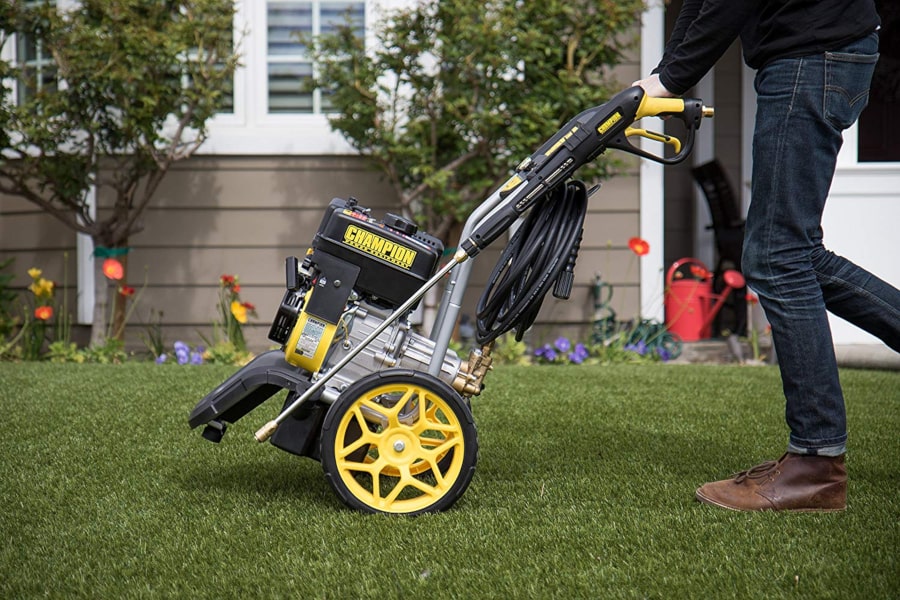 Product dimensions
Weight: 68.3 pounds
Height: 38.3 inches
Width: 18.4 inches
Length: 26.8 inches
This is a pretty compact machine as far as gas pressure washers go. The handle has quick release buttons so you can remove it for storing under a workbench or shelf, etc. Customers really appreciated that, particularly those who don't have a huge garage or shed.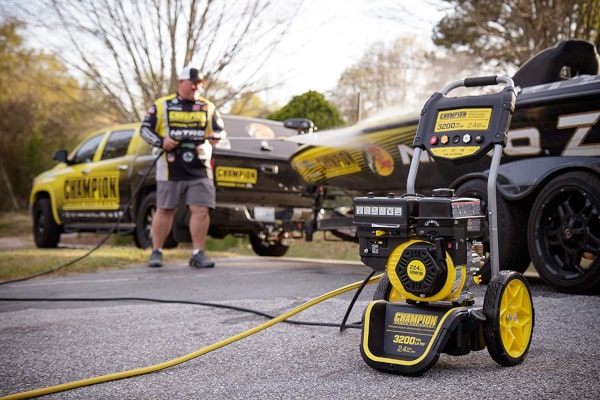 Performance
Users have been impressed with the cleaning power of this machine. They've successfully cleaned cement patios, mildewed shed siding, cars, dried mud from mudding trucks, old chewing gum on driveways, barnacles off the bottom of a boat, and more. Homeowners noted they were able to clean siding without soap.
Reviews are mixed when it comes to noise. Some users thought it was quiet. Others said they had to use earplugs, which is a good recommendation for any lawn and garden equipment.
The only real complaints had to do with operation and design rather than cleaning performance.
What's to love about the Champion 2300 PSI

Two words: Cleaning performance. Customers were able to clean a wide variety of surfaces and grime levels with ease. Several people were surprised that it could run for many hours at a time without overheating or losing pressure. Many reported that the machine is quiet, or at least not much louder than a push mower.
You also have the affordable price, not to mention the 2-year warranty and free lifetime tech support. Assembly is simple, and most of the owner's manual is clear and easy to follow.
Whenever parts were damaged, most customers were able to easily reach Champion customer service and were able to get replacement parts quickly.

Rundown of the Pros

Affordable price
Great cleaning performance
Good customer service
2-year warranty
Free lifetime tech support
Relatively quiet
Compact
Never-go-flat wheels

Rundown of the Cons

Starting the engine can be tricky
Engine may shut off if not completely level
Detergent tanks not transparent
Start cord can be strenuous to pull
Hot caution symbol not very visible
Hose feels stiff and may sit against hot muffler
Customer service may be hard to reach on phone
What's not so great about the Champion 3200 PSI

Occasionally, customers had service reps that didn't seem to be familiar with this unit. A few customers found them difficult to reach by telephone.
Starting up the engine requires some practice. The red on/off switch is rather hard to see at first. Then you have to adjust the fuel valve, throttle, and choke before you even pull the starter cord. Pulling the cord can be physically strenuous for those with wrist issues, weak arms, or bad backs.
One customer burned his hand on the muffler shield. He didn't notice the "hot" caution symbol on top, which is just sort of imprinted into the shield and hard to spot. A few customers said the hose was too stiff and would sometimes sit against the hot muffler, which resulted in melting holes in the hose.
Be careful when moving the machine while it's running. The oil level sensor may be a bit too sensitive, so if you lean it too far while rolling, the engine can shut off. A few other minor complaints involved loose feeling wheels and detergent tanks that weren't transparent enough to see the liquid level.
For greater versatility, try these optional accessories:

A quick connect extension with a curved shape specially designed for gutter cleaning.

Clean large areas of flat surfaces up to 4X faster. Strong, flexible brush bristles scrub away grime and control spray pressure.
Basic startup
Gas pressure washers take a little more finessing than electric, so you will want to read through the operation guide in the owner's manual before you get started and refer to it as you set up the unit. Once you've used the machine a few times, it should become second nature.
While the manual is pretty clear on actual operation procedures, customers reported that it wasn't so clear about assembly. But, that won't take you long to figure out. Upon unboxing the unit, assembly involves just a few simple steps. Snap on the the handle, attach the dashboard with 2 bolts, and attach the hose holder with another 2 bolts.
Next, add 10W-30 oil to the oil tank using the orange oil funnel (included). Fill the fuel tank with gas. If using detergent, fill the detergent tank(s) with desired brand. Consult your owner's manual for specifics on how to use detergent.
Safety tip: Make sure you're outside when adding gas to the fuel tank in case of sparks.
Connect the wand to the trigger gun. Attach whatever nozzle you want to use first. Connect the high pressure hose to both the unit and the trigger gun. Connect your garden hose to the water intake valve. Turn on the water faucet. Pull the trigger to purge air from the hose and prime the pump. This may take a few minutes. When a steady stream of water flows from the nozzle, then you're ready to start the engine.
Starting up the engine was a little tricky for some people due to a few easily missed steps. These are well described in page 13 of the owner's manual, however, so be sure to refer to that.
Before you start the engine with the pull start, make sure the machine is on a flat, level surface. Turn the on/off switch to "on". It's a small red switch with a common I/O, with "I" meaning on. Rotate the fuel valve to the "on" position. Move the throttle level to the "fast" position. Move the choke lever to the "choke" position (left). Pull the starter cord slowly at first until you feel resistance. Then pull it fast. Once the engine starts, move the choke to "run" and adjust the throttle down.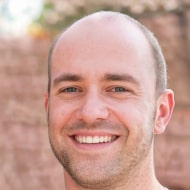 Don't pull the starter cord more than twice with the choke lever in the "choke" position, or you may flood the engine. After 2 pulls, release pump pressure by pulling the trigger on the trigger gun. Move the choke to "run" for the next 3 pulls. If the engine still doesn't start, make sure you're on a flat surface. The low oil sensor may think there's not enough oil if you're on an incline, which could prevent the unit from starting.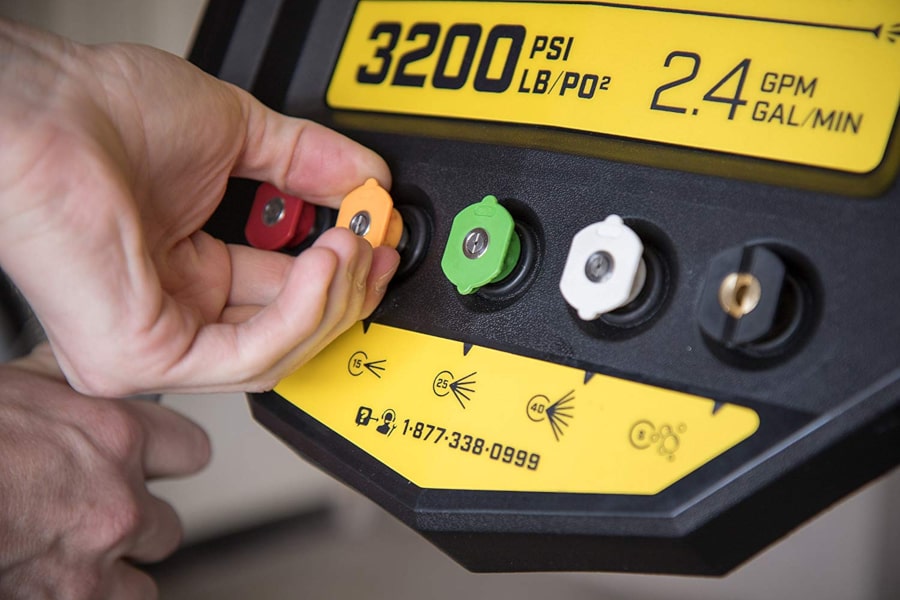 Recommended nozzles for specific cleaning tasks
This is not an exhaustive list. For more cleaning uses, see your owner's manual.
0 degree (red): Concrete, brick or masonry. Small, concentrated areas only. Use with extreme caution. Can easily cut into surfaces and lacerate skin. Removes tree sap, gum, and mildew.
15 degree (yellow): Intense cleaning on hard surfaces. Can be used on siding, decks, etc, but could damage those surfaces if you get too close. Removes paint, mildew stains, and rust.
25 degree (green): Vinyl siding, brick patios, wood, and driveways. Again, use caution with softer surfaces. Start at least 18 inches from the surface, gradually moving closer if needed.
40 degree (white): Wide spray pattern with lower pressure that's generally safe for most surfaces, including cars, trucks, boats, and patio furniture.
Soap nozzle (black): Good for all surfaces. Low-pressure. Always use when applying detergent.
Safety tip: Consumer Reports recommends throwing away the 0 degree nozzle since it poses the most danger of personal injury and property damage.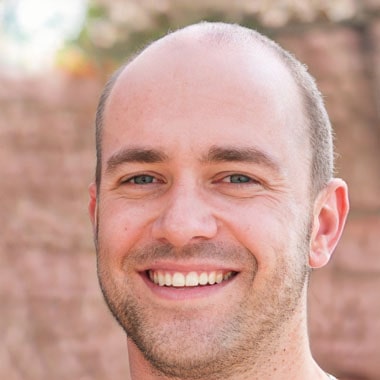 Author
Alex owns a home improvement and restoration company in Vancouver. He obtained his Bachelor's degree in Construction Management from Saskatchewan Polytechnic and is a NARI Certified Remodeler. His team does a wide range of home restoration products, both interior and exterior.
---
Pressure Washer Tips & Tricks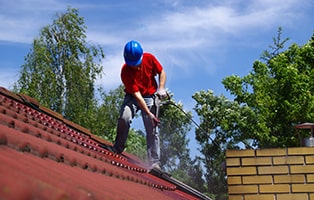 The leaves are starting to fall, and you may be thinking about power washing your gutters. Why? It's the perfect time of year to maintain those dirty drainage systems. The cool weather brings out dirt build-up, which can cause more problems.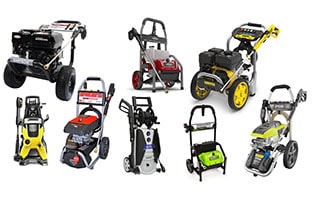 When it comes to cleaning grungy patio furniture, dirt-encrusted siding, and oily driveways, power washers are an indispensable tool. Read our article to find out which companies make the best ones.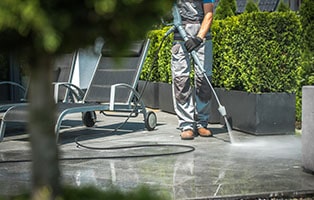 A pressure washer is a way to clean your patio that doesn't involve lots of strenuous scrubbing. Read about the 7 steps you'll need to follow if you want your patio cleaning to be a smash success.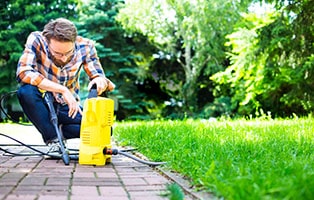 If your pressure washer is getting hot too frequently, this could be a sign that there's either something wrong with it, or you're doing something wrong. Read our article to diagnose these problems.