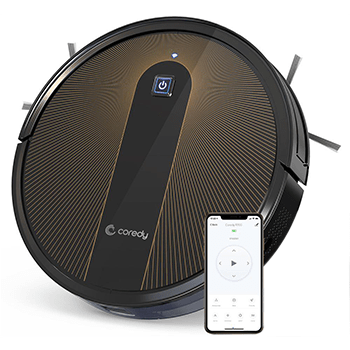 Is The Coredy R750 Robotic Vacuum and Mopping System One Of The Best Machines Of 2023? Find Out In Our Comprehensive Review
We select, test, review and suggest the best products. We may earn a commission, if you buy something through our links.
Cleaning can be a real chore most of us would rather avoid. Many yearn for the future envisioned by shows such as The Jetsons, where robot assistants took care of colorless chores and monotonous maintenance around the home. Thankfully as the fields of robotics and artificial intelligence continue to advance at an accelerated pace, this frivolous fantasy is rapidly becoming a rational reality.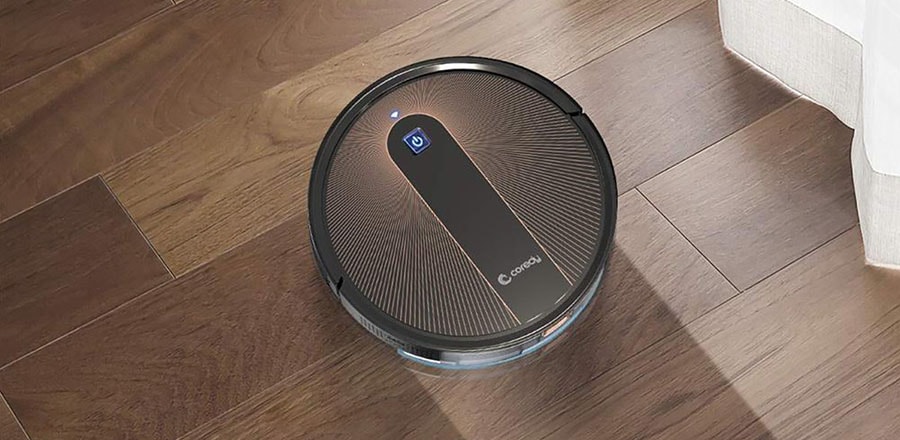 Coredy R750 is an impressive hybrid robotic vacuum.
Appliances such as robotic vacuum cleaners and window cleaners help make your life easier by autonomously keeping your home spotless. These machines boast a myriad of intelligent technology such as lidar and sensors that help take care of everyday cleanup jobs in your home. Robotic vacuum cleaners are approaching a point of advancement where they not only clean your home on their own, but boast multi-functionality that allows them to tackle pretty much any task you can think of.
One of the younger players in the robotic vacuum industry, Coredy has quickly become a leading company thanks to a proven track record of innovation and quality. Adding to this legacy and reputation is their latest offering, the Coredy R750. The R750 is an impressive hybrid robotic vacuum and mopping system, boasting an array of innovative features such as smart home compatibility, boost-intellect technology, and intelligent mopping.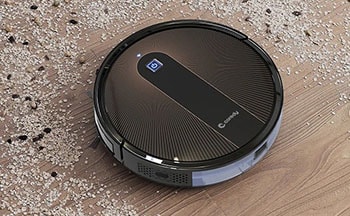 Main Features
Boost-Intellect technology automatically adjusts suction power as needed.
An intelligent mopping system automatically adjusts water dispersion without spillage.
Compatible with both Alexa and Google Assistant for superior smart-home integration.
Compatible with virtual boundary strips to ensure your robot only cleans where you need.
Impressive 2000Pa of strong suction clean almost any mess you can throw at it.
Smart Boosting Technology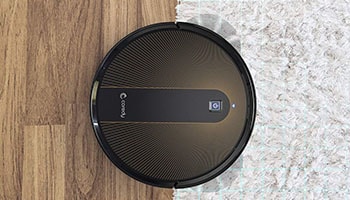 Coredy's proprietary Boost-Intellect technology automatically adjusts cleaning power based on the current task at hand. It automatically increases its suction power when transitioning from hard flooring to carpeting, changing from a notable 1600Pa of suction to a powerful 2000Pa of force to clean all the surfaces in your home seamlessly. It's even capable of detecting different heights and lifting or lowering itself as needed. The Coredy R750 offers an unparalleled multi-surface cleaning experience most machines can't match.
Intelligent Mopping System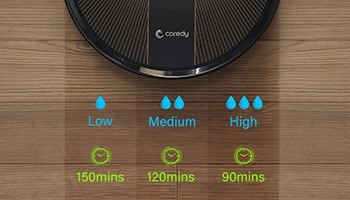 The R750 features an impressive and intelligent mopping system that dynamically adjusts water dispersion as needed. Sensors automatically detect the humidity and dryness of surfaces and adapts as needed, offering exceptional spot-cleaning ability. An electronically-controlled and algorithmically-driven water pump delivers only what's needed when needed, preventing spillage and keeping your floors spotless.
Smart Home Compatibility
Make the Coredy R750 a staple of your smart-home thanks to an advanced array of cross-compatibility. The R750 integrates support for both Alexa and Google Assistant, allowing you to control your robot vacuum with your voice if desired. Also included with the R750 is Coredy's useful app, which will enable you to create custom cleaning schedules, cycle various cleaning modes, manually operate the vacuum, and more, all from the convenience of your phone.
Virtual Boundary Support
Nothing is worse than a wayward robot; make sure you only clean where you need thanks to virtual boundaries and physical boundary strips. Included with your Coredy are dual six-foot magnetic boundary strips you can cut and place as required, ensuring that your R750 cleans where you need it and avoids where you don't. You can purchase additional boundary strips as necessary to safeguard your entire home appropriately.
What Customers Like

People love the dynamic cleaning capability offered by the Coredy R750. One of the biggest draws to the product is it's hybrid vacuum and mopping functionality, which is one of the main things people rave about when reviewing. Users were also impressed by the Boost-Intellect mode's performance and how it seamlessly transitions between flooring and carpeting. Pet owners are impressed by how well the R750 tackles hair and dander, even in multiple-pet homes with heavy shedding animals.
Many appreciate the smart-home compatibility offered and how seamlessly the robot can be controlled — whether by voice via Alexa or Google Assistant, the included remote control, or through the Coredy app.
What Customers Don't Like

Some users report WiFi connectivity issues when attempting to use the device, whether it's difficulty connecting or staying connected. There are some occasional difficulties with sensor disruption, resulting in sporadic navigational issues and problems with dark flooring.
While the R750 comes with a 1-year warranty, several people have reported issues contacting support — which is gated behind a toll line.
Is The Coredy R750 Right For Me
The Coredy R750 is quite an impressive hybrid robot vacuum and mop, yielding deep cleaning capacity and notable mopping capability. It features a solid 1600Pa of suction force that increases to a remarkable 2000Pa when Boost-Intellect is enabled. It boasts a lengthy 2-hour runtime, readily cleaning most spaces in your home on a single charge. The dual side-brush design helps tackle corners and walls better than competing robots. A brushless motor makes this Coredy their quietest model yet, while an array of innovation makes it the most advanced and powerful.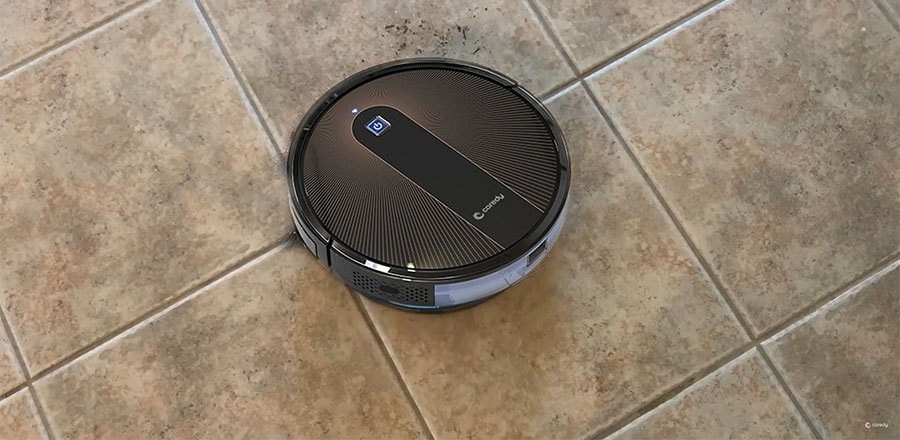 R750 has a remarkable suction power combined with a notable mopping capability.
Included with your purchase is a 1-year limited warranty, as well as dual boundary strips, four side brushes, an extra HEPA filter, a remote control, a charging dock, an AC power adapter, and a cleaning tool. If you're looking for a hybrid machine packed with advanced features seen in premium high-end models at an affordable price point, the Coredy R750 is the perfect pick for you.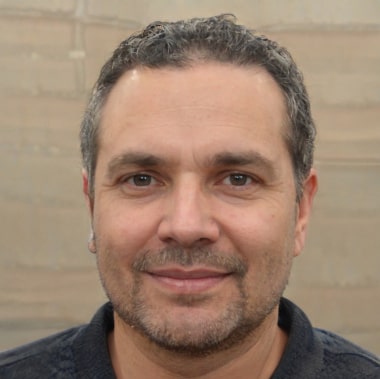 Author
Stephen A. Hancock received his M.S. in Mechanical Engineering (Robotics Track) from University of Utah in 2004. Since then, he's contributed to numerous articles and has been a consultant for many technical publications and websites.
---
Robot Tips & Tricks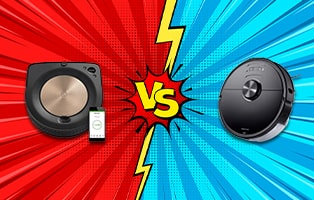 If you want to know which company wins the "Roomba vs. Roborock" battle, check out our article. You'll learn what makes each model exceptional, and things you'll need to know before buying.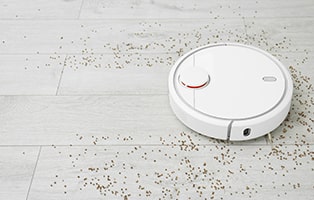 Robotic vacuum navigation systems include sensor mapping, camera mapping, gyroscopes, LiDAR, and SLAM. Read all about this technology in our informative article.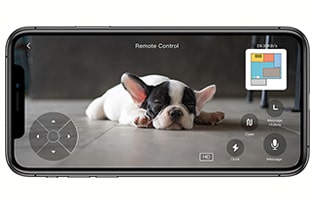 If you're worried that your robot vacuum is spying on you, you're not alone. Read our information-packed article to find out if it is, and what you can do about it.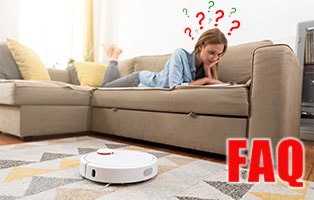 Robot Vacuum Cleaners are evolving at a rapid pace and have indeed become the new necessity for any modern household. Here's a breakdown on some of the most frequently asked questions about these devices