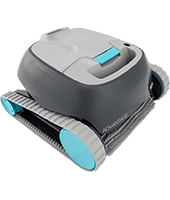 The Dolphin Advantage pool cleaning robot made our best of the best list. Find out why in our 2023 review!
We select, test, review and suggest the best products. We may earn a commission, if you buy something through our links.
The easy-to-use Dolphin Advantage robotic pool cleaner will clean your entire pool in two hours or less. It's an entry-level robot built for smaller-sized in-ground and above-ground pools. It doesn't have as many features as some higher-end models, but it does the job and then some.
Maytronics has more than 35 years of transforming grungy swimming pools into sparkling clean backyard oases. Their sophisticated pool robots offer pool owners hassle-free cleaning solutions that free up time and make pool ownership a joy once more.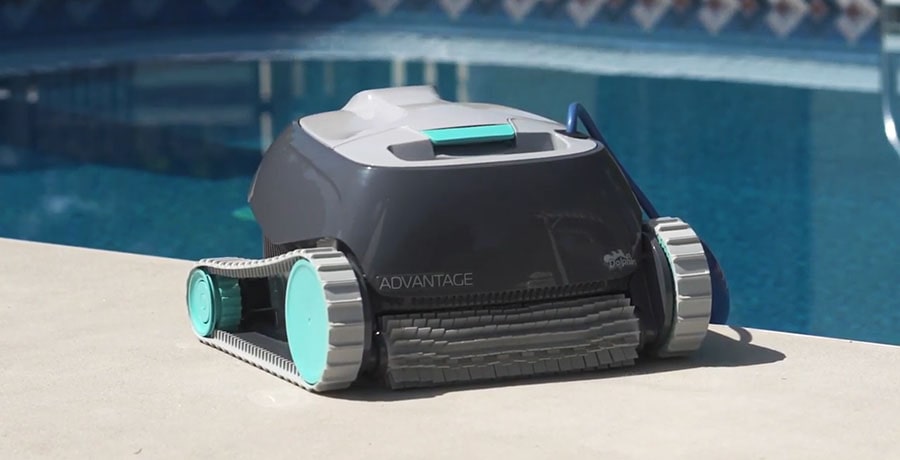 Dolphin Advantage is an entry-level robot built for smaller-sized pools
The Dolphin line of pool-cleaning robots never fails to impress with its exceptional maneuverability, intelligent navigational software, and extreme durability. The Dolphin Advantage is no exception.
Maytronics calls this robot the "Dolphin" because, just like its ocean-going namesake, it's one of the most intelligent computerized pool cleaners on the market. Your Dolphin Advantage will become your tireless robotic servant, always working hard to rid your pool of debris and filth.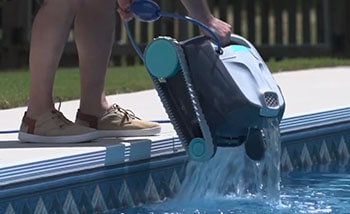 Features
User-friendly with intuitive controls;
Large easy-access filter basket;
Advanced scanning technology ensures complete coverage;
90% more efficient than suction and pressure cleaners;
Fast water release—easily remove from pool;
Perfect for pools up to 33 feet
Who is the Dolphin Advantage For
This exceptional robot is for anyone who wants to be blessedly free from backbreaking pool cleaning duties.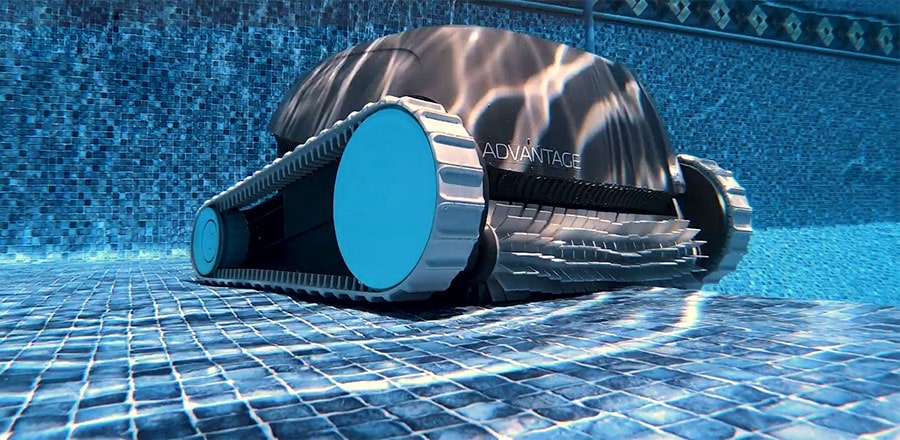 Great robot for anyone who wants to be free from pool cleaning duties
Say your landscape design includes trees and shrubs. In that case, your pool can very quickly turn into a dumping ground for small branches, twigs, dry leaves, and other botanical debris. That's why you need the Dolphin Advantage!
If you live in a windy area and get tons of leaves in your pool, you'll love this fantastic machine. It'll clean all the detritus left by Mother Nature over the winter, so you don't have to.
What's Good

Isn't it fantastic to have a swimming pool right in your backyard? You can take a dip any time you want without having to put up with public swim centers that can be significant health hazards.
However, when it comes time to clean your pool, pool ownership can suddenly turn into a nightmare. This is the beauty of robotic pool cleaners that transform what was formerly a tedious chore into something that's easy. That's why robotic pool cleaners like the Dolphin Advantage are quickly becoming a must-have for every pool owner on the planet.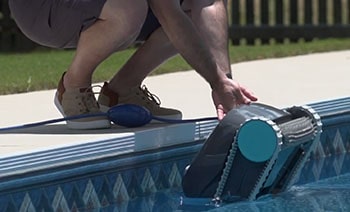 Maytronics describes this robot as "plug and play." This means it works right out of the box, requiring no special skills or technical support. Simply take the machine out of its box, unwind the cord, plug it in, drop it into your pool, and press the start button.
The Dolphin Advantage doesn't require suction or pressure from a pump because it has its own external power supply. However, you're going to need a power outlet near the pool so you can plug it in.
The Dolphin Advantage is a "smart" pool cleaner. Sensors strategically placed around the unit create a digital map, and advanced navigation software plot the most efficient pool cleaning route. The result of its exceptional pool-mapping ability is that the presence of pool obstacles won't stand in the way of carrying out its single-minded mission.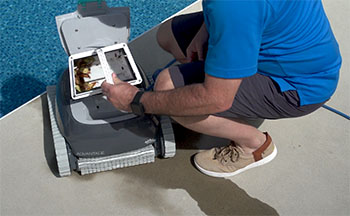 The Dolphin Advantage boasts superior maneuverability. Its tank-like treads provide enough traction to adhere to slippery walls while forceful jets propel it upwards.
It's equipped with a high-power scrubber, intense suction, and a large capacity filter basket that combine forces to eradicate the contaminants tainting the pristine purity of your pool. The brushes' knife-like bristles relentlessly remove stuck-on algae and other gunk.
With the weekly scheduling function, you can program your Dolphin Advantage to clean every day, every other day, or every third day. This is perfect if you spend most of your days away from home.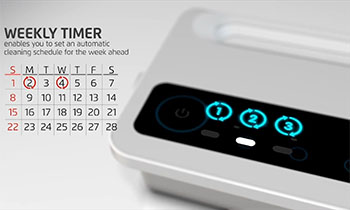 Cleaning the filter is as simple as taking the bot out of your pool, removing the filter basket, and giving it a quick rinse with a nearby garden hose. Because the Dolphin Advantage only costs a nickel a day to operate, cleaning your pool every single day will only cost you a dime.
This is a low price to pay for a clean pool!
What's Not So Good

Some customers complain the Dolphin Advantage spends most of its time in one corner and rarely climbs the walls. They say that the unit starts to climb, get 1/3 of the way up a wall, pause, think a bit, and then reverse back down to the pool bottom.
These users believed that this was the robot's choice, and it didn't slide off the walls because of a lack of traction. Others complain that the robot does wheelies instead of staying on the pool floor.
A few users had their wheel caps and treads fall off. Several people complained that whenever the unit tries to clean the stairs, it topples over.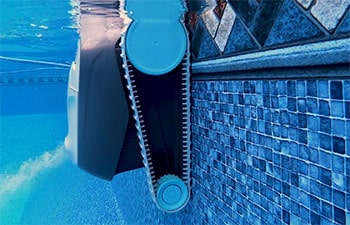 The Dolphin Advantage doesn't have Bluetooth or WIFI, so you won't be able to remotely operate the unit. It doesn't come with an anti-tangle swivel.
Although it features a tangle-free navigation system, this won't prevent the power cord from getting tangled up occasionally.
Finally, the Dolphin Advantage doesn't clean the waterline. This means you'll have to do it yourself.
Alternatives to the Dolphin Advantage
To help make your buying decision easier, we'll compare the Dolphin Advantage to two other models.
Dolphin Advantage vs. Dolphin Premier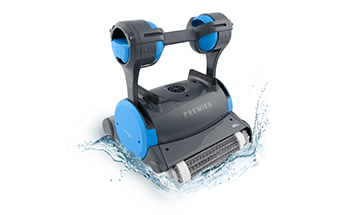 We'll start with the Dolphin Premier. The Advantage has a single active scrubbing brush, while the Premier has two. The Premier is only suitable for inground pools; the Advantage works both inground and above ground pools.
The Advantage is only for pools up to 33 feet in length. The Premier can handle pools up to 50 feet. The Premier cleans the waterline; the Advantage does not.
The Premier has an anti-tangle swivel; the Advantage has what's billed as a "tangle-free navigation system" that won't prevent the cord from sometimes getting tangled up.
Dolphin Advantage vs. Aquabot Breeze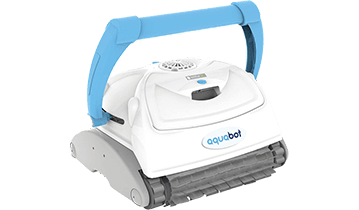 Now, let's compare the Advantage to the Aquabot Breeze.
The Aquabot Breeze cleans the waterline, and as was already mentioned, the Dolphin Advantage doesn't. The Aquabot Breeze is only for inground pools, and the Dolphin Advantage is for both inground and above ground pools.
The Aquabot Breeze has somewhat better filtration than the Dolphin Advantage.
Final Verdict: Should You Buy the Dolphin Advantage
Robotic pool cleaners are quickly taking over the entire pool cleaning market. That's because, with a robot to do your bidding, the whole process becomes automated. Merely press a button, and your pool gets cleaned without you having to lift a finger.
The Dolphin Advantage is one of the better robot pool cleaners available. Read our informative guide if you want to find out the best of the best.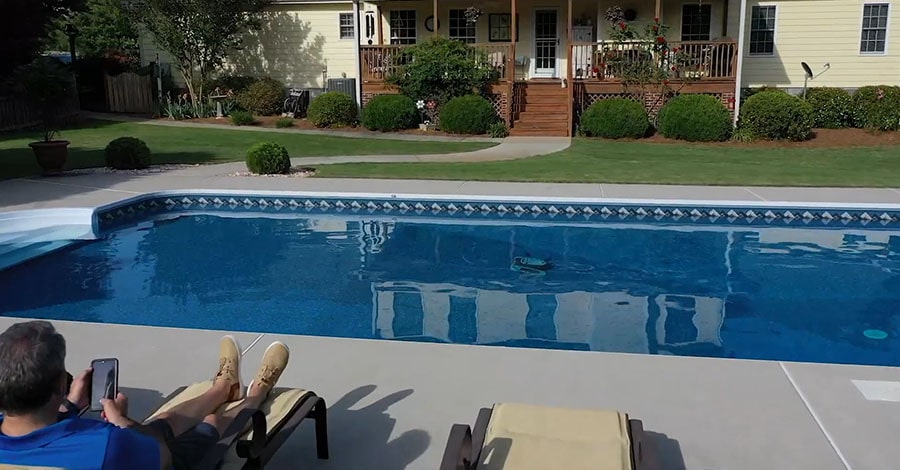 Dolphin Advantage is an easy-to-use machine
The Dolphin Advantage is the perfect addition to your pool cleaning arsenal and requires hardly any setup out of the box. It isn't the most feature-packed model. However, it's still an easy-to-use, easy-to-operate machine that helps make manual pool cleaning a thing of the past.
Some customers love their Dolphin Advantage so much, they've named them.
Some people named their robot "Little Geek"—a reference to the James Cameron movie The Abyss. Others call it "Eva," after the robot in WALL-E.
What are you going to name your robot?
Let us know in the comments!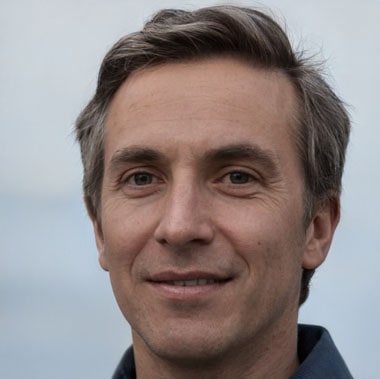 Author
Our pool maintenance expert, Luke Reed, earned his BS in Civil Engineering from Georgia Tech in 1998. Since then, he's worked in a variety of industries, including design and construction of luxury swimming pools.
---
Pool Maintenance Tips & Tricks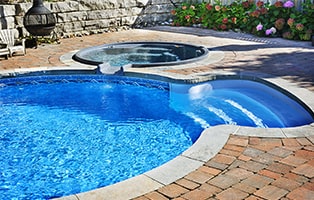 With all the different types of swimming pools available, such as in-ground and above-ground, it can be difficult to decide which one to get. Our guide including pros and cons can help you make that choice.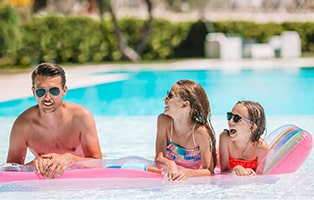 Germs and bacteria can cause life-threatening illnesses in a swimming pool. Find out what the dangers are and what you can do about them by reading our article.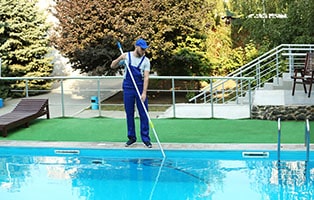 Dreaming of entrepreneurial success? Check out our guide on how to start a pool cleaning business. You'll find everything you need to know to set one up.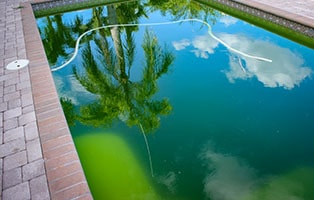 Is your swimming pool too murky to swim in? In our informative article, you'll discover the causes of a cloudy pool and how to fix the problem.