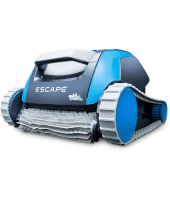 Our review of a fantastic advanced robotic above ground pool cleaner, the Dolphin Escape
We select, test, review and suggest the best products. We may earn a commission, if you buy something through our links.
The Dolphin Escape offers an incredible combination of features, all at an unbeatable price point. Maytronics packed in SmartNav tech, an unbeatably sized debris canister, and energy efficiency, all in a mid-tier priced machine.
Anyone who owns a pool knows two things. One, keeping your pool clean is important, and two, it's a huge pain. The Escape is an appropriate name, as it offers users a way to escape much of the hassle of owning a pool.
The 14-pound Escape was made with above ground pools in mind but works fine in smaller in-ground pools as well. The time and care put into designing the Dolphin Escape are evident in everything from the high-quality construction, to the innovative features that dare to rethink industry standards. For instance, their "hypergrip" track replaces four-wheel designs, which often lack solid traction and become stuck.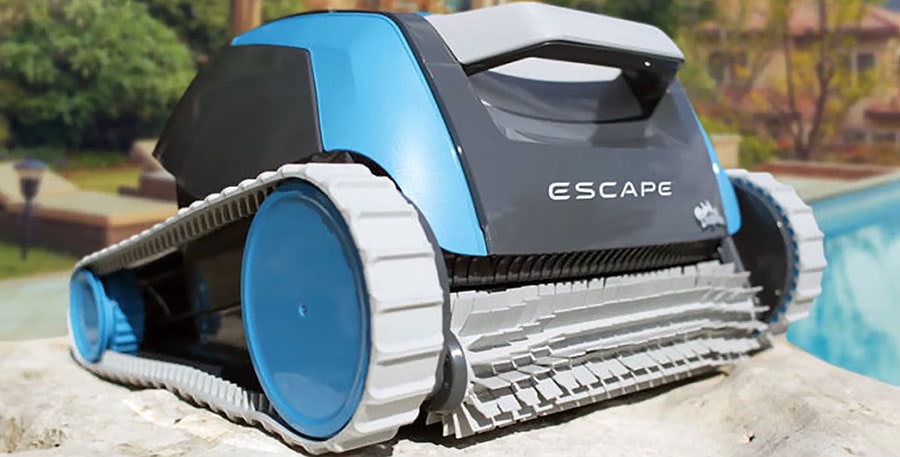 Dolphin Escape – Robotic Pool Cleaner
In spite of the many valuable features boasted by this Dolphin, perhaps the most unbelievable is the price point. Automatic pool cleaning robots with these types of features are typically priced much higher, making the Escape a real bargain. Let's break down all of it's most important specs and features.
The Amazing Gentle Giant
Innovation is at the heart of the Dolphin Escape. It's an extremely energy efficient machine, using around 90% less power than many common older types of pool cleaning robots. Maytronics accomplished this by using a low voltage DC motor, which only requires around 180 watts to function fully. Despite its scant power usage, the Escape still offers an impressive suction rating of 4000GPH, which is comparable with more expensive models.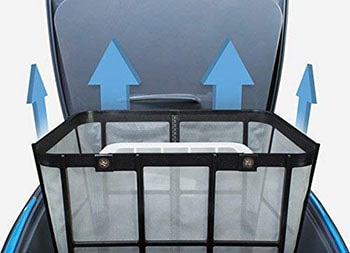 Another fantastic idea utilized in the Dolphin Escape is the absolutely massive, top-filled filter cartridge, which holds around 60% more debris than comparable models. The Escape has an impressive filtration system which can handle anything from bacteria and algae to leaves.
The Dolphin Escape is seen as a game-changer in the pool cleaning robot market thanks, in part, to the inclusion of its SmartNav technology. As opposed to the vast majority of older robots in this price range, the Dolphin Escape doesn't rely on randomized route making, instead scanning the pool when it's first used. The advanced algorithm directs the robot to precisely where it's needed most, all while avoiding any obstacles such as the ladder.
Your purchase comes with the Dolphin Escape automatic pool cleaning robot, 40ft anti-tangle power cable, specialized power unit, massive filtration canister, and user manual. The Escape also comes standard with a two-year warranty. This is quite rare for pool cleaning robots, especially for such a long period of time.
What Users Like You Are Saying

One of the major things that users online have said about the Dolphin Escape involves their hypergrip technology. While older, wheel-based, cleaners were famous for becoming stuck and needing rescue, the Escape rethinks how to ensure traction underwater.
Instead of relying on wheels, the hypergrip track gets the job done on all sorts of pool surfaces. The hypergrip works flawlessly in conjunction with the SmartNav feature, greatly limiting the time needed to clean an entire pool. In fact, these two features together have been touted by many users for changing their perspective on how long it should take to clean a pool.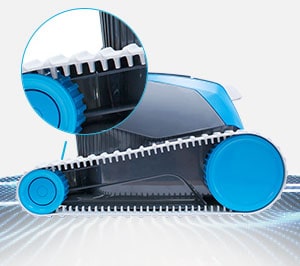 One very common theme among users of the Dolphin Escape is their success using it to either open or close their pool for the season. Pool owners know these can be the most annoying times of the year, but luckily the Escape has got you covered. Thanks to the rapid speed and massive canister, the Escape has been shown time and time again to have what it takes to take an exceedingly messy pool and make it look great.
Other users have appreciated the relative lack of noise that comes from the Dolphin Escape. Over the 1.5 hour cycle, most reviewers say they never noticed the Escape making any noise at all. This can be a godsend if you're someone who particularly enjoys relaxing quietly by the pool.
But above all else, one thing that the vast majority of users love about the Escape is the included two-year warranty. It's not easy to find any type of guarantee when it comes to pool cleaners, let alone one that's so helpful. You even have the option when you buy your Escape to purchase an additional two years of coverage. While the Dolphin Escape is a very well made device, it's always better to cover yourself when you can in case of any unforeseen issues.

However, just because the vast majority of people have had positive things to say about the Dolphin Escape, doesn't mean it's perfect. One of the most common complaints you find about the Escape is that is doesn't offer any timer functionality. Many people find this frustrating, especially if they would prefer to set it on a schedule.
Much in the same vein, users have complained about the lack of remote control. This seems like a bit of an oversight by Mayronics, as many less impressive models still offer remotes for basic function. Others take issue with the fact that the ultra-fine filter basket for the Escape is not standard, and must be bought separately.
That said, the largest complaint of users who bought the Dolphin Escape involves the types of pools it's optimized for. For instance, while the Escape can ensure a perfectly cleaned above ground pool in around 90 minutes, with larger pools, it can begin to miss spots. The machine is optimized for pools no larger than 30ft, so if your pool is bigger than that, it may not be the right option for you.
Final Thoughts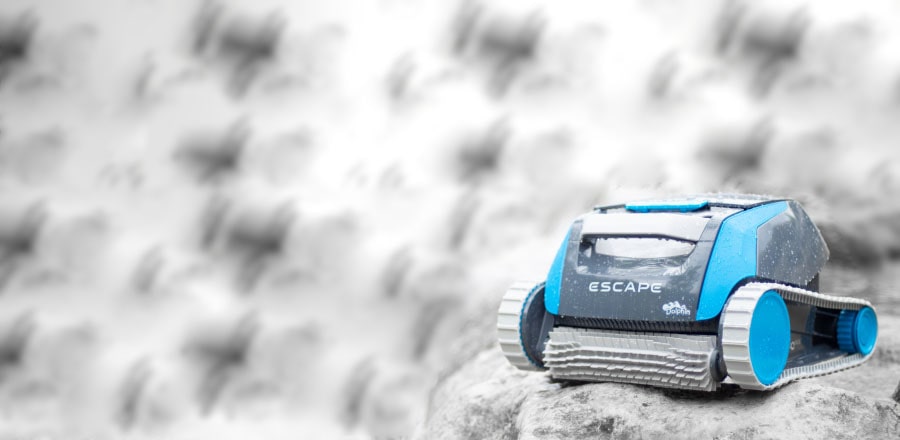 The Dolphin Escape is an affordable robotic pool cleaner.
Maytronics has really produced a game-changer with their Dolphin Escape automatic pool cleaning robot. The Dolphin name is already synonymous with high-quality pool robots, and with the Escape it can now be counted among the widely affordable ones. With all the features you could want, at a price you can't beat, anyone in the market for a pool robot should take a look at the Escape.
While not perfect, it provides a hard to beat combination of factors, from the SmartNav tech to the incredible energy efficiency and warranty. If you're not satisfied with what the Dolphin Escape has to offer, take a look at this top list of other options out there.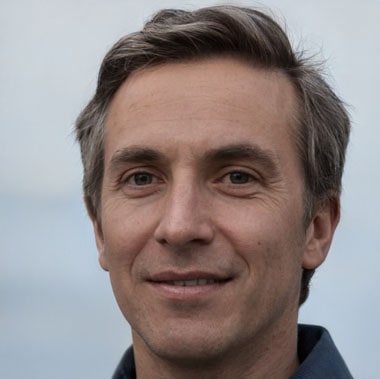 Author
Our pool maintenance expert, Luke Reed, earned his BS in Civil Engineering from Georgia Tech in 1998. Since then, he's worked in a variety of industries, including design and construction of luxury swimming pools.
---
Pool Maintenance Tips & Tricks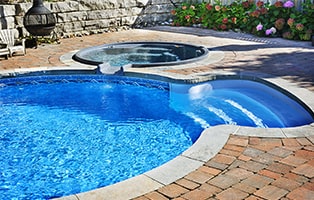 With all the different types of swimming pools available, such as in-ground and above-ground, it can be difficult to decide which one to get. Our guide including pros and cons can help you make that choice.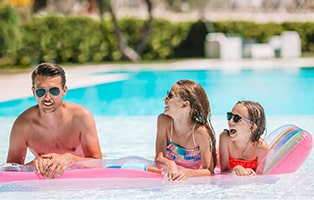 Germs and bacteria can cause life-threatening illnesses in a swimming pool. Find out what the dangers are and what you can do about them by reading our article.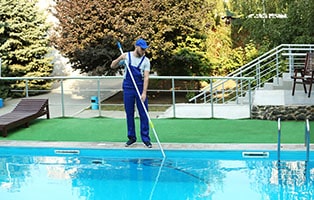 Dreaming of entrepreneurial success? Check out our guide on how to start a pool cleaning business. You'll find everything you need to know to set one up.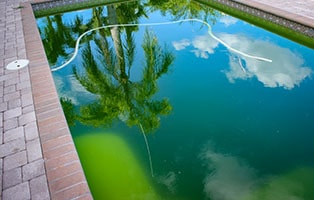 Is your swimming pool too murky to swim in? In our informative article, you'll discover the causes of a cloudy pool and how to fix the problem.