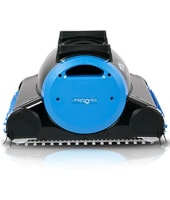 Is the Dolphin Nautilus the right automatic pool cleaner for your pool? Find out in our 2022 review.
The Dolphin Nautilus (99996323) is a robotic pool vacuum that is capable of cleaning most inground pools. Like other robotic pool cleaning machines, all you need is an electric power source. No pumps needed. This model cleans the floor and walls of pools up to 50 feet across.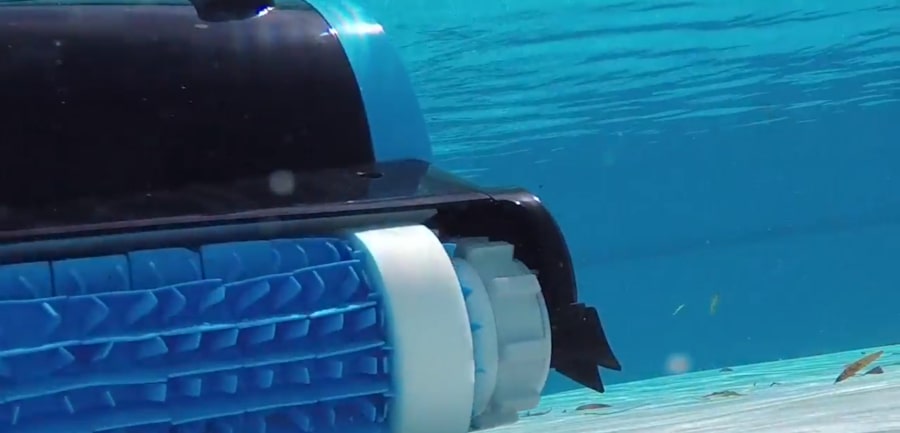 Dolphin Nautilus 99996323
Like some of the advanced robotic vacuums for your home, the Dolphin Nautilus can scan and map out its cleaning area to more efficiently clean your pool. This unit is rather expensive, but average in price compared to many other robotic pool cleaners.
What do you get with the Dolphin Nautilus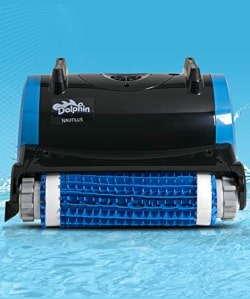 Plug and play single button control
Advanced CleverClean mapping technology
Dual scrubbing brushes
Reusable ultra-fine cartridge filters
60-foot anti-tangling swivel cable
24-volt dual-drive motor
30-volt power supply
Normal & heavy duty filter cartridges included
1-year limited manufacturer warranty
You will need a GFCI electrical wall outlet near your pool for the power supply. It does not come with a caddy, though you can buy one separately (link is below). It also has no carry handle, so to remove it from the pool, you pull it to you by the power cord, then lift from the water by grasping it on each side.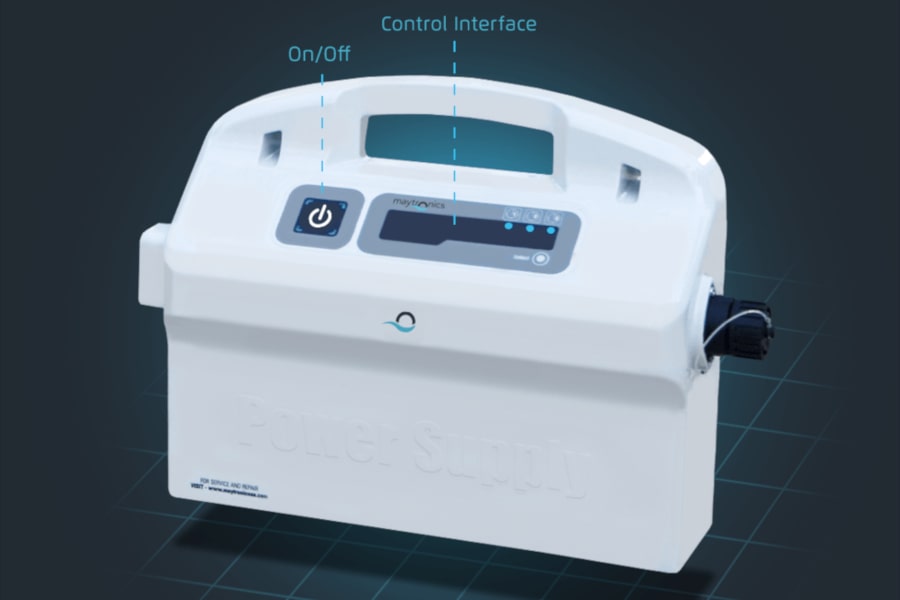 Multi-function Power Supply – Save Energy
There are no scheduling features with this robotic cleaner. You'll have to manually press the start button on the power supply each time you want it to clean the pool.
There is also an option to purchase an extended warranty, which some customers said was a very wise thing to do.
Product dimensions
Weight: 16.5 pounds
Length: 24 inches
Width: 20 inches
Height: 20 inches
Keep in mind that when you remove the unit from the pool, it will feel heavier due to water and dirt in the filters. Customers reported that since the filters are on the bottom, you may want to lift it out upside down, or dirt could fall back out into the pool.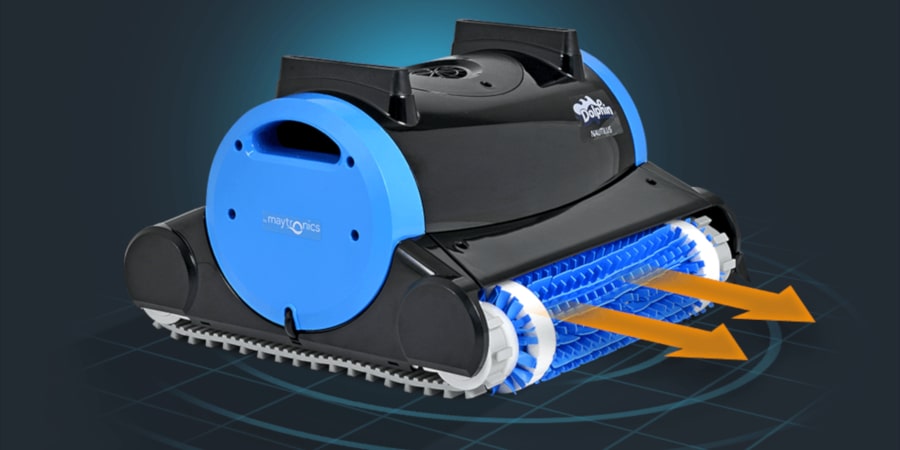 Performance
This model can clean almost any pool shape, including kidney, L-shape, round, and rectangle. If your pool floor meets the walls at a 90-degree angle, the unit may not be able to climb the walls very well. It does better with pools where the floor meets the wall at a gentle curved angle. Dirty filters can also hinder its climbing abilities, so be sure to check them often.
It may take more than one cycle for the unit to cover the whole pool, depending on the size and complexity. If you have a lot of steps and stairs, you'll have to keep those brushed manually. It's a good idea to brush all those trouble spots first, then run the Nautilus so it can pick up that loosened debris.
Though it can generally clean most pools within 3 hours, it may take more than one cycle if you have an oddly shaped or very dirty pool. It's not designed to clean the waterline, though it will sometimes reach that level. It can clean vinyl-lined inground pools, but make sure your liner is in good condition with no rocks or roots beneath it.
---
What's to love about the Dolphin Nautilus

Customers have reported using this for 5 or more pool seasons in a row with no issues, so long as they kept up with maintenance (i.e. cleaning the filters, replacing worn parts, manual pool cleaning when needed, proper storage, etc.). While most parts such as climbing rings, filters, and brushes aren't covered under the limited warranty, they are easy to find either through the manufacturer or other online sellers.
There are a few other nice things about this model. It doesn't seem to have any trouble with getting stuck on raised drains in the pool floor. For many customers, the vacuum has virtually eliminated any need for manual cleaning for at least a couple months at a time. It's also super quiet. You'll never know it's there unless it comes up out of the water and splashes a bit.
What's not so great about the Dolphin Nautilus

The most common complaint seems to be the power supply, which stopped working for several customers early on. The unit can get stuck or flip over in corners and on steps sometimes, so it's a good idea to babysit it, especially in its first few uses. Also, it will take about 3 cycles for it to adequately map your pool, so it will probably miss a few spots the first few times you run it.
It has a few other flaws as well. Customer service through the manufacturer can be difficult to reach and to work with. Some customers stated they'd rather have dedicated scrubbing brushes rather than the gripping rubber brush rollers. Big leaves and other large debris can get stuck in the filter intake, so if you notice less suction, check the filters for large debris and clean it out.
---
Basic operation
Plug the power supply into your outlet. Plug the vacuum's blue cable into the power supply. Drop the unit into the pool, and press the ON switch. That's about it. To clean the filters, you just pop them out and spray clean with a hose, then replace. There are no filter bags to bother with.

Rundown of the Pros

Works with any shape of pool up to 50 feet across
Cleans most pools within 3 hours
Reusable, easy-to-clean filters
Good navigation to map out pool for efficient cleaning
Simple plug-and-play operation
Super quiet
Cleans all inground pools, even vinyl-lined
60-foot non-tangle swivel cord
No external pump needed

Rundown of the Cons

May not climb walls well if they meet the floor at a 90-degree angle
Can get stuck in tight corners or on steps
May take more than one cycle for a thorough clean
Large leaves & other debris can clog intake
Manufacturer customer service can be difficult to reach
Power supply may stop working within a few months of use
No scheduling features
Can be heavy and may drop debris when removing from pool
No caddy included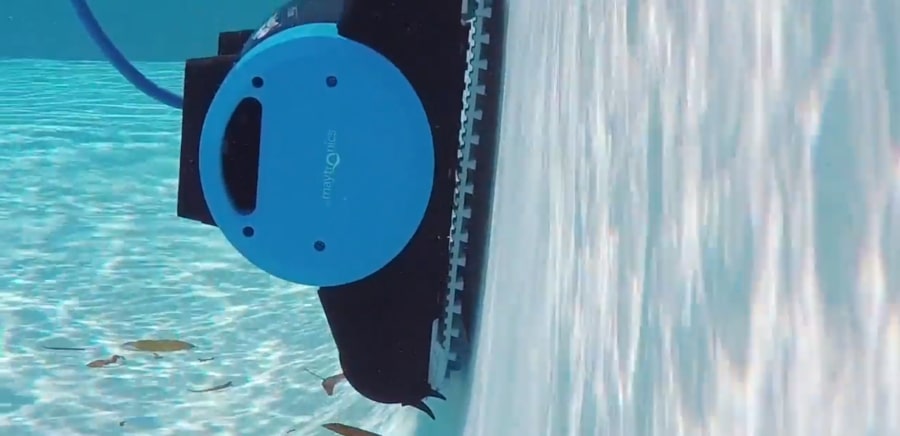 Final thoughts
The Dolphin Nautilus is a high-quality robotic pool cleaner that is a worthy investment for maintaining your inground pool. It's quiet, simple to operate, and with its mapping tech, can efficiently clean most pools without any assistance from you.
You may have to manually clean steps, ladders, and some tight corners, depending on how complex your pool is. It will also do much better with wall cleaning if you have a rounded angle between floor and walls.
To avoid debris spilling out when removing, you can turn the unit upside down to get it out of the pool. This is a bit inconvenient, but since the filters are located on the bottom, it is what it is. Due to the possibility of a failing power supply or other issues that might not be covered under the limited warranty, it's a good idea to purchase the extended one.
Optional accessories

Makes transporting your pool robot super easy. You can even store it right on the caddy.

Efficient, clog-resistant, ultra-fine filtration to collect the smallest of debris. Easy to rinse and replace.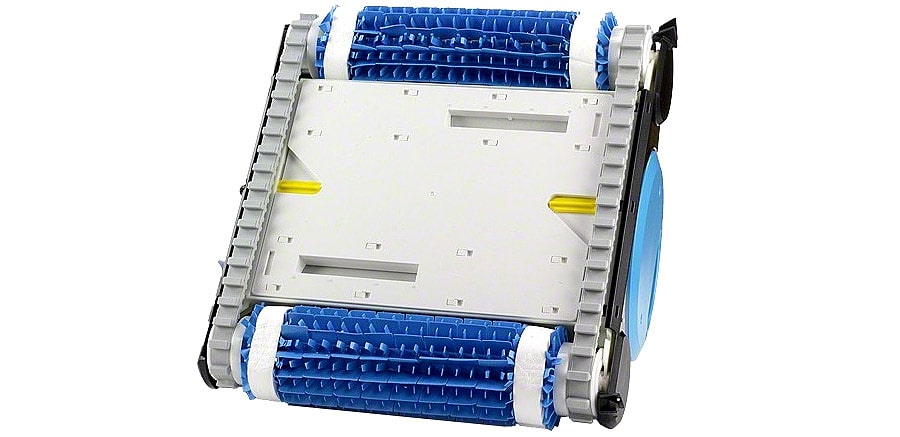 Bottom Load Ultra-fine Cartridge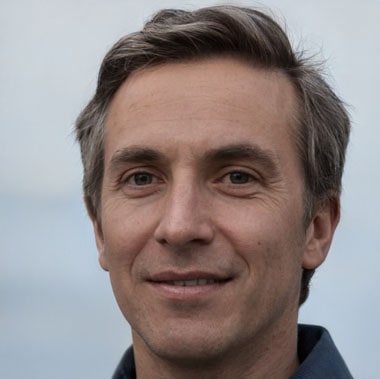 Author
Our pool maintenance expert, Luke Reed, earned his BS in Civil Engineering from Georgia Tech in 1998. Since then, he's worked in a variety of industries, including design and construction of luxury swimming pools.
---
Pool Maintenance Tips & Tricks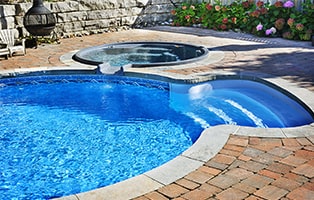 With all the different types of swimming pools available, such as in-ground and above-ground, it can be difficult to decide which one to get. Our guide including pros and cons can help you make that choice.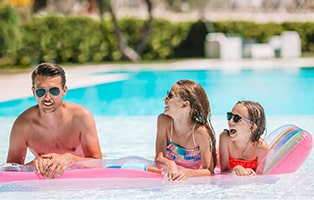 Germs and bacteria can cause life-threatening illnesses in a swimming pool. Find out what the dangers are and what you can do about them by reading our article.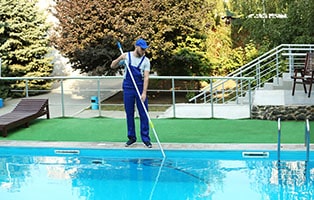 Dreaming of entrepreneurial success? Check out our guide on how to start a pool cleaning business. You'll find everything you need to know to set one up.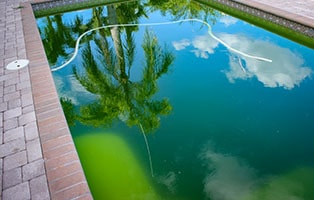 Is your swimming pool too murky to swim in? In our informative article, you'll discover the causes of a cloudy pool and how to fix the problem.