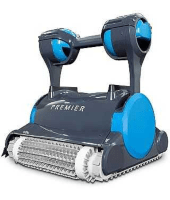 The Dolphin Premier is the #1 – selling robot pool cleaner from Maytronics. Find out more in our detailed review.
We select, test, review and suggest the best products. We may earn a commission, if you buy something through our links.
We rated the Dolphin Premier as #1 on our list for several reasons. Filtration is what separates the good pool robots from the not-so-good ones. This is where this robotic pool cleaner really shines. It's packed with smart tech features and can clean an in-ground pool up to 50 feet within 3 hours.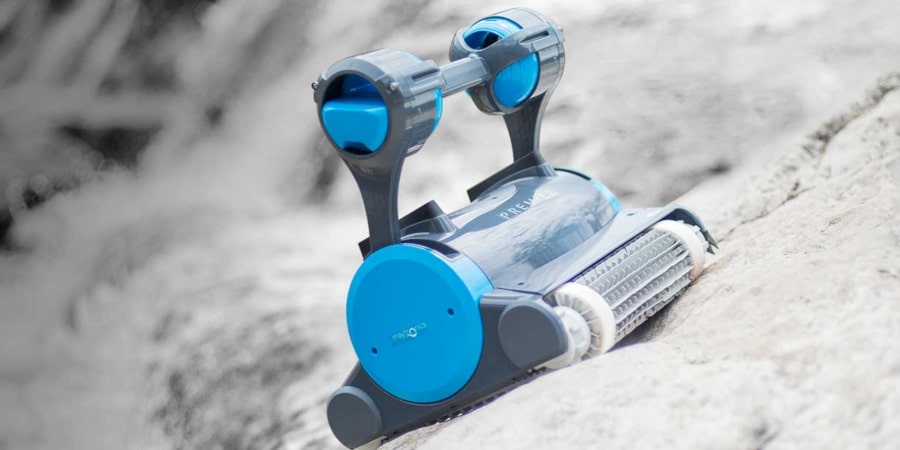 While you'll get what you pay for with most appliances, with the Dolphin Premier, it doesn't come with any extra accessories. For the premium price, that's disappointing. But it might be worth it in the long run.
What do you get with the Dolphin Premier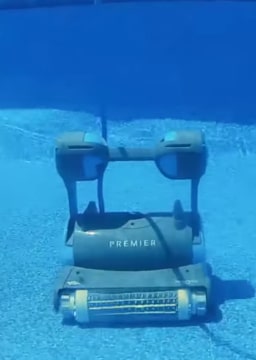 60-foot cord
For in-ground pools up to 50 feet
Cleans within 3 hours
3-year warranty that's not prorated
Multi-media filtration
Dual 24-volt, 180-watt DC motors
SmartNav mapping for optimized cleaning
Smart control weekly timer
LED indicator to signal when debris bag is full
Swivel cord prevents tangles
Remote control (available separately)
---
Navigation
The navigation system and scanning features allow this pool robot to clean the walls, floor, and waterline using the most efficient path for a quicker clean. Many robot pool cleaners are hit or miss at the waterline or don't even get that far up the wall.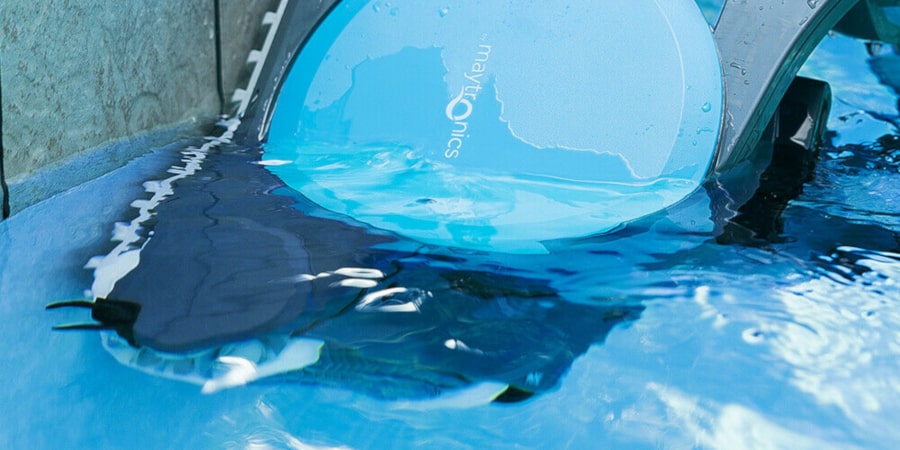 Filtration
Multi-media filtration includes 3 filter options: bottom-load fine cartridge filters, ultra-fine cartridge filters, and a large fine filter bag. The cartridges easily snap in and out and can be quickly hosed clean.
When used in conjunction with the 4 different cleaning modes, this little robot can pick up everything from leaves and sticks to sand and algae. You can also purchase disposable filter bags if you wish.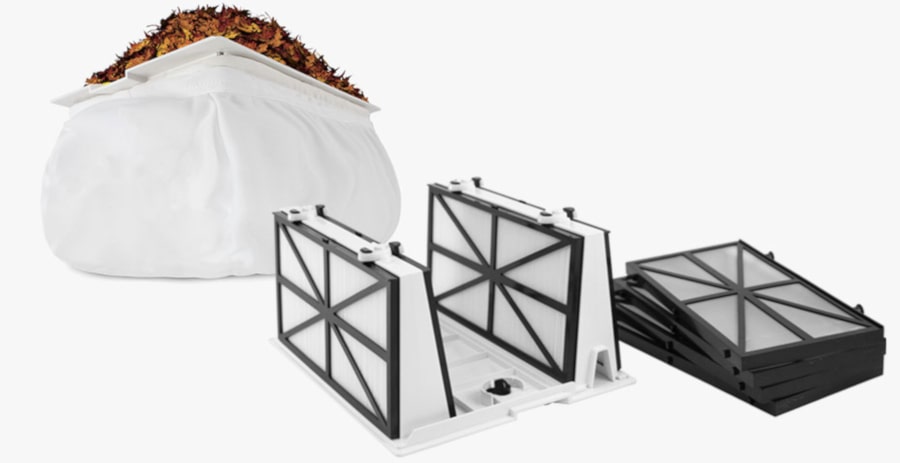 The bags are great for holding large debris like sticks, leaves, seeds, and bugs. If you have several trees around the pool, you'll appreciate the bag. It's machine washable but can be hosed out as well.
Energy Usage
Unlike most AC-motor pool cleaners such as suction and pressure cleaners, the Dolphin Premier's dual DC motors use 90% less energy. Combine this with dual scrubbing brushes and the mapping software, and you get a more thorough clean faster than the more basic pool robots.
Scheduling
Do you want your pool cleaned every day, every other day, or every 3rd day? Or do you just want to clean it whenever you think about it? You can easily switch between automatic cleaning cycles or manual with simple controls on the power supply.
---

General set-up and operation
This is where the Dolphin Premier could use some improvement. Not necessarily with the actual process, but the instruction manual. It's bad. Very basic. Virtually no explanation of the smart tech features. Customers recommended watching videos on YouTube to see how it's done.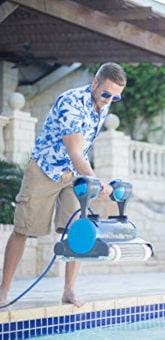 For the first time operating it, you'll need to unwind the power cord and stretch it out to remove the kinks. If the brushes have any plastic covers on them, remove those. Put the power supply about halfway down the long side of the pool and at least 12 feet from the edge.
You'll attach the power cord to the power supply and turn it clockwise to lock. Then plug in the power supply. But leave it OFF for now.
This machine is fairly light at 22 pounds. So it shouldn't be too hard to lift and drop into the pool. Let it sink all the way to the floor. Drop enough of the power cord into the pool so that the cleaner can reach the farthest corner. Turn the power supply ON.
To remove, turn off and unplug the power supply, then use the power cord to pull the robot to the surface of the water and to the pool's edge. Use the handle to lift the robot from the pool and NOT the cord. It will feel heavier than before due to the water and debris in the filters.
What customers like about it

For the most part, customers really appreciate how easy this machine is to set up and operate, despite the lackluster owner's manual.
Homeowners with trees around the pool commented on how well this machine worked. The filter bag performed better than the cartridges in picking up leaves, sticks, and other large debris.
Several customers reported that the Dolphin Premier crawls over pool drains and other obstacles without getting stuck or confused. They like that it climbs steps and seats and actually cleans the waterline.
Several people appreciated that all the filters are included without having to buy them separately. Some customers mentioned how the components are easily taken apart if something breaks so you don't have to ship the whole thing for most repairs.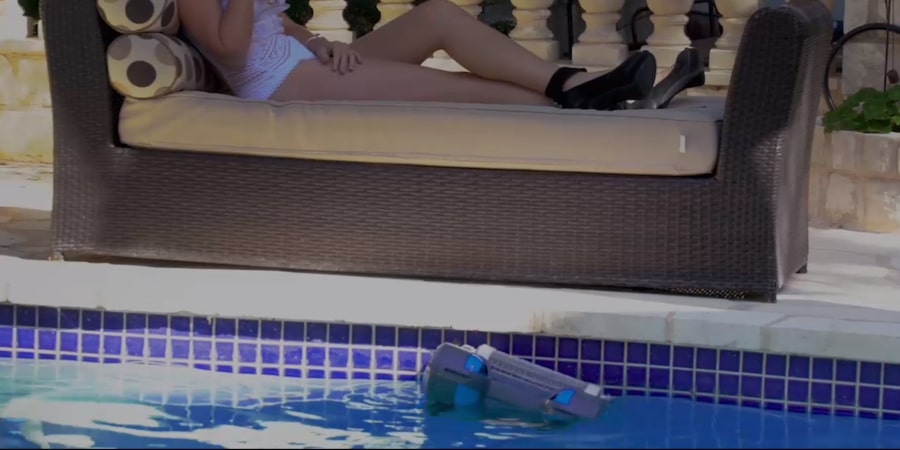 What customers don't like about it

Though the reusable filter bag holds a lot of debris, it's not particularly easy to clean out. It is machine washable and can be hosed out, but takes some time.
One issue that might be a non-issue was the foam roller that seemed to have gotten flattened on one side during shipping. A few customers noticed that the roller returned to its normal shape when they put the machine in the pool.
For some people, it didn't climb the walls very well. One customer suspected the floats on the handle weren't properly positioned, so that's something you might want to research.
Some customers said the machine was too wide to clean their narrow pool steps, so manual brushing may be needed with those.
The remote and caddy must be purchased separately. They're not super cheap. The remote, according to several people, is pretty useless. However, the caddy is very useful for transporting and storage.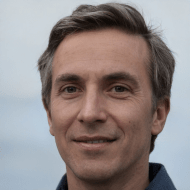 Customers who left the power supply outside and uncovered in the rain reported that it ruined the unit. Be sure to store the power supply somewhere dry when not in use such as a garage, shed, pool cabinet, etc. If you can't keep it covered while in use, promptly remove it from the pool area if a sudden rain shower occurs.
People reported various issues with customer service (CS). Either CS was unresponsive or requested they ship the whole unit back. Some local service centers weren't able to do the repairs either because they weren't capable or because customers didn't purchase the robot directly from them.
Optional accessories:

Lightweight and durable, this caddy makes storing and transporting your pool robot easy. Fits several models of Dolphin pool robots.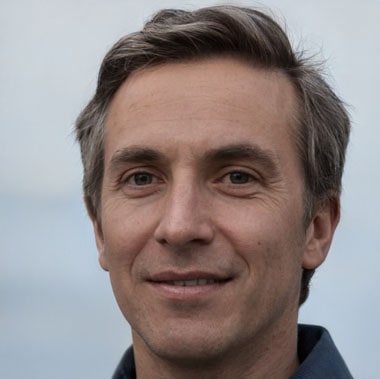 Author
Our pool maintenance expert, Luke Reed, earned his BS in Civil Engineering from Georgia Tech in 1998. Since then, he's worked in a variety of industries, including design and construction of luxury swimming pools.
---
Pool Maintenance Tips & Tricks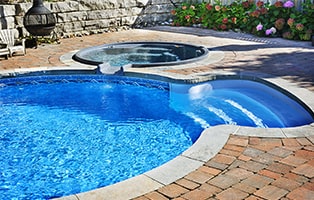 With all the different types of swimming pools available, such as in-ground and above-ground, it can be difficult to decide which one to get. Our guide including pros and cons can help you make that choice.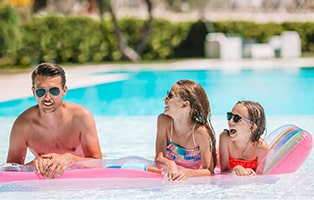 Germs and bacteria can cause life-threatening illnesses in a swimming pool. Find out what the dangers are and what you can do about them by reading our article.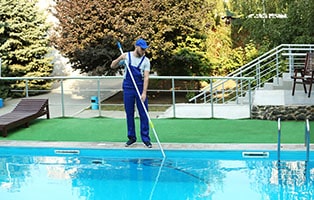 Dreaming of entrepreneurial success? Check out our guide on how to start a pool cleaning business. You'll find everything you need to know to set one up.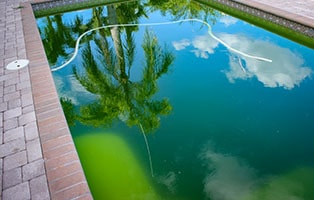 Is your swimming pool too murky to swim in? In our informative article, you'll discover the causes of a cloudy pool and how to fix the problem.