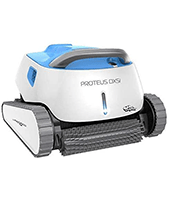 Read our 2023 review of the Dolphin Proteus DX5i pool robot to see all of the amazing features that make it such an incredible buy!
We select, test, review and suggest the best products. We may earn a commission, if you buy something through our links.
The Dolphin Proteus DX5i is the latest robotic pool cleaner to come from the ingenious minds over at Maytronics, who have over 35 years of experience in manufacturing pool cleaners.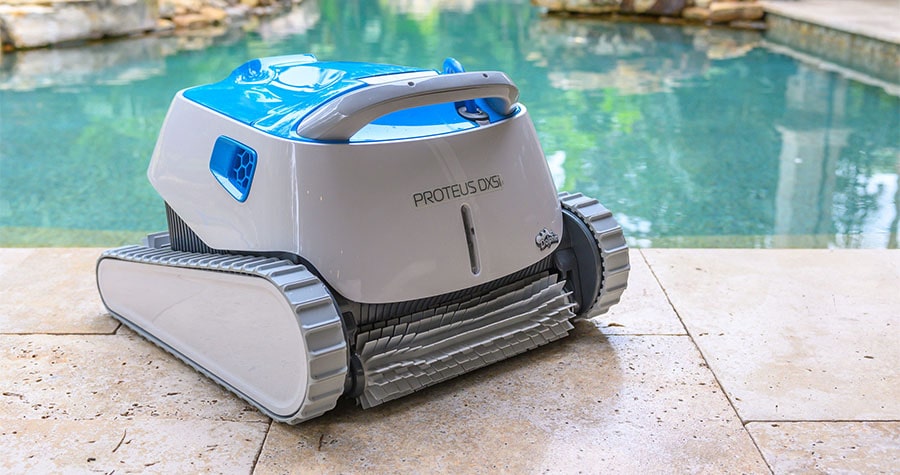 Dolphin Proteus DX5i is an affordable model with a lot of features
The Dolphin Proteus DX5i comes loaded with tons of useful features that'll make your pool cleaning chores hassle-free and easy.
Features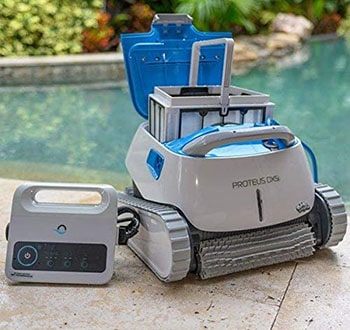 Choose from two cleaning cycles;
Smartphone app lets you control your robot from anywhere;
Well-designed app provides an exceptional user experience;
Versatile enough for every pool type;
Exceptional waterline capabilities;
Perfect for inground pools up to 50 feet
Who's it For
The Dolphin Proteus DX5i is for everyone who's had it up to here with backbreaking manual pool cleaning and desperately craves a modestly priced robot to do the work instead.
If that describes you, then you should definitely buy this cleaner!
Pros

There are so many fantastic things about this robot I hardly know where to begin.
With MyDolphin Plus and WIFI connectivity, you can control your mechanical pool boy from anywhere in the world you happen to be.
The app is intuitive, responsive, and quite user-friendly. It lets you create a weekly pool cleaning schedule, select either the quick or standard cleaning time, and even do a little spot cleaning.
The DX5i is versatile enough to clean all pool types, including gunite, vinyl, plaster, tile, and pebble. It comes with a 60 feet tangle-free cable that easily swivels in any direction, keeping it free from knots and snarls. This way, you won't have to go rescue your poor underwater droid from his own self-inflicted predicament.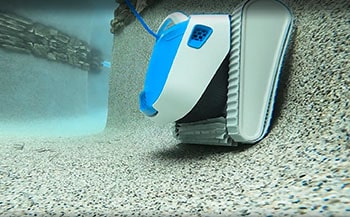 It's exceptional at climbing pools that have steep inclines, and its wall-climbing abilities are first-rate. If you use the fine filter, it will suck up any sand that has found its way into your pool.
One of the best times to use the DX51 is at the very beginning of the season when there's a winter's worth of crud in your backyard oasis. Unleash your aquatic army of one, and in no time, you'll have a sparkling clean pool that will be the envy of the neighborhood again.
This robot is supposed to be only for inground pools. However, I know someone who uses it on his three-hundred-dollar Walmart pool. He says it does a superb job, ensuring his above-ground swimming is devoid of unsightly scum and other things that detract from swimming enjoyment.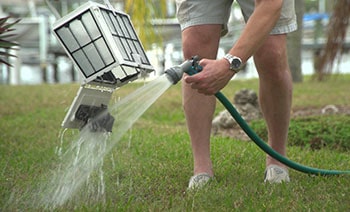 The DX5i is exceedingly easy to use from start to finish. It'll take you five minutes or less to take it out of storage and drop it into your pool, and another five minutes to clean the filter and put it away.
That's so much better than the hour or more you would spend cleaning your pool by hand!
You have a choice of how deep a cleaning you want your little robot friend to do. You can opt for the quick one-hour cleaning cycle or choose the two-hour cycle if you want it to really go to town.
The front high-speed scrubber with standard back scrubber does an exceptional job of scouring away all dirt, grime, and gunk that spoil your carefully crafted pool aesthetics. This saves you from potential embarrassment when your Uncle Freddy from Texas decides to unexpectedly stop by.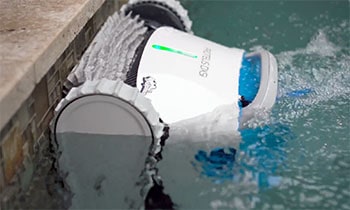 Unlike some lesser cleaners that shall remain nameless, its effectiveness isn't merely limited to cleaning the pool bottom and walls. It'll scrub your waterline so clean it shines with the incandescent power of a million suns.
Okay, that might be a slight exaggeration. Still, your waterline will probably look better than it has in years.
If you're getting older and your back, ligaments, and joints aren't what they used to be, you'll be glad to know that the DX5i is one of the lighter pool cleaners on the market. It only weighs fourteen pounds, so the chances of you pulling a muscle hauling the machine out of the pool is practically nil.
You don't have to tip the cleaner upside down to clean it because there's top access to the filter basket. This makes the process considerably less messy.
Cons

This model is supposed to have artificial intelligence built-in that uses advanced logarithms to guide the bot around your pool.
However, the jury's still out whether the robot remembers the layout of your pool in between cleanings. Some customers say it does, and others swear it doesn't.
I was very disappointed with the Bluetooth on this machine. It's kind of hit and miss and has limited range.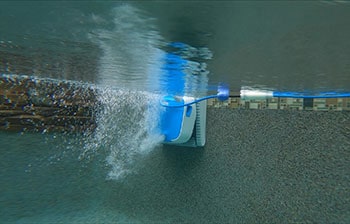 Unfortunately, there are some reports the machine frequently gets clogged with leaves.
There have been reports from disgruntled customers that the unit tends to get stuck in the pool's deep end. Corner cleaning could be a little better too.
These last two complaints are a little disappointing because the robot should thoroughly scrub every nook and cranny in the pool for the price you pay.
Alternatives to the DX5i
Let's see how the DX5i stacks up to some other models.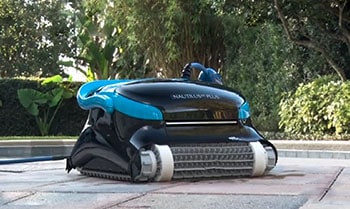 We'll start with Dolphin Nautilus CC Plus. The DX5i cleans the waterline, but the CC Plus doesn't have this capability.
You won't be able to connect your CC Plus to a smartphone. The DX5i doesn't suffer from this limitation, and you can connect it through the MyDolphin app. The Dolphin Nautilus CC Plus seems to have slightly better suction than the DX5i. The CC Plus also does a better job at picking up leaves than the DX5i.
Next, we'll compare the DX5i to the Hayward Shark Vac. The Shark Vac is lower in price than the DX5i. The Shark Vac has a cord that has been known to tangle. While the DX5i also occasionally suffers from this problem, it doesn't happen as frequently as it does with the Shark Vac.
It's easier to empty the fDX5i's filter than it is to empty the Shark Vac's.
My Final Verdict
Although the Dolphin Proteus DX5i isn't perfect, it has enough cutting-edge features to make this a worthy buy.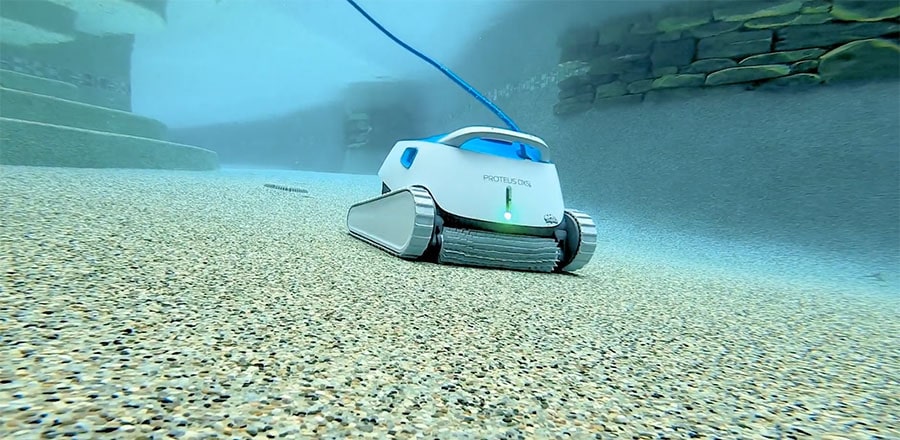 Proteus DX5i has enough features to make it a worthy purchase
If you're tired of having to spend your weekends laboriously scrubbing every crevice and corner of your pool with your manual tools, plunk down your money for this hard-working robot.
You won't regret it!
However, if you'd like to see what other robotic pool cleaners we recommend, check out our TOP-11: automated pool cleaners.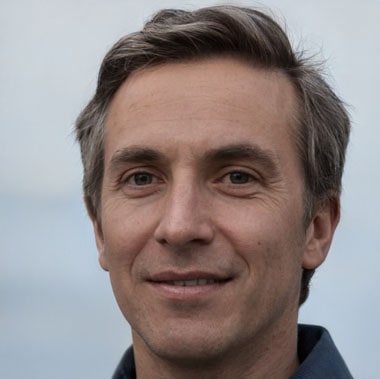 Author
Our pool maintenance expert, Luke Reed, earned his BS in Civil Engineering from Georgia Tech in 1998. Since then, he's worked in a variety of industries, including design and construction of luxury swimming pools.
---
Pool Maintenance Tips & Tricks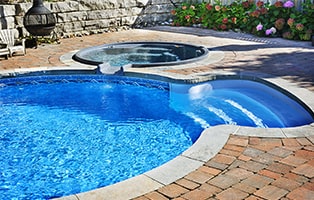 With all the different types of swimming pools available, such as in-ground and above-ground, it can be difficult to decide which one to get. Our guide including pros and cons can help you make that choice.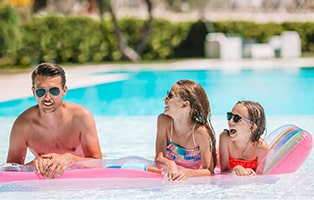 Germs and bacteria can cause life-threatening illnesses in a swimming pool. Find out what the dangers are and what you can do about them by reading our article.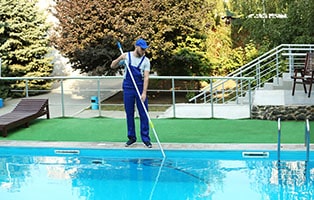 Dreaming of entrepreneurial success? Check out our guide on how to start a pool cleaning business. You'll find everything you need to know to set one up.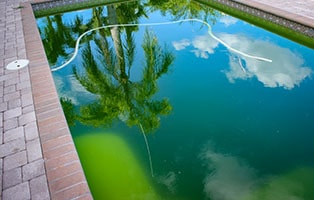 Is your swimming pool too murky to swim in? In our informative article, you'll discover the causes of a cloudy pool and how to fix the problem.