Is the Dolphin Quantum the greatest pool cleaning robot of 2023? The Cleanup Expert takes a look at Maytronics' premier offering, and all it has to offer, in our comprehensive review.
We select, test, review and suggest the best products. We may earn a commission, if you buy something through our links.
The Dolphin Quantum is one of the premier high-quality pool robots on the market today, and it's a well-deserved title. This top-of-the-line cleaner features SmartNav 2.0 navigation technology, Hypergrip tracks, and dual Hyperbrush scrubbers with PowerJet 3D vectored thrust, making it one of the most advanced robots you can buy. With such advanced innovation, could the Quantum be the best pool cleaning robot of 2023? We'll cover all of that and more in our in-depth Cleanup Expert review.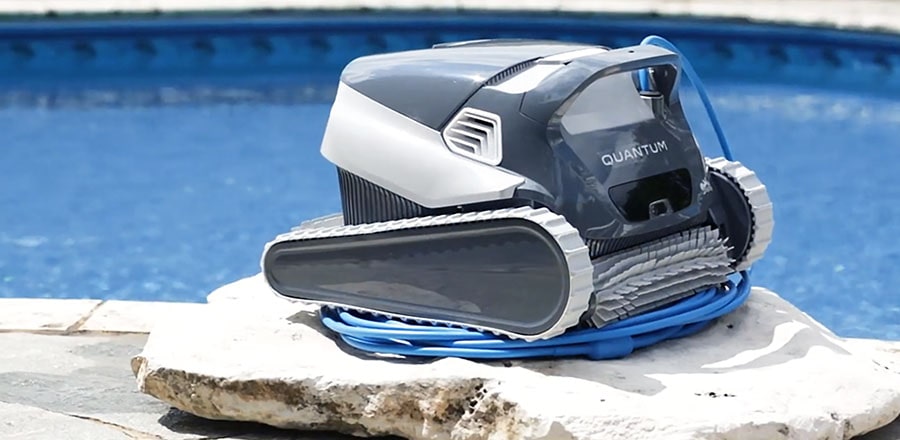 Dolphin Quantum – Robotic Pool Cleaner
Key Features
Massive 400 square inch top-loading cartridge filter, the largest in a pool robot to date.
SmartNav 2.0 Robotic Scanning technology allows your robot to clean the walls, floor, and even waterline using the most efficient path possible for the quickest clean.
Hyperbrush Dual Scrubbing Brushes and PowerJet 3D vectored thrust offer deeper cleaning with improved mobility.
Hypergrip Tracks help offer a superior and unrivaled vertical cleaning capability other robots simply can't match.
Variable Micron Filtration allows you to adjust the Quantum to handle tougher cleanup jobs, thanks to the clog-free fine and ultra-fine micron-filter options.
SmartNav 2.0 Robotic Scanning Technology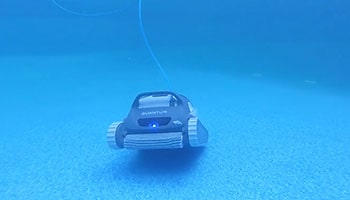 One of the key standout features that help set the Dolphin Quantum apart from inferior pool robots is the utilization of Maytronics' upgraded SmartNav 2.0 cleaning algorithm. Never again will you have to hopelessly watch your robot aimlessly wander about, missing sections of your pool and debris in the process. The SmartNav 2.0 Robotic Scanning system dynamically maps out your pool on the fly, noting where the device has already cleaned and has yet to clean. This enhanced and efficient cleaning system is capable of completing a cycle in only two and a half hours!
Powerjet 3D Vectored Thrust Mobility
The Dolphin Quantum utilizes Maytronics' latest innovations in mobility with Powerjet 3D mobility. Three degrees of vectored thrust, by way of vortex jets on the top and sides, help offer unrivaled vertical versatility and cleaning capability.This allows the Quantum to efficiently clean your entire pool in ways many robots can't, including the floor, walls, and even up around the waterline. Hypergrip rubber tracks help provide enhanced traction for superior grip and climbing ability.
Massive Variable Micron Filtration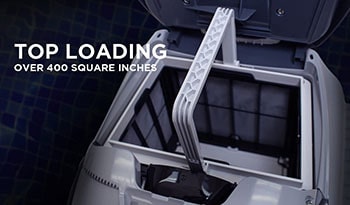 Superior filtration capability is what sets a great pool cleaning robot apart from just a good pool one. The Dolphin Quantum comes equipped with a massive 400 square-inch top-loading filter cartridge slot, the largest ever in a pool cleaning robot to date. Variable micron filtration allows you to swap between fine and ultra-fine clog-free filters, allowing you to optimize your cleaning experience. The ultra-fine micron filter is capable of trapping even the smallest particles, such as fine debris and even algae!
What Do Customers Like

The main thing people love about the Dolphin Quantum is its compact form and remarkable efficiency. The top-loading variable micron cartridge filters allow easy removal for quick cleaning and are capable of removing and handling a wide range of debris. The unit is relatively lightweight at roughly 25 pounds, making it easy to move even without a caddy, and features an ergonomic compact handle for easy carrying.
Another standout feature Quantum owners enjoy is the true cleaning potential offered by its sizable variable micron filters. People love how easy they are to clean and are constantly impressed by its ability to clean algae and other fine debris.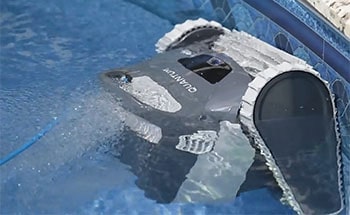 Owners also rave about its superior wall-cleaning capabilities. The PowerJet 3D mobility system paired with Hypergrip rubberized tracks ensure your Quantum catches those hard to reach spots on the walls, even around the waterline.
Of course, one of the obvious things people love about the Quantum is the fact that it saves you loads of time and effort in maintaining your pool. This not only gives you more freedom to relax or work on other things but more time to sit back and actually enjoy your pool.
What Don't Customers Like

So let's begin by talking about the power cable. At 60 feet, it most effectively cleans pools with an area of up to 50 feet, but many note it could be longer given that you can't use an extension cord.
Some owners have also reported complications with their warranty. Maytronics provides a two-year warranty with the Dolphin Quantum when purchased from an authorized seller. Purchases from select retailers may not be fully covered, and certain international buyers may want to look into their complete coverage eligibility.
A few users have also expressed a bit of disappointment with a lack of additional features given the premium nature of the device. Some wish there was Bluetooth connectivity, or a remote to manually operate the device when needed. Others wish the robot came with an included caddy, although the Quantum is compatible with Maytronics' universal caddy for Dolphin devices if required.
Is The Dolphin Quantum Right For Me
Pool cleaning robots have taken the monotony out of pool maintenance. What once was boring, back-breaking work has now been automated and streamlined, giving you more time to sit back and actually enjoy your pool and free-time.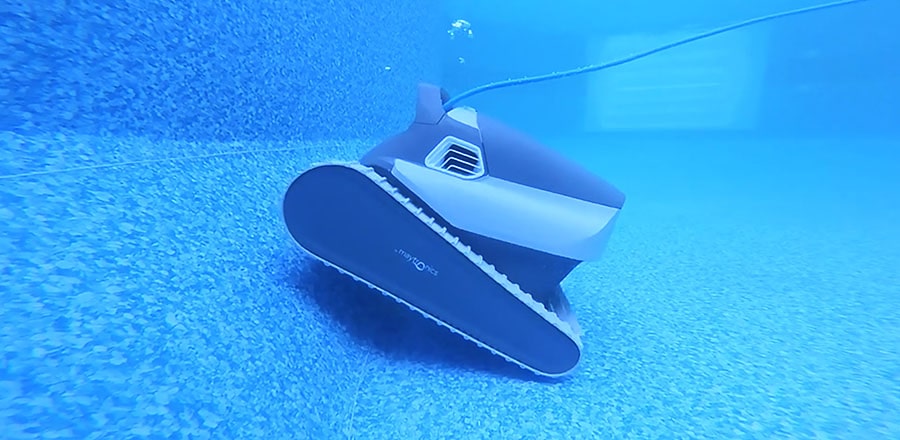 Dolphin Quantum will clean your pool for you.
Fraunhofer Institute Manufacturing Engineering and Automation noted the promise and potential these devices offered the public all the way back at the turn of the millennium.

They have also been highly-regarded thanks to the breakthroughs in robotics and automation their creation demonstrated. Research from the KTH Royal Institute of Technology noted several innovations stemming from their evolution, including those in robotics and sonar technology, as well as advancements in autonomous software development.

The Quantum is one of the greatest robots you can get for its price point, offering unparalleled cleaning capability and efficiency over similar devices. While it does come with a two-year limited warranty, the machine was designed to be user-serviceable and should last well beyond the warranty period with adequate care and maintenance.

Maytronics has proven itself time and time again as not only a leader in producing high-quality pool robots but an innovator as well. Their Dolphin line of robots stand out as some of the best in the industry, and the Quantum is no exception.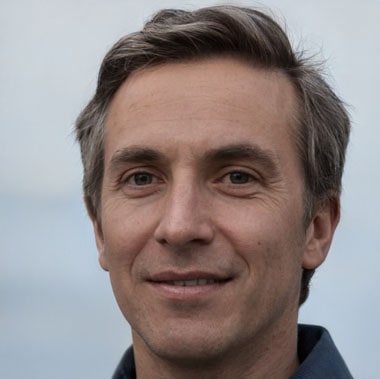 Author
Our pool maintenance expert, Luke Reed, earned his BS in Civil Engineering from Georgia Tech in 1998. Since then, he's worked in a variety of industries, including design and construction of luxury swimming pools.
---
Pool Maintenance Tips & Tricks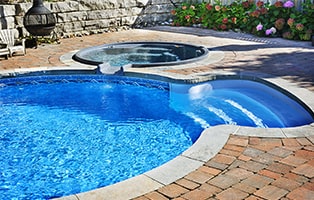 With all the different types of swimming pools available, such as in-ground and above-ground, it can be difficult to decide which one to get. Our guide including pros and cons can help you make that choice.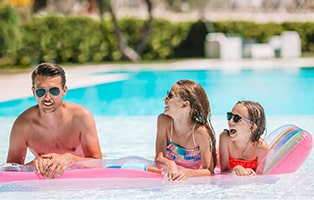 Germs and bacteria can cause life-threatening illnesses in a swimming pool. Find out what the dangers are and what you can do about them by reading our article.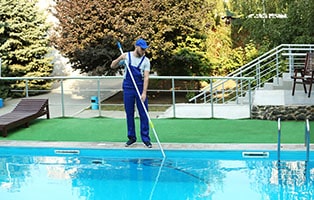 Dreaming of entrepreneurial success? Check out our guide on how to start a pool cleaning business. You'll find everything you need to know to set one up.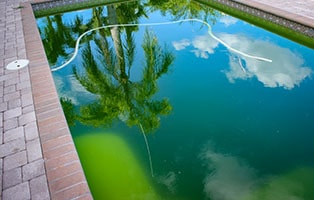 Is your swimming pool too murky to swim in? In our informative article, you'll discover the causes of a cloudy pool and how to fix the problem.