Read our Dolphin Sigma pool cleaning robot 2023 review to find out how its state-of-the art functionality can make life SO much easier for you.
We select, test, review and suggest the best products. We may earn a commission, if you buy something through our links.
The Dolphin Sigma incorporates revolutionary technology to keep your pool water crystal clear. This handy robotic servant boasts state-of-the-art features that make pool cleaning effortless. So, you'll be able to enjoy the benefits of crystal-clear pool water with ZERO manual labor. What are you going to do with all that time this frees up? You'll be able to kick back, relax, and really enjoy the summer.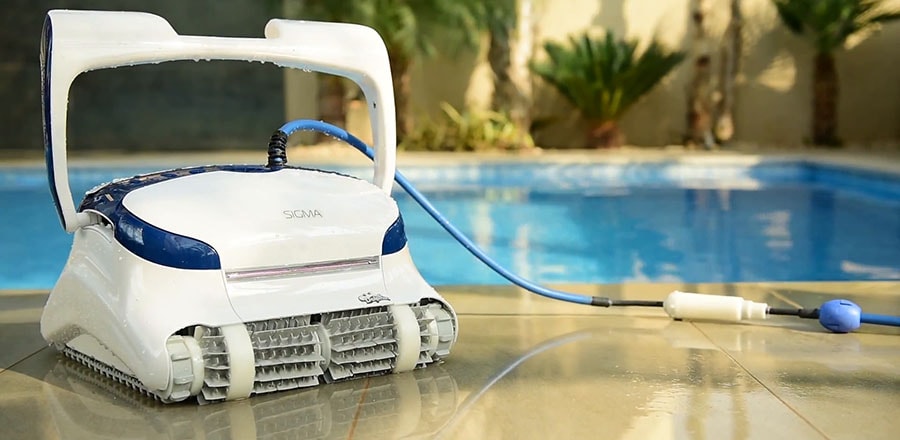 Dolphin Sigma – Robotic Pool Cleaner
It's like a lean, mean cleaning machine always ready to sanitize your swimming water, so you're not diving into a cesspool of filth. It's well worth its price…even if it is a little pricey. You'll be SO glad you invested your money in one!
The Sigma will roll relentlessly through your pool, scrubbing every inch of it. It's a powerful robotic servant keeping your swimming water blessedly free from nasty microorganisms of all types. The company has been making Dolphin pool cleaners for years. So, they know what they're doing. And, the Sigma is the latest iteration in this long line.
Quick and Easy to Operate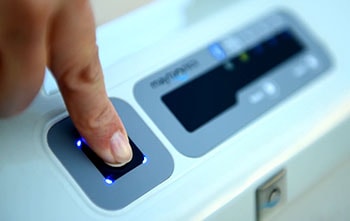 It's so incredibly quick and easy to operate. In less than fifteen minutes, you can have your machine up and running—doing the job it was built to do. Just place it gently in the pool. Then, press the button on the base unit.
It can clean a pool up to 60 feet long in as little as 2.5 hours. After this time has elapsed, go out and check your swimming water. You'll find it sparkling clean and ready for you to take a refreshing dip. Best of all, you hardly had to lift a finger to get these results!
Tangle-Proof Cable
This hard-working pool-cleaning robot comes equipped with a 60-foot swivelling cable. This means your machine won't get tangled up in its own cord.
Three Year Warranty
When you buy this machine, you'll get a three-year quality assurance warranty. So, if anything breaks down during this time, the company will replace it free of charge.
Three Motors for Triple the Power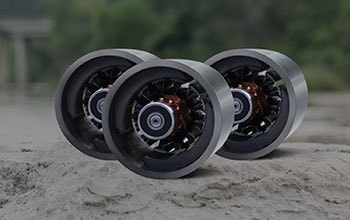 The Sigma has the distinction of being the world's first tri-motor robot.
With these impressive 24-volt DC motors, you'll get one of the highest suction rates (4,500 gallons per hour) of any pool-cleaning machine on the market. In the fall, countless acorns and ginormous oak leaves might descend en masse on your pool. And if they do, the Sigma will be right there to quickly remove them before they have a chance to make your pool water a filthy mess.
With all this power at your disposal, cleaning a 32,000-gallon pool in a little under two hours will be a cinch. It's incredibly efficient because the Sigma operates on 90% less power than old-fashioned pressure side and suction side cleaners.
Although they don't have to be, the motors in the Sigma are commercial grade. This means they're engineered to hold up even when cleaning hotel and municipal pools. And if they can do that, imagine how long they'll hold up for you!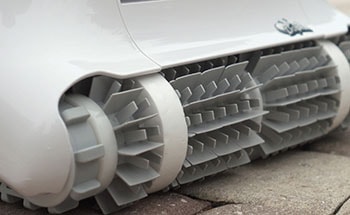 Quadruple Brushing Action
Most pool cleaners only get rid of impurities that are floating around in the water. Only a few remove contaminants that have stubbornly attached themselves to your pool walls or floor.
The Sigma is one such cleaner. It doesn't just suck up debris—it uses the power of four rapidly rotating brushes (two in the front and two in the rear) to thoroughly scrub every part of your pool. The Sigma's powerful brushing action eradicates potentially harmful foreign matter like algae and bacteria.
Biofilm is another thing that has no business being in your swimming water. It contains approximately 99% of all pool bacteria. Chlorine doesn't do a good job killing off these colonies of microorganisms because it only removes their slimy outer layer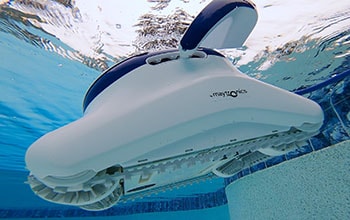 Of course, you can always manually brush your pool surfaces. But that's so much work. Why would you do that anyway when the Dolphin Sigma makes this process effortless with its attached scrubbers?
With a Sigma on the job, even while you're away from home, you can rest assured your pool will always be sparkling clean. This way, you can jump in at a moment's notice for a refreshing dip on a hot summer's day without worrying about water quality!
Another thing to keep in mind is that not all robots clean the waterline. However, the Dolphin Sigma does.
Built Like an Aquatic Tank
The Sigma is more sure-footed than your average pool-cleaning robot. That's because it has hyper-grip rubber tracks instead of wheels—just like a military tank. This prevents the loss of efficiency that happens when a robotic pool cleaner slips off a surface.
Wheels make traction MUCH more difficult because they don't adhere to a surface as firmly as tracks do. Rubber tracks also give the device more directional control, resulting in vastly improved performance.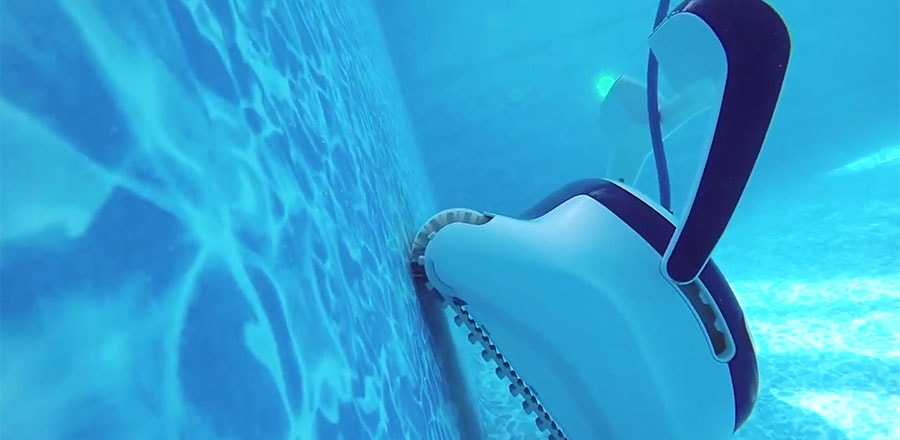 Tracks improve traction on slippery surfaces
With its hyper-grip treads, the Sigma has constant surface contact—even when climbing slippery walls.
Gyroscopes: Not Just For Spacecraft
Nowadays, it's not only spacecraft that have gyroscopes to detect deviation from a desired orientation. The Sigma has one too. It's the first-ever pool-cleaning robot with this innovative feature.
The gyroscopic navigation system provides top-notch location awareness. This gives it the same capability that planes and drones have. The gyroscope helps the Sigma to maintain precise control through pinpoint positioning of its whereabouts in your pool. With this high-tech device to guide it, your robot can scale walls without falling off.
And with built-in smart navigational software, it can map out the most efficient route around your pool to get the most done in the least time.
Larger Than Normal Filters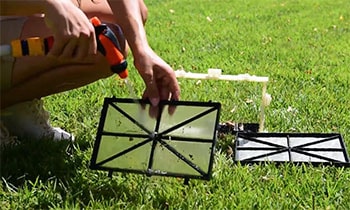 The Sigma boasts larger than normal filters. This means two things:
They have a greater surface area. This means more water can flow through them, trapping more contaminants.
They're easier to clean. Some other machines have tiny cartridge filters making it more difficult to clean out accumulated debris.
There are two filters to make sure all debris is removed. There's a bigger one for rocks, twigs, and larger objects. Then, there's an ultra-fine filter for dirt, sand, and algae. These filters are so easy to clean too. Just pop them out from the top of the unit. Then, give them a good soaking with a garden hose and VOILA!
They're as good as new again.
Another great thing about having cartridge filters is you don't have to put up with cumbersome debris bags—like you have to do with some older machines.
Set Your Own Cleaning Schedule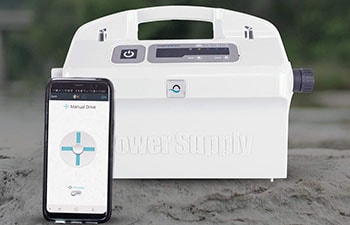 The Sigma lets you decide how frequently you want your pool cleaned.
You can program it to do it either two or three times a week. You don't even have to be at home for the robot to do its work. And, if you need some quick spot cleaning done between scheduled times, you can use the convenient MyDolphin app to maneuver it precisely where it needs to be.
Customer Complaints
Some people complain the Sigma gets hung up on the main drain at least once per cycle. That's because if it drives up on top of the main drain, it gets stuck and can't use its traction to get unstuck. This means you've got a problem on your hands.
You can remedy this dilemma by quickly tugging on the cord to free your little guy. However, if you want it to be able to run the unit without being home, you're going to have to do a bit of extra work. What you need to do is to screw a one-inch PVC cap with stainless steel screw and washer to the main drain cover to create a dome over your drain.
When your robot buddy tries to drive over the dome, it will slide off to a spot where it can be on its merry way again.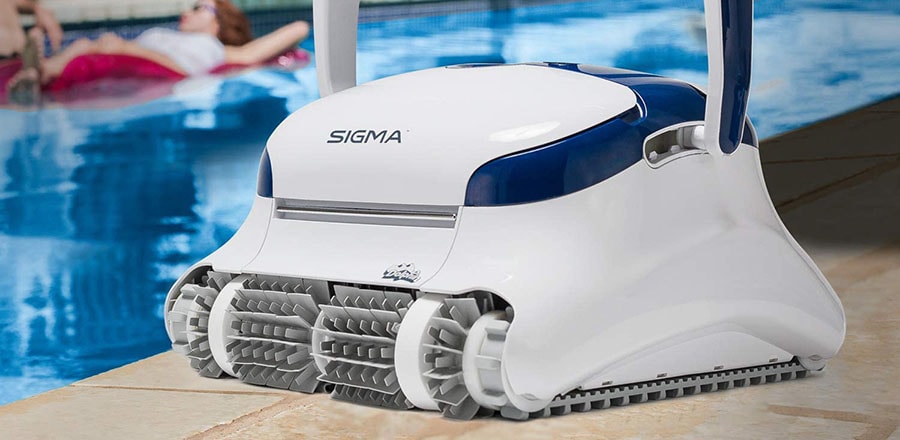 Some people report that the app tells them that the robot is in the middle of a cleaning cycle. However, when the customer checks on its progress, she finds out that this isn't true, and her mechanical laborer is just sitting there—not doing a darn thing.
Lastly, there is the criticism that the Sigma doesn't come with a storage caddy. The benefits of a caddy are easy transportation and convenient storage. Also, a caddy raises the machine off the ground so that its roller brushes aren't flattened by the unit's weight. This prevents long-term damage when it's being stored.
Conclusion
So, there you have it. All the bells and whistles that make the Dolphin Sigma a highly useful machine to have on hand. There's a lot to love about this robot that does its job at all hours of the day and night.
The Sigma has innovative features that make pool ownership as easy and as carefree as it should be. These are things like the triple motor action, high-tech gyroscopic navigation, and cutting-edge mapping software.
With the Dolphin Sigma, you can more fully realize your dream of living a life of leisure. Buy one today! Or, you can check out our robotic pool vacuums comparison list to see how the Dolphin Sigma stacks up against similar machines.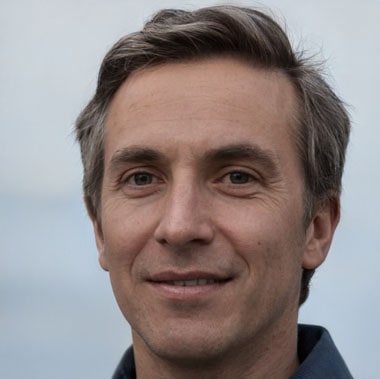 Author
Our pool maintenance expert, Luke Reed, earned his BS in Civil Engineering from Georgia Tech in 1998. Since then, he's worked in a variety of industries, including design and construction of luxury swimming pools.
---
Pool Maintenance Tips & Tricks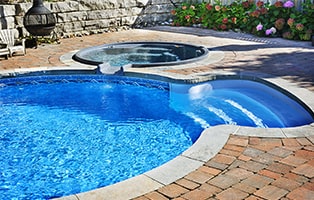 With all the different types of swimming pools available, such as in-ground and above-ground, it can be difficult to decide which one to get. Our guide including pros and cons can help you make that choice.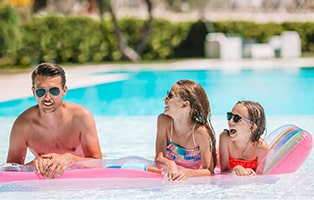 Germs and bacteria can cause life-threatening illnesses in a swimming pool. Find out what the dangers are and what you can do about them by reading our article.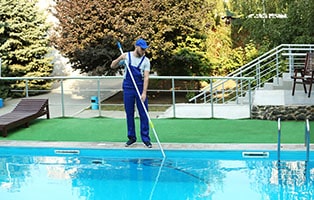 Dreaming of entrepreneurial success? Check out our guide on how to start a pool cleaning business. You'll find everything you need to know to set one up.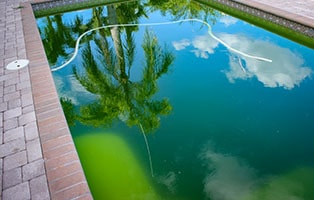 Is your swimming pool too murky to swim in? In our informative article, you'll discover the causes of a cloudy pool and how to fix the problem.