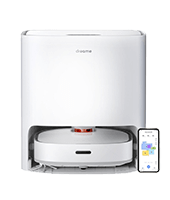 Read our 2023 review of the Dreametech Bot W10 4-in-1 robot vacuum and mop to find all the features of this exceptional machine!
We select, test, review and suggest the best products. We may earn a commission, if you buy something through our links.
The Dreametech Bot W10 is an exceptional cleaning machine capable of vacuuming and mopping during the same cleaning cycle. It not only rids your floors and carpets of debris, but it has two rotating pads that scrub the floors as it mops.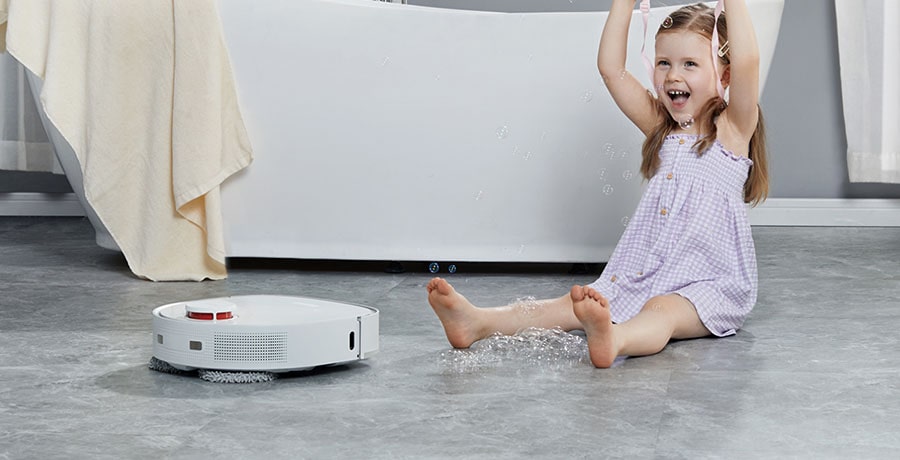 Dreametech Bot W10 is a multitasker par excellence
This is a multitasker par excellence, taking care of two of the most dreaded household tasks. Having one of these handy gadgets in your home will render your old-fashioned mop and vacuum cleaner nearly obsolete.
Features
Exceptional mopping functionality;
Nearly autonomous operation;
Large-capacity battery;
Capable of cleaning its own mop pads;
Unique D-shaped housing maneuvers corners better;
Provides better coverage than most other models.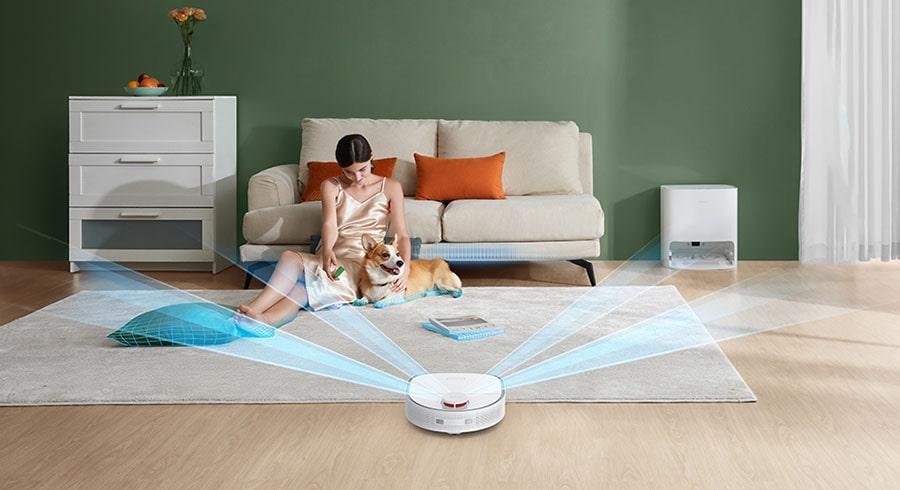 Who's the Dreametech Bot W10 For
The W10 is for busy professionals who have little time for cleaning. If you have other autonomous cleaning machines in your home, you probably know how good they are at freeing up your time so you can do other things.
This unit is a pet owner's dream. If you have tail-waggers that shed a lot, you'll go gaga over this dual action cleaning droid. The device can suck up the canine hair that seems to be everywhere when you have pooches in the house. However, it also eradicates muddy footprints, picks up spilled kibble, and cleans away other messes made by your beloved pet.
Pros

Self Cleaning Mop Heads
One of the best things about the W10 is that it can clean its own mop pads. At the conclusion of a cleaning cycle, it returns to home base and does a thorough washing of this part of itself. It even dries the pads using air heated to 104°F, preventing foul odors and mold from growing on them.
Nearly Autonomous Operation
This all-in-one system for mopping and sweeping is nearly 100% autonomous. This bot can automatically vacuum and mop, fill up its tank with clean water when needed, and even wash, dry, and clean its own mop pads all on its own.
Large-Capacity Battery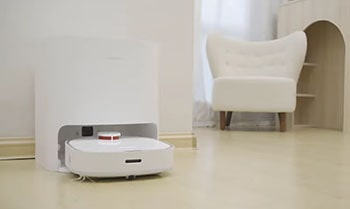 This impressive unit comes with a 6,400mAh super-capacity battery, giving it a maximum working time of 210 minutes in quiet mode. What's more, it'll automatically head back to the charging port when the battery power is running out so it can recharge. The unit charges quickly and can resume operation without spending too much time on the charging deck.
Because this droid has enough self-awareness to know when its battery is low, you won't ever have to go looking for it if it runs out of juice. Who wants to take time out of a busy day to rescue a bot from its own incompetence? Once it replenishes its onboard electrical power, it'll pick up in the exact spot it left off.
Unique D-Shaped Body
It has a feature no other robotic mop or vacuum cleaner has: a D-shaped body with squared-off edges. This allows it to get into nooks, crannies, and corners better.
Exceptional Coverage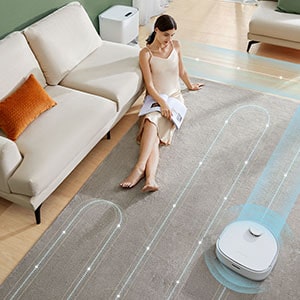 The W10 boasts cutting-edge LDS LiDAR navigation. This advanced radar recognition technology allows the unit to provide better coverage than most other models. The high-intelligence algorithms that guide every action ensure that it always moves in a cleaning path designed to maximize efficiency. What's more, the W10 has an ultra-wide 19.2 cm roller brush that covers a wider area than comparable units.
Excellent Obstacle Avoidance Ability
There are sensors at the front of the unit which alert the device when it's about to bump into an object. That way, it can turn around and try a different direction. The unit can easily traverse obstacles up to 18mm (0.71 inches) tall.
Patented Anti-Drop Technology
State-of-the-art sensors on the front of the machine allow it to know when it's about to tumble over the edge of stairs. This prevents a catastrophic fall that most likely would result in hundreds of dollars of damage.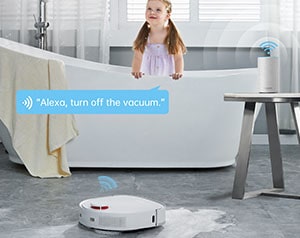 Intuitive App and Alexa Compatibility
You can control your robot anywhere in the world you happen to be through the easy-to-use app. If you have parts of your home you don't want the bot to touch, you can set "no-go" zones. The unit is compatible with Alexa, allowing you to order your mechanical servant around via voice commands.
Active Mopping
While the vacuuming functionality is pretty good, it's the mopping that makes this unit stand out over comparable models. In fact, the W10 is so exceptional at mopping, it beats almost every other machine on the market.
The unit doesn't passively drag a mop behind it. Instead, it has spinning brushes for superior cleaning performance. The mop pads rotate at 180 RPMs with 10N (Newtons) of downward pressure, powerful enough to clean up most messes.
Cleaning Settings for Job Customization
The machine allows you to set different cleaning modes. There's mopping only and sweeping and mopping combined. There's also sweeping-only mode if you remove the mop pads. You can choose the vacuum's suction strength and the wetness level of the mop pads.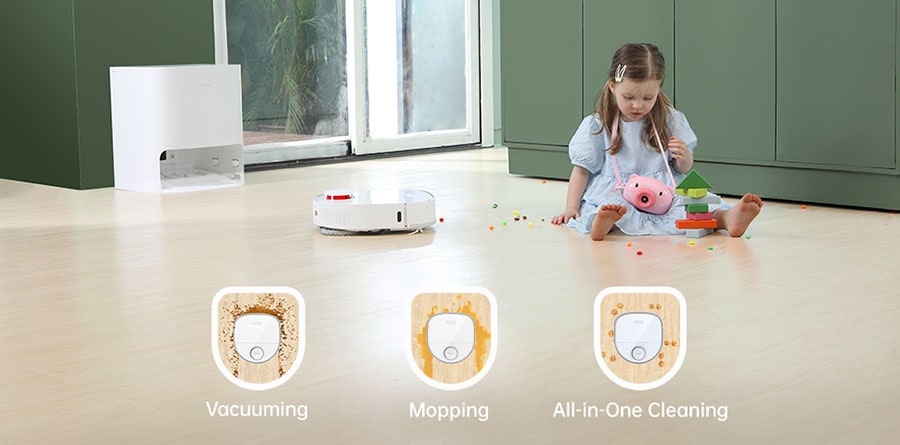 Dreametech Bot W10 supports different cleaning modes
Three different options allow you to perfectly modulate the water volume depending on how much you need to clean a particular surface. If you use the app, you'll have access to even more settings, including the option to mop an area twice if it can use some extra attention. You can even decide how often you want it to go back to the station so that it can wash its own mop pads.
The base has two buttons on the top — one to start and pause the cleaning cycle and the other to send the unit back to the charging base. This makes life easier for users because they don't have to bend down to select these options on the cleaner itself. Also, if you want to terminate a cleaning cycle early but don't feel like looking for the machine, you can do it right from the base.
The Ability to Distinguish Between Hard Floors and Carpets
One fantastic thing about this incomparable machine is its unparalleled ability to distinguish between hard floors and carpets. This allows it to increase the pressure to maximum when it encounters carpets. When the bot is in mopping mode, it will avoid carpets.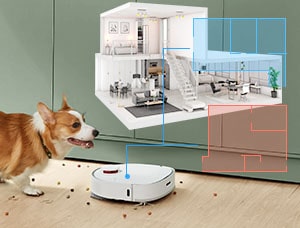 Super Quick Mapping Functionality
Some models take hours to map a home. However, the W10 is substantially quicker. In fact, it usually takes less than five minutes to complete a residence map using its advanced LDS Laser Radar.
These sensors are better than the camera type because they're a lot more accurate at mapping and positioning. After a single pass, the W10 will be able to differentiate the rooms in your home so you can create no-go and no-mop zones.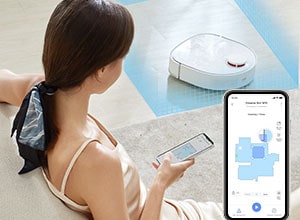 After mapping out all the rooms, you can use the app to view your maps. What's great about this functionality is that you can edit these maps and either combine or split rooms.
That way, you can have your bot only clean the rooms you want.
If you want your cleaning droid to do a little spot cleaning, choose an area on a map and send your bot to get the job done. This could be one room, several rooms, or a tiny spot in one room.
Impressive Suction Power
This device has an impressive 4,000 Pa of suction power, which is more than two times the power of most other hybrid cleaners.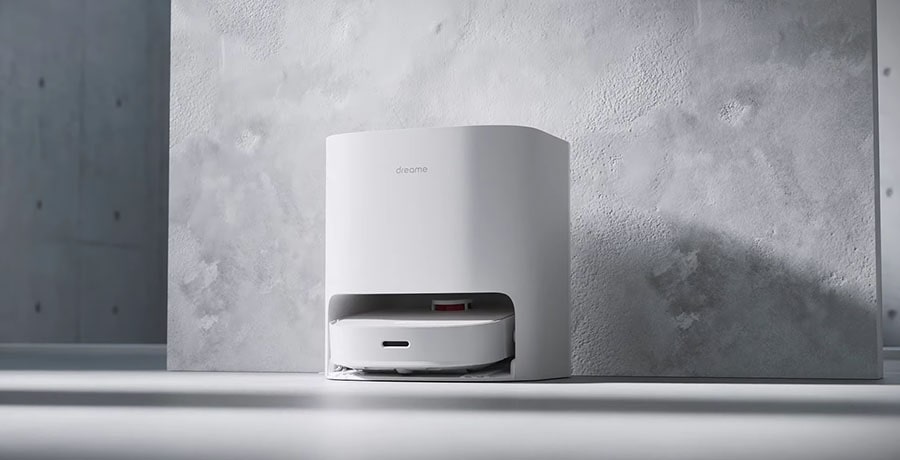 Sleek Look and Durable Construction
The all-white plastic finish of the unit and its charging dock gives it an exceedingly sleek and modern look. This allows your labor-saving droid to blend in better with your home décor.
The unit is manufactured from exceedingly durable materials. In fact, I know of someone who accidentally dropped it from a height of five feet or so. Surprisingly, it still works (although I wouldn't recommend trying this yourself).
Cons

The obstacle detection could be better. While it's pretty good at detecting walls and significant obstacles, a few users report that it has an annoying habit of too frequently smashing into small objects. Other people complain that their bots tend to get tangled in deeper carpets and can't get into their home's tighter spots.
It's too wide to get into some corners, such as behind a toilet or in a smaller bathroom. Surfaces in corners or carpet gaps might not get cleaned because the machine cannot suck up debris if it can't make direct floor contact.
It mops up lighter messes with little difficulty. However, it's not quite robust enough to tackle exceptionally sticky or stuck-on spills. With these kinds of problem areas, you might have to clean them first with a damp rag and a little elbow grease.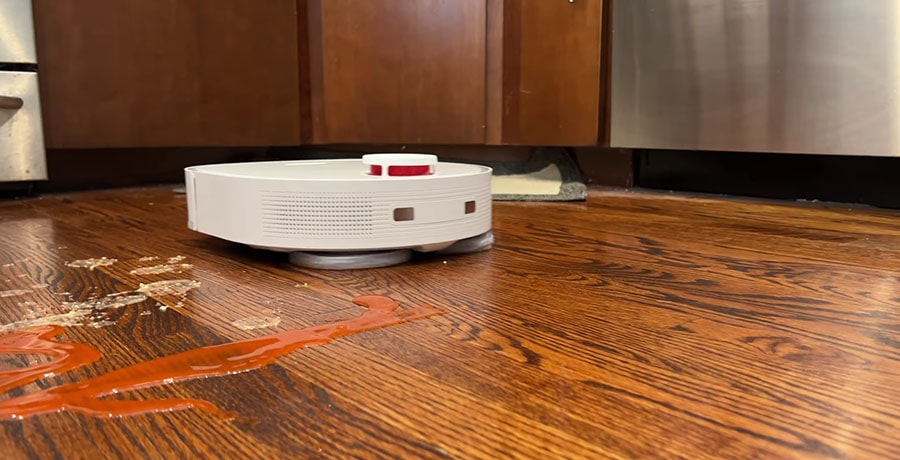 Verdict: Should You Buy the Dreametech Bot W10
While the Dreametech Bot W10 isn't perfect, there are enough good things about it to make it worth buying. That's why I'm wholeheartedly recommending that you purchase this exceptional machine.
It might not completely eliminate the need to occasionally mop or vacuum by hand. However, it will significantly curtail the time you spend on these tasks. This will free up time you can devote to more enjoyable pursuits. To me, this is the biggest reason for getting this labor-saving gadget.
If you want to see what other devices we recommend, check out our comprehensive guide.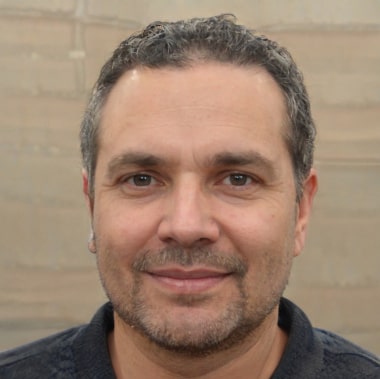 Author
Stephen A. Hancock received his M.S. in Mechanical Engineering (Robotics Track) from University of Utah in 2004. Since then, he's contributed to numerous articles and has been a consultant for many technical publications and websites.
---
Robot Tips & Tricks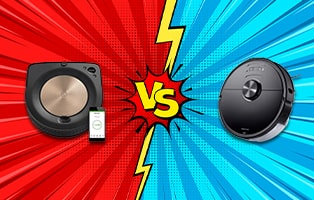 If you want to know which company wins the "Roomba vs. Roborock" battle, check out our article. You'll learn what makes each model exceptional, and things you'll need to know before buying.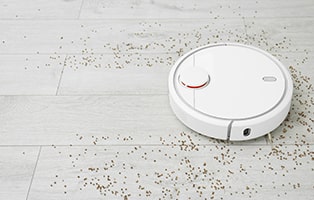 Robotic vacuum navigation systems include sensor mapping, camera mapping, gyroscopes, LiDAR, and SLAM. Read all about this technology in our informative article.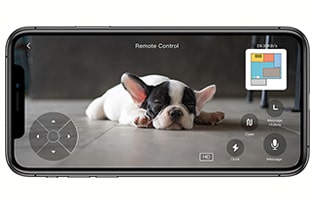 If you're worried that your robot vacuum is spying on you, you're not alone. Read our information-packed article to find out if it is, and what you can do about it.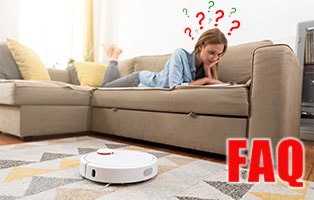 Robot Vacuum Cleaners are evolving at a rapid pace and have indeed become the new necessity for any modern household. Here's a breakdown on some of the most frequently asked questions about these devices