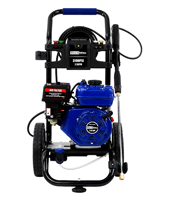 The Duromax XP3100PWT gas power washer removes both light dirt and years-long grime. See if it's right for you in our 2023 review.
We select, test, review and suggest the best products. We may earn a commission, if you buy something through our links.
The Duromax XP3100PWT gas pressure washer is ideal for medium to heavy duty cleaning around your home and farm. This thing is built to last with its welded frame, but it's lightweight enough for most average adults to move around and transport from site to site.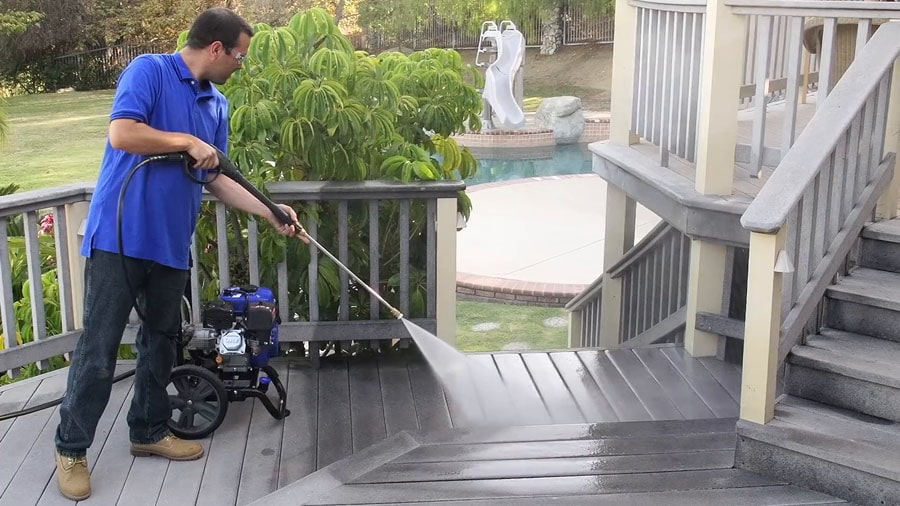 The Duromax XP3100PWT is ideal for medium to heavy-duty cleaning and built to last.
It comes with all the goodies found with most gas power washers, including an extra nozzle. Everything's stored neatly on board the machine too.
This machine does have a few downsides, however, in that it requires more maintenance than most pressure washers. But let's dive a little deeper into the details, shall we?
What do you get with the Duromax XP3100PWT
6 quick-connect nozzles: 0, 15, 25, 40, soap and turbo
Onboard spray gun, hose, and nozzle storage
DuroMax 7HP, 208cc engine
3-piston axial cam brass head pump
3100 PSI
2.5 GPM
Built-in 0.3 gallon (1.13L) detergent tank
12-inch never flat all-terrain tires
0.6L oil tank
0.79 gallon fuel tank
25-foot nylon braided hose
30-day satisfaction guaranteed warranty
1-year limited manufacturer's warranty
16 oz. 10W30 bottle of oil included
Once you open the box, you'll see a quick start guide that lists all the parts included, plus all the tools you need to assemble the machine. Keep this handy so you can double check that nothing's missing. There's also a full manual included with detailed instructions for setup, operation, maintenance etc.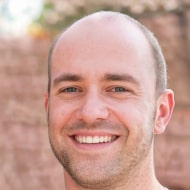 There's almost no reason anyone needs the 0-degree nozzle. It can be very dangerous to both people and property. Unless you have a good use for it, just toss it right out of the box.
You will want to keep that manual in a safe place where you can access it easily. It has all the maintenance details you'll need to keep your power washer running. And you'll be doing quite a bit of maintenance because it's a finicky machine. Think Real Housewives kind of upkeep, but cheaper.
One good thing about the engine is that there's a low-oil shutoff so you won't accidentally burn it up if you forget to fill up the oil tank. The spray wand has a safety switch you have to disengage to start the spray.
Product Dimensions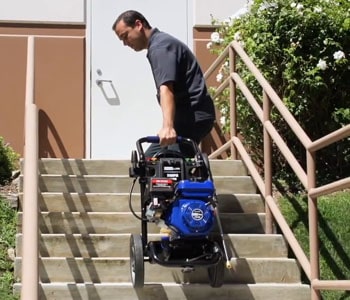 Weight: 77 pounds
Length: 24 inches
Width: 19.25 inches
Height: 39 inches
This machine is fairly compact. It's a little heavy, but that's not necessarily a bad thing. A heavier base and steel frame give these machines more stability when the hose is moved around and stretched to its full length.
Performance
Customers have had success cleaning vinyl siding, cement porches, concrete, wood steps, cars, driveways, patios, sidewalks, campers, BBQ grills, brick walls, gutters, boats, boardwalks, and more. It removed up to 5 years of grime in some cases. This power washer also did great with paint stripping, removing aluminum oxide, algae, wasp nests, etc.
What to love about the Duromax XP3100PWT

Assembly was quick and easy for most people. Several customers said it started on the first or second pull. Connections for both hoses were easy to access compared to other machines users had tried. Many people commented that they were surprised with how quiet this washer is – not any louder than a lawnmower. Up close, it can seem pretty noisy, but that's common to most gas washers.
The oversized 12-inch wheels easily clear different terrain, making it good for farm work and uneven surfaces. The detergent reservoir holds plenty of your favorite cleaning solution. For those living in California, they were happy that this power washer is both EPA and CARB compliant.
What's not so great about the Duromax XP3100PWT

Maintenance can be a bit time consuming for this pressure washer. For instance, the air filter needs to be cleaned after every 50 hours of use. Oil and gas levels have to be monitored carefully. If they get a little too low (not even close to empty), the machine may not start.
One common area of contention was the flimsy plastic wand and hose retainers and the weak plastic riveting that holds them to the machine. The rivets broke after a few uses for some customers. Some were able to adapt them with metal rivets as an alternative.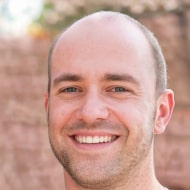 It's never a bad idea to go ahead and purchase extra accessories along with your pressure washer such as hoses, nozzles, etc. If you can find upgraded accessories like steel braided hoses, even better. Then you'll always have a spare part around if something breaks so you won't leave a job half-finished.
Some customers said oil had leaked out all over the machine and box when they opened it. A few said the box was ruined so they couldn't use it anymore. Another complaint involved the hoses coming in contact with the hot exhaust, which can melt the hose. In some cases, that led to the hose bursting. A few customers recommended getting a steel braided hose instead.
A couple people noted that the fuel tank was dented upon arrival, but it didn't seem to affect performance. Other minor issues involved the tires coming off the wheels.

Rundown of the Pros

Easy assembly
Starts on 1st or 2nd pull
Generous detergent tank
Durable steel frame
7HP engine with low-oil shutdown
6 nozzles included
EPA & CARB compliant
Removes up to 5 years of grime


Rundown of the Cons

Flimsy plastic rivets on hose and wand retainers
Loose tires
Hoses too close to hot exhaust
Manual unclear about how much oil is needed
More maintenance required than other brands
Oil may leak from the bottle inside the box
Fuel tank may be dented upon arrival

Optional accessories

15-inch diameter for driveways, patios and other large surfaces. Quick-connect coupler attaches to most pressure washer wands. 1500 RPM speed with 2 nozzle jets. No streaks or stripes.

10.7 ounce can, protects pistons and seals to prevent damage, works as antifreeze and lubricant. Use before extended storage and prior to first season startup.
Basic startup
Assembly is fairly intuitive for the Duromax XP3100PWT. The owner's manual has clear instructions and diagrams to show you where each part goes. You will need a wrench, screwdriver, and a small hammer or mallet.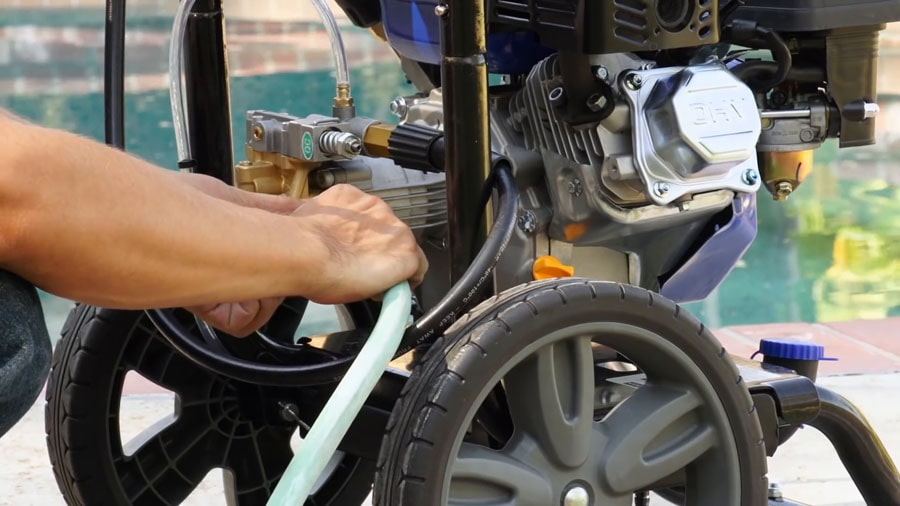 Be sure to read and follow the instructions in the manual carefully. Here are the basic steps to assemble:
Attach the foot assembly by lining up the foot with the hole in the center of the frame. Attach the foot with the bolt from the bottom up and secure with the acorn nut. Tighten with a wrench until there's a "slight crush" on the frame tube, but don't over-tighten.
Install the handle onto the lower frame by sliding the handle over the 2 frame tubes on the lower frame. Press down firmly until the 2 detent pins snap into place.

For the gun hooks, attach the upper gun hook with the 2 plastic rivets. A small mallet or hammer can be used to seat the lock pin if needed. Install the lower gun hook with the M6 screw and lock nut. Tighten with a wrench until the nut is snug.
Repeat this process with the accessory hook, which has 2 plastic rivets. You may need to tap them in with a small hammer or mallet.
Screw the spray wand and handle together until secure. Insert inlet coupler of hose into threaded fitting on the spray gun. Twist the black nut clockwise to tighten.
To fill with fluids, set machine on a flat surface. Remove oil tank cap and dipsticks. Add oil until it reaches the outer edge of the fill hole. But how much? This is where the manual is confusing: "Carefully add between 520 ml (17.6 oz) of 4-Cycle engine oil (SAE10W30) to empty reservoir…" Replace dipsticks. Remove fuel tank cap. With a funnel, pour gas into the tank until it reaches 1 ½ inches below the top of the neck.
To start it up: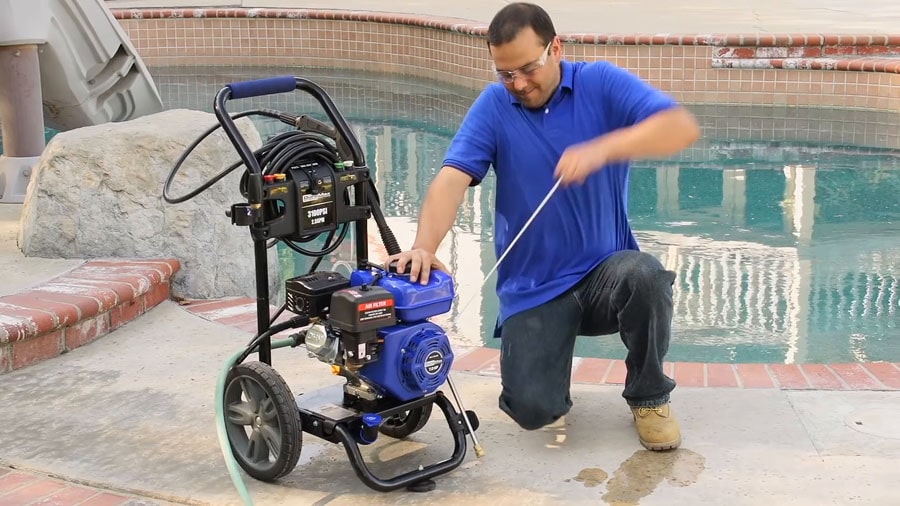 Run water through garden hose to flush out debris.
Connect garden hose to inlet on the washer and hand tighten. Be sure there's a minimum of 10 feet of unrestricted garden hose.
Turn on faucet.
Purge pump by releasing the safety and squeezing the spray gun trigger.
Attach end of pressure hose to outlet on the water pump.
Repeat on the opposite end of the hose with the spray wand.
Turn fuel valve to ON.
Slide the choke to CHOKE.
Turn the engine switch to ON.
Hold the machine with one hand. With the other, pull the starter cord slowly until you feel resistance. Then pull rapidly.
If it doesn't start, squeeze the gun trigger to release back pressure, then pull the starter cord again.
Let engine run for a few seconds. Gradually slide the choke lever to RUN until it's fully into the RUN position.
Now get to cleaning!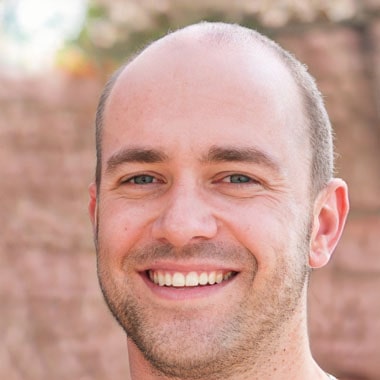 Author
Alex owns a home improvement and restoration company in Vancouver. He obtained his Bachelor's degree in Construction Management from Saskatchewan Polytechnic and is a NARI Certified Remodeler. His team does a wide range of home restoration products, both interior and exterior.
---
Pressure Washer Tips & Tricks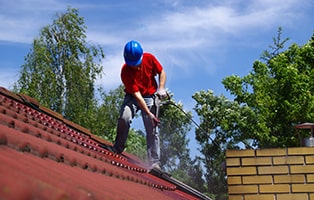 The leaves are starting to fall, and you may be thinking about power washing your gutters. Why? It's the perfect time of year to maintain those dirty drainage systems. The cool weather brings out dirt build-up, which can cause more problems.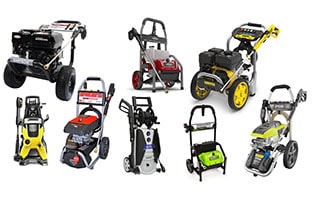 When it comes to cleaning grungy patio furniture, dirt-encrusted siding, and oily driveways, power washers are an indispensable tool. Read our article to find out which companies make the best ones.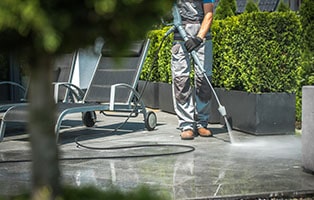 A pressure washer is a way to clean your patio that doesn't involve lots of strenuous scrubbing. Read about the 7 steps you'll need to follow if you want your patio cleaning to be a smash success.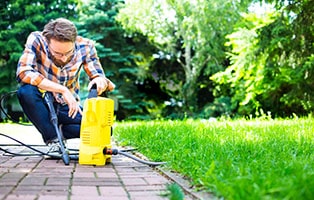 If your pressure washer is getting hot too frequently, this could be a sign that there's either something wrong with it, or you're doing something wrong. Read our article to diagnose these problems.