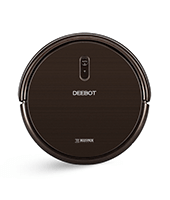 An affordable, powerful robot vacuum cleaner, the Ecovacs DEEBOT N79S shares features seen in its higher-priced counterparts.
We select, test, review and suggest the best products. We may earn a commission, if you buy something through our links.
Why is the Ecovacs DEEBOT N79S rated #4 on our list of top-rated robot vacuums? One reason is that not everyone is ready to yell, "Take my money!" for a Roomba. At less than a quarter of the price for the new Roomba 9s+, the DEEBOT N79S is more appealing to those who are on a budget.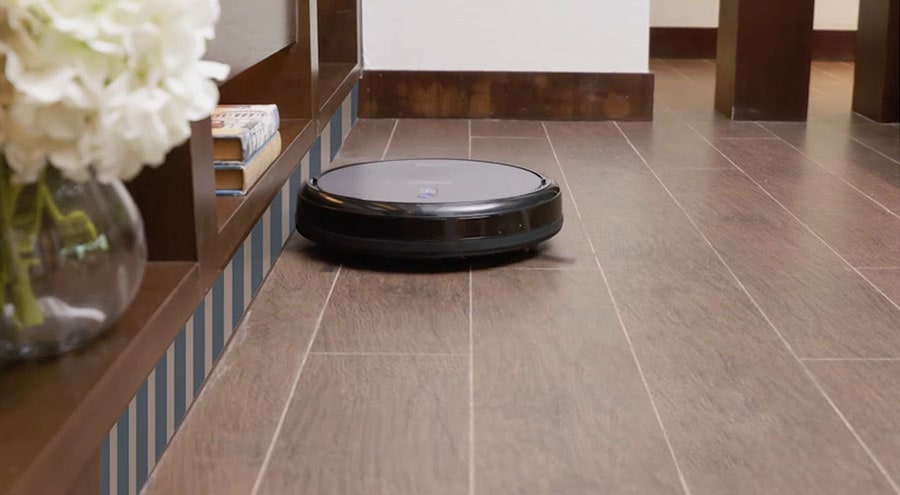 The DEEBOT N79S is a good choice for those wanting to try out a smart robot vac
It's also a good choice for those wanting to try out a smart robot vac for the first time before they consider shelling out big bucks for a premium model. For the less-tech savvy among you, it's also a good choice because you don't have to use a smartphone to operate it if you don't want to. It works with an old-school remote as well as with mobile and voice controls.
Besides the price tag and versatile operation, let's dive into what makes the DEEBOT N79S stand out from the robot vacuum crowd.
What's in the box
When you unbox your new N79S, you'll find: the robot vacuum, user manual, cleaning tool, remote control (battery included), charging dock, power adapter, high-efficiency filter, and 2 side brushes.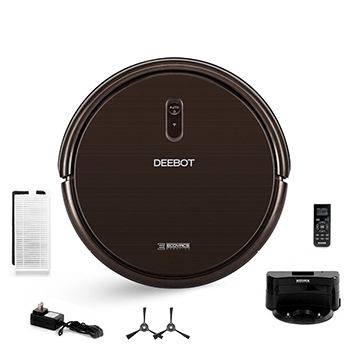 Battery run time: 90 -120 minutes
Charge time (from empty battery): ~ 4 hours
Noise level: 67-70 dB
DEEBOT N79S dimensions: 13.9"W x 3.3"H
Dust bin volume: 520 mL
Weight: 7 pounds
Warranty: 1-year limited manufacturer
The dust bin is rather small compared to some robot vacuums. The battery life, however, is as good or better than much of the competition. It's a little wide, but the low profile allows it to fit under many types of furniture, beds, etc.
You'll notice the noise at ~70 dB (louder on hard floors), but it's still quieter than a standard upright. When it bumps (softly) into walls and furniture, the rubber strip around it muffles the sound and prevents damage. For angled/slanted chair legs, the hard part of the edge may hit and leave some dents.
While the dustbin is washable, the filter is NOT, so you may want to purchase an extra one to have on hand. You simply pop the side brushes into the slots on the bottom.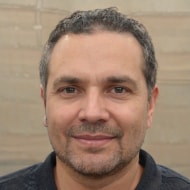 For WiFi, you'll need to be on the 2.4 GHz network to connect the app to the robot. It won't support the 5 GHz network.
The brush roller is a traditional bristle brush style, so it will get hair wrapped around it. However, it's easy to pop out for cleaning. The cleaning tool is great for pulling off the hair. There's even a little blade on it when you have to resort to cutting the hair off.
You'll need to leave open about 1 meter of space in front of and on each side of the charging dock so the N79S can find its way home easily. And YES, this robot vac does return to the dock automatically when the battery is low.
You're not the boss of me
Said no robot vacuum ever. Especially the DEEBOT N79S. The hardest thing is deciding how you feel like operating it on any given day.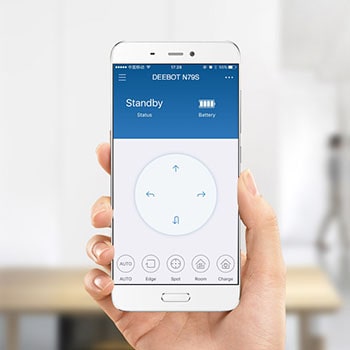 Want to operate it via remote control? It does everything you can do in the mobile app, including scheduling, choosing cleaning modes, sending it back to the dock, etc. With the remote, some family members may get a kick out of driving it to specific areas like a remote control car. Dads and kids, we're looking at you. The best part is – you don't need WiFi to use the remote control! Store it on top of the charging dock so you won't lose it.
In the Ecovacs app, you can do all the things, including choosing vacuum power. Standard is the default for everyday cleaning, or choose max for especially dirty areas.
Would you rather not press a button at all? Just holler at your Alexa or Google Home Assistant, "Ask DEEBOT to start cleaning," and off it will go. You can also tell it to send the robot back to the charging dock, stop cleaning, and even ask it if the vacuum is still running.
What's the DEEBOT's superpower?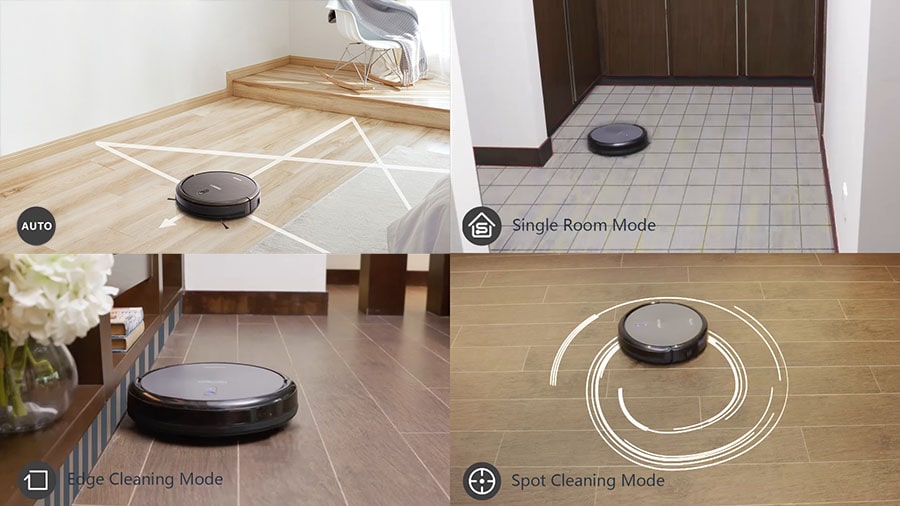 The N79S's 4 cleaning modes is where this robot truly shines.
Auto mode is what you'll use most often. This mode keeps the DEEBOT running about until the floor is clean or until it returns to the charging dock when its battery is low.
Spot clean sends the DEEBOT into a circular pattern that spirals outward, then back inward. Great for those heavily-soiled areas or when the kids crush cereal into the carpet.
Edge clean does just what it says – it sends the vacuum around the edges of the room. So to get a thorough clean, try running the auto mode and follow up with an edge clean to get any stray crumbs or dust bunnies the robot may have kicked aside in auto mode.
Max mode (found in the app) simply increases the suction power to better tackle ground-in dirt and hair.
C+ in navigation
Unlike more advanced robot vacs, the DEEBOT N79S doesn't map out your rooms. Navigation is pretty random, like the old-school robot vacs. This means the unit may go over the same area multiple times or miss a few spots.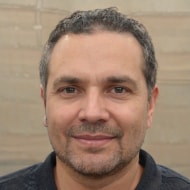 To keep your DEEBOT N79S (and similar basic-navigation robots) from going to unwanted areas, you'll need to set up physical barriers such as closed doors, baby gates, pillows, etc.
It also has no virtual walls, and you can't set no-go zones. The bot may get stuck under the edge of the refrigerator, sofas, or behind the sink, etc. Unless you have a very complicated room design or lots of clutter lying about, it will have good coverage with its long battery life.
However, this vacuuming robot is not totally brainless. As the N79S goes about its business, cliff and anti-collision keep it from tumbling down the stairs or bumping hard against walls and furniture.
Alternate model: If you want a DEEBOT with mapping features, consider upgrading to the DEEBOT 711.
DEEBOT's Kryptonite
Every hero has his weaknesses. If you have any transitions from hard floor to area rugs or carpeting that's over a half-inch, it'll either back off and avoid it, or it may valiantly try to climb the mini-mountain and get stuck halfway up. Same goes for thicker, shag-type carpets. The DEEBOT doesn't like it. Thin rugs won't give it any problem, however, nor will low-pile carpet.
What are customers saying about the Ecovacs DEEBOT N79S
Though meant as a maintenance vacuum only, several customers reported not running their upright vacuums for at least a month when using this robot regularly. Many said they run it overnight since it's not terribly loud. A few parents said their kids' allergies were better now thanks to the high-efficiency filter.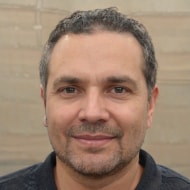 To prevent the N79S and other robot vacs from tripping up on dark floors/rugs, place white tape over the cliff sensors. BUT, make sure it doesn't have access to stairs or other places it might drop off.
The small dustbin posed a problem for many customers who didn't like having to empty it so often, especially those with heavy dirt traffic or pets. They didn't like cleaning the brush roller either. As with several other robot vacs, a few customers noted that the cliff sensors were tripped when the vacuum encountered very dark floors and rugs.
Conclusions
The Ecovacs DEEBOT N79S will be a lovely cleaning companion for those who:
Have never owned a robot vacuum
Are on a budget
Have uncluttered floors
Do not have thick carpeting
Don't have a good WiFi connection

PROS:

Affordable
Relatively quiet
Versatile operation
4 cleaning modes
Long battery life
No WiFi needed
High-efficiency filter removes and traps allergens
Easy to clean dust bin and brush roller
Automatically returns to dock to charge


CONS:

No room mapping
No virtual walls
Can be loud on hard floors
Hair wraps around brush roller
Won't cross transitions over ½-inch high
Not good on thick or shag carpeting
Cliff sensors trip on very dark floors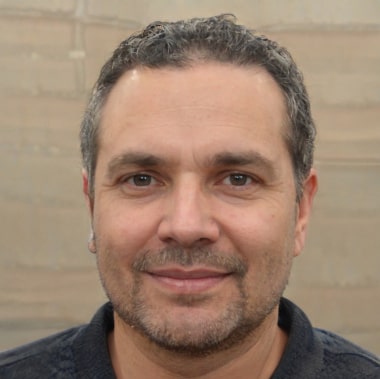 Author
Stephen A. Hancock received his M.S. in Mechanical Engineering (Robotics Track) from University of Utah in 2004. Since then, he's contributed to numerous articles and has been a consultant for many technical publications and websites.
---
Robot Tips & Tricks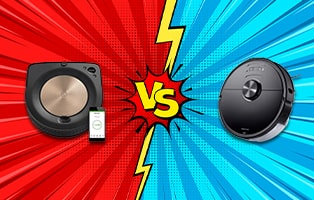 If you want to know which company wins the "Roomba vs. Roborock" battle, check out our article. You'll learn what makes each model exceptional, and things you'll need to know before buying.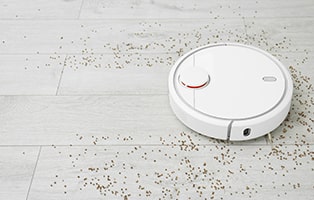 Robotic vacuum navigation systems include sensor mapping, camera mapping, gyroscopes, LiDAR, and SLAM. Read all about this technology in our informative article.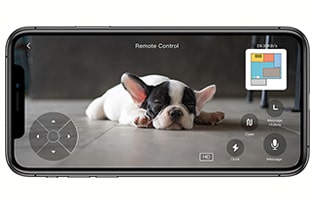 If you're worried that your robot vacuum is spying on you, you're not alone. Read our information-packed article to find out if it is, and what you can do about it.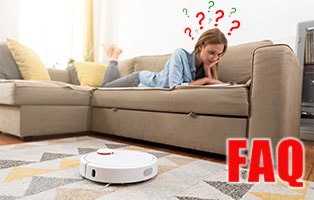 Robot Vacuum Cleaners are evolving at a rapid pace and have indeed become the new necessity for any modern household. Here's a breakdown on some of the most frequently asked questions about these devices