The Best Electric Pressure Washers of 2023 – Our Reviews, Ratings & Tips for Buying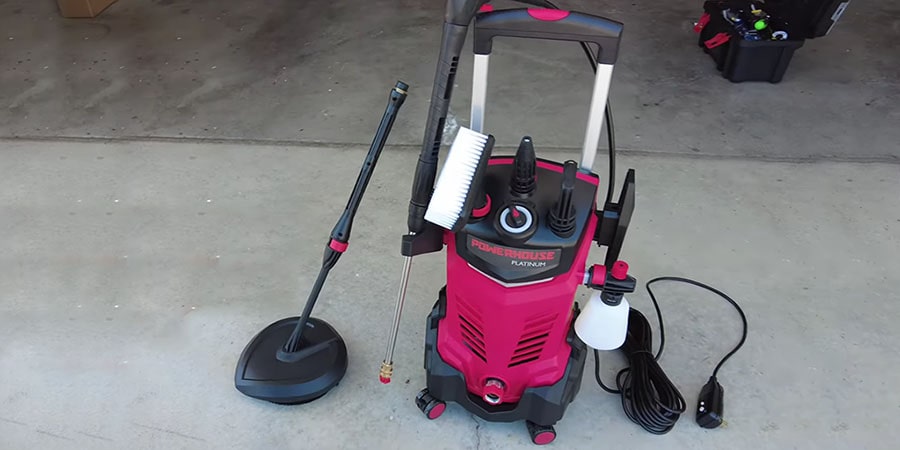 You have three choices when it comes to pressure washing your grimy outdoor surfaces: hire a professional, rent a unit, or buy one. Purchasing your own top-performing electric pressure washer can save you money down the road, especially if you'll use it more than once or twice a year. Gas pressure washers are another option, but for most homeowners, a top-rated electric power washer will perform just as well as an average gas model.
Our Top Picks
We select, test, review and suggest the best products. We may earn a commission, if you buy something through our links.
Why Electric over Gas*? Here are the PROS: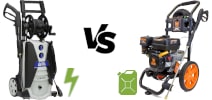 Quieter
Cheaper
Smaller and lighter
Easier storage
Can be used indoors (depends on cleaning surface)
* Like all pressure washers, they can be dangerous if not used correctly. We'll talk about safety tips that will prevent surface damage as well as injury to you, your family, pets and plants.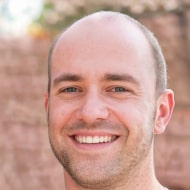 Whether you need to clean decks, patios, walkways, cars or farm equipment, you want a machine that will clean effectively. All the electric models we've reviewed have performed well in various tests, so take a few minutes to browse our reviews and buying guide. We'll tell you what to look for so you get the best bang for your buck.
In general, you want to pay attention to the following characteristics so you'll know which pressure washer will be right for the cleaning jobs at your home. We will touch on some of these in our reviews: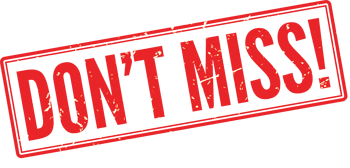 Price
PSI / GPM / CU (cleaning power)
Warranty
Weight
Extra nozzles (on board storage is a big plus)
Plastic or stainless wand
Wheels – larger and pneumatic wheels provide the best stability and maneuverability
Plastic or brass couplings for hose attachment
Cord and hose length – minimum 20-foot hose and 30-foot cord
Hose and cord storage
Besides those criteria, we'll mention noise levels, which surfaces benefit most from each model, and feedback from real customer experiences. Top models include brands such as Sun Joe, Greenworks, AR Blue Clean, Karcher & Ivation.
The Cleanup Expert Review Process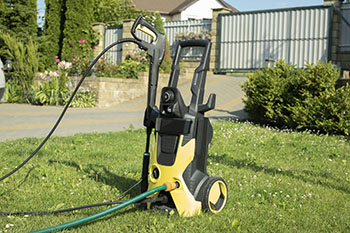 We understand how important it is to get a full picture of a product before purchasing it, which is why we've thoroughly tested and reviewed each model on this list for you, so you don't have to. Model by model, washer by washer, we've devoted an untold number of hours ensuring you're receiving the best information currently available online for these products.
This exhaustive testing, combined with extensive expertise, helps better inform and guide you during the tricky time of researching a significant purchase. The models mentioned on this list have proven themselves to be the very best currently available in the market today, demonstrating their exceptional cleaning power and outstanding overall reliability.
To help cover the wide variety of potential applications people may use these electric pressure washers for, we've made sure to include various models with different pressures and features. This broad selection allows you to choose the model that works best for you, whether you're prioritizing power, price, features, or accessories.
The Best Electric Pressure Washers
In general, we tend to recommend electric pressure washers to most homeowners. This is because they tend to offer more straightforward operation, are more reliable, and are easier to maintain than their gas-powered counterparts. Not that there's anything wrong with gas-powered models, but electric ones make a better starting point for newer and less experienced users.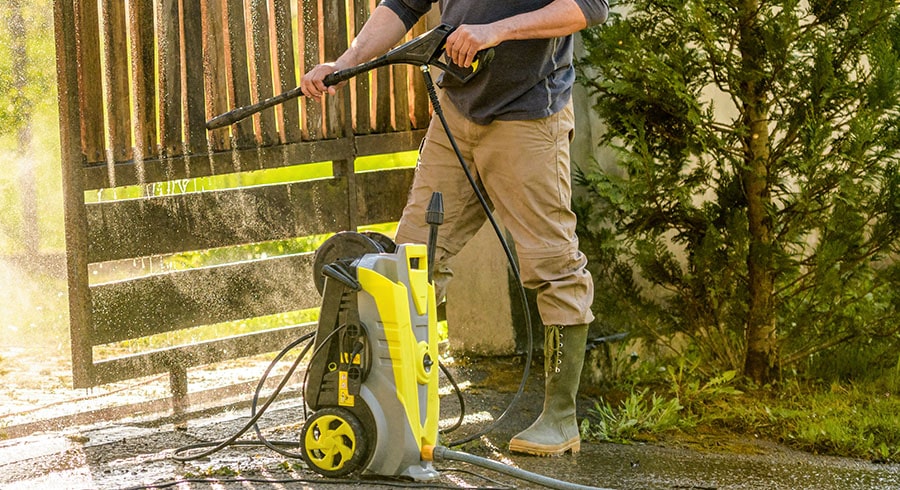 Electric models are easier to operate and maintain
As mentioned, the electric pressures covered on this list have demonstrated themselves to be the best in the industry. So continue reading on as we review the good, the bad, and everything in between about the best pressure washers of 2023 with our detailed Cleanup Expert reviews.
More
Our 2023 Ratings & Reviews – The Best Electric Power Washers
---
---
---
---
---
---
---
---
---
---
---
Ah the joys of owning your own pressure washer. For most homeowners, electric models like the ones we listed here are plenty powerful enough for your average cleaning tasks. If you need something that will tackle really heavy-duty tasks like paint stripping, deep stain removal, etc. you should probably consider a gas pressure washer. We have a few suggestions for those too.
What are the PROS/CONS of Gas vs. Electric

Electric pressure washer PROS:
Quieter
Cheaper (average $150 – $250)
Easy storage
Can use indoors
Lighter


Electric pressure washer CONS:
Cord limits reach
Less power


Gas pressure washer PROS:
More power
Can be used anywhere outdoors, no power outlet needed


Gas pressure washer CONS:
More expensive (average $300 – $500)
Heavier
Louder
Cannot be used indoors

Play it safe with pressure washers
Safety is a big concern with any pressure washer. Some people don't understand that pressure washers can be dangerous. The very high pressure produced from the water stream can seriously injure people and some surfaces like car paint or glass. We're talking skin lacerations, even amputations, plus kickback forces that can easily knock a person off a ladder.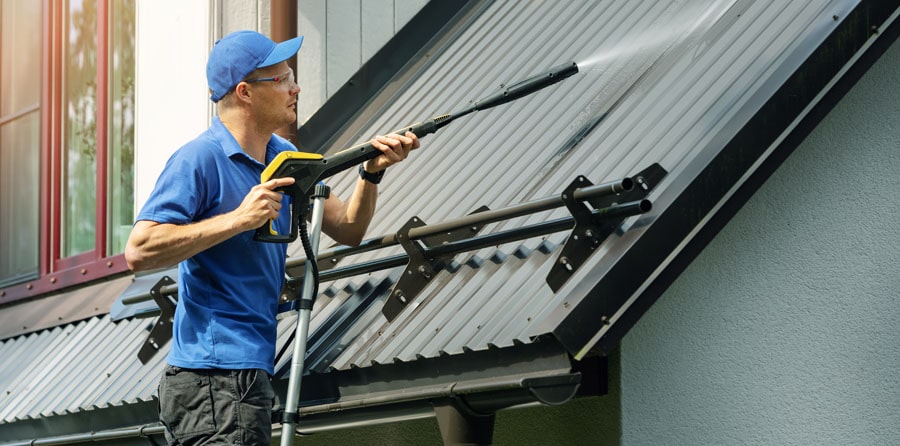 Pressure washers are a godsend for exterior cleaning, but you have to respect them. To stay safe, be sure to check out our beginner's guide to using pressure washers safely.
Here are some basic safety tips for electric pressure washers: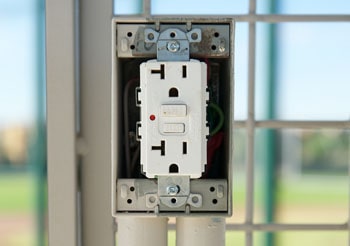 Read and follow the manual!
Wear protective clothing – long pants, goggles, work boots or other sturdy closed-toed footwear
Start spraying surfaces about 2 feet away and gradually move closer, no closer than 6 inches
Stay off ladders!
Never EVER point the nozzle at any part of you, other people, pets, or plants
Do NOT use extension cords for electric pressure washers
Always plug into a GFCI outlet
Nozzles and other attachments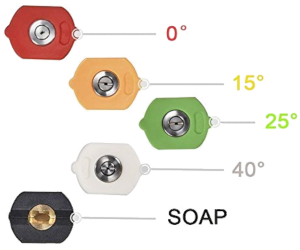 Most pressure washers come with interchangeable nozzles that allow varying widths of water streams.
The typical types are:
red (0 degree)
yellow (15 degree)
green (25 degree)
white (40 degree)
black (soap)
According to Consumer Reports, as soon as you open the box, you should TOSS the red (0 degree nozzle). It's the highest pressure nozzle and shoots a very narrow stream of water, which makes it capable of serious physical injury and property damage. You will rarely, if ever, have a cleaning job that requires a 0 degree nozzle. Just pretend it was never there…
There are other attachments and accessories you may find helpful for your pressure washer. Some of these you have to buy from the washer's manufacturer, while some are universal. Here are a few:
Surface cleaner

Spinning bar that delivers water stream over a big surface area. Good for large areas like a driveway.

Rotary nozzle

Sometimes called a turbo nozzle, sometimes included as a bonus nozzle in the box. Produces a spinning narrow water spray. Good for stubborn stains and grime buildup.

Pressure washing broom

Like the surface cleaner, splits single jet into two or three for cleaning large areas. Good for car or boat washing.

Wand extension

Helps you reach high areas so you don't need a ladder.

Hose extension

For cleaners with shorter (20 ft or less) hoses, you may want a hose extension. Though this could lessen the pressure somewhat, it's better than putting yourself in a dangerous position to reach an area for cleaning.
Troubleshooting Tips & Tricks

During our research, we came across customer and manufacturer suggestions for fixing various issues that may arise with a pressure washer. With electric models, the most common complaints involve the motor not starting and pressure loss. If you're not confident with your fix-it skills, take your machine to a local repairman or call the manufacturer to see about a replacement. But for those fix-it folks among you, try these tricks.
For motors that no longer start:
Check the reset button on the plug. It's possible to trip it while plugging it into the power outlet outside.
Try a pump protector lubricant after each use, like this one from Briggs & Stratton. Leftover water in the unit can seize up the pump's internal gaskets. You screw the plastic threads on the lubricant bottle into the threaded garden hose inlet on the pressure washer and squeeze the trigger on the bottle. It's especially good for use before extended storage (winter, for instance) and before first startup the next season.

There could be an electrical issue within the GFCI plug of the power washer itself, especially if it's left out in the rain or where there's lots of humidity. With the unit unplugged, use a screwdriver to take the cover off of the cleaner's GFCI plug. If you see lots of moisture trapped in the plug, that can prevent it from running. You can buy a replacement plug at the hardware store or one like this Leviton brand online. Just reconnect the wires to the new GFCI plug (black wire to gold connector, white to silver) and turn the screws to secure the wires. Screw down the "U" shaped stress clamps that come with the new plug. Then attach the new cover, and try starting up the machine.
For pressure loss:
The nozzle may have a blockage. Turn the pressure washer off, and bleed air out of the system. Remove the nozzle. Hold the nozzle by the sides with the front of the nozzle facing you. Using the spray tip cleaning tool or a straightened paper clip, try pushing the clog back the way it came. Rinse the nozzle thoroughly front and back. Replace the nozzle and try washing with it again. If the nozzle remains clogged, remove it and repeat the process. If still clogged, try soaking the nozzle in hot water and then try washing again.
Try a different nozzle – you might not be using the right one.
Look to see if the hoses are kinked and straighten them out.
Check the inlet and un-loader valves. If clogged, clean them or replace with new valves.
For pulsating pressure, turn off the machine and try bleeding air from the hose by squeezing the trigger.
Final Thoughts
Well, that just about covers everything you need to know about the very best electric pressure washers of 2023. I hope that this information has been helpful for you and will better guide not only your final purchasing decision but in owning and maintaining your very own electric power washer.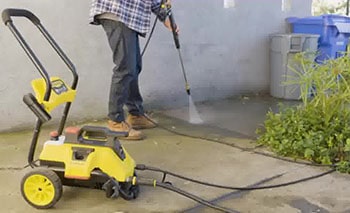 We understand the complexity and confusion that comes with making a major purchase for your home, which is precisely why the Cleanup Expert is here to help you through every step of the buying process, from researching models all the way to maintaining them.
Our comprehensive guides and helpful advice have been carefully crafted to assist you throughout your ownership of your new electric pressure washer. Now you're prepared with all the information you need, so that you can better focus on tackling the dirt, stains, and grime around your property!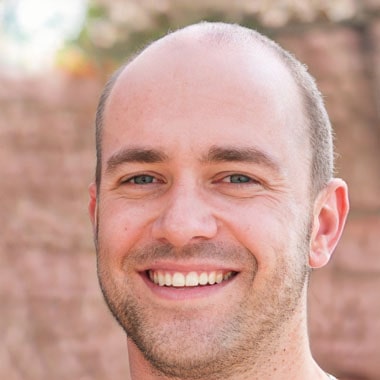 Author
Alex owns a home improvement and restoration company in Vancouver. He obtained his Bachelor's degree in Construction Management from Saskatchewan Polytechnic and is a NARI Certified Remodeler. His team does a wide range of home restoration products, both interior and exterior.
Pressure Washer Tips & Tricks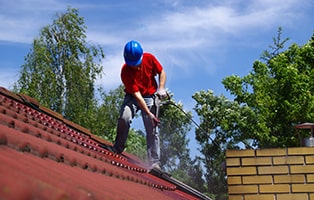 The leaves are starting to fall, and you may be thinking about power washing your gutters. Why? It's the perfect time of year to maintain those dirty drainage systems. The cool weather brings out dirt build-up, which can cause more problems.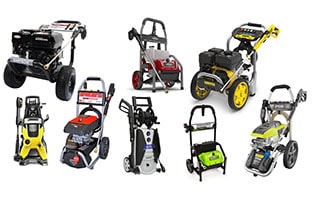 When it comes to cleaning grungy patio furniture, dirt-encrusted siding, and oily driveways, power washers are an indispensable tool. Read our article to find out which companies make the best ones.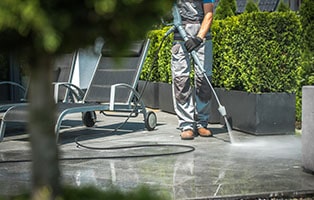 A pressure washer is a way to clean your patio that doesn't involve lots of strenuous scrubbing. Read about the 7 steps you'll need to follow if you want your patio cleaning to be a smash success.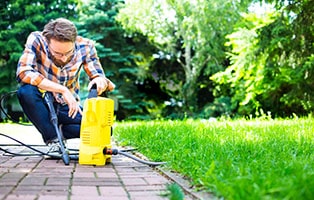 If your pressure washer is getting hot too frequently, this could be a sign that there's either something wrong with it, or you're doing something wrong. Read our article to diagnose these problems.