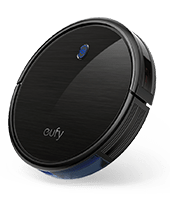 Looking for a practical, affordable vacuum robot? Check out our 2023 review of the eufy BoostIQ RoboVac 11S
We select, test, review and suggest the best products. We may earn a commission, if you buy something through our links.
The eufy BoostIQ RoboVac 11S is a slimmed-down version of the original RoboVac 11. It's one of the most affordable robot vacuums eufy has in its arsenal. This little robot is best for maintenance cleaning on hard floors and low-pile carpet.
While it's not quite as advanced in smart features as some of the higher-priced models, it does what it's supposed to do, which is cleaning your floors. It has a lot going for it, including the very slim profile that allows it to get under more furniture and other low points than its bigger brothers.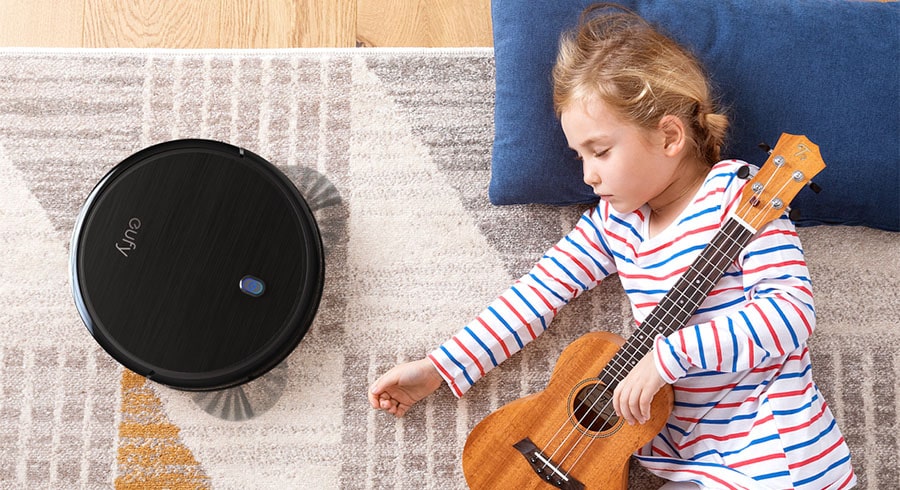 eufy BoostIQ RoboVac 11S is a quiet robot vacuum cleaner
It also runs for over an hour, has a generously-sized dustbin, and BoostIQ to automatically adjust suction power when needed. No robot vac is perfect, though, and this one is no exception.
Let's dive into the details so you can decide if this one's right for you.
What do you get with the RoboVac 11S
Inside the box, there's the vacuum, charging station with AC power adapter, a remote control, 2 AAA batteries, cleaning tool, extra set of filters, 4 side brushes, and 5 cable ties to wrap up cords that can tangle up the machine.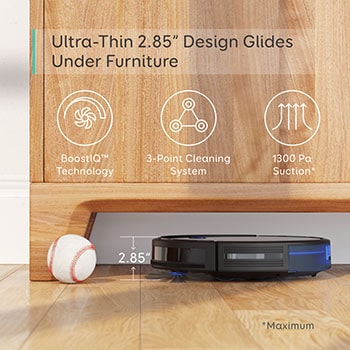 Battery run time: Up to 100 minutes
0.6 L dustbin
Noise level ~ 55 dB
Dimensions: 12.8" W x 12.8" L x 2.85" H
Weight: 5.85 pounds
Warranty: 12-month limited
It'll take about 5 – 6 hours to fully charge a dead battery, although it should already have enough juice to get it going right away. Before vacuuming, the manual recommends a little robot-proofing. With the included cable ties, you can wrap up any loose cables or wires and get them out of the way.
Look for other tangle hazards like shoes with laces, ribbons, yarn, belts, rug tassels, etc. Just a good general decluttering wouldn't be a bad idea.
You'll need to put the batteries (included) into the remote. Then to start it up, either press the button on the robot or use the remote, which has more features, including scheduling and different cleaning modes.
How does it navigate?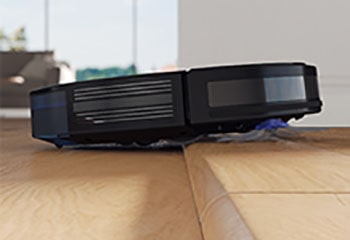 Despite the IQ in its name, the RoboVac 11S isn't really that smart. It does have an automatic redocking feature, but can struggle with that since it has no way to map out your home. So if the battery runs low when it's several rooms away from the base, you may find it stuck under your bed or dresser.
There's no WiFi, app or voice controls to help it along either. It does have cliff sensors and won't go tumbling down the stairs, though it may struggle with dark-colored flooring, which triggers the cliff sensors. On a good note, it rolls right over rugs, welcome mats, and thresholds up to ½ inch high.
The cleaning pattern, however, is random. The RoboVac 11S keeps on rolling until it senses an object, then turns and goes another random direction. That's why it's a good idea to clear the floor of obstacles as much as possible so it doesn't bounce around like a pinball until the battery dies.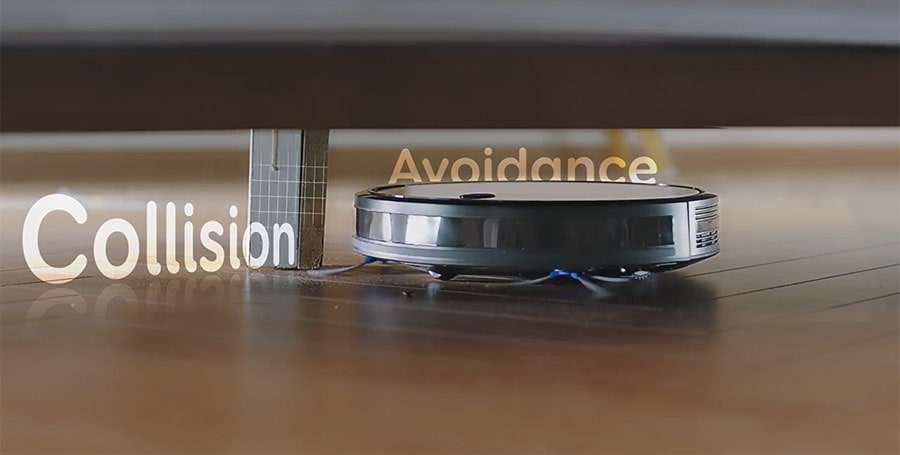 The RoboVac 11S keeps on rolling until it senses an object, then turns and goes another random direction.
With the remote control, you can direct it to one place or another, but you have to be pretty close to the vacuum. If you're wanting something you can control from work or while lying in bed, this isn't the vacuum for you.
Four cleaning modes with scheduling
Auto
Spot
Edge
Single room
On the remote, you can direct the RoboVac 11S to clean with one of 4 different modes. Auto mode works with the scheduling feature on the remote so you can direct it to clean at set times on different days.
Each mode has different timed cycles, with auto being the longest. Spot clean and auto mode are customer favorites.
BoostIQ and suction power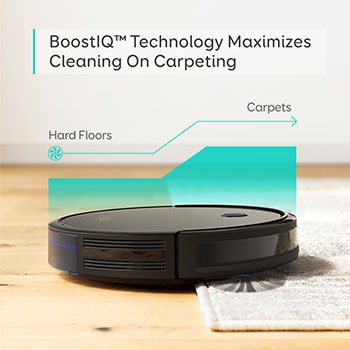 When you first start the RoboVac 11S, it will be on BoostIQ by default. This is an auto-adjusting suction feature. More suction the thicker the carpet. Less for hard floors. You can turn this off and choose a specific amount of suction if you're not seeing the results you want.
The edge clean feature works well for capturing those dust bunnies that hang out at the baseboards. However, the round shape doesn't allow the RoboVac to reach corners as well as some of the square models. The brushes that sweep out in front of it help with that somewhat, but they have to be aimed directly into the corner to clean it thoroughly.
Some customers recommended using auto mode for the main cleaning, then switching to edge mode to better clean the corners.
---
What do customers like about the RoboVac 11S

As one of the best-selling robot vacuums with tons of positive reviews, it's clear that customers really like this machine. By far, the favorite aspects of this vacuum were its ease of use and affordability. Another favorite feature was the low profile, with several people mentioning how the vacuum got into places they never thought to clean, like under shoe racks, TV stands, etc.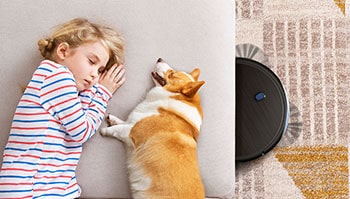 Several customers mentioned how quiet it is. At 55 dB, it's no louder than a normal conversation. People who work at home liked that they could be on a conference call and not be disturbed with it running in the background. If you're trying to sleep or watch a quiet TV program or something, it might be a little distracting.
Where some robot vacs have issues going over thresholds between rooms, customers reported that this machine just kept on trucking, even going from hard floor to shag carpet. While it did well over most rugs, a few customers said the brushes got tangled on long rug tassels. They recommended picking up rugs with tassels before running the RoboVac 11S or tucking the tassels under if it's a big area rug.
What are customers not liking about the RoboVac 11S

Pet hair was hit or miss. For many people with hard floors, the RoboVac 11S picked up pet hair fine. For others, especially on carpet, it missed a lot of hair. Also, hair tended to get caught up in the brushes and had to be cleaned out.
The biggest complaints were the lack of smart navigation and that the vacuum got stuck in random places such as between furniture. Another issue was that it would either not find the charging dock or when it did, it wouldn't fully connect with the charger.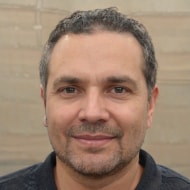 For any robotic vacuum or mop, make sure you set the charging base up against the wall, preferably on a hard floor. Give at least a radius of 3 – 4 feet around it. If it's not flush with the wall or on uneven flooring like a carpet, the robot might not fully connect with the charging contacts.
A cosmetic issue people didn't like was that the black color and finish showed a lot of dust, hair, and fingerprints. A few customers noticed this upon unboxing their vacuum, which meant they ended up with a used or refurbished model.
On a BIG positive note, however, eufy's customer service has been super responsive and helpful for the vast majority of customers who had issues.
Conclusions
If you're looking for an affordable, no frills, quiet robot vacuum, the eufy BoostIQ RoboVac 11S is a great option. It'll do best in homes that are relatively uncluttered with simple layouts and on hard floors or low-pile carpeting.
For pet hair specifically, it's not the best choice, but should do okay as long as you do regular vacuuming at least once a week or every other week.

PROS:

Quiet ~55dB
Very low profile
Simple operation
Transitions well between rooms and over rugs
Generous dustbin
Efficient cleaning


CONS:

Not the best with pet hair
Can miss corners
Random cleaning pattern
No app or voice control
Has trouble finding charging dock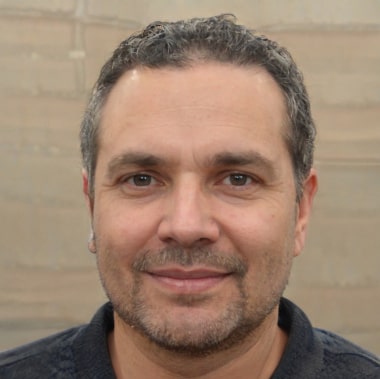 Author
Stephen A. Hancock received his M.S. in Mechanical Engineering (Robotics Track) from University of Utah in 2004. Since then, he's contributed to numerous articles and has been a consultant for many technical publications and websites.
---
Robot Tips & Tricks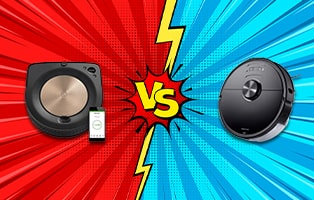 If you want to know which company wins the "Roomba vs. Roborock" battle, check out our article. You'll learn what makes each model exceptional, and things you'll need to know before buying.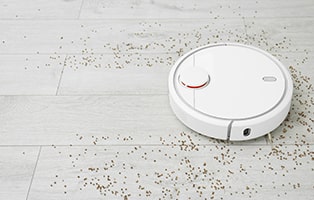 Robotic vacuum navigation systems include sensor mapping, camera mapping, gyroscopes, LiDAR, and SLAM. Read all about this technology in our informative article.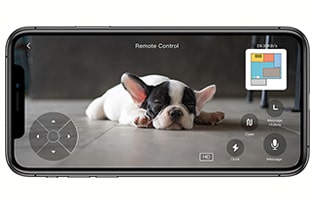 If you're worried that your robot vacuum is spying on you, you're not alone. Read our information-packed article to find out if it is, and what you can do about it.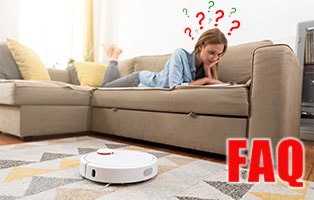 Robot Vacuum Cleaners are evolving at a rapid pace and have indeed become the new necessity for any modern household. Here's a breakdown on some of the most frequently asked questions about these devices