Adding the eufy RoboVac L70 robot mop and vacuum to your arsenal of home-cleaning equipment takes the mind-numbing tedium out of doing household chores. Find out why in our 2023 review!
We select, test, review and suggest the best products. We may earn a commission, if you buy something through our links.
The eufy Robovac L70 Hybrid Robot Vacuum and Mop is a two-in-one device that'll make your life easier by keeping your floors always looking sparkling clean and blessedly free of debris. eufy is part of Anker Innovations, one of the US's leading and most trusted consumer electronics brands.
Lately, the company's been making a splash with its line of robotic vacuum cleaners offering exceptional performance at a low price. The L70 is eufy's first hybrid model, giving the world a most remarkable mechanical multitasker that'll undoubtedly be an indispensable fixture in homes once word gets around.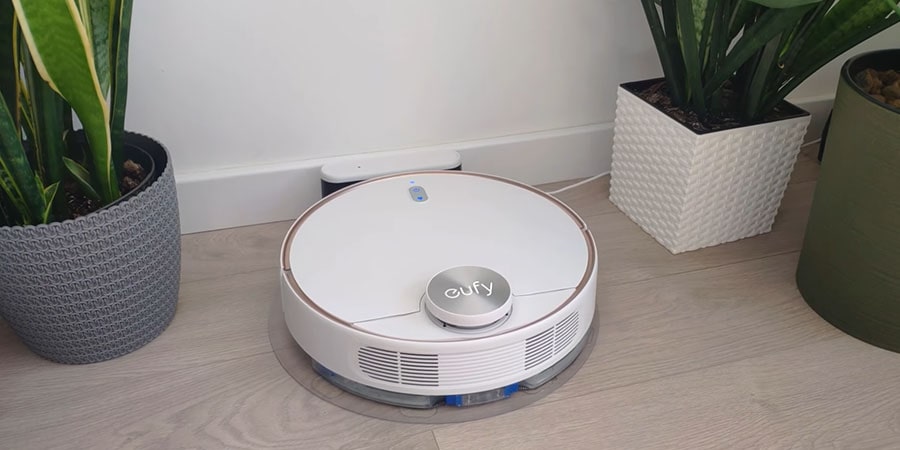 Eufy RoboVac L70 Hybrid is a device that will make your life easier
Features
Keeps floors sparkling clean with minimal effort;
2.5 hours run time on a single charge;
Adept at cleaning up pet hair;
Anti-collision technology minimizes crashes;
Better suction than most comparable models.
Who's The Robovac L70 Robot Vacuum and Mop For
Consider purchasing this exceptional cleaning machine if you have cats or dogs that shed bucket loads of fur all over your house. Between the top-of-the-line suction and quality roller brushes, excessive pet hair all over your home will be a thing of the past.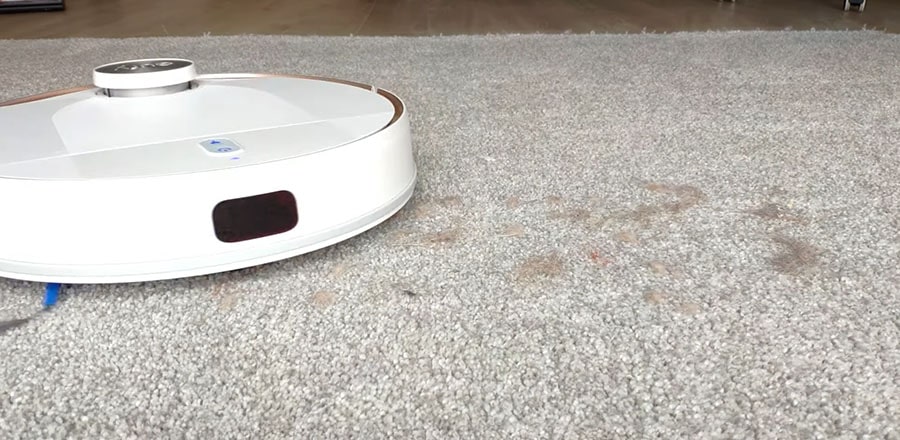 Consider purchasing RoboVac L70 if you have pets in your house
The L70 will make your home look so much cleaner, you won't be embarrassed when company stops by unannounced. If you already own a bevy of robotic cleaning devices because you love how easier they make life for you, you'll want to add the L70 to your arsenal of mechanized helpers.
Pros

Intuitive App
Download the EufyHome app to control your bot via voice or by using your smartphone. Because the unit has WIFI connectivity, you can use virtual assistants like Google Assistant and Amazon Alexa to make operation easier.
The app allows you to view the bot's cleaning history, set cleaning schedules, have a little fun remotely controlling the bot, and update the firmware. If your unit ever gets stuck, you can use the app to find it. Simply pull up its cleaning map, and you'll see a little icon indicating its current location.
Setting up the L70 and connecting it to a WIFI network is easy as can be. Merely follow the on-screen prompts on the app, and you're good to go.
Intelligent Mapping
When you see the L70 venturing out for the first time on its maiden cleaning voyage, you might think you just bought yourself a lemon. That's because it'll be bumping into stuff all over the place. However, it's merely learning your home's layout.
Once it uses the artificial intelligence generated by its sophisticated electronic brain to figure out the configuration of your home, it'll be able to deftly navigate every part of your residence. It uses its built-in laser to judge distances to walls and objects in its environment so that it can dynamically map every room.
Then, it chooses the most efficient cleaning route to get everything done in the least amount of time. Intelligent navigation provides for more comprehensive coverage than models that don't have this feature. Built-in sensors give it exceptional maneuverability, allowing it to tightly hug walls and easily turn corners.
Anti-Collision Technology
The device isn't entirely free from bashing into objects. That's why it comes equipped with anti-collision technology, which keeps crashes down to a manageable level.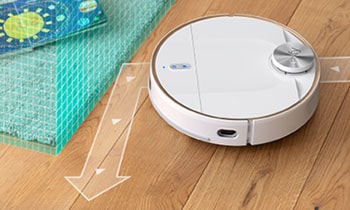 Virtual Boundary Setting
The cutting-edge technology in this unit allows you to set virtual boundaries right from your smartphone. That way, you can keep the bot out of areas where you'd prefer cleaning not get done. That could be messy places such as a children's playroom or spaces where your beloved canine companion gnaws on her doggie bones.
All the Suction Power You Need
The L70 is capable of producing up to 2200 pascals (Pa) of suction. This means it has enough power to eradicate dirt, dust, and debris from every square inch of your home.
Some carpets are shaggier than others. That's why when it needs more "oomph," the machine automatically boosts its power. The roller brush beneath the unit conveniently rotates to funnel debris like pet hair and crumbs into the debris bin, making it easy to clean the unit.
Smooth Transitioning Without Getting Stuck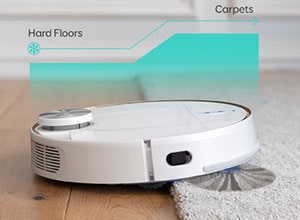 The L70 can smoothly transition from carpet to hard floors without getting stuck.
That way, you won't ever have to worry about giving it a helping hand when going from one type of flooring to another.
When the unit moves from a hardwood floor to a carpet, the suction instantly levels up to a more robust power level. This ensures that the optimal power level for each type of floor in your home.
Easy-To-Use Mopping Functionality
The device helps to minimize the amount of manual mopping you'll need to do. Water control is automated, allowing the unit to effectively mop your floors without your floors getting soaked.
This ensures an effortless, thorough clean while you relax. For even more nuanced control, the app lets you adjust power settings.
Cons

Hair gets tangled up in the brush pretty easily, so you're going to have to spend a few minutes every now and then cleaning it by hand. The unit comes with a tool for doing just that, and it's relatively easy to do.
Some users report that the L70 endlessly runs in circles in the middle of a room. Unfortunately, the "return home" function to get it back to the recharging dock didn't work for them.
After physically picking it up and bringing it back to home base, it would work okay for 30 minutes or so, then starting moving in circles again. This appears to be a technical glitch that has since been rectified, so you needn't worry about it.
The L70 isn't as slim as some previous models in the eufy robotic vacuum cleaner line because of the need for an onboard water reservoir. This means it doesn't slide as easily underneath furniture as some other units.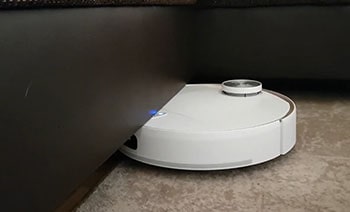 For example, it might have a challenging time getting underneath dressers with scalloped bottoms or some couches. However, you can easily mark these areas as "no-go zones" in the app, ensuring your bot doesn't get stuck.
Also, previous vacuum cleaners in the eufy line boasted a stylish tempered-glass design. Not so with the more utilitarian-looking L70.
It has a much more conventional design with white, all-plastic construction. The matte finish makes it less prone to smudges, so there's a silver lining in the less aesthetically pleasing cloud.
Robots have always struggled a bit to mop floors, and the L70 is no exception. While it will do a pretty good job of wiping up your floors, don't expect perfection. Furthermore, the mop pad takes a few minutes to get completely saturated, which is why sometimes the first floor your unit works on doesn't get cleaned as well as it should.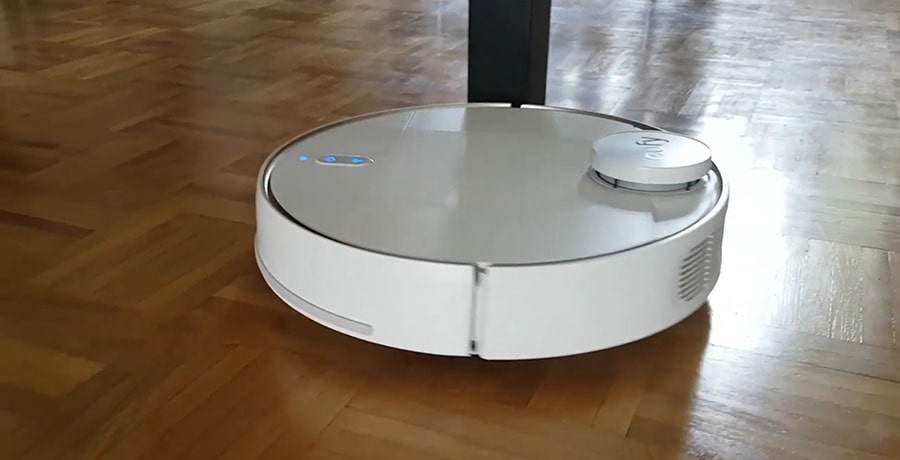 Verdict: Should You Buy the RoboVac L70 Robot Vacuum and Mop
While the mopping functionality on the L70 could be better, eufy has made a bold evolutionary leap with the introduction of this model. That's why if you're in the market for a hybrid vacuum cleaning/mopping robot and don't mind doing a little manual mopping now and again, consider buying the L70.
You get a ton of solid features that take much of the difficulty out of doing household chores. For a comparison of the very best robot vacuum and mop combos, check out our article.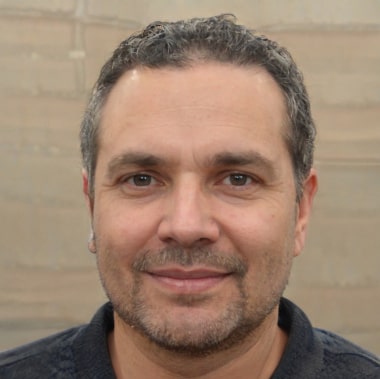 Author
Stephen A. Hancock received his M.S. in Mechanical Engineering (Robotics Track) from University of Utah in 2004. Since then, he's contributed to numerous articles and has been a consultant for many technical publications and websites.
---
Robot Tips & Tricks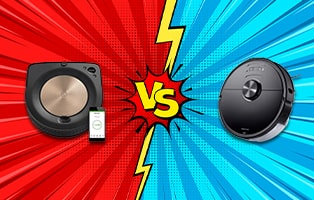 If you want to know which company wins the "Roomba vs. Roborock" battle, check out our article. You'll learn what makes each model exceptional, and things you'll need to know before buying.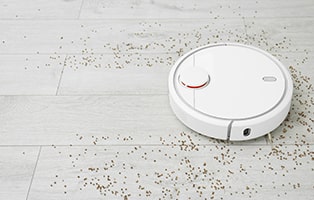 Robotic vacuum navigation systems include sensor mapping, camera mapping, gyroscopes, LiDAR, and SLAM. Read all about this technology in our informative article.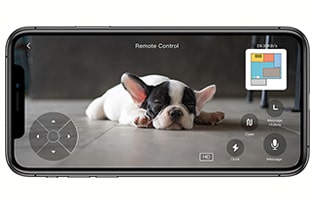 If you're worried that your robot vacuum is spying on you, you're not alone. Read our information-packed article to find out if it is, and what you can do about it.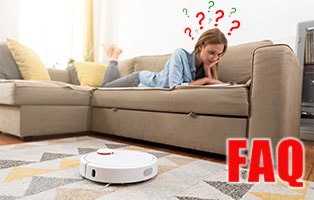 Robot Vacuum Cleaners are evolving at a rapid pace and have indeed become the new necessity for any modern household. Here's a breakdown on some of the most frequently asked questions about these devices