Our ratings and reviews of the Best Gas Powered Pressure Washers of 2023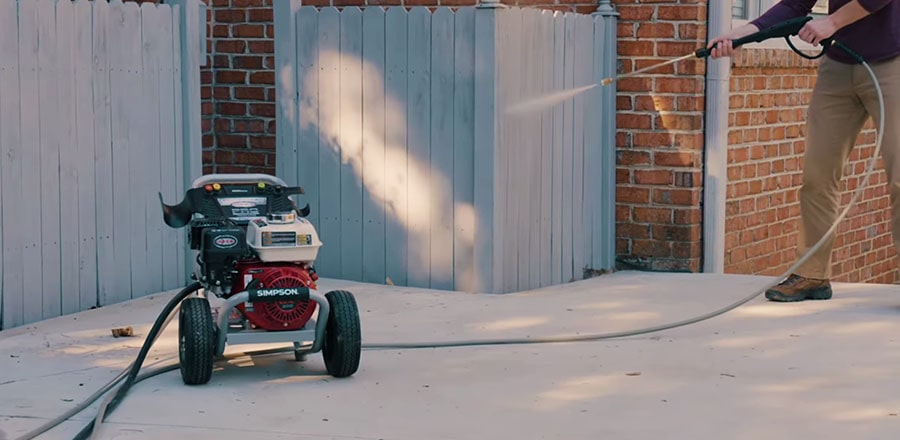 If you need heavy-duty cleaning power for exterior surfaces, nothing beats a top-rated gas pressure washer. From cars and oil-stained driveways to mildewed decks, patios and walkways, you'll be amazed at how quickly you can make them look like new with the right power washer.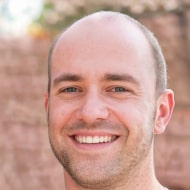 For most light to medium duty jobs, an electric power washer works just fine. But for heavy-duty dirt and grime or for cleaning farm equipment, etc. where you have no access to a power outlet, a gas pressure washer will become your best friend.
Our gas pressure washer reviews and buying guide will help you find the right machine for your specific cleaning needs. We'll look at several important tests, including price comparisons, engines, cleaning power, accessories, ease of use, length of hoses and what jobs each machine is best suited for.
Here are the pros and cons of a gas pressure washer:

PROS:
No power cord to limit reach, no power outlet needed
Great for cleaning large areas quickly
Best for removing very tough stains
Versatile for a wide variety of applications


CONS:
Heavier
Louder
More expensive (~$300 – $500 for residential models)
Can't use indoors due to exhaust
Requires winterizing – must drain all water and add antifreeze

When looking for the right model for you, pay attention to these criteria: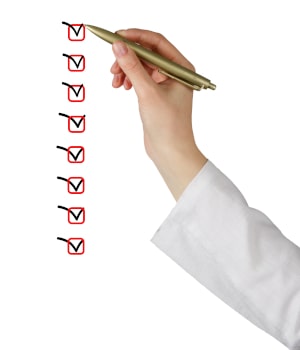 Price
PSI / GPM / CU (cleaning power)
Warranty
Weight
Extra nozzles (on board storage is a big plus)
Plastic or metal wand
Wheels – larger and pneumatic wheels provide the best stability and maneuverability
Plastic or brass couplings for hose attachment
Hose length – minimum 20-foot hose is best
Hose storage
Engine type and power
Noise output
We've listed several top-rated gas pressure washers from brands such as Champion®, Ford®, WEN®, Simpson®, and Generac®. Browse the listings and compare to find the machine that's right for you.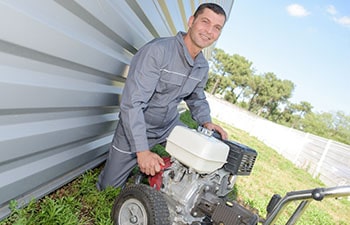 These machines and models represent some of the best gas-powered pressure washers currently available in the market today. No matter your choice, you're making an excellent investment in both yourself and your home.
Our careful research and thorough testing allow us to deliver some of the highest quality reviews available. We strive to provide unbiased feedback on products, allowing people to make informed decisions about the investments they make in their home and life. We pride ourselves in our ability to help match homeowners with the very best reviews, tips, and advice online.
Gas-Powered Pressure Washers Frequently Asked Questions
Can I Attach Multiple Hoses Together?
Through the use of quick-release couplers, you absolutely can! Just note that you will lose about 50 PSI for every 50' of additional hose.
What Is A Telescopic Wand?
A telescopic wand is an adjustable wand that you can adjust in length, generally from 6" to 48" on average. This allows the operator to reach more difficult places, such as rooftops and gutters. This also helps keep the person dry and free of any flying debris that may come up.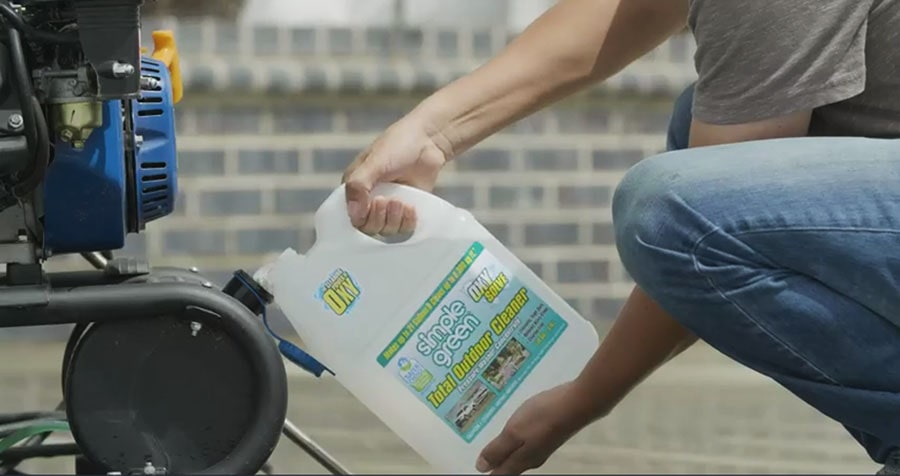 What Detergent Or Soap Should I Use In My Power Washer?
Generally, you are fine using most detergents or soaps so long as they are properly formulated for use in pressure washers to prevent clogging and ensure even flow. Consult your owner's manual for additional information and possible manufacturer recommendations.
My Pressure Washer Won't Start, What Do I Do?
Don't panic! First off, ensure that all of your connections are properly connected and that there is gas in your tank. If everything checks out there, you may have an issue with a clogged carburetor, which you can try clearing with a carburetor cleaner. If all of the above fails, you may want to consider bringing your machine to a repair shop for additional troubleshooting.
More
Best Gas Pressure Washers – Our 2023 Ratings & Reviews
We select, test, review and suggest the best products. We may earn a commission, if you buy something through our links.
---
---
---
---
---
---
---
---
---
---
---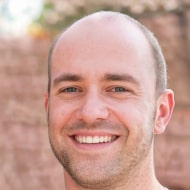 Yes, gas-powered pressure washers are more expensive than electric. But for power, durability, and heavy-duty usage, they can't be beat. Prices are better nowadays than they used to be, however. You can get a strong residential gas power washer for the price of a medium-duty electric washer easily.
You'll notice that gas pressure washers are also a lot heavier than electric. But that's due to the added weight of the engines, which weigh at least 25 pounds on most models. They're also bigger so they can support the engine and gas tank.
Buy only what you need
When looking at all the numbers in the specs, keep these in mind:
PSI – pressure per square inch (how strong the spray is)
GPM – gallons per minute (how much water is used)
CU – cleaning power units = PSI x GPM. For example 3200 PSI x 2.5 GPM = 8000 CU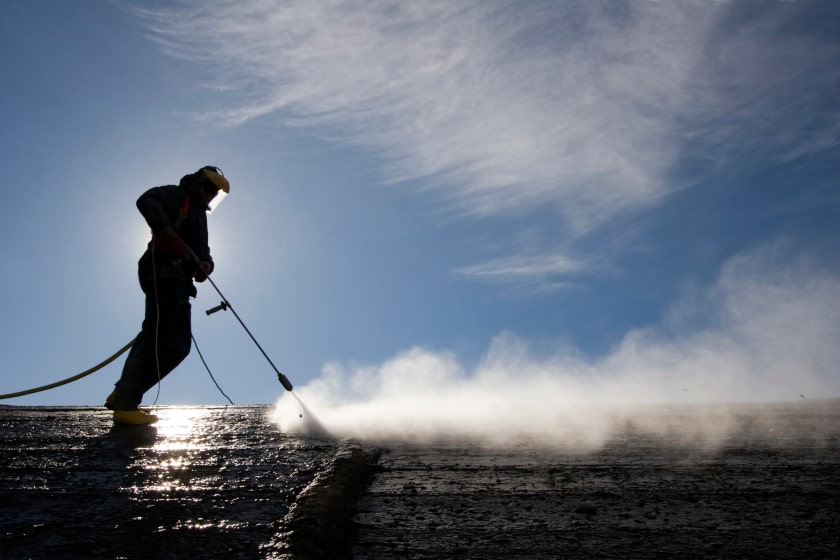 The bigger the CU score, the more powerful the machine. But you don't always need the most powerful machine. Yes, the Tim Allen types are all grunting right about now, but it's true.
Look for the machine that will get the job done most efficiently for whatever surfaces you have to clean. They all have different features that will help you in one way or another. For instance:
If you're tall – look for washers with fold-down handles that will extend far enough so you don't have to bend over every time you move the machine. Folding handles also make for easy storage.
If you have back trouble – look for a lightweight machine. Remember that adding gas, water, and oil will increase the listed weight.
If you have many kinds of surfaces to clean – look for machines with several different nozzles, adjustable pressure, and attachments included.
A note about warranties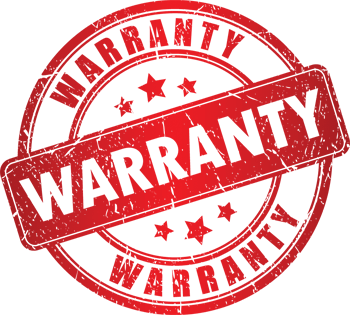 Most gas pressure washers will come with a 2-year limited warranty. This is usually just for the engine. Other parts like the pump and accessories can have widely-varying warranties, from 1 year to just 90 days.
And the "limited" part means they guarantee the machine is "free from manufacturer's defects in material and workmanship." This basically leaves it in the hands of the service rep to decide whether the defect is the manufacturer's fault or yours.
Some companies are surprisingly generous in handling these issues. WEN is one of those. Other manufacturers like Simpson, for instance, can be hit or miss. Always contact the retailer first if you have any issues. They'll often accept returns a lot quicker.
---
Helpful tips and tricks to keep your Pressure Washer going strong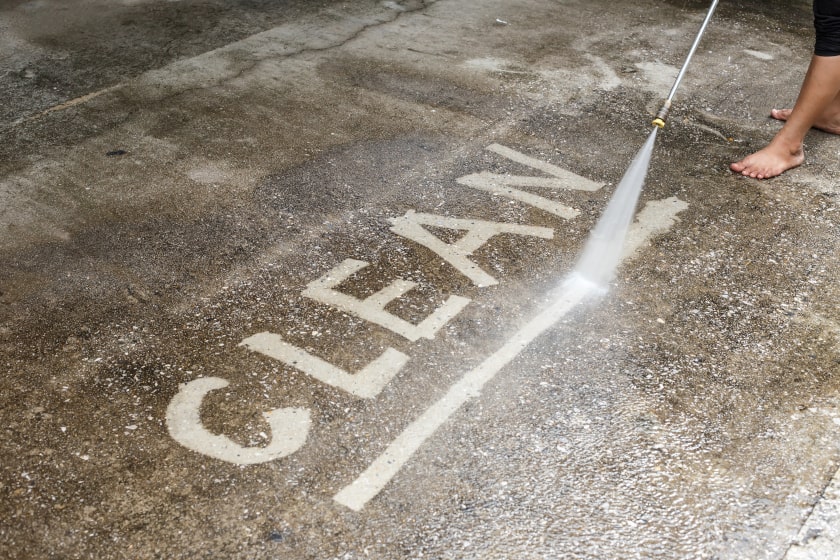 When we researched customer experiences, we gathered up a lot of useful real-world tips for troubleshooting problems that may arise with your pressure washer. You're investing a good chunk of change on this machine. So take care of it, and it will take care of you. We're listing some good troubleshooting tips below for your reference.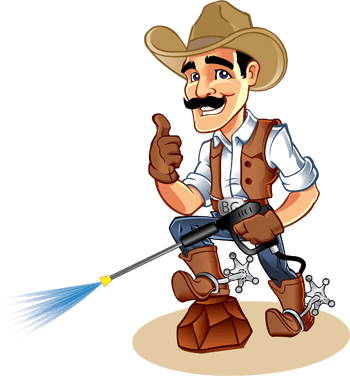 READ THE MANUAL – This should go without saying, but then those Tim Allen types… seriously, just read through the manual over your morning coffee and highlight important info so you know what's what.
Oil leaking during shipping – This seemed to be a common problem with several machines. Oil can leak and soak into air filters which will choke out the engine if you try to start it. Check your air filter upon arrival. If it's soaked with oil, wash the filter with Purple Power. Let it dry, then replace and see if it will start.
Fittings & other connections loose – Check all these before start up. Tighten anything that's loose but do NOT overtighten or you could crack the housing or strip the bolts.
Prime the pump – Air trapped in hoses can damage the pump. Let the water run through it for at least 30 seconds (even a couple minutes) before you start spraying. If you have longer hoses, it can take longer to get primed.

Post-op care – When you're finished (especially after long jobs), don't just turn off the machine and stick it in the garage. Take some time to do a little maintenance. Take the pump hose off and inject some pump saver to protect the inner workings of the pump. You just attach it on the inlet side and spray the can until it comes out the high-pressure hose side. It will prolong the life of your pump big time.

Change that oil – After every 10 to 20 hours of use (more frequently for new machines), change both the engine and pump oil. New machines can have loose metal shavings that will come off in the oil, and you don't want too many accumulating and running through the engine.
Use the right oil – Normal 30W oil sold for automobiles can be bad for pressure washers. You need small, air-cooled engine oil, so make sure you're using the right thing and not just grabbing whatever you put in your truck. Always use the oil recommended in the manual.

Think about extensions – Wand extenders and longer (~50') hoses are great for reaching those upper stories and gutters. They keep you off ladders and keep you from having to move the machine around so often. If you're tall, a wand extension can really save your back when working on ground level surfaces.
Do you have big hands? – Sometimes it can be hard to fit your hands in to detach the hoses from the machine with everything in tight quarters. Try putting on a quick disconnect adapter so it's easier to detach.
Don't over tighten anything – We said this in #3, but just don't. If you overtighten the inlet hose to the washer, for instance, you'll probably have leaks. Remember, stronger isn't always better!
Finesse the choke – Many machines have manual chokes that need a little finessing before you use the pull-start. After you pull once or twice, move the choke lever a little bit, then pull again. Repeat if necessary.

Be mindful of hoses when moving the washer – If they're long and tend to get in the way, hold both inlet and high-pressure hoses near the washer handle when you're moving the machine. This will prevent running over hoses or getting them tangled.
Make sure your nozzles are securely attached – Many people have popped a nozzle onto their wand, pulled the spray trigger, and wheeeeee – the nozzle flew across the yard, never to be seen again. This is a real challenge if you lose a green tip in your green grass. So be sure the nozzles are firmly on before you start spraying.
---
Winterize that baby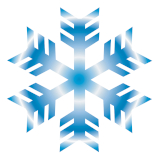 For those of you who have cold winters, you must winterize your gas pressure washer before storing it so you'll be able to start it again come spring. To do this, follow your owner's manual instructions. Basically, you'll be filling the pump and internal tubing system with RV-type antifreeze. If storing for over a month, drain the gas from the fuel tank as well.
Here's a handy video to show you how: How to winterize a pressure washer.
With proper usage and routine maintenance, gas-powered pressure washers can easily last you several years without any major issues. The machines on this list are built to last, and will easily do so with the right care.
Get Your New Gas-Powered Pressure Washer Today
As you can see, for those looking for a gas power washer of their own for their home, there are plenty of incredible options available on the market today. Whether you're looking for the top-of-the-line, such as the Simpson Cleaning ALH3425, or something more budget-friendly, like the Stanley SXPW3, there's a perfect pick for you and your home.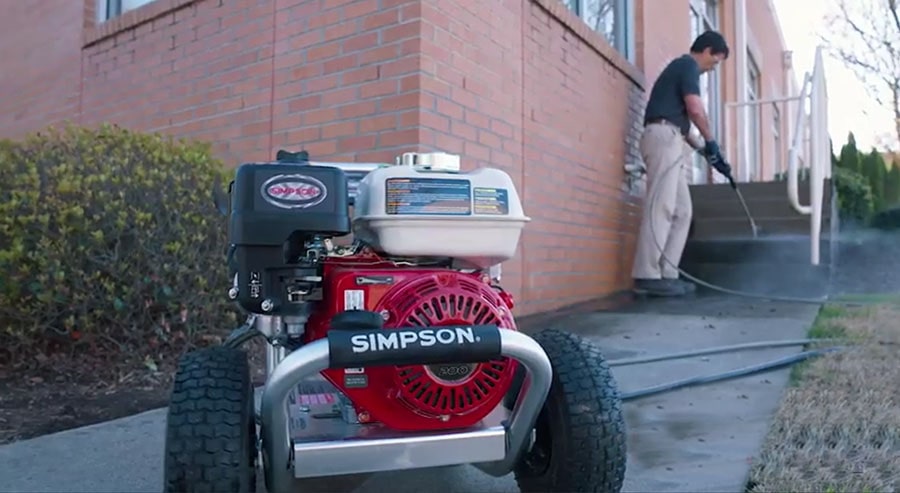 Gas-powered pressure washer is an excellent investment
Gas power washers are an excellent investment in yourself, your time, and your home by making maintaining your property easier than ever. With any models outlined on this list, you're sure to be set with a high-quality gas powered pressure washer that's built to last for many years to come.
Be sure to check back often for additional reviews, news, tips, and advice. You can also follow us on Twitter, like us on Facebook, and add our Youtube channel for even more from the Cleanup Expert!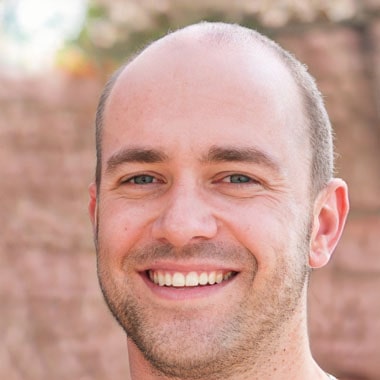 Author
Alex owns a home improvement and restoration company in Vancouver. He obtained his Bachelor's degree in Construction Management from Saskatchewan Polytechnic and is a NARI Certified Remodeler. His team does a wide range of home restoration products, both interior and exterior.
Pressure Washer Tips & Tricks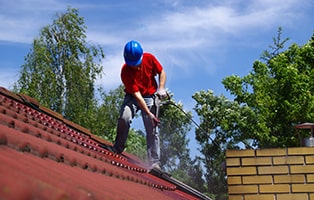 The leaves are starting to fall, and you may be thinking about power washing your gutters. Why? It's the perfect time of year to maintain those dirty drainage systems. The cool weather brings out dirt build-up, which can cause more problems.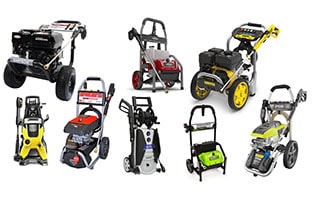 When it comes to cleaning grungy patio furniture, dirt-encrusted siding, and oily driveways, power washers are an indispensable tool. Read our article to find out which companies make the best ones.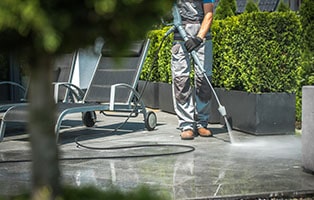 A pressure washer is a way to clean your patio that doesn't involve lots of strenuous scrubbing. Read about the 7 steps you'll need to follow if you want your patio cleaning to be a smash success.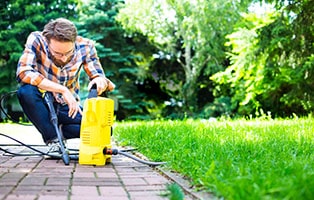 If your pressure washer is getting hot too frequently, this could be a sign that there's either something wrong with it, or you're doing something wrong. Read our article to diagnose these problems.