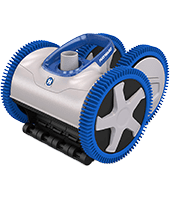 Here's our 2023 review of the Hayward Aquanaut 400 suction pool cleaner. Read it to get all the facts before buying.
We select, test, review and suggest the best products. We may earn a commission, if you buy something through our links.
The Hayward Aquanaut 400 is a fantastic suction-side machine that'll make short work of formerly backbreaking pool cleaning chores. For over 80 years, Hayward has cultivated a sterling reputation at engineering pool products that are durable and reliable, do a spectacular job, and make pool maintenance effortless. The Aquanaut 400 is no exception. Buying one practically guarantees that your pool always remains sparkling clean and will be money well spent.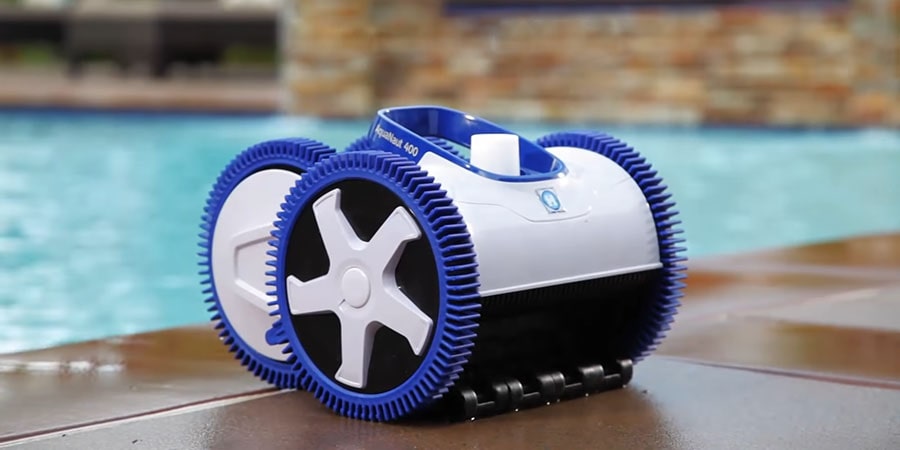 Hayward Aquanaut 400 will keep your pool sparkling clean
Features
Patented V-flex variable turbines prevent stuck debris
Four-wheel for exceptional maneuverability;
Makes manual pool cleaning tools virtually obsolete;
Adjustable roller skirt maximizes suction;
No electricity needed;
Perfect for in-ground pools up to 40 ft.
Who's It For
If you're one of those people who think they can clean their pool better by hand with traditional tools, you've never met the Aquanaut 400. You'll be amazed at how excellent a job this cleaner can do. After you take it out for a test spin, you'll be ready to retire your manual pool cleaning tools forever!
Pros

Excellent Cleaning Ability
As soon as you deploy the Aquanaut 400, you're going to be mightily impressed with its excellent ability to scoop up every leaf, twig, and other debris obliterating the pristine purity of your backyard swimming hole. When water passes through the patented V-flex variable turbines, the vanes open wide, allowing larger debris to pass without getting stuck.
No Electricity Needed
The only power your Aquanaut 400 needs is the suction generated by your pool's filter cycle. This means it won't have to drag any electrical cords around as it tirelessly works to keep your pool clean. Unlike many pressure-side cleaners, there's no need to buy a booster pump.
Exceptional Suction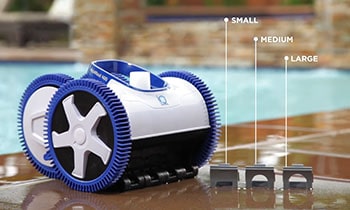 The adjustable roller skirt adheres tightly to pool surfaces. This allows the unit to always maintain maximum suction, even on uneven terrain such as pebble. This gives the Aquanaut 400 enough suction power to capture all the bugs, dirt, sand, small stones, and leaves sitting on the bottom of your pool.
The interchangeable throats let you balance suction power with debris size. If you have a low power pump, use the smallest throat. Although not as much debris can enter, your machine will have more suction at its disposal. This makes the Aquanaut 400 perfect for variable speed pumps.
If you find that larger debris (such as palm fronds) gets stuck in the inlet, simply switch to a larger inlet size. This ability to alternate from one size throat to another gives the machine a versatility that many other cleaners don't have.
Pre-programmed Steering Sequences
The Aquanaut 400 has pre-programmed steering sequences that use proprietary algorithms to ensure that every area of your pool gets cleaned.
Four-Wheel-Drive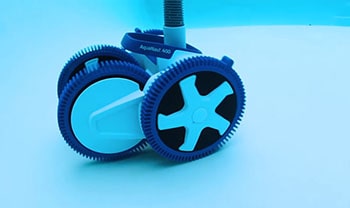 The Hayward Aquanaut 400 is the only suction-side cleaners on the planet with four-wheel-drive. This gives it more stability than many other cleaners, so there's less risk of the unit toppling over. The four-wheel-drive also enhances its mobility, meaning it has no problem whatsoever clambering over drain covers and other underwater obstacles.
The four-wheel-drive capability comes in particularly handy for sloped surfaces. It can even climb up steep inclines where lesser cleaners would just admit defeat by sliding back down.
The high-traction tires with super-rugged treads just add to the ability of the model to confidently traverse every crook, corner, and crevice of your pool.
Other Features
The gearing inside the 400 is reliable and long-lasting, engineered to stand up to the ravages of both chlorinated water and heavy use. The only parts you'll probably need to change are the rubber tires when they inevitably wear down. There's a convenient handle that makes yanking the unit out of the pool at the end of a cleaning cycle a breeze.
Cons

The supplied tubing might not be long enough for your pool if your skimmer is at the far end. If this is the case, you'll need to purchase an additional tubing piece. If you have no side suction port and must connect the unit through your skimmer, you'll have to manually remove debris from the water's surface.
Alternative Models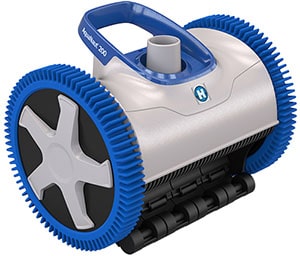 Let's compare the Aquanaut 400 with the Aquanaut 200. Both models were released in the fall of 2014. However, if you have a large pool, you'll probably want to go with the Aquanaut 400.
The Aquanaut 400 has two extra wheels on the back. This gives the unit better balance and maneuverability. It travels 11 to 14 feet before turning and has a turning radius of 90 to 540 degrees. You get 40 feet of hose with the unit. On the other hand, the Aquanaut 200 travels eight to ten feet before turning and has a 90 to 450 degrees turning radius. It comes with 33 feet of hose.
Final Verdict
Individuals who want to transform pool ownership into the joyous endeavor that it was always intended to be will want to invest their hard-earned dollars in the Aquanaut 400, an aquatic workhorse like few others. This is one superbly engineered pool cleaner that boasts unprecedented reliability and efficiency and will render your pool virtually spotless.
If you want to know how we rated other popular suction-side cleaners, check out our informative guide on the subject.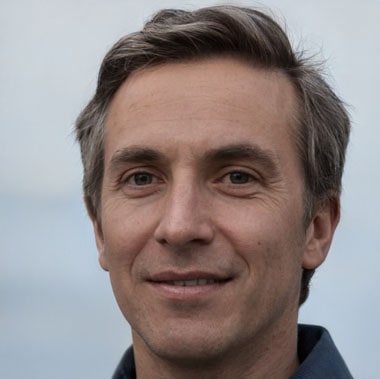 Author
Our pool maintenance expert, Luke Reed, earned his BS in Civil Engineering from Georgia Tech in 1998. Since then, he's worked in a variety of industries, including design and construction of luxury swimming pools.
---
Pool Maintenance Tips & Tricks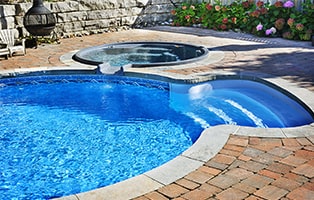 With all the different types of swimming pools available, such as in-ground and above-ground, it can be difficult to decide which one to get. Our guide including pros and cons can help you make that choice.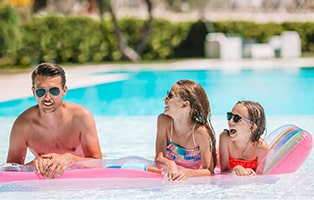 Germs and bacteria can cause life-threatening illnesses in a swimming pool. Find out what the dangers are and what you can do about them by reading our article.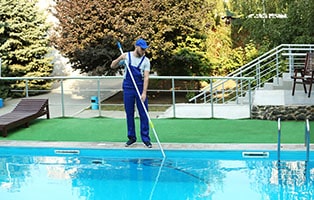 Dreaming of entrepreneurial success? Check out our guide on how to start a pool cleaning business. You'll find everything you need to know to set one up.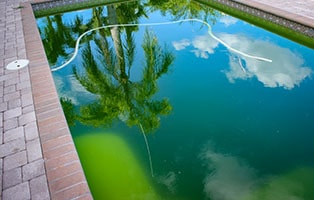 Is your swimming pool too murky to swim in? In our informative article, you'll discover the causes of a cloudy pool and how to fix the problem.