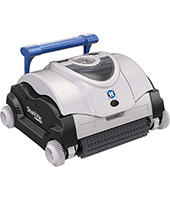 The Hayward SharkVac W3RC9740CUB pool cleaning robot is an excellent choice for tight budgets. It is the right one for you? Find out in our 2023 review!
We select, test, review and suggest the best products. We may earn a commission, if you buy something through our links.
The Hayward W3RC9740CUB SharkVac robotic pool cleaner scrubs every inch of your pool clean so you don't have to. Impeccably engineered components and advanced technological features make it easy and cost-efficient to operate.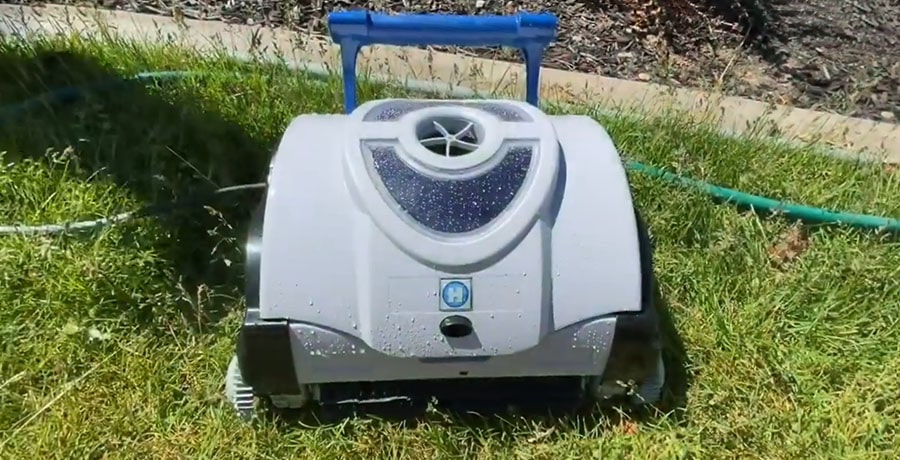 Hayward SharkVac is easy and cost-efficient to operate
The SharkVac is so good at what it does, it will scour the floors, walls, and waterline of your pool in just under two hours. By the time it gets done, it will have eradicated dirt and unsightly debris so you can swim in the sparkling crystal clarity of a pristine pool.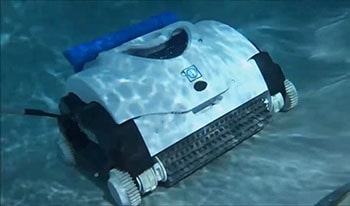 The Hayward SharkVac will give you your life back—no more sweating in the sweltering heat and no more backbreaking hours spent manually cleaning your pool. Unlike some other pool cleaners, there are no extra pumps, hoses, or hookups needed.
This is one shark you'll want to have swimming around in your backyard. Only instead of trying to devour swimmers, The Hayward will be gobbling up nasty debris and gunk.
The Hayward SharkVac comes in two models—standard and extra-large. The standard cleans the pool floor and coves, while the XL thoroughly cleans the floor, walls, coves, and waterline.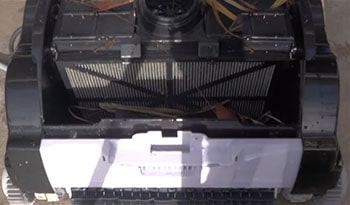 Features
Advanced steering technology for more efficient cleaning;
Larger-than-average leaf collection basket;
Separate from your pool's dedicated filtration system;
Helps cut down on chlorine use
Who's it For
The Hayward SharkVac is for anybody who's had it up to here with manually cleaning their pool.
With this superb pool-cleaning bot, you'll finally be able to give your telescopic pool pole to your buddy across the street who loves scrubbing his pool by hand way more than you do.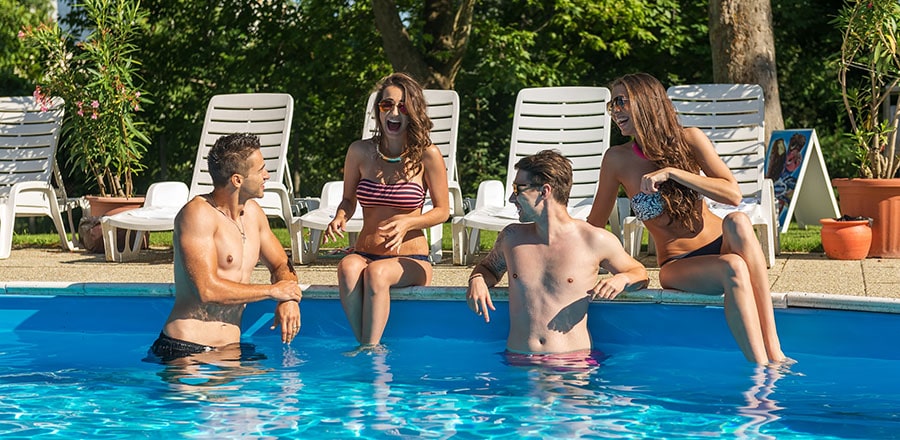 Pool robot allows you to kick back and relax
Now you can just kick back and relax with a fancy umbrella drink while your pool robot does all the work!
Pros

Maybe you live way out in the countryside, surrounded by magnificent trees. Although they can be spectacular to look at, you won't feel the same way when autumn rolls around, and tons of leaves get deposited en masse into your pool.
When this happens, you'll be ecstatic you invested in this exceptional machine because it picks up leaves like few other models.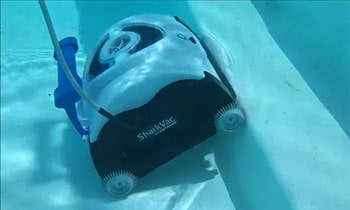 If you're getting ready for a pool party, you'll appreciate having this mechanical helper around. That's because you'll be able to devote every minute of your time getting your food set up, pouring drinks, and making sure the decorations look perfect. One thing you won't be doing is cleaning scum out of your pool because the SharkVac will be doing that for you.
The SharkVac is your silent servant, always ready at a moment's notice to rid your pool of the impurities that are not only repulsive looking but unhealthy too. With its advanced technology, it'll reach into every corner, nook, and cranny of your pool without you so much as lifting a finger. In two hours or less, you'll have an immaculate pool—including the steps.
You'll find yourself using less chlorine, your water will be crystal clear, and you'll be as happy as a clam!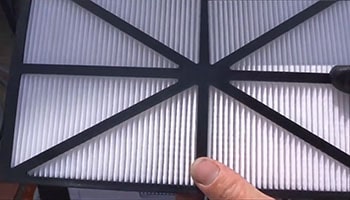 All the disgusting crud that this hardworking bot collects won't be going into your pool's dedicated filter as it would with a pressure- or suction-side cleaner. Since the SharkVac is separate from your pools' dedicated filtration system, this means less frequent backwashing.
The SharkVac's filter isn't a pain to remove because it's easily accessible from the top. It's whisper-quiet and picks up leaves, algae, worms, and bugs without a problem.
One thing I really like about this unit is that it comes with out-of-water sensors that protect the motor. If it happens to leave the water, these sensors will immediately shut the SharkVac off.
However, this feature only comes with the SharkVac XL.
Cons

If you lack upper body strength, this isn't the pool robot for you because you have to drop it in and take it out every time you want to clean your pool.
The button that opens the top might be a problem for you at first. However, if you press hard with two thumbs and lift at the same time, you'll get it. Unfortunately, the filter elements can get jammed into place with grit. When that happens, the clips that hold them in place can be somewhat challenging to release.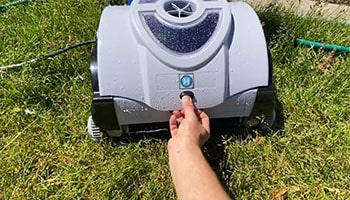 The cord often gets twisted up by the time the cycle is complete. That's because the rubber casing has a "memory" from being wound up. The cleaner's path causes the cord to twist and wrap around the unit by the time the cycle's finished.
This means that when you put it away, it might take a little bit to untangle the cord and roll it up. One way to get the cord to behave is to lay it out in the hot sun before putting it in the pool.
Some customers report that vacuumed debris falls out of the unit when you attempt to take it out.
Alternative Models to the Hayward SharkVac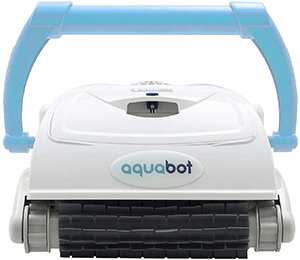 Let's see how the Hayward SharkVac stands up to some competitors.
We'll start with the Aquabot ABREIQ Breeze IQ. The Aquabot has a timer that you can program to shut off after two hours. The SharkVac doesn't have this feature.
The Aquabot has an anti-tangle swivel-free cord, while the SharkVac doesn't.
The SharkVac is suitable for pools up to 40 feet, and the Aquabot can be used in pools that aren't more than 50 feet in length. However, the SharkVac generally does a better job at cleaning your pool—particularly the waterline.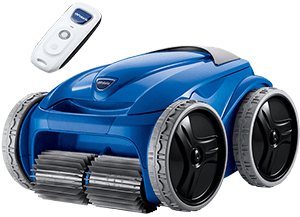 Next, we'll compare the SharkVac to the Polaris F9550 Sport. The F9950 is excellent at navigating odd-shaped pools. Although the SharkVac has no trouble getting into tight corners, it doesn't do as well as the Polaris does with pools that have unconventional curvature.
The F9950 has a 70-foot cable; the SharkVac has a 60-foot one.
The F9950 has a rear water propulsion system that allows the cleaner to reach debris under stairs and in tight corners; the SharkVac doesn't have this capability.
However, the SharkVac is much less expensive than the F9950. So, if you're on a budget, the SharkVac might be the better buy.
My Final Verdict: Should You Buy the Hayward W3RC9740CUB SharkVac Robotic Pool Cleaner
If you want an easy-to-use cleaner that does a fantastic job, I'd suggest you buy the Hayward SharkVac.
Of course, it's not perfect — no robotic pool cleaner (or any other product for that matter) is. However, it comes with a lot of features that'll make your pool-cleaning duties so much less daunting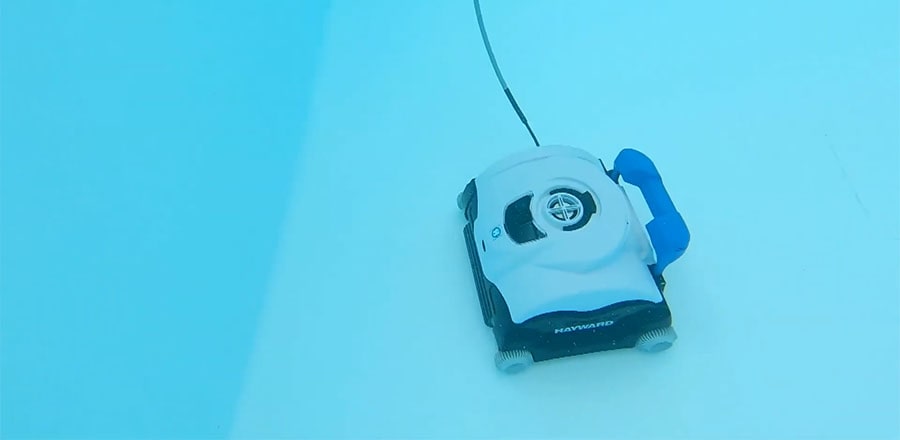 I can heartily recommend the SharkVac
In the end, I can heartily recommend the SharkVac. In fact, it might become such an integral part of your household, you'll even give it an affectionate name! If you do, try to come up with something creative.
If you want to find out about other robot pool cleaners, click for more reviews.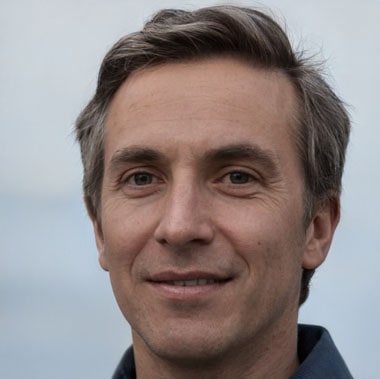 Author
Our pool maintenance expert, Luke Reed, earned his BS in Civil Engineering from Georgia Tech in 1998. Since then, he's worked in a variety of industries, including design and construction of luxury swimming pools.
---
Pool Maintenance Tips & Tricks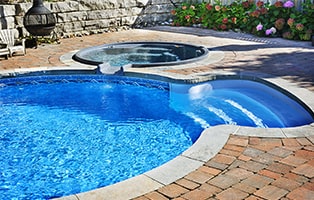 With all the different types of swimming pools available, such as in-ground and above-ground, it can be difficult to decide which one to get. Our guide including pros and cons can help you make that choice.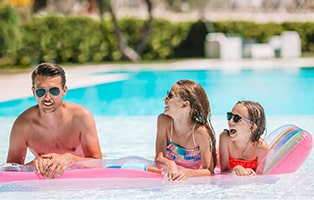 Germs and bacteria can cause life-threatening illnesses in a swimming pool. Find out what the dangers are and what you can do about them by reading our article.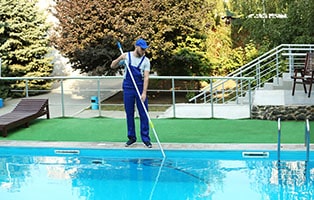 Dreaming of entrepreneurial success? Check out our guide on how to start a pool cleaning business. You'll find everything you need to know to set one up.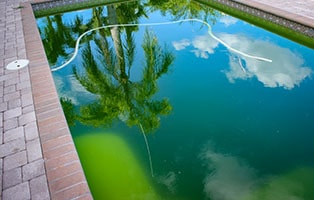 Is your swimming pool too murky to swim in? In our informative article, you'll discover the causes of a cloudy pool and how to fix the problem.