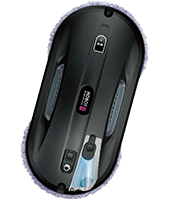 Read our 2023 review of the HOBOT-388 window cleaning robot and find out what makes it a superior cleaning machine!
We select, test, review and suggest the best products. We may earn a commission, if you buy something through our links.
If you're tired of the rigamarole of manually cleaning your glass surfaces, consider buying the HOBOT-388 Window Glass Cleaning Automatic Smart Robotic Cleaner. The HOBOT produces such superior, streak-free results, you'll never have to go through the trouble of washing a window by hand.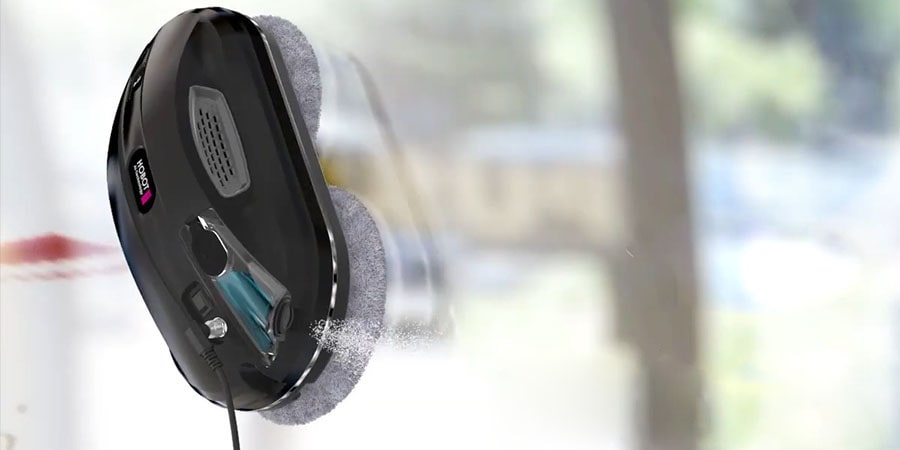 HOBOT-388 produces superior, streak-free results
Washing your home's windows can be a tedious and dangerous undertaking. Every year, there are more than 164,000 emergency room visits and 300 deaths caused by ladder falls. Some of these accidents are from people trying to get their outside windows as clean as can be. Additionally, hiring someone to wash your windows can be expensive. On the other hand, buying a window-cleaning robot can quickly pay for itself.
Be careful, though—the HOBOT-388 might make your robot vacuum cleaner insanely jealous!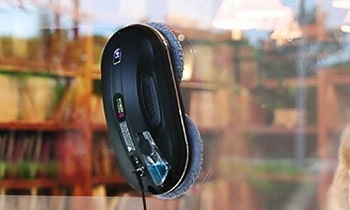 Features
Streak-free windows with a minimum of effort;
Advanced AI plots the most efficient cleaning path;
Reusable microfiber pads save you wads of cash;
4.5-foot-long safety tether protects your investment.
Who's it For
The HOBOT-388 is for anyone who's too busy to clean windows by hand and wants a solution to the problem that's easy and affordable. It's also for people with mobility issues who no longer can wash windows themselves.
If you live in a heavily forested area where tiny bits of tree pitch get lodged on exterior glass surfaces, you might want to get one of these handy dandy bots so you don't have to clean up all that yucky stuff yourself.
Pros

Some users who have lots of floor-to-ceiling windows are astounded at how well the HOBOT-388 cleans them, which, in their minds, beats cleaning them by hand. The HOBOT-388 boasts AI and advanced algorithms, ensuring that it'll plot the most efficient cleaning path.
It does a great job with edge cleaning because the pads protrude slightly outside the unit's body and get right to the edge. Once the HOBOT has thoroughly cleaned the window, it automatically stops.
Patented Ultrasonic Spray Nozzle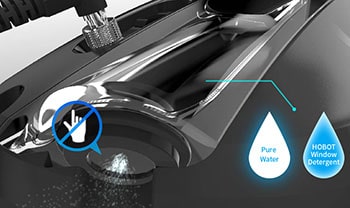 This window-cleaning bot has a patented ultrasonic water spray nozzle that nebulizes water up to 15 microns and then sprays it evenly on glass surfaces. The effect is considered "bio-mimicry" because it's like a human being exhaling on a window.
What's great about the HOBOT is that it's designed to work either with water or the company's proprietary detergent. Water does an excellent job cleaning most windows, but you should use their cleaning solution if you have greasy residue on yours. The HOBOT only uses 1.4 ml of detergent to clean a one-square meter window. This means a bottle will last a long time.
Unlike other window cleaning robots that require you to spray copious amounts of cleaning solution on the pads, the HOBOT-388 has a reservoir with an ultrasonic spray head that efficiently applies a uniform mist. The HOBOT-388 doesn't use a lot of liquid when it cleans a window, so you can do several of them before you need to refill the reservoir. The included cleaning solution easily cuts through encrusted grime, and a little bit goes a long way.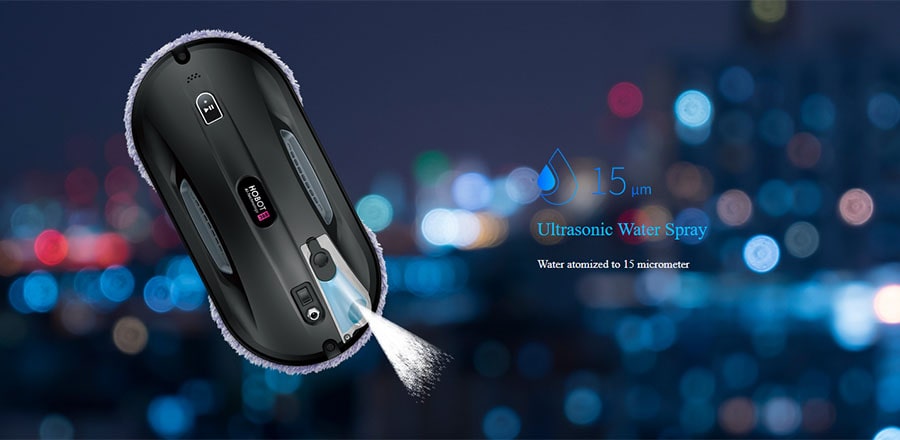 The water tank is easily replaceable. If the ultrasonic spray nozzle gets hopelessly clogged (something that will invariably happen over time), all you need to do is to replace the part by removing one screw.
Streak-Free Shine Every Time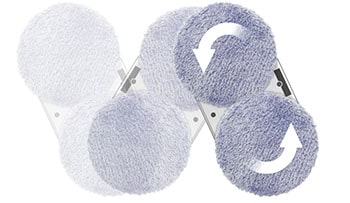 Instead of rubber tire treads, the HOBOT's two specially designed cleaning wheels provide up to 70 RPMs of cleaning motion. This allows it to move freely and smoothly on the window surface without leaving any tracks.
The soft and synthetic microfiber cloth removes dust, dirt, and grime away for a streak-free, sparkling clean shine.
The unit comes with a pack of 12 grey reusable microfiber pads. With proper care, they should last for years. Simply throw them in a washing machine after each use, and you'll be good to go.
Pressure-Change Detection System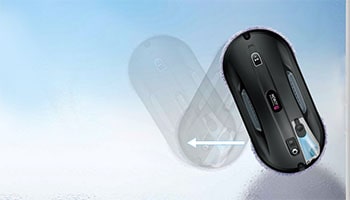 The HOBOT comes equipped with a pressure change detection system. This means that when it reaches the edge of a frameless window, it'll turn around before it tumbles to the ground and shatters into a million glittering pieces.
If the power unexpectedly shuts off, an integrated UPS (Uninterrupted Power System) acts as a battery backup, allowing the robot to operate for another 20 minutes.
This is another way the manufacturer prevents it from suffering this horrible fate. An alarm sounds when the unit reverts to battery backup.
4.5-Meter-Long Safety Tether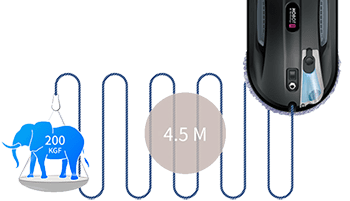 Yet another feature stopping your expensive device from unceremoniously smashing to the ground is a 4.5-meter-long safety tether that can withstand up to 200KG of force. The five-foot power cord allows the HOBOT to work on a large area even when the power outlet is far from the window.
When coupled together, the power cord coming out of the power supply and the extension cable are about 16 feet long. This should be sufficient to let the bot move on most windows. However, the connection between the power and extension cable is only a simple press-on connection. You might want to wrap the connection with electrical tape to make sure they stay together during operation.
Works on Other Surfaces
The HOBOT isn't only for cleaning windows. It can also clean mirrors, tiles, and mosaics. The HOBOT works on surfaces other than windows because of a high-volume centrifugal pump that creates negative pressure. This enables the bot to adhere and slide over rough surfaces despite air leakages.
Other Features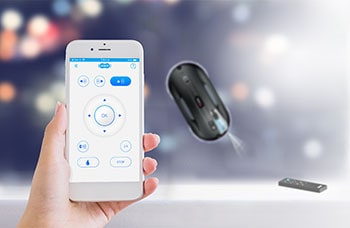 Because the DC motor is brushless, there are no brushes to wear out, which means your unit will last longer.
The most convenient way to control the robot is through a smartphone app for either iOS or Android. You can also use the remote control that comes with the device.
The vacuum power that holds the unit to a window is surprisingly strong. Try to pull it away, and you'll see what I mean. Some users say they thought the cleaning process would take a long time because the unit is small. However, they were pleasantly surprised when the HOBOT-388 made quick work of all their window cleaning tasks.
The one-button easy start works like a charm, and the design is stylish and slim. The ventilation holes also work as a pair of handy grips so you can firmly hold your robot.
The HOBOT is designed to do its job with very little maintenance. Keeping it running and in good working order doesn't require much effort. One thing you'll need to do is to clean the laser sensors before every use with a soft, clean cloth.
Cons

The HOBOT is only for rectangular windows, not ones with rounded edges. The minimum surface size is 13х13 inches, and it's for glass thicknesses of three mm or more. The HOBOT-388 works best on low humidity days with lots of sun because glass surfaces must be completely dry before the robot can do its thing. If you let the bot clean a dusty surface with wet pads, you'll end up with a mess. That's because the dust particles mix with the cleaning solution, and both the glass and cleaning cloth get mucky.
Best results are obtained with two passes. The first dry pass removes dirt and dust, which prepares the surface for the second wet pass. If you don't do two passes, you'll end up with streaks. While the HOBOT does an excellent job on virtually every part of a window, it'll leave a tiny part of the top and bottom corners left undone. You'll also still need to clean the frames and tracks manually.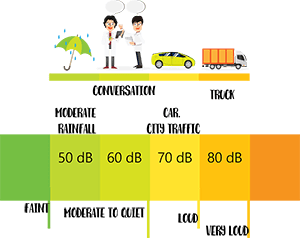 Some users feel that the unit doesn't spray enough liquid on glass panes to get them clean. Others complain that there's no place on floor-to-ceiling windows to connect the tether. The HOBOT has a noise level of 70dB, which makes it as loud as a vacuum cleaner. This means that while it isn't overly noisy, it isn't exactly quiet either. Most of the noise comes from the motor that creates the vacuum that holds the robot tightly against the pane.
The HOBOT-388 won't work on windows that have films and stickers on them. These things make the surface of the window so slick that the bot will slip as it tries to travel across the window. However, it won't fall from the glass
When cleaning external second-story windows, you still might need to use a ladder to place the unit against the window and retrieve it when the job is done. Not every window is able to open so that you can place the bot on the outside of the glass. It's too bad that the manufacturer doesn't have a way to connect the unit to an extendable paint pole.
The app annoyingly sends notifications to use only water or proprietary HOBOT cleaning solution each time you operate the device. It would have been better to simply have a label on the reservoir stating this.
My Final Verdict: Should You Buy the HOBOT-388
The HOBOT-388 isn't inexpensive. It's also not without its faults. However, it can quickly pay for itself when you compare it to hiring a professional window cleaning service.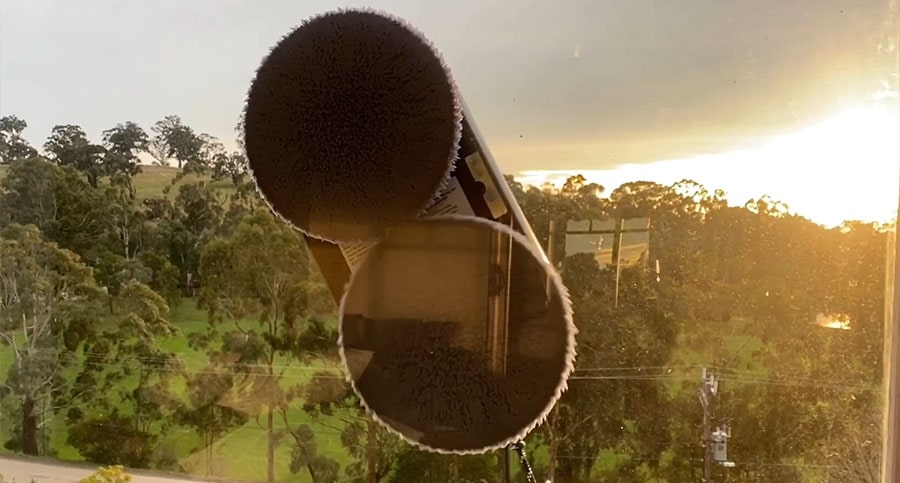 HOBOT-3888 can quickly pay for itself
It's loaded with features that'll soon make manual window washing a thing of the past. Because of these things, I recommend the HOBOT-388 to anyone looking for a way to decrease the number of household chores they must do by hand. If you want to see what other robotic window cleaners we recommend, check out our reviews.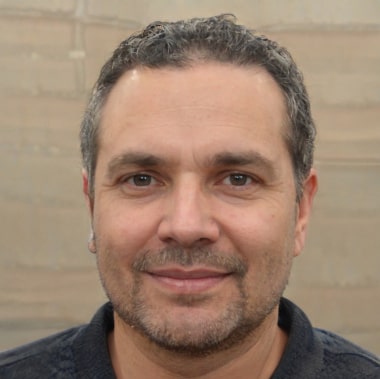 Author
Stephen A. Hancock received his M.S. in Mechanical Engineering (Robotics Track) from University of Utah in 2004. Since then, he's contributed to numerous articles and has been a consultant for many technical publications and websites.
---
Robot Tips & Tricks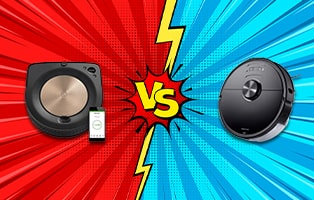 If you want to know which company wins the "Roomba vs. Roborock" battle, check out our article. You'll learn what makes each model exceptional, and things you'll need to know before buying.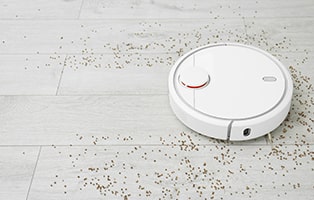 Robotic vacuum navigation systems include sensor mapping, camera mapping, gyroscopes, LiDAR, and SLAM. Read all about this technology in our informative article.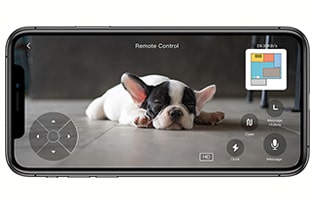 If you're worried that your robot vacuum is spying on you, you're not alone. Read our information-packed article to find out if it is, and what you can do about it.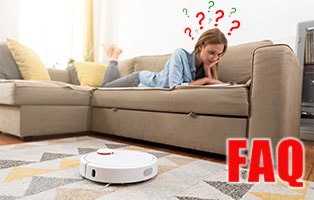 Robot Vacuum Cleaners are evolving at a rapid pace and have indeed become the new necessity for any modern household. Here's a breakdown on some of the most frequently asked questions about these devices