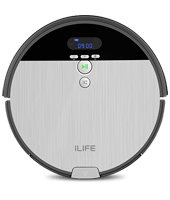 The ILIFE V8s robotic vacuum cleaner with mopping function is great for those not-so-tech-savvy folks. See why in our 2023 review.
We select, test, review and suggest the best products. We may earn a commission, if you buy something through our links.
If you're not ready to shell out five-hundred or more for a robotic floor cleaner, or if you're not-so-tech-savvy, then look no further than the ILIFE V8s. This budget vacuum and mop in one is simple enough for everyone to use. No need for complicated smartphone apps and WiFi, which might make this a good gift for the grandparents (hint, hint).
While it has very little in terms of smart tech, the V8s is not completely devoid of technology. It has several cleaning modes, automatically returns to its dock, and has a cleaning schedule feature.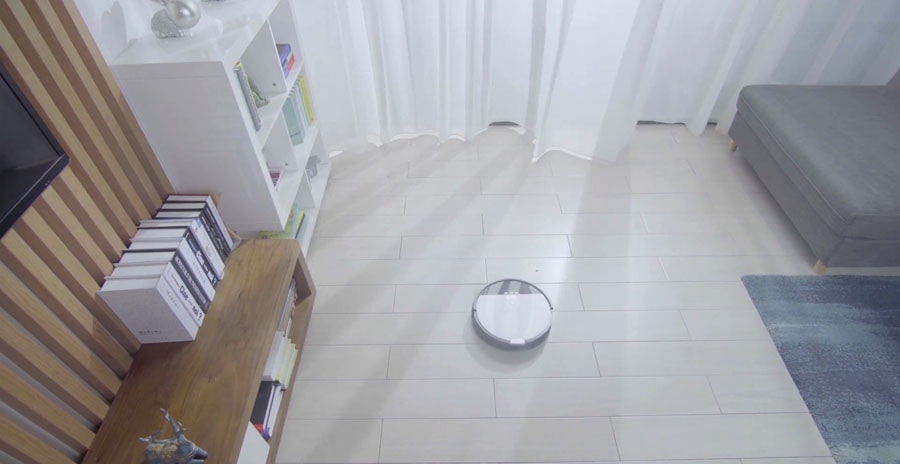 ILIFE V8s is good and simple enough for everyone to use.
Beyond that, operation is old school basic one-button start/stop. Navigation is somewhat better than the first robotic bump and turn vacuums. However, there's no room mapping, virtual barriers, or anything of the sort.
If this simplicity appeals to you (or someone on your gift list), let's dive a little deeper.
What comes with the ILIFE V8s
Upon unboxing your new robot helper, you'll find: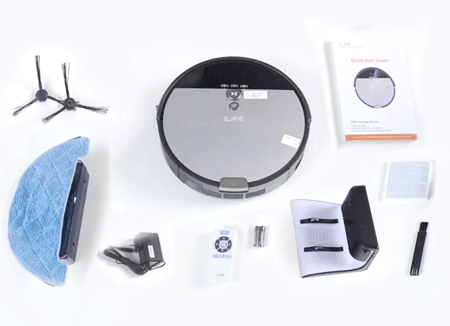 ILIFE V8s
charging dock with power adapter
remote control
cleaning tool
user manual
2 mop cloths
2 extra side brushes
1 high-performance filter
1-year warranty
Battery life is up to 100 minutes with charging time ranging from 200 – 350 minutes. For the initial charge, ILIFE recommends around 12 hours.
The U.S.- based customer service team is quick to respond to any issues, although they may not be available on weekends.
ILIFE V8s design and size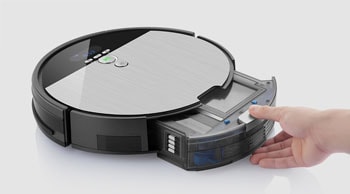 Dimensions: 13" W x 13" L x 3.2" H
Weight 5.9 pounds
0.3L water tank (10.14 oz.)
0.75L dustbin
Sound level: ~60 – 67 dB
A low profile silver disc shape with black accents make the V8s look sleek and modern. With no bulky sensors on top, it can more easily fit under low-clearance furniture and cabinets. On top are buttons to operate the machine, including start/pause, path, return to dock, schedule, and spot clean. An LCD display shows the time, day, and battery life.
The large dustbin holds a lot of debris, which means less time spent emptying it. Rather than having a large brush roller like many robot vacs, the V8s has a large intake nozzle and TWO side brushes that help sweep dirt into it. This helps prevent tangling from hair and cables, etc, but it also makes the V8s much better on hard floors than carpet. You could probably get a decent suction on very low profile carpet, but nothing higher than that.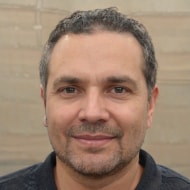 If you experience low or no suction in a robot vac, always check the dustbin and empty if needed. Then check the intake and/or brush rollers to see if there are any clogs. Finally, check the filter and see if it needs to be cleaned or replaced.
One interesting feature (and an upgrade over previous models) that makes this robot unique is that both the vacuum motor and mopping motor are built into their respective bins rather than the machine itself. There are electrical contacts on the side of both the dustbin and water tank that tell the V8s it's vacuum or mopping time.
Remote control to the rescue
With the handy remote control, you can stop, start, and steer the V8s. You can also send it to the charging dock and choose between mopping mode and 4 basic vacuuming modes:
Path – Uses gyro sensors to navigate in a set zig-zag pattern
Max – Highest suction power at 1200 Pa
Edge – Guides the bot along the walls and into corners
Spot – Cleans a designated small area in a spiral pattern for concentrated vacuuming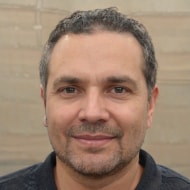 For any product that comes with a remote control, keeping up with said remote can be a challenge. To help with this, attach a velcro strip or magnet onto the back of the remote and stick it somewhere you'll remember it each time you use it – like the top of the charging dock or refrigerator.
Beyond that, there's an auto (default) mode, which is basically a random path navigation (best for multi-room cleaning) and a low power mode, which is the quietest and has the least suction power.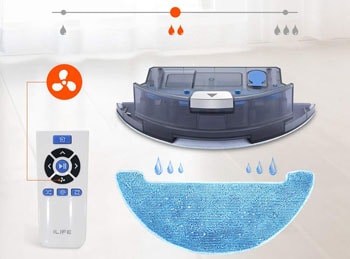 Smart mopping system
Speaking of the mopping motor, this is also an upgrade over previous models. Called iDropping technology, the water isn't simply gravity fed onto the mop pad. The motor controls the amount of water so you can choose one of 3 wetness settings. This makes it safer for wood floors and other surfaces or objects you don't want to get very wet.
Mopping doesn't require as much battery as vacuuming, so you should get a good amount of floor coverage in one charge.
Old school scheduling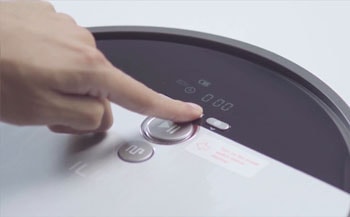 Scheduling cleaning times is both good and bad on the V8s. It's good that the scheduling feature is available on such a basic machine. But setting it up is akin to old-school flip phone texting.
First you scroll through numbers to set the time, then repeat with the cleaning days. Lots of repetitive button pushing. The process isn't intuitive, however, so you'll want that user manual handy for guidance.
Oh and be careful to NOT hit the power button accidentally. It will erase your cleaning schedule. Then you'll have to start all over, likely with words that could make your grandma blush.
C+ in navigation
While the navigation in the V8s isn't nearly as high-tech as pricier brands, this model doesn't have a completely random pattern. It sort of forms a room map on the go, finding the room edges first. Then it will move in a zigzagged pattern throughout the room, which is more thorough than the random-path guys.

It also remembers which mode you had it in so that it will run with that mode for a scheduled clean. Previous models defaulted to low power mode every time a new scheduled cycle began. So if you like to keep it on max mode, then by golly, you can now.
Like other robot vacs, there is a cliff sensor under the machine to keep it from tumbling down the stairs. It also has 11 obstacle sensors and 3 floor sensors. So it won't blindly smack into your walls and furniture.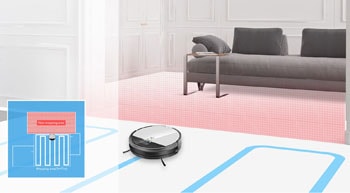 But it can't really tell hard floors from carpet, so for mopping mode, you'll want to be there to babysit. If you have throw rugs lying about your kitchen and don't want them to get wet, you should pick them up first. To help your robot mop in the right spot, you place it down on your hard floor with its back facing the area you DON'T want it to go. This will set up something akin to a virtual barrier, which tells the bot to only mop the area in front of its starting point.
Beyond that, the V8s has a very short term memory. He can't store any maps or floorplans, so every cleaning cycle is like a brand new adventure. He can't be told where NOT to go either, meaning there are no virtual barriers, no-go zones, or barrier strips. Finally, there's no Alexa or Google home voice control.
What customers are saying about the ILIFE V8s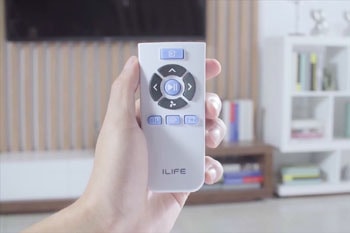 Customers liked the V8s for light cleaning and said it performed as expected – not a heavy duty cleaner by any means and designed for hard floors. Several commented that it's somewhat loud but still quieter than an upright vacuum. They liked the simple controls and that they could steer the bot to specific areas with the remote control.
Older users and those with back problems found the V8s to be a great alternative so they didn't have to haul around the upright vacuum as often. Others said the obstacle avoidance seemed better than previous models they've tried and didn't get stuck as often. Scheduling was also a popular feature among many customers.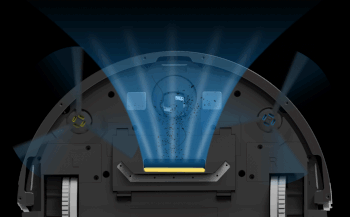 Customers didn't like the lack of room mapping and felt that the machine missed spots. Others wished it could come with an app so they didn't have to rely on the remote control. Those with heavy-shedding pets found that hair got clogged in the intake nozzle, which inhibited suction. A few people said it got tangled in power cords.
While the side brushes are simple to pop on and off to replace and clean, that can also be a bad thing. They fell off quite often for some customers. Most of the time, it happened while the bot traveled over transitions from hard floors to rugs, etc.
Should you get the ILIFE V8s
Ideal owners of this robot vacuum & mop in one would be:
Budget conscious
Not particularly tech-savvy
Older or experiencing back problems or other disabilities
Those with all or mostly hard floors
Those who are new to robot vacs & mops

PROS:

Budget-friendly
Simple to operate
Doesn't require WiFi or apps
Large dustbin
Auto-redocking
Up to 100 min. battery life
6 cleaning modes
iDropping tech with 3 water settings


CONS:

Scheduling takes several steps
Rather loud between 60 – 67 dB
No map storage
Can't determine flooring types
Only very light-duty mopping
Suction nozzle can clog with hair
No WiFi or app controls
No voice controls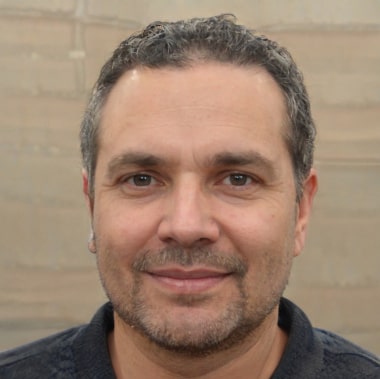 Author
Stephen A. Hancock received his M.S. in Mechanical Engineering (Robotics Track) from University of Utah in 2004. Since then, he's contributed to numerous articles and has been a consultant for many technical publications and websites.
---
Robot Tips & Tricks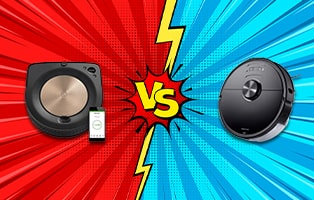 If you want to know which company wins the "Roomba vs. Roborock" battle, check out our article. You'll learn what makes each model exceptional, and things you'll need to know before buying.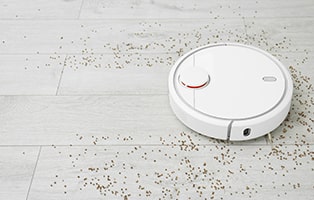 Robotic vacuum navigation systems include sensor mapping, camera mapping, gyroscopes, LiDAR, and SLAM. Read all about this technology in our informative article.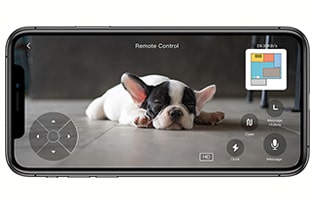 If you're worried that your robot vacuum is spying on you, you're not alone. Read our information-packed article to find out if it is, and what you can do about it.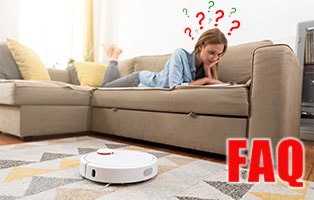 Robot Vacuum Cleaners are evolving at a rapid pace and have indeed become the new necessity for any modern household. Here's a breakdown on some of the most frequently asked questions about these devices