After your Mountain View wedding is over, cleaning services are necessary: but at what cost?
updated: January 07, 2022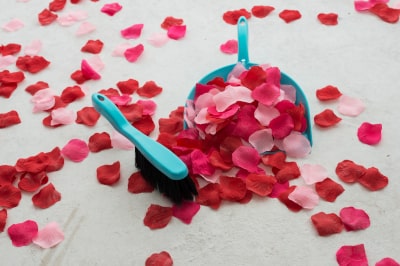 What fun is cleaning up after your Mountain View wedding? You've just had a huge celebration, you've worked on planning the wedding for a long time, and now you just want to bask in the afterglow for a bit. Most people don't think about the cleanup – but whether you had a celebration at a fire hall or Rengstorff House, clean up is a necessary part of the process.
If you are looking for an after wedding clean up service, you need to think long and hard about what you will absolutely need – before the wedding even happens. You know the type of guests that you will have and how they will act – do you need something to clean up after a civilized dinner and party or will the open bar wreak havoc on the venue? Any host will agree that the cleanup process is one of the worst parts of the wedding, and you do not want to have to deal with it. Instead, find an experienced Cleanup Expert who will return the venue to its clean state.
What Does a Cleanup Service Do?
A wedding cleaning service specializes in handling cleanups of any size or venue. Whether you just need the floors cleaned with a mop or there will need to be some serious elbow grease, you need to find a team to help you. Talk to your wedding planner to see what kind of services she or he suggests. Many venues in the Mountain View area do not include cleaning services in their fee and adding it to the package can cost much more than a third party cleaning service.
After Wedding Cleaning Services
After your wedding is over, there are a few different cleaning services that you may want to utilize to ensure that you get your deposit back and don't have any fights on your hands.
Our clean up experts can handle:
Trash: Eliminate all of the trash from around the wedding venue, including removing decorations, bathroom trash, food trash, and anything left around that should be thrown away.
Furniture: Help to folding, stack, and store chairs as needed as well as removing tables in the party areas. Some cleaning services will also help to pack up dance floors.
Food: There are plenty of dishes and cups after weddings, so cleaning services will handle that as well. They may also help with packing up food or disposing of it properly. They will also ensure that kitchen surfaces, sinks, and working tops are cleaned thoroughly and sanitized.
Collecting lost items: With booze flowing and people dancing, many things get left behind. A reputable cleaning service will package up forgotten items and get them to the rightful owners.
Bathrooms: Cleaning teams ensure that the bathrooms, toilets, mirrors, and floors are all cleaned.
Walls: Whether you stuck flowers to your walls or that cake you threw in each other's faces was splattered all over it, walls need to be spot cleaned after a wedding.
Floors: Most importantly, the floors of a wedding venue need to be swept, vacuumed, and mopped to perfection.
Need After Wedding Cleaning Services?
Be sure to choose a professional, reliable cleaning service for after your wedding so that it is one less thing you will have to worry about – and you can focus on starting your life. No matter what, clean up needs to happen, so it is better to get someone else to do it.
Mop Tips & Tricks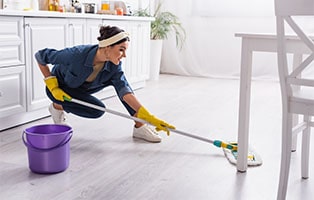 Everyone thinks they know how to clean floors. However, do you really know the steps you need to follow so you don't damage expensive surfaces? Check out what we wrote to find out.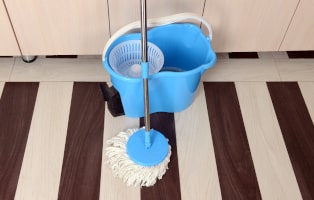 Wood floors need a bit more TLC than other hard floors. The wrong cleaners can dull them, hard shoes can scratch them, and water can warp them. Here are our tips to clean, mop, and maintain any wood flooring.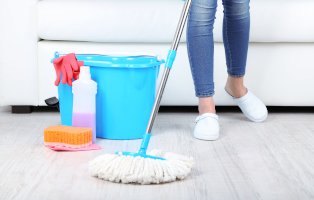 Mopping isn't rocket science, but there are some tips and tricks to get the most out of that not-so-fun task. Here, we'll tell you some of the best ways to mop floors using spin and steam mops.