How do you know whether it's better to buy or rent a pressure washer?
updated: January 11, 2023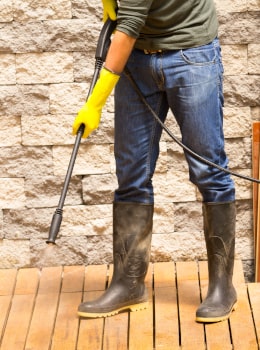 When it comes to getting a pressure washer to use yourself, you have two choices – renting or buying. There's also a third choice of hiring a professional contractor. There are valid reasons and benefits for each option. We'll dive into these so you can decide what makes the most sense for your home and budget.
Be sure to check out our top list of pressure washers to see what meets your needs before deciding.
Who should rent a pressure washer?
Basically, there are three types of homeowners who would benefit more from renting.
Those who only need a pressure washer occasionally, such as once a year or less.
Those who don't want to pay a contractor to do the job (typical cost $110 – $350).
Those who can't afford to buy a pressure washer that will meet their needs.
Renting a pressure washer has both pros and cons to consider before you rush out to your home improvement store to borrow one.

Pros:

No maintenance. The store takes care of this.
No permanent storage space needed. If you have a small garage or none at all, this can be a big pro.
No winterizing, which can be tedious before storing it away for the winter.
Less expensive for one rental session than buying.
Can rent a machine that's professional grade.

Cons:

You have to run the machine yourself.
Local environmental or noise ordinance laws may prohibit using the high-powered machines that are available to rent.
For heavy, long-lasting cleaning jobs, renting could be more costly than hiring a professional to do the job or buying a pressure washer.
Professionals could do a better job quicker.
Buying one usually pays for itself within a few renting sessions.
How much does it cost to rent a pressure washer?
That depends on where you rent it from and what type of machine you rent. Most places charge per day. If you go to an independently-owned rental shop, you will likely pay more than at a big brand store.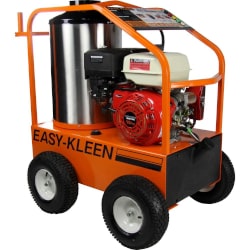 Hot water gas pressure washers, typically the most expensive to buy AND rent, are available at some rental locations. The hot water and high pressure combo provides quick and efficient grime removal. Most of them are 2500 – 3500 PSI and usually come on a 4-wheel cart for easy transport. A diesel or kerosene burner heats the water to near-boiling temps.
Here are the prices to rent a hot-water pressure washer for a day at 6 US stores. As you can see, it's a pretty big range, and you may not have some of these stores in your area.
NTR: $195
A to Z Equipment: $180
Sunbelt Rentals: $155
AAA Rent-All: $130
Home Depot: $110
Rental Guys: $95
---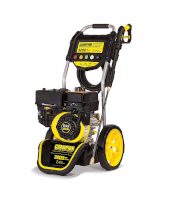 Gas-powered pressure washers (cold water) probably make the most sense to rent. They're pretty expensive to buy, but cheaper than a hot water unit to rent. They're strong enough to tackle most heavy-duty jobs, but there are some medium-duty ones that are usually slightly cheaper to rent. Heavy-duty machines usually have 2800+ PSI. They come with direct drive or belt drive pumps, with belt drive being the most expensive, yet the most long-lasting.
Here are the average 1-day rental prices for 7 US stores:
A-Z Equipment: $160
Sunbelt Rentals: $100
AAA Rent-All: $100
Home Depot: $92
NTR: $89
Rental Guys: $79
Hertz Equipment: $74
---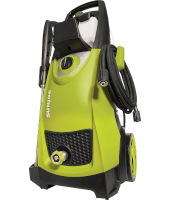 Finally, you can also rent an electric pressure washer at some locations. These are the most affordable to buy and rent. However, they are less powerful and best for light to medium-duty jobs. They are quieter and pollute less than gas, which is good for areas with noise or exhaust ordinances. You can also use them indoors, since there is no worry about carbon monoxide emissions.
Very few rental shops actually have these available. Of the 7 we listed above, only Home Depot had one available to rent at the time of this post. Theirs was a 1400 PSI machine and cost $35/day to rent.
Questions to ask before you commit to rent or buy
Besides cost of renting, there are a few questions to consider before you borrow a machine.
What do you need to clean? If you have a big property or farm with outdoor surfaces or farm equipment that haven't been cleaned in a long time, you may need a high-powered machine, and it may take you more than one day to get the job done. In this case, you may be better off buying. If you have a new home or small property that just needs some light cleaning once or twice a year, renting may be the better choice.
How much time, space, and skill do you have? Owning a pressure washer means you have to handle all the maintenance, winterizing, etc. You need enough storage space in a garage, shed, or basement to store it when not in use. You also have to know how to operate the machine safely and efficiently. If you don't have the time and space, renting is a good option. If you aren't confident in your cleaning skill, hiring a professional would be a wise choice.
Are pressure washers available to rent in your area? If you have to drive a hundred miles just to rent one for a day, you may be better off ordering one online and having it shipped to your door.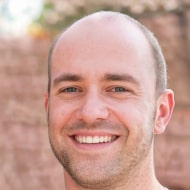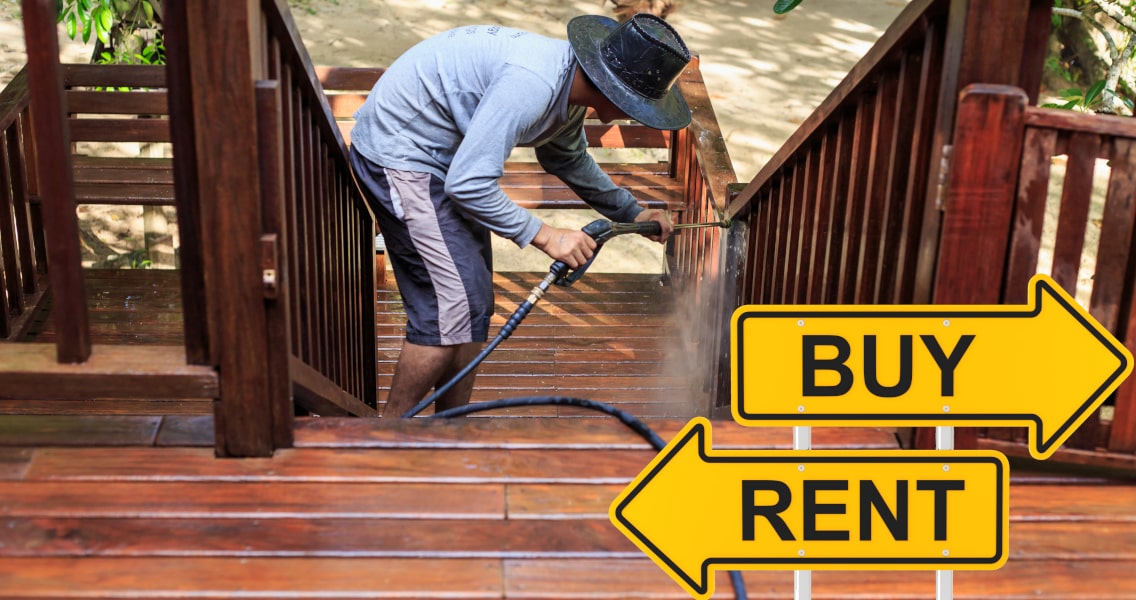 Pressure Washer Tips & Tricks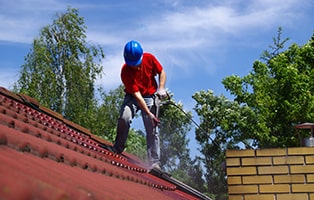 The leaves are starting to fall, and you may be thinking about power washing your gutters. Why? It's the perfect time of year to maintain those dirty drainage systems. The cool weather brings out dirt build-up, which can cause more problems.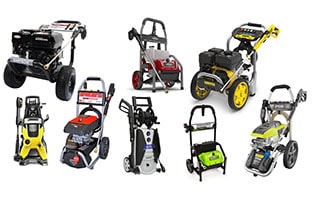 When it comes to cleaning grungy patio furniture, dirt-encrusted siding, and oily driveways, power washers are an indispensable tool. Read our article to find out which companies make the best ones.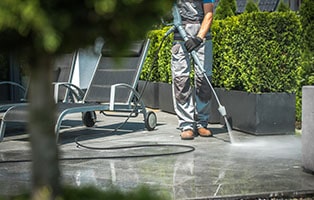 A pressure washer is a way to clean your patio that doesn't involve lots of strenuous scrubbing. Read about the 7 steps you'll need to follow if you want your patio cleaning to be a smash success.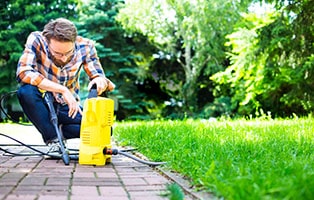 If your pressure washer is getting hot too frequently, this could be a sign that there's either something wrong with it, or you're doing something wrong. Read our article to diagnose these problems.