Here are the 7 easy steps to follow if you want to use a pressure washer to clean your patio…
After a long and gloomy winter, your patio might need some TLC before you can bask once more in glorious summer weather. Wintry conditions and endless days with little sunlight can create a breeding ground for algae, lichen, moss, and other unwanted botanical infestations.
All this nasty stuff creates a slip hazard for family members and guests to your home. It also detracts from your backyard's well-cultivated aesthetics and chic but outdoorsy vibe. Those are two of the reasons why it's crucial to remove the potentially dangerous and repulsive bane to your backyard before the mercury in the thermometer starts rising again.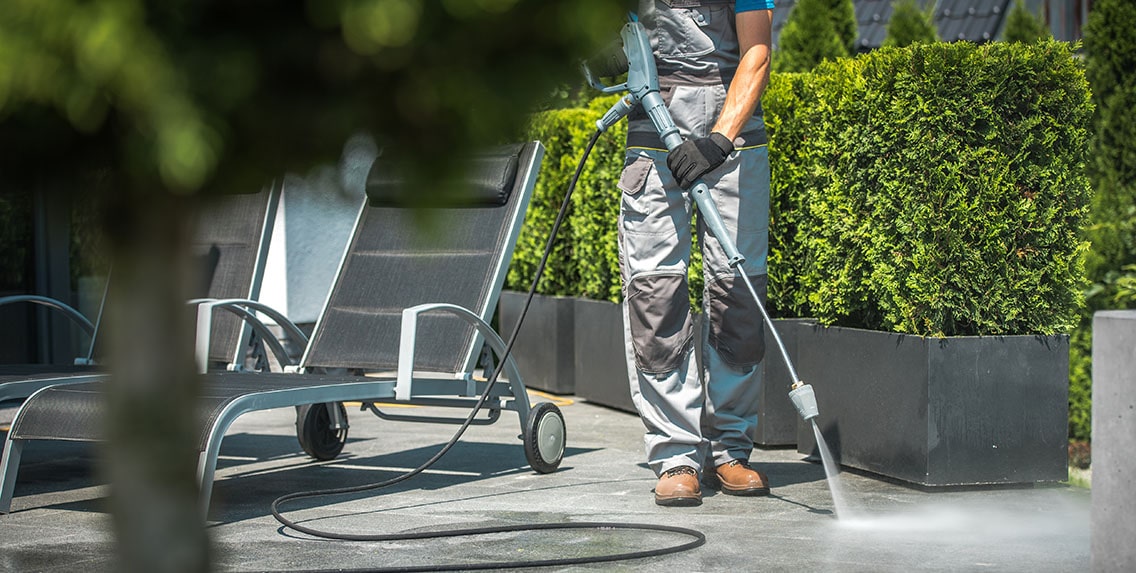 The best way to eradicate filth is by using a pressure washer
You might be one of those souls fortunate enough to live in a region of the world where it's balmy all year long. However, you're probably still going to want to keep your patio looking clean and inviting. Perhaps the best way to eradicate encrusted filth from one is by using a pressure washer.
A pressure washer is like a high-performance garden hose that's effective at blasting away dirt and stains, saving you considerable time and effort. This eliminates the backbreaking work of getting on your hands and knees and strenuously scrubbing for hours on end.
What You'll Need
Pressure washer
Broom
Detergent
Hose
Hose adapters
Safety goggles
Pressure Washing Safety Protocols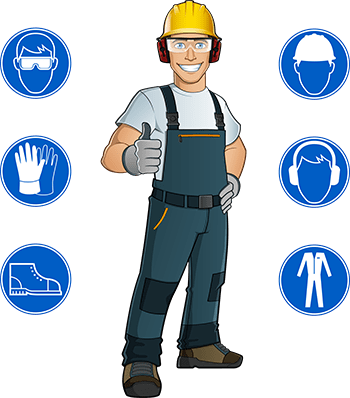 When you're washing your patio, it's an excellent idea to adhere to the following safety protocols:
Wear Safety Goggles: When you pressure wash, tiny bits of debris such as sticks and pebbles can be catapulted through the air. If you don't take precautions, they can end up hitting you in the eyes or other sensitive areas. By wearing safety goggles, you can keep your eyes safe from airborne hazards.
Safeguard Your Home: You not only need to shield exposed body parts from flying debris launched into the air by a power washer. You also need to protect your house. You can do this by placing plastic sheeting over parts of your home that could get damaged.
Maintain Appropriate Pressure Levels: Pressure washing can generate so much force that it can even cut into brick. That's why you should use the lowest pressure setting that still gets the job done. If possible, test the pressure setting on an area of the patio that people won't see.
Watch Out For The Initial Water Burst: There can be a powerful initial spray, so point the nozzle at the ground first.
Be Careful With Block Paving: Don't use a rotary nozzle attachment when cleaning block paving or between slabs. That's because the water jet might be too intense for this kind of surface. Also, try not to use a strong spray in areas where you have chipped paving.
Useful Pressure Washer Features
There are several pressure washer features you'll want to have if you're going to make cleaning your patio an enjoyable, quick, and easy experience. For example, a variable jet nozzle allows you to modulate pressure without putting up with the annoyance of changing attachments.
A power washer with a longer hose means you won't have to lug the unit around as you travel from one part of the patio to another. However, purchasing one with wheels makes it easier if you have to move it.
7 Steps To Pressure Wash Your Patio
A pressure washer can be an easier and more effective way to clean your patio than working your fingers to the bone by using a scrubbing brush and abundant amounts of elbow grease. However, that's true only if you know how to get the job done correctly. Here's how to do it: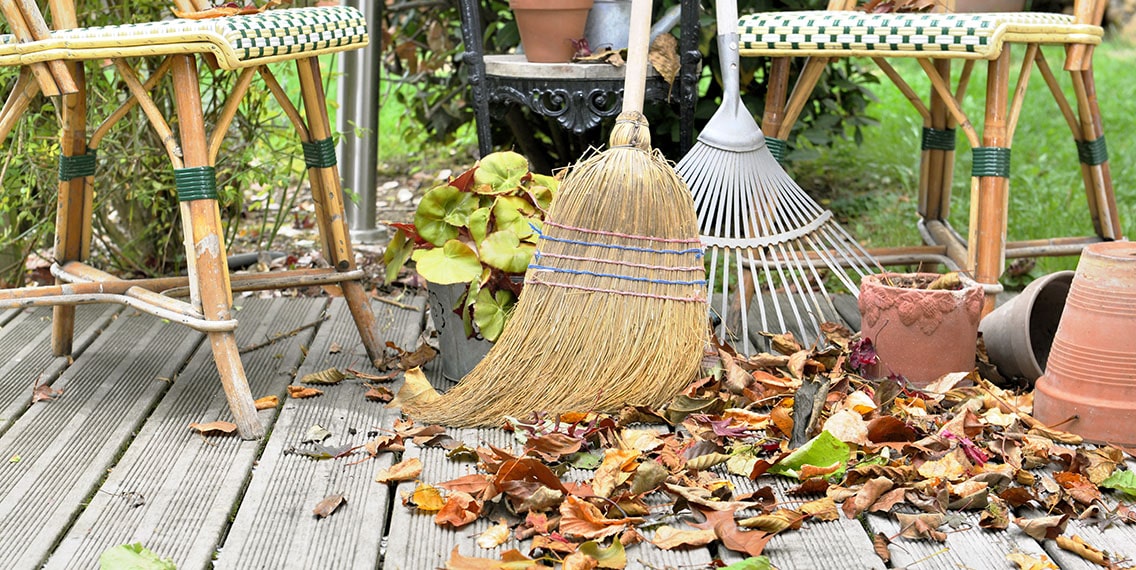 1. Move and Sweep
Before power washing your patio, move all furniture and other items off of it. This includes things like chairs, firepits, and tables. This allows you to cover every square inch without interference. Also, use a broom designed for outdoor use to sweep all debris away, such as sticks, leaves, and other scraps left by Mother Nature.
2. Connect Hose
Connect your hose and ensure water can freely flow through it. The hose should be at least 7.5 mm long and ½ inch thick. If you're using a hose reel, unwind it completely and make sure it's free of kinks. This will help provide constant water flow to the unit.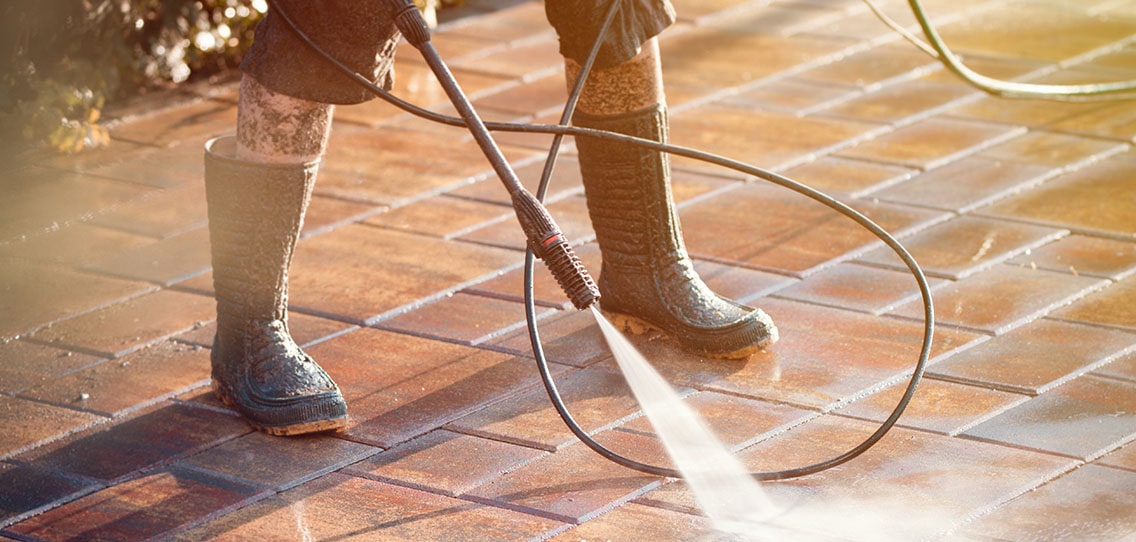 3. Decide Which Nozzle To Use
Some patio blemishes can be difficult to remove if you only stick to one of the standard nozzles. The good news is that most power washers come with a rotary pencil jet nozzle that can provide up to 80% more power.
By switching to this attachment, you can usually remove even stubborn stains. However, an attachment like this should only be used on hard surfaces such as stone or brickwork because you could damage more delicate surfaces such as wood.
4. Connect Power Supply
Plug in your pressure washer to an outside outlet and turn it on to pressurize the system. Make sure all connections are tight and that there are no leaks.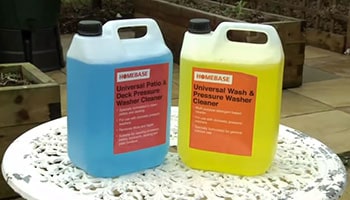 5. Decide If You're Going To Use Detergent
If you have deeply embedded stains, you might want to use a detergent. Some detergents have unique properties that help reduce dirt buildup and protect surfaces from weather damage. You can get detergents specially formulated for stone, wood, and other patio construction materials.
6. Start Washing
Move the wand spraying the high-pressure jet back and forth in a sweeping motion over the surface to loosen and blast dirt away. Keep in mind that you're going to need to not only clean the exterior surfaces of your patio but also what's in the cracks. That's because dirt and other contaminants can build up over time and cause damage if you don't properly clean them.
If you have a wooden patio, spray along the grain, not across it. By doing this, you'll dramatically decrease the possibility that the pressure you're applying causes the wood to splinter.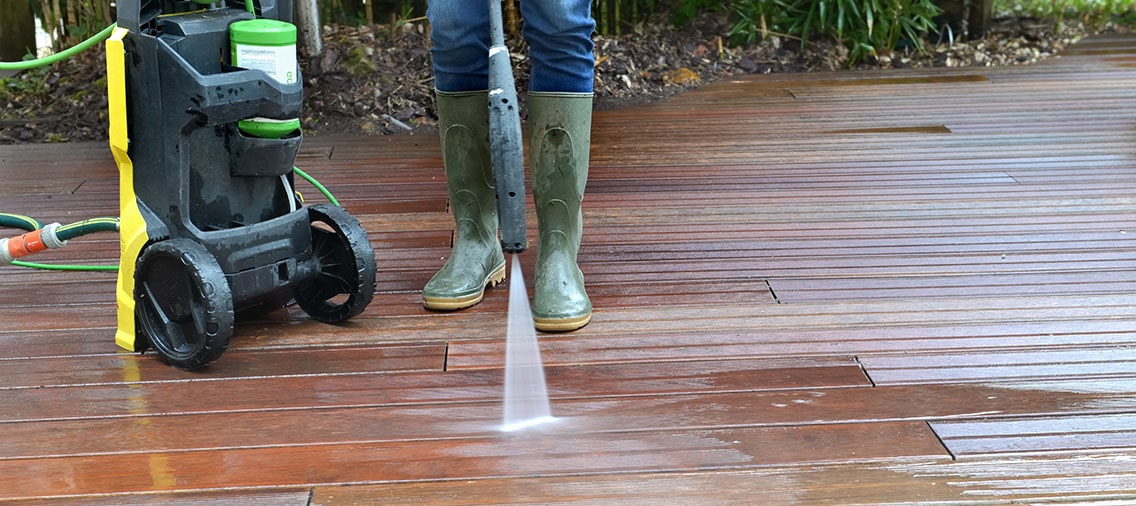 7. Carefully Rinse All Detergent Residue
After you finish pressure washing, you'll need to rinse all surfaces. That's because any soap residue left on your patio will dry out and become sticky.
This only attracts more dirt and grime, thus defeating the whole purpose of doing the pressure washing in the first place. After rinsing off the residue, allow your patio to sufficiently dry before people start walking on it again.
Conclusion
Pressure washing is a relatively easy way of cleaning a patio, which is vastly preferable to doing it by hand. By carrying out this essential responsibility once or twice a year, you'll add years to its life.
You'll also preserve its intrinsic beauty, making your backyard look its best. Regular patio maintenance will help your backyard remain a perfect place to relax, entertain friends and family, and revel in the exquisite pleasures of being outdoors.
If you want to see which pressure washers we consider to be the best on the market, check out our buying guide.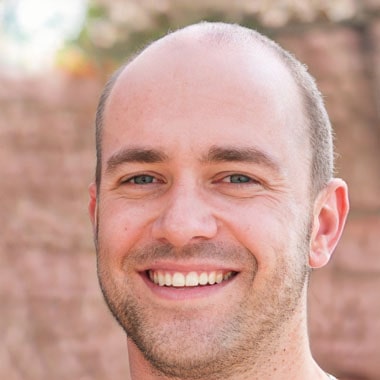 Author
Alex owns a home improvement and restoration company in Vancouver. He obtained his Bachelor's degree in Construction Management from Saskatchewan Polytechnic and is a NARI Certified Remodeler. His team does a wide range of home restoration products, both interior and exterior.
Pressure Washer Tips & Tricks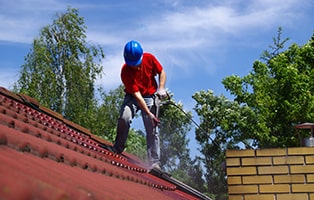 The leaves are starting to fall, and you may be thinking about power washing your gutters. Why? It's the perfect time of year to maintain those dirty drainage systems. The cool weather brings out dirt build-up, which can cause more problems.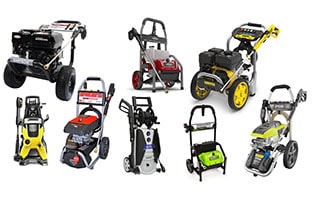 When it comes to cleaning grungy patio furniture, dirt-encrusted siding, and oily driveways, power washers are an indispensable tool. Read our article to find out which companies make the best ones.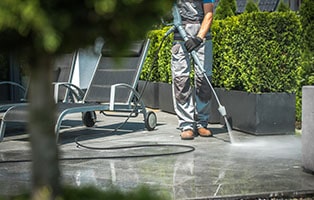 A pressure washer is a way to clean your patio that doesn't involve lots of strenuous scrubbing. Read about the 7 steps you'll need to follow if you want your patio cleaning to be a smash success.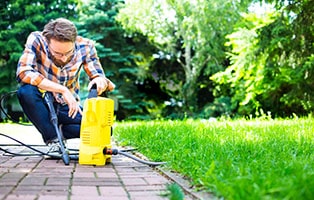 If your pressure washer is getting hot too frequently, this could be a sign that there's either something wrong with it, or you're doing something wrong. Read our article to diagnose these problems.