Here's our informative guide on above-ground vs. in-ground pool. Reading will help you make the right buying decision!
Few amenities can make the heat of a sweltering July afternoon bearable like a backyard swimming pool can. A gorgeously designed pool can even be the centerpiece of laid-back summer living. It can give you immense pleasure even as it provides a welcome respite from blistering temperatures and the sun's relentless rays.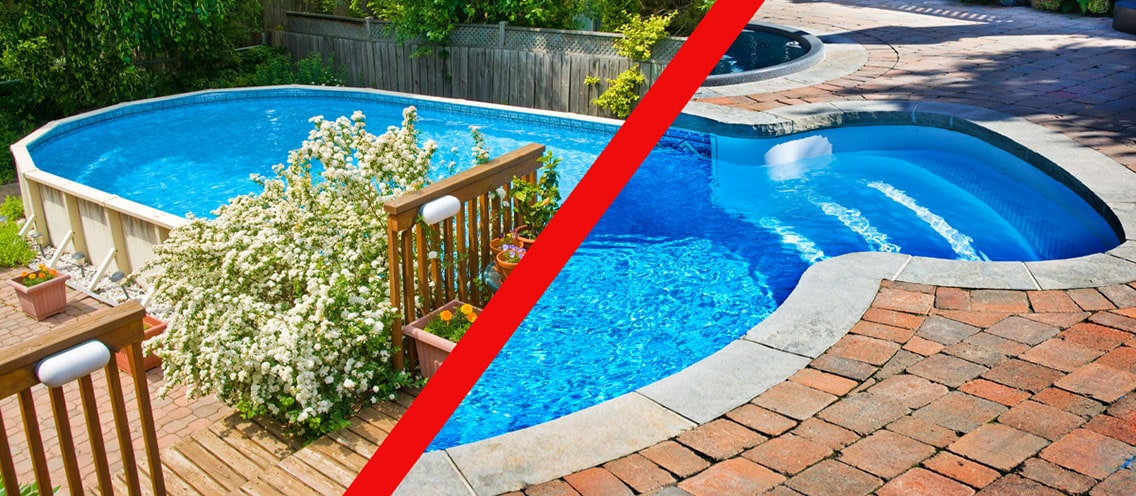 However, many people agonize over whether they should get an above-ground model or splurge on an inground pool with all the amenities. If this is the dilemma you face, you've come to the right place. That's because this article will give you all the information you need to make this decision.
The Differences
Cost
Whether you have an inground or an above-ground pool, maintenance can be expensive. You'll need to add chemicals to prevent disease-causing pathogens from forming. You must also have a dedicated filtration system, which can increase electricity costs. There are other maintenance costs too. All of this can quickly add up over time. However, when you don't consider maintenance expenses, it's clear that inground pools are costlier, with fiberglass pools being more expensive than concrete or gunite.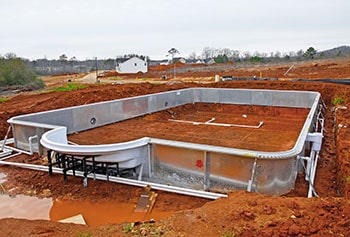 When an inground pool needs repairs, you can pretty much count on it being an expensive project. For the same money you spend on an inground pool, you can get an above-ground one with a gorgeous wraparound deck and a heater. There will probably even be money left over. Use it to throw yourself an elaborate party, complete with a poolside tiki bar and lip-smacking umbrella drinks.
An inground pool usually boosts your property value. However, it won't add nearly as much value as the money you sunk into it. So if you're looking for a home improvement project that'll increase what your property is assessed at, there are much better ways to do it than installing an inground pool. On the other hand, above-ground pools can reduce property values, particularly if you live in a more affluent neighborhood where inground pools are the norm.
Remember that when pricing a new pool, consider all the accessories. This includes the deck, pool filter, plumbing, and electrical hookups, and landscaping.
Installation
Above-ground pools usually come as a kit. You can either install one yourself or hire professionals to do it. For a person who knows their way around a wrench, they're relatively easy to set up.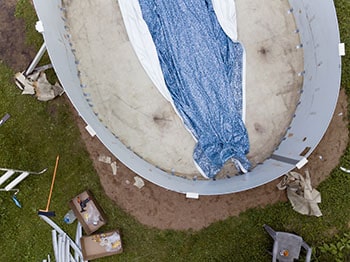 There are high-end above-ground pool kits that include beautiful hardwood decks. You can even buy a heater for them so you can swim even when the weather starts to get chilly. You might be tempted to skip the deck when purchasing an above-ground pool because it often costs more than the pool itself. However, it can be challenging to keep an above-ground pool clean without a desk to stand on.
Keep in mind that most professionals won't install an above-ground pool kit if you don't buy it from them. However, if you purchase one from your friendly neighborhood pool store, installation is usually free. A crew of two can install an above-ground pool in two days or less.
Some inground pools also come in kit form. Keep in mind that this is far less common than above-ground kits. The need to tear up part of your backyard makes self-installation of inground pools more difficult. Because of the complexity of the job, in-ground pool installation is best left to the professionals.
Customization Possibilities
There are more customization possibilities with inground pools than there are for their above-ground counterparts. For example, if you choose a concrete inground pool, you can get any shape you'd like, including kidney-, L-, oval-, geometric-, and figure eight-shaped.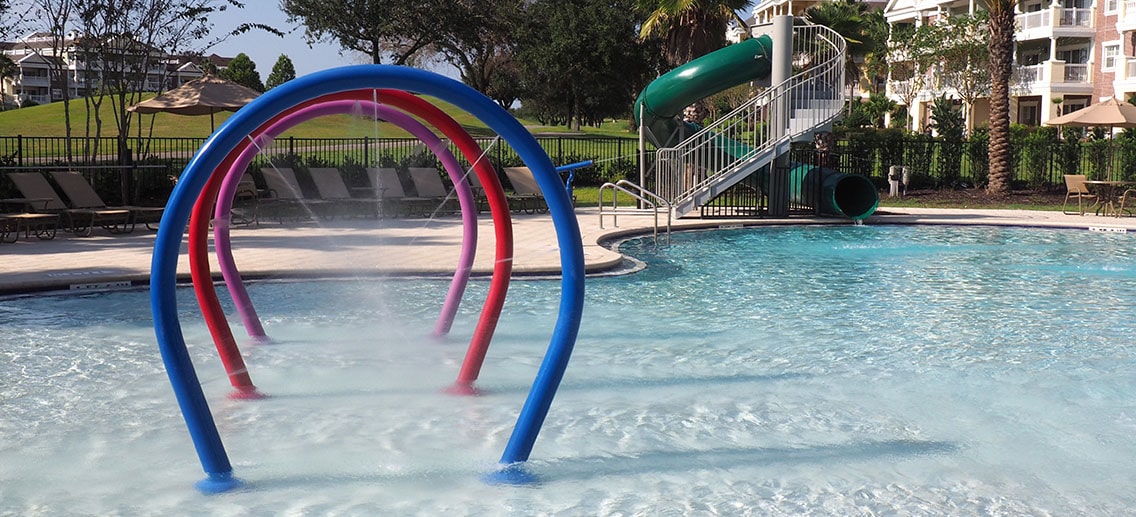 You can get a lot more features with an inground pool
You can also create shapes never seen on planet earth, allowing for all kinds of wildly imaginative possibilities. This is something that just isn't possible with an above-ground pool, and all you'll be able to get are round or rectangular shapes.
You can get a lot more features with an inground pool too, such as luxurious spas, smart-looking tanning ledges, elegantly designed gas-fueled fire pits, cool swim-up bars, and diving boards. Unfortunately, diving boards aren't possible with above-ground pools because they're not deep enough. Lastly, with an above-ground pool, you're usually limited to one uniform depth.
Aesthetics
Inground pools are more aesthetically pleasing than above-ground ones because there's more seamless integration with the surrounding landscape. An inground pool can accentuate your background aesthetics with carefully crafted design enhancements, such as water features. These include pool fountains with colored lights and jaw-droppingly beautiful natural rock waterfalls.
Durability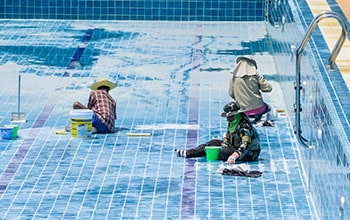 In-ground pools can last a half-century or more if they're correctly maintained. However, how long they last also depends on the construction materials used. For example, a gunite or concrete pool lasts longer than a fiberglass one.
Concrete pools endure a good long time but need to be resurfaced every 10 to 15 years. The lifespan of a fiberglass pool is about 25 years if you reapply the gelcoat every decade or so. Vinyl pools don't last nearly as long as the other types. While the underlying structure of this type of pool can survive for decades, the vinyl needs to be replaced approximately every five to nine years.
The average above-ground pool lasts seven to 15 years before the entire pool structure must be replaced. On the other hand, the liners only last five to nine years.
Safety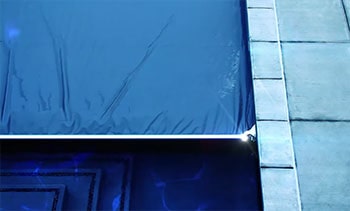 With above-ground pools, there's less risk of drowning. That's because the pool walls are higher than ground level, and you can take the ladder out when you're done swimming. Both types of pools can be made even safer with four-sided fences, pool alarms, locking gates, and hard covers to prevent someone from falling in.
The classic rectangular shape is making a comeback because of the immense popularity of the automatic pool cover. Although an automatic cover can be installed on a non-rectangular-shaped pool, it won't look as lovely and will be more expensive.
The auto cover is attached to the pool under the coping and runs along tracks. Besides being a safety feature, auto covers help prevent evaporation, hold in heat, and reduce the amount of chlorine you'll need to use because they keep impurities out.
How To Make Up Your Mind
If you're on a tight budget or have the kind of backyard that'll be difficult to excavate, you might want to get an above-ground pool. They only take a few days to install.
If you're still unsure whether it makes sense to have an inground or an above-ground pool, you might want to start out with a relatively inexpensive above-ground one. That way, you can spend a season or two seeing what it's like owning a pool.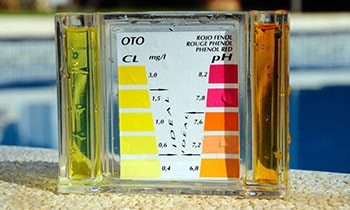 How To Raise pH in Pool
Regardless of whether you buy an above-ground or an in-ground pool, you're going to have to keep the pH at acceptable levels. Low pH can be caused by rain or foreign particles messing up the pristine purity of your pool water. Signs of low pH include itchy skin, burning of the eyes and nose, and metal corrosion.
Keep on top of pH levels with regular testing so that you can stay healthy and keep your equipment in excellent working order. You can buy pH testing strips at any pool store. Usually, you dip the strip into the pool and check the color against the range listed on the product. Sometimes, you'll need to fill a tube with water and add drops. The color of the water will change based on the pH.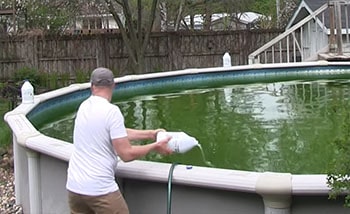 Get into the habit of checking the levels once or twice weekly and record your measurements in a notebook. The perfect pool pH level is between 7.4 and 7.8. One way to raise pH levels is by adding soda ash. Six ounces of soda ash will raise the pH level in 10,000 gallons of water by .2 pH points.
Don't add the soda ash directly to the pool because it won't mix evenly. Instead, fill a five-gallon bucket with water and then stir in the soda ash. Pour the mixture around the pool perimeter. Leave the filter on when you add the soda ash because this substance works best when it can circulate freely.
Check the pH after one hour. If needed, add more soda ash. However, don't add more than one pound per 10,000 gallons of water, or the water might get cloudy.
Final Thoughts
I hope this article helped you to decide whether to get an inground or above ground pool. Buying the type of pool that's right for you is one of the most important things to do if you want to be a satisfied pool owner.
Which part of the article did you find most helpful? Let me know in the comments!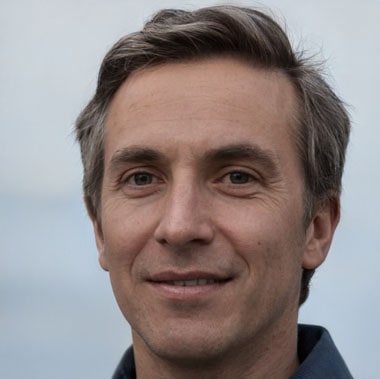 Author
Our pool maintenance expert, Luke Reed, earned his BS in Civil Engineering from Georgia Tech in 1998. Since then, he's worked in a variety of industries, including design and construction of luxury swimming pools.
Pool Maintenance Tips & Tricks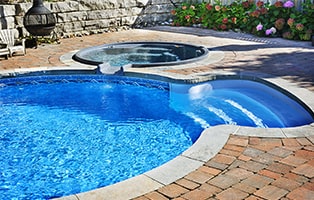 With all the different types of swimming pools available, such as in-ground and above-ground, it can be difficult to decide which one to get. Our guide including pros and cons can help you make that choice.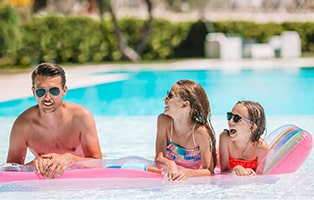 Germs and bacteria can cause life-threatening illnesses in a swimming pool. Find out what the dangers are and what you can do about them by reading our article.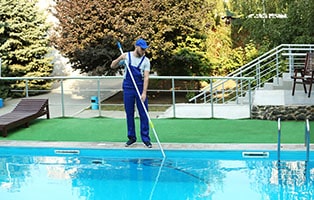 Dreaming of entrepreneurial success? Check out our guide on how to start a pool cleaning business. You'll find everything you need to know to set one up.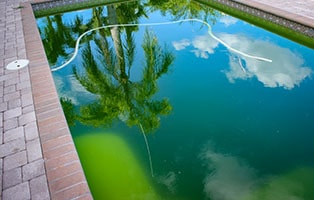 Is your swimming pool too murky to swim in? In our informative article, you'll discover the causes of a cloudy pool and how to fix the problem.