How to Use a Pressure Washer Safely to Make Your Exterior Surfaces Sparkle
updated: January 09, 2023
A pressure washer is one of the best tools to clean exterior surfaces. They are much quicker and effective than an old fashioned scrub brush. However, due to the high pressure they produce, you must understand how to correctly operate one before you start.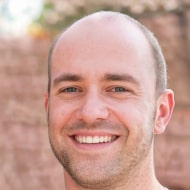 Terms you should know before purchasing:
PSI – pounds per square inch, measures how much pressure is produced by the machine. The bigger the PSI, the stronger the spray it can produce.
GPM – gallons per minute, the flow rate of the water. The higher the GPM, the less water efficient the machine is.
CU – cleaning units = PSI x GPM. Generally, the higher the CU, the more powerful and efficient the machine is.
How pressure washers work
Pressure washers use gas engines or electric motors to power a pump that pressurizes water from your garden hose to very high pressures of 1,000 – 3,000+ PSI (pounds per square inch). This powerful water stream is forced through a narrow spray wand. The high pressure from the water spray is what removes dirt from the cleaning surface. The higher the pressure, the tougher the grime it can remove.
Homeowners generally find that a PSI of 1,300 to 2,400 is enough to tackle their cleaning jobs.

Electric pressure washers are on the lower end of the PSI range at an average of 1,300 to 1,400 PSI. They're best for light to medium duty jobs such as washing cars, cleaning grills, etc. This is all most homeowners need. We've reviewed several top electric pressure washer models, so take a minute and browse through them.

Gas pressure washers average around 2,000 to 2,800 PSI. They can tackle heavy-duty jobs such as paint removal, mildew stain removal, and farm equipment cleaning. If heavy-duty power is what you're looking for, be sure to look through our reviews of the top gas pressure washers.
How to use a pressure washer safely
The high pressure of the water spray can damage property. It can break windows, strip paint from your car, or gouge holes in brick. It can also cause bodily harm such as lacerations, electrocution, and deadly falls. Before you begin to use any pressure washer, make sure you understand how to use it safely.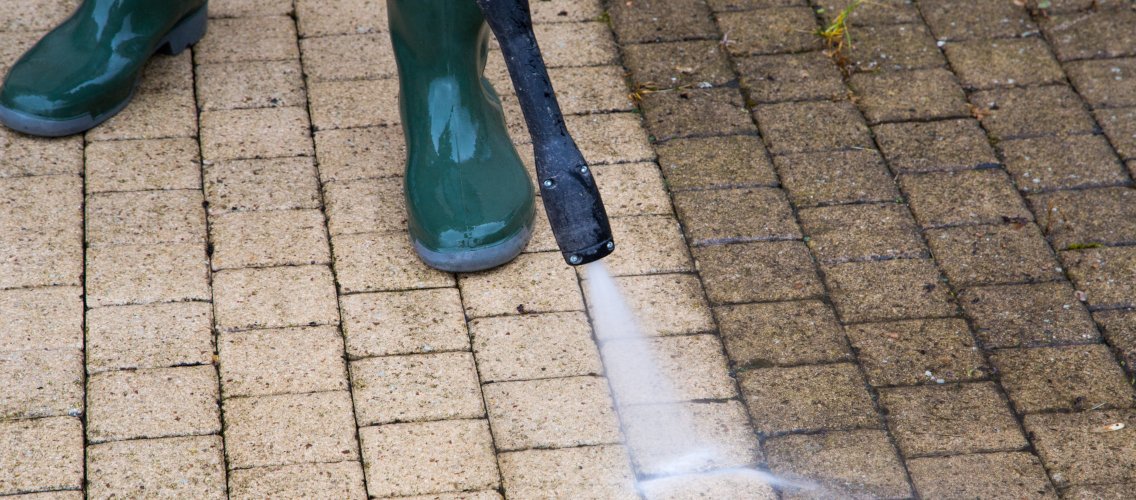 These pressure washer safety tips apply to ALL pressure washers:
Read the manual – It will tell you exactly how to operate your machine, plus it will include information about replacement parts, customer service, warranties, and troubleshooting tips.
Toss the zero degree nozzle – It's the highest pressure (red) nozzle that shoots a very narrow stream of water, which makes it the most dangerous in terms of physical injury and property damage. You will rarely, if ever, have a cleaning job that requires anything remotely that strong.
Wear protective gear. No shorts and flip flops. Think safety goggles, work gloves, enclosed shoes (preferably steel-toed boots), ear protection (especially with gas power washers), and pants.
Prep your surroundings. Cover exterior lights and vents, and close your windows. Get all tripping hazards out of the way, including furniture, hoses, wires, toys, potted plants, pets, and kids.
Hands off. If there's one safety rule to remember most, it's to never, EVER, get your hands or any other part of you in the way of the pressure washer spray. Don't spray it at anyone else, either. Never let children use a pressure washer, unless they're older teens that understand the risks.
No ladders! Pressure washers can produce a serious kickback force, which can lead to a nasty fall. Opt for extension wands to reach high areas instead. Or call a professional cleaner.
These safety tips apply specifically to each type of pressure washer:
For electric pressure washers, avoid extension cords. Since you're pairing electricity and water, there's always a risk of electrocution if the extension cord isn't properly grounded. An extension cord can also shorten the life of your pressure washer and may even void the warranty in some models. ALWAYS consult your owner's manual before using an extension cord.
For gas pressure washers, never run one indoors or in any enclosed space. You need adequate ventilation for the exhaust, which contains carbon monoxide. Important: If you feel dizzy, overly fatigued, have a headache, nausea, or trouble breathing, turn off the machine, get into fresh air, and call 911. Also, the engine can get very hot. When finished, turn off the washer and let it cool before you put it away. Keep the hoses away from the engine so they won't melt.
---
How to choose the right spray nozzles for your pressure washer
Some pressure washers come with a single variable pressure spray nozzle that you can twist to adjust between zero to 60-degree spray patterns. Most come with 4 to 5 color-coded nozzles that you must change manually between jobs.
Your nozzles are the most important accessory when determining how much cleaning power you need for specific jobs. These are generally color coded from strongest to lowest pressure:
Red (0 degree) – Removing tough stains or debris (caked on mud, dried gum or sap, rust) from very small areas on concrete or metal. Not for wood or siding! You probably will never need this one.
Yellow (15 degree) – Surface prep to remove dirt, mildew, or paint before painting or re-sealing. Can remove tough grime from a safe distance on hard surfaces.
Green (25 degree) – Most common for home use. Good for cars, boats, lawn furniture, driveways, and decks.
White (40 degree) – Gentler, wider spray for fragile surfaces such as windows, blinds, flower pots, etc.
Black (low-pressure soap nozzle) – Low pressure for applying soap or detergents.
Turbo or rotary nozzle – These sometimes come with the pressure washer, but not usually. They produce the pressure of a 0-degree nozzle with the spray area of a 25-degree nozzle, plus they rotate at 1800 – 3000 RPM. They can cut cleaning time in half for caked-on dirt and grime.
Not sure which nozzle you need?
If you're not quite sure which nozzle to start with, begin with a lower pressure nozzle such as the 40 or 25-degree. Begin spraying at least 18 – 24 inches from the surface, and test on a small, inconspicuous area. If it's not removing dirt, gradually move closer, and if it's still not removing dirt at 6 inches from the surface, then choose a smaller angle nozzle, such as the 25 or 15-degree.
To minimize surface damage, always use the lowest-pressure nozzle that will do the job. If you need a stronger spray, adjust distance first, THEN switch nozzles if needed.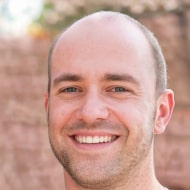 Use a pin to clear the hole in the nozzle after each use or if you notice a broken spray pattern or pressure loss. Just make sure the pressure washer is OFF or the trigger gun is locked before removing and replacing the nozzle.
Other attachments for pressure washers
Depending on the job, you may want to invest in some extra attachments for your pressure washer. Some of these may come with the washer when you purchase it. Others you'll need to buy separately. There are several available. These are just a few:
Surface cleaner

For large, flat surfaces such as patios, driveways and sidewalks. This attaches directly to your spray gun where the wand goes. It has a large spray bar that spins in a circular pattern. The pressure created allows it to glide along, and the hood above it contains most of the overspray so dirty water doesn't end up where you don't want it.

Pressure washing broom

Attaches like the surface cleaner, with a cylindrical spray head that splits a single water jet into two or three to "sweep" dirt and debris off a large area. Good for using after cleaning with a regular nozzle or surface cleaner to rinse away remaining loose dirt.

Scrub brush attachment

These come in various shapes and sizes. Sometimes they have spinning bristles. They're good for removing stubborn dirt from cars, boats, RVs, and more.

Expandable or telescopic wand

Extends to give more reach for high areas such as siding on a second story so you don't need a ladder.

Gutter cleaning attachment

Works like an expandable wand, but with a curved end to reach up and over into the gutters.
How to use a pressure washer
Operation of a gas or electric washer is similar, but there are a few differences to keep in mind. Always read the owner's manual thoroughly for instructions specific to YOUR washer. Step by step, follow these general instructions: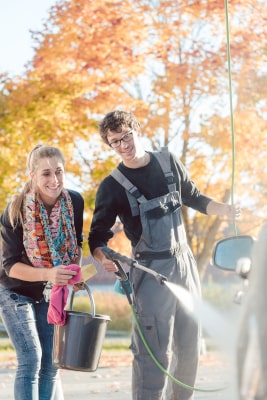 Sweep or brush all loose dirt and debris from the surface you're cleaning.
Connect a garden hose to the water inlet. Make sure your hose can supply the required GPM for the machine. To measure, time how long it takes for your garden hose to fill a 5-gallon bucket at full flow. For a 2.5 GPM washer, you'd need up to a 50-foot hose with a ¾ inch inside diameter.
Make sure both garden and pressure hose are free of clogs and kinks.
Fill the detergent reservoir (if using a cleaner) with a detergent solution.
Set the spray wand to off or a low-pressure setting to prevent kickback when the washer is started. Washers with variable nozzles should be on a low-pressure, wide angle setting. At this point, make sure there's no tip on a washer that uses interchangeable tips.
Turn the faucet on fully.
Sweeze wand trigger to release air pressure.
Check hose connections for leaks.
To start the engine or motor: For a gas power washer, adjust the choke and throttle if needed, brace your foot against a wheel to steady the machine, then pull the starter cord to start the engine. For electric, plug into a grounded, GFCI outlet and flip the on/off switch to "on".
Let water run through the machine for about a minute to prime the system. But never let it idle for longer than 3-5 minutes to prevent overheating the pump.
With trigger off, attach a low pressure nozzle, or keep adjustable nozzle on low. Always start with low pressure and work your way up.
Hold the wand with both hands. Plant feet firmly on the ground.
Start with low pressure, about 18 inches from cleaning surface. Move in a side-to side motion at a 45 degree angle to the surface.
Keep moving. Don't stay in one spot or you risk damage to the surface. Move the spray in overlapping lines to avoid streaks.
If you need more pressure, try moving the spray closer to the surface, but no more than 6 inches away. Or lock the trigger on the wand and attach a higher pressure tip.
---
Pressure washing tips and techniques
Once you have the basic operation down, you'll soon learn how to get the most efficient clean with any surface. There are various tips and tricks that will help you along the way.
Set a schedule – Don't be a one-hit wonder. Set a cleaning schedule to minimize wasted water, fuel, and detergent. Every surface will require a different schedule depending on its material and exposure to the elements, among other things.
Vinyl siding: every 2 years
Concrete driveways: once a year
Wooden decks: once a year
Stone or brick patios/walkways: every 3 years
Tips for pressure washing vinyl siding – Use a low-pressure setting on an adjustable wand or a soap nozzle (usually black) if applying detergent.

Best Way to Clean the Vinyl Siding
Avoid streaks by applying detergent from the bottom up. This prevents dirt and soap from running down areas that are still dry so you'll avoid streaks.
Work in small sections.
Let detergent remain on the surface for a few minutes, but don't let it dry. Re-wet as needed. Try to wash each side of the house when it's NOT in direct sunlight so it won't dry too quickly.
Disconnect the detergent supply. Attach a higher-pressure nozzle (25 or 40 degree is probably sufficient).
Holding about 18 inches away from the siding, rinse the siding straight on from the bottom up.
Then rinse from the top down, holding the wand about 10 inches away, and spray at a downward angle. Never spray at an upward angle to keep water from getting under the siding.
For stubborn spots, get a little closer, but be careful, or you could strip paint or cause other damage.
Avoid electrical outlets, light fixtures, windows, doors, and the gaps around them. Cover them with plastic sheeting if possible.
Tips for pressure washing wood decks – Follow the same steps as above to prepare detergent if needed, though you'll need cleaner that is designed for use on wood.

Power Wash a Wood Decks
Apply the detergent in sections, starting close to you and moving outward. Hold the wand at a 45 degree angle and 1 – 2 feet from the surface.
To rinse, use a higher pressure nozzle (15 or 25 degrees). Move with the wood grain to better remove dirt and detergent.
Use overlapping passes.
Avoid cleaning in direct sunlight.
Let the wood dry for 48 hours before staining or sealing.
Tips for pressure washing vehicles – Start with plain water and a low-pressure nozzle to rinse off loose debris. Keep your distance around windows, mirrors and other delicate surfaces.

Clean Your Car with a Pressure Washer
Then switch to a soap nozzle and spray on the detergent, working from the bottom up with wide overlapping strokes.
Scrub off stuck on dirt with a scrub brush. Alternately, you can use a scrub brush attachment on your wand.
Rinse from the top down with a 25 degree nozzle.
Never spray inside the engine bay.
Never use high pressure tips or move too close, or you'll damage the paint.
Avoid washing on grass or gravel so you don't kick up debris onto the car with the spray.
Things to avoid washing – There are certain items you never want to pressure wash due to increased risk of property damage or health problems.
Wood siding -Though you can pressure wash it correctly, if water gets under the siding, the wood may soak it up and become a breeding ground for mold. It can also damage insulation and electric wiring.
Electrical panels or meters – They are designed to handle rain and other natural precipitation, but not for a high pressure spray, which can force water into the housing. Repairs are costly!
Asphalt shingles – For one, you'd have to be on a ladder or up on a roof with the pressure washer to clean shingles. The kickback can knock you off. The spray can also damage the shingle surfaces, so they won't protect your roof as well.
AC units – The high pressure could damage the delicate parts and shorten the life of your air conditioner. Get a professional to come clean it yearly.
Lead paint – Don't try to wash or remove it yourself with a pressure washer. It should always be carefully contained when removed so as not to contaminate your local water supply. It's best left up to a professional.
---
You got this!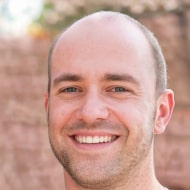 Now that you know how to get started safely, what will you pressure wash first? With the right machine, accessories and these tips, you'll be a pressure washer pro in no time. Browse our reviews of the top pressure washer models to find the perfect one for your home!
Pressure Washer Tips & Tricks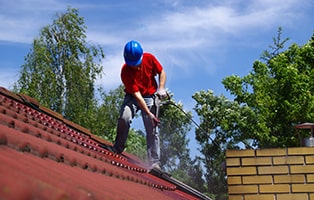 The leaves are starting to fall, and you may be thinking about power washing your gutters. Why? It's the perfect time of year to maintain those dirty drainage systems. The cool weather brings out dirt build-up, which can cause more problems.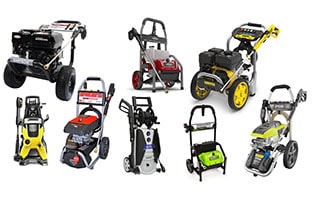 When it comes to cleaning grungy patio furniture, dirt-encrusted siding, and oily driveways, power washers are an indispensable tool. Read our article to find out which companies make the best ones.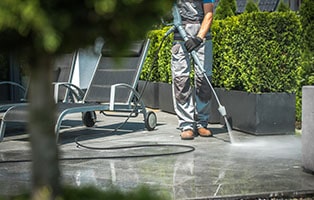 A pressure washer is a way to clean your patio that doesn't involve lots of strenuous scrubbing. Read about the 7 steps you'll need to follow if you want your patio cleaning to be a smash success.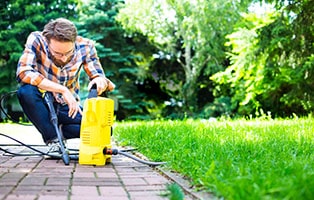 If your pressure washer is getting hot too frequently, this could be a sign that there's either something wrong with it, or you're doing something wrong. Read our article to diagnose these problems.