Discover Rengstorff House, a historic gem in Mountain View, CA
updated: January 07, 2022
Nestled in the hills of the Santa Cruz Mountains and just a stone's throw from San Francisco Bay, lies Mountain View, California. Mountain View's oldest home, the Rengstorff House (or "R" House for short), is a renovation success story.
Built around 1867 by Henry Rengstorff, a German immigrant, it was home to Mr. Rengstorff, his wife Christine, and their six children until his death in 1906. It remained in the family until 1959. Over the course of the next 20 years, it passed through several owners until the city purchased it in 1979. It sat for years, abandoned, until the house was moved to its present location and fully restored by 1991. Read more…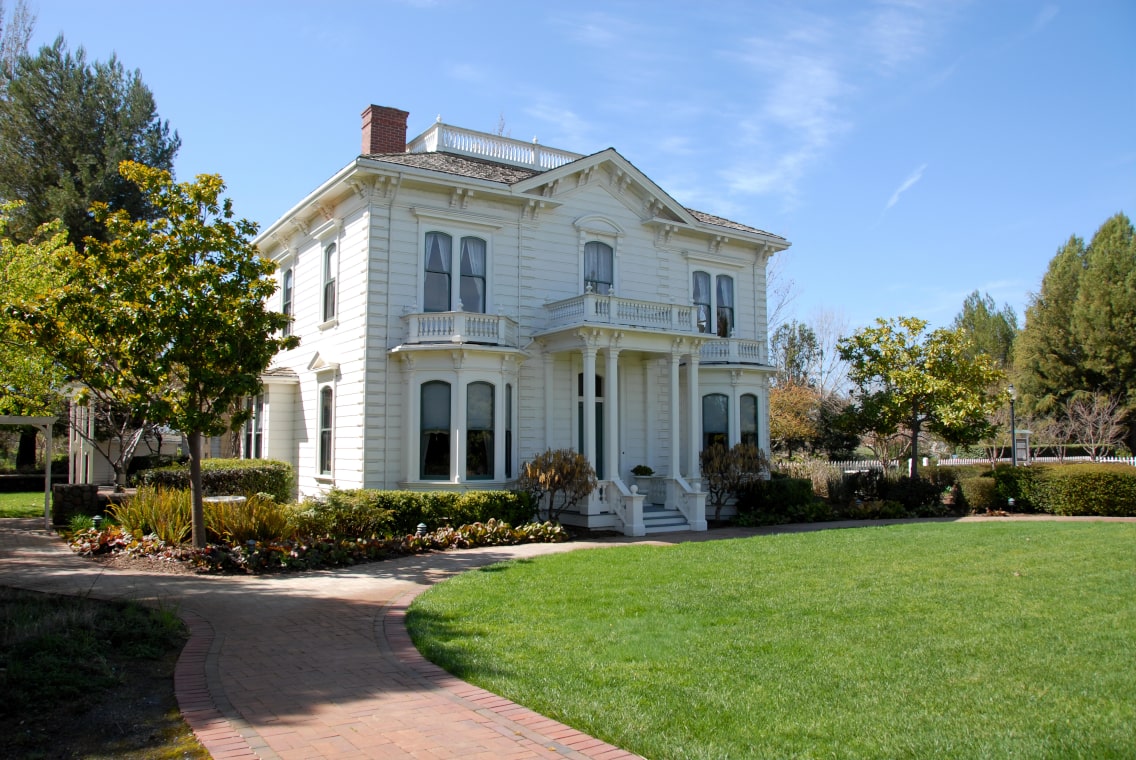 Rengstorff House (Mountain View, CA)
A community organization came together, known as the Friends of "R" House, to restore the home so future generations could appreciate and enjoy one of the best examples of Italianate Victorian architecture on the West Coast. They had a big job ahead of them. The home had fallen into disrepair and had even been vandalized. Land developers almost tore it down before the city purchased and relocated the building.
During the $1.5 million restoration, much of the structure was replaced with replica materials. However, they preserved as much of the original framework as possible, which can be seen in the "peek-a-boo" cabinets on either side of the front door, revealing the original construction. The 12-room home now boasts period-accurate brass chandeliers, push-button light switches, plaster rosettes, and wallpaper. Outside, brick patios are surrounded with lush green lawns, gardens, and natural landscapes.
Some stats about Rengstorff House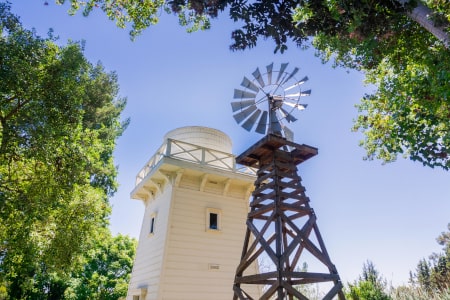 12 rooms
First floor: formal parlor, family parlor, music room, library, dining room, kitchen
Second floor: four bedrooms, sewing room, servants' quarters (all used as offices now)
3955 square feet
10 ft. ceilings on 2nd story
11 ft. ceilings on 1st story
4 marble fireplaces, including one black marble fireplace in the library
Solid mahogany newel post and handrail on staircase
Hand-turned balusters
The Rengstorff House is open to the public for tours 3 days a week. It's also available for rent 7 days a week and is a highly booked wedding venue from April through mid-October. Thanks to the Friends of "R" House, every guest can experience a taste of another era while helping to preserve that history for generations to come.
As with any public historic property, you can imagine how much wear and tear the floors and other surfaces must endure. With all the foot traffic and contact with the ornate wood decor, it's imperative that the home receives regular, thorough cleaning. The Friends of "R" House host fundraising events and sell "R" House merchandise to fund the continued upkeep of the home.
---
Modern equipment, if not used properly, could damage already stressed surfaces of this and other historical properties. Cleaning crews must be well trained in order to keep the finishes intact on all wooden surfaces. They must be able to clean the high ceilings and windows, fireplaces, and be experts at stain removal.
Some historic property cleaning crews utilize special equipment such as the Rainbow, that collects dust in a water canister to prevent it from scattering across interior surfaces. Outdoors, pressure washers are key in keeping patios and walkways free of dirt and mildew.
If you own a historic home, it's our hope that you will be inspired by Rengstorff House's success story. Browse through our articles for tips and tricks on how to keep your little piece of history looking great for years to come.
Mop Tips & Tricks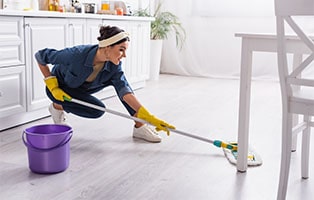 Everyone thinks they know how to clean floors. However, do you really know the steps you need to follow so you don't damage expensive surfaces? Check out what we wrote to find out.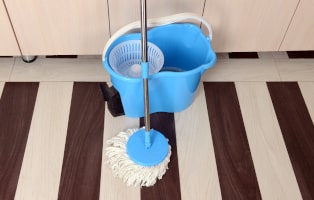 Wood floors need a bit more TLC than other hard floors. The wrong cleaners can dull them, hard shoes can scratch them, and water can warp them. Here are our tips to clean, mop, and maintain any wood flooring.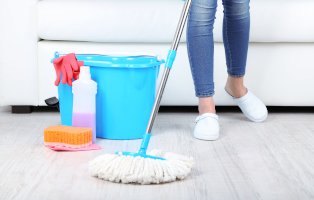 Mopping isn't rocket science, but there are some tips and tricks to get the most out of that not-so-fun task. Here, we'll tell you some of the best ways to mop floors using spin and steam mops.