We've written everything you need to know on how to choose the right snow blower. It's all right here!
Thinking about getting a snow blower?
When you're just waking up from a beautiful slumber and realize that 12 inches or more of snow have fallen just outside your window, you're going to wish you had a snowblower to get rid of it. Otherwise, you're faced with the unenviable task of manually shoveling the avalanche of white stuff away, possibly throwing out your back in the process.
Snowblowers allow for fast and efficient snow removal. As such, they're a fantastic alternative to shoveling, which is a laborious, time-intensive activity.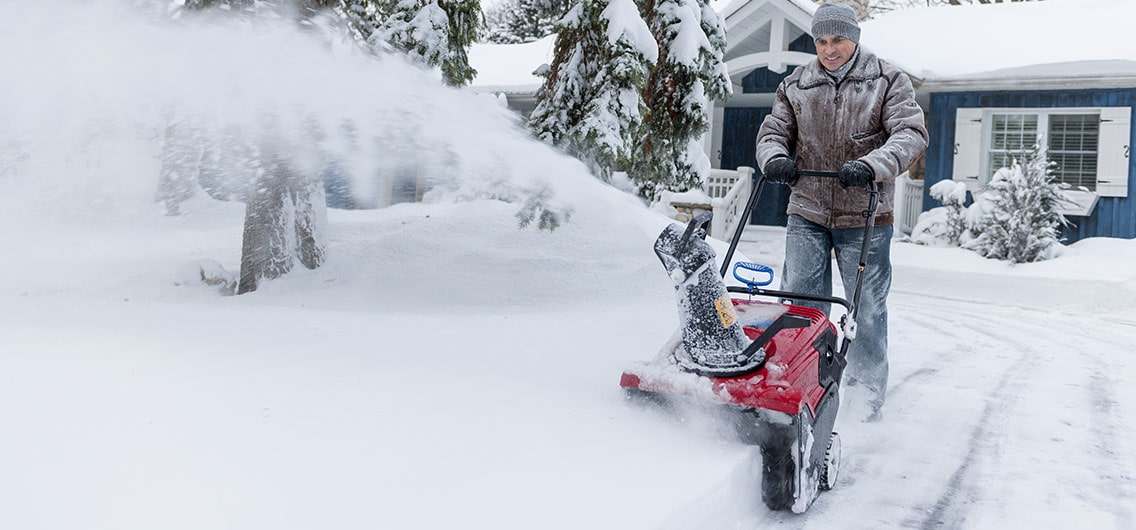 In some regions the snow blower is the super useful machine
In some geographical areas, a snow blower is a "nice-to-have" luxury, but one that's not absolutely required. However, in other regions, it's an essential component in the war against winter's icy chill. Let's say the fluffy white stuff regularly falls from the sky where you live. In that case, you might want to treat yourself by purchasing one of these super useful machines.
However, before you go out and plunk down your hard-earned money for one, figure out how much snow falls in an average winter where you happen to reside. Then, consider how large an area you need to clear around your home. If your driveway isn't too long and your garage is attached to your home, a decent snow shovel might be the best investment.
On the other hand, if you suffer through three or more blizzards each year, you might want to seriously consider getting yourself a snowblower. In this article, we'll go over the dizzying array of options when it comes to mechanical snow removal. With the right snow blower always at your beck and call, you might even start looking forward to blizzards. Let's dive in!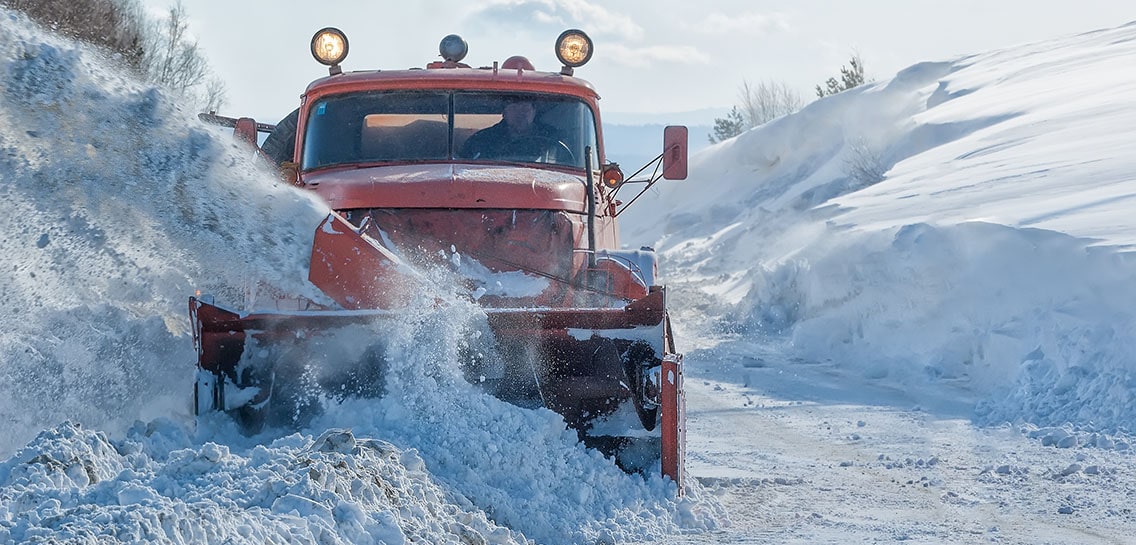 Snow Blower Types
Power Snow Shovels
Consider getting a power snow shovel if you don't have too much snow to clear away and your snow removal areas are small. These devices have cords or are battery-powered and are effective with snow accumulations of six inches or less.
Single-Stage Gas Powered Blowers
Single-stage gas-powered snow blowers are the lightest, most compact, and easiest to handle of all snow-throwing machines that run on fossil fuels. They're an excellent choice for level, medium-sized paved driveways and walkways with an expected snowfall of up to one foot.
Unlike electric-powered models, these machines liberate you from the limitations imposed on you by a cord. They usually have four-cycle engines, meaning they only require gas and not oil. They also are less expensive than two- and three-stage units.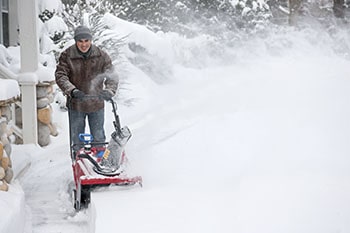 Single-stage gas-powered snow blowers can clear a swath of between 20 and 22 inches. They can smash and remove compacted snow as long as you get to it before it freezes, and you're able to chop up the larger areas with a shovel. Some models even have electric starters, saving you from the exertion of having to pull a cord.
Like every other type of snowblower, a single-stage gas-powered snowblower uses an auger. This corkscrew-shaped mechanism scoops up the snow and discharges it through a chute. Because the auger makes ground contact, you shouldn't use this type of blower on gravel surfaces.
If you use a single-stage machine on a dirt or gravel driveway, you could not only damage the auger, but all the gravel it scoops up could get thrown all over your yard. This could also cause a nasty injury to anyone unfortunate enough to be standing near the chute.
Keep in mind that single-stage machines have difficulty throwing deep, wet, and sticky snow. If these are the conditions in your neck of the woods, go with a self-propelled two- or three-stage machine, even if you have a small driveway.
Single-Stage Electric Blowers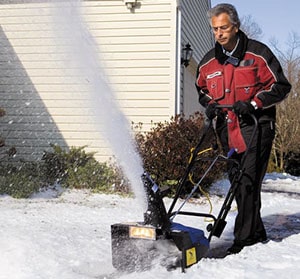 Single-stage electric snow blowers are the quietest, easiest, and lightest snow-throwing machines on the market. They're designed to clear light snow off places where bigger gas-powered devices won't fit.
Since the motor is electric, you won't have to add gasoline, change the oil, or do engine maintenance. This makes these machines almost 100% maintenance-free. Besides that, they don't give off any foul-smelling emissions.
This makes electric snow blowers an ecologically friendly choice. Because they're about the size of a small push lawn mower, they're easy to store. The bad news is they usually don't have sufficient power to tackle steep hills or handle heavy snow and ice accumulation. Single-stage electric snow blowers work best when you have a driveway, deck, or walkway that's short and level and snow accumulation is six inches or less.
You'll also need to ensure your unit comes with a cold-weather extension cord that won't get brittle when the mercury drops. In addition, being tethered to a power cord limits range (usually 100 feet or less) and maneuverability.
Single-Stage Battery-Powered Snow Blowers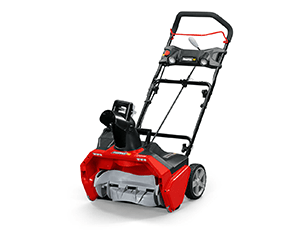 Get yourself a battery-powered snowblower if you don't want to put up with the hassle of using a cord. What's fantastic about battery-powered units is that many manufacturers design the batteries so they're interchangeable with other power equipment. This means your snowblower battery might be able to power your chainsaw, leaf blower, electric pressure washer, or some other household gadget.
Just like with plug-in electric blowers, you're sacrificing performance for convenience. Although they start up more quickly than their gas-powered counterparts and don't need oil, they often don't have enough power for many users' needs. However, if you don't get a lot of snow in your part of the planet, they might be the snow removal solution you've been looking for.
Two-Stage Gas Snow Blowers
Two-stage blowers are dependable workhorses that can handle massive snowfalls of up to eighteen inches. Like the single-stage model, a metal auger scoops up the frozen precipitation. However, the two-stage blower gains a little extra oomph by using an impeller, a fan that forces snow from the auger's back out through the discharge chute. This keeps the snow quickly moving at all times, preventing it from clogging the intake bucket.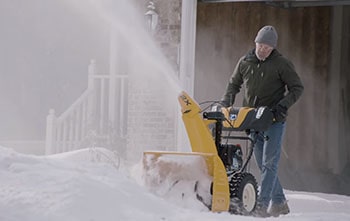 If your driveway is long and winding, this is the machine to get. Most models of this type can handle a path of up to 30 inches wide and can tackle steep slopes. If you need to clear away snow on gravel, a two-stage machine will be able to get the job done. That's because the auger doesn't touch the ground on these models.
However, these machines tend to be substantially heavier than single-stage models. That's why it's fortunate that virtually all snow blowers of this type are self-propelled. By using a two-stage, you'll be less likely to throw out your back trying to push a weighty unit through the white stuff.
Two-stage units have more powerful engines than their single-stage counterparts, boosting their ability to withstand the strain of large amounts of snow. Two-stage models also have taller buckets for plowing through high drifts. They're the machine to get if you need to clear snow away from large areas in a short amount of time.
They also have a bigger auger and engine, which gives them the power to chew through compacted snow far better than a single-stage model. One downside is they're pretty big, meaning they could take up as much space in your garage as a lawn tractor.
Three-Stage Gas Snow Blowers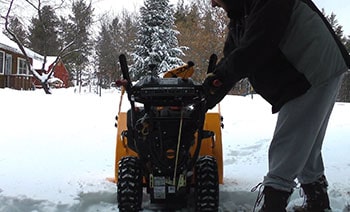 Three-stage snow blowers have an auger (like the one and two-stage machines) and an impeller (like the two-stage models). However, they also have an accelerator, which improves performance by sucking up snow from the auger and forcing it into the impeller.
This added component makes them better performers than the one- or two-stage models. In fact, three-stage devices are the most powerful and efficient snow blowers on the market. They can remove heavy snow almost 50% faster than a similarly sized two-stage unit.
They're designed to handle heavy snowfalls of up to 18 inches in accumulation (just like their two-stage counterparts). Suppose you have a tremendous amount of snow at the end of your driveway unceremoniously dumped there by a city plow. In that case, you'll be able to efficiently remove this man-made mountain with one of these machines.
In addition, many three-stage blowers come with serrated augers that can cut through hard-packed snow and ice more effectively than the other types. Keep in mind that they can be a bit pricey and take up a lot of storage space.
Essential Snow Blower Features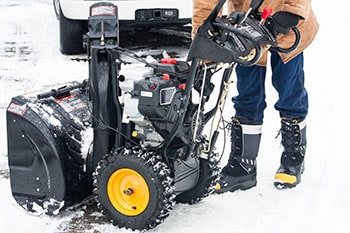 Dead Man's Control: This crucial safety feature stops the spinning auger and impeller when you release the handlebar grips.
Power Steering: Snowblowers are heavy, and turning them around can be difficult. With power steering, you're able to turn the unit quickly and easily.
Trigger Release: This helps make steering easier by disengaging power to either or both drive wheels.
Discharge Chute Control: Higher-end snow blowers have cable and electronically operated chute rotation mechanisms. This allows you to change direction and pitch right from the operator's control panel.
Airless Tires: Air-filled tires can be a problem on snow blowers. That's because they constantly need refilling, which isn't the easiest thing to do on these types of machines. Also, if one tire has more or less air pressure than the other one, the device will pull to one side. Airless tires never go flat. They're also manufactured from a special polymer that flexes to shed snow. They have as much traction as traditional tires, so there's no performance loss.
Multiple Speeds: Many multistage machines have four to six forward speeds and one to two reverse speeds. What's great about having more than one speed is that it helps you maneuver better through heavy snow.
Headlight: This is a standard feature on two- and three-stage models, letting you work after the sun goes down.
Electric Start: These days, most gas-powered blowers have plug-in electric starting. This is a lot easier than yanking a pull cord, especially when it's bitterly cold out. Gasoline engines can be challenging to rev up, particularly in frigid weather. If you flood a snowblower engine, it can take 20 or more rope pulls to clear out. Units with electric starts plug into a standard AC outlet and start with a single button push.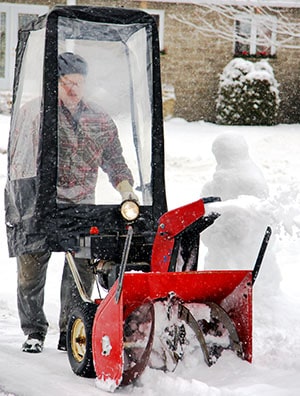 Snow Blower Add-Ons
Snowblower Cabs: You can get snowblower cabs for most medium-size and large machines. They help keep you toasty and dry during snow, sleet, and freezing rain. The cab creates a dome with a vinyl front and side panels.
Cover: A cover protects your blower from dirt, rust, and dust.
Heavy-Duty Mat: This protects your garage floor from stains, water, and scratches.
Tire Chains: Tire chains give engine-powered wheels on a self-propelled machine better traction.
Clean Out Tool: With a clean-out tool, you can easily remove snow and ice from a discharge chute.
Final Thoughts
If you live in an area of the country that gets a lot of snow, buying a snowblower can be a worthwhile investment. Ensure that the one you're considering purchasing has all the features you need and is suitable for the kind of environmental conditions you have in your geographical region.
By doing this, you'll practically guarantee that your new snow-throwing machine will serve you well for many years. Happy snow blowing!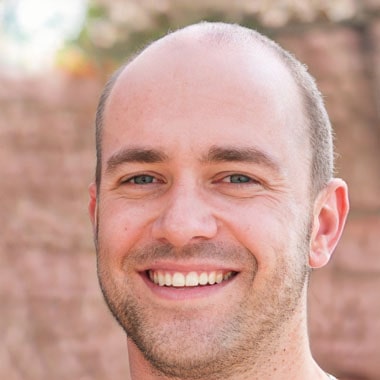 Author
Alex owns a home improvement and restoration company in Vancouver. He obtained his Bachelor's degree in Construction Management from Saskatchewan Polytechnic and is a NARI Certified Remodeler. His team does a wide range of home restoration products, both interior and exterior.
Pressure Washer Tips & Tricks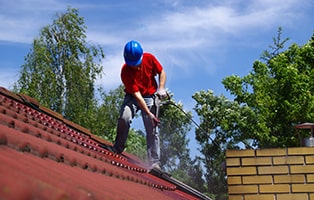 The leaves are starting to fall, and you may be thinking about power washing your gutters. Why? It's the perfect time of year to maintain those dirty drainage systems. The cool weather brings out dirt build-up, which can cause more problems.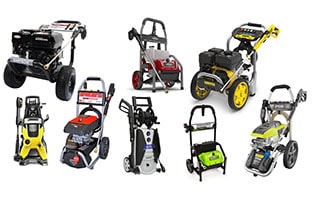 When it comes to cleaning grungy patio furniture, dirt-encrusted siding, and oily driveways, power washers are an indispensable tool. Read our article to find out which companies make the best ones.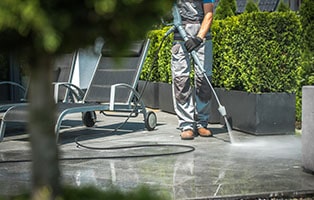 A pressure washer is a way to clean your patio that doesn't involve lots of strenuous scrubbing. Read about the 7 steps you'll need to follow if you want your patio cleaning to be a smash success.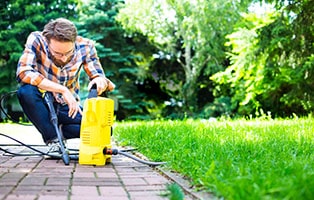 If your pressure washer is getting hot too frequently, this could be a sign that there's either something wrong with it, or you're doing something wrong. Read our article to diagnose these problems.