Thinking about buying a pool? Read our guide to the different types of swimming pools before making your decision.
Your perfect summer day might include spending time poolside enjoying a delectable umbrella drink or having a wonderful time splashing around in one with friends and family. Or, if this isn't something you can do in real life, perhaps you fantasized about doing it.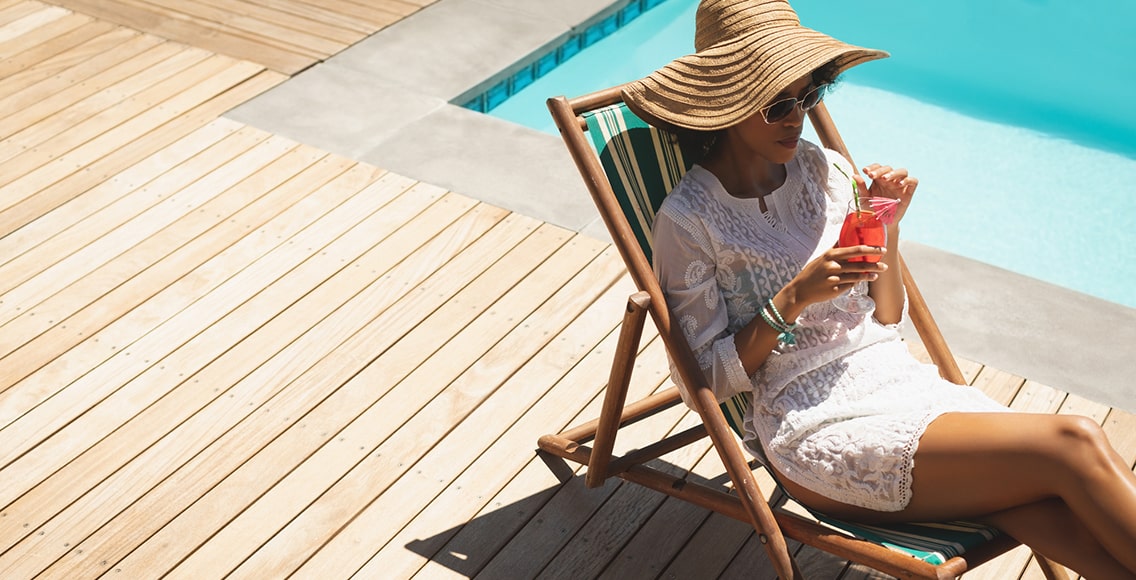 Enjoy your best swimming pool!
If you want to make that fantasy a glorious reality, consider installing a pool in your backyard. With technological progress making brand-new types of pools and materials for their construction available, there has never been a better time to install a pool. However, because pools come in a dizzying array of sizes and types, you need to carefully consider your choice before making a final decision.
Keep in mind that not all types are allowed in every geographical area. Check your local building codes as early as possible in the pool planning process. While selecting a pool type can be complicated, at Cleanup Expert, we want to make it a little easier. In this guide, we discuss the different options, so you can decide which type to select.
Let's dive in!
Above-Ground Pools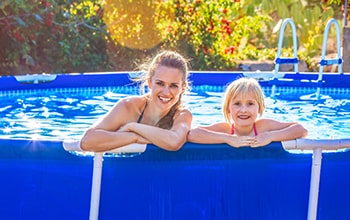 Above-ground pools are the cheapest pool choice. They cost approximately $1,850 to $5,000 and are relatively easy to set up if you're a dedicated DIYer. One of the best things about an above-ground pool is that, If you move, you can disassemble it and take it with you.
However, most people would say that above-ground pools aren't as aesthetically pleasing as in-ground ones. Even with a gorgeous deck surrounding them, they will probably never come close to rivalingl the jaw-dropping appearance of an in-ground pool. That's because, unlike an in-ground pool, there really isn't a way to blend the pool into the surrounding landscape.
Unfortunately, above-ground pools aren't built to last. Their metal walls can rust easily, and most of them most likely won't make it past the 15-year mark. On the other hand, above-ground pools are typically safer than in-ground ones because the entry point is higher off the ground.
In-Ground Pool
The beauty of an in-ground pool is that a designer can create one for you to fit any size or shape of yard. However, in-ground pools are costlier than above-ground ones, and the construction process can be lengthy.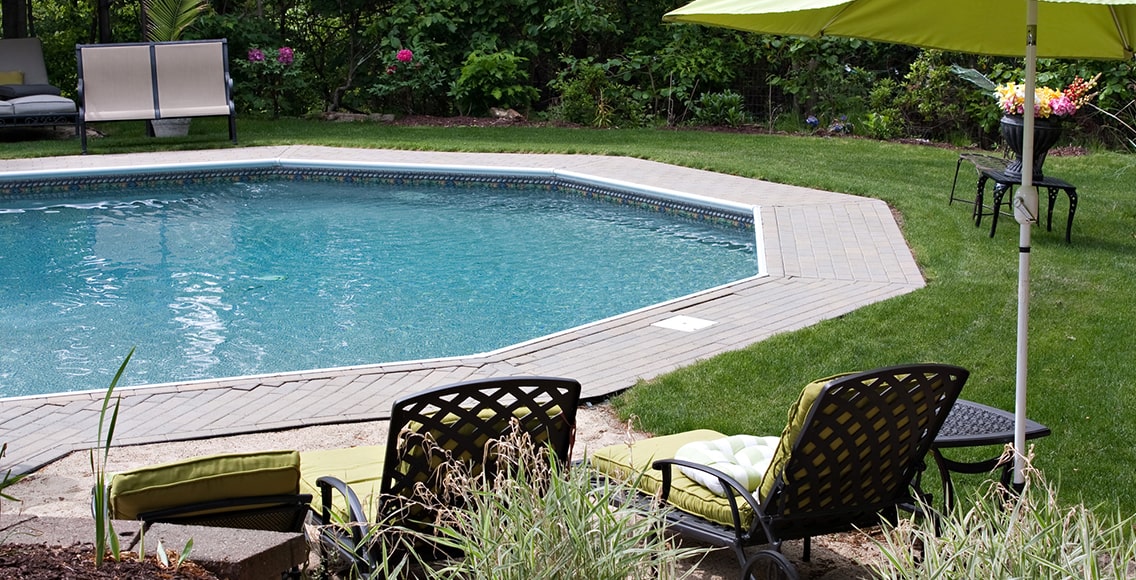 Because the water surface is near ground level, they pose a more significant safety risk for children and pets than above-ground ones. On average, in-ground pools cost $35,000 to install. However, depending on customization and materials, the range can span from $28,000 to $55,00 or more.
If you live in a warmer climate like Florida, having an in-ground pool on your property can significantly increase your property value and the likelihood of selling your home.
Here are the different types of in-ground pools:
Fiberglass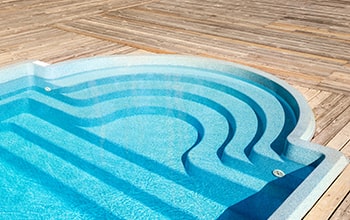 Fiberglass pools can be installed quickly and easily because they're constructed from a premade shape. Because the fiberglass pool shell is manufactured off-site, installation typically takes two days, compared with three to six months for a concrete pool.
However, the shape, size, or depth isn't customizable because they're built from mold. This means you'll need to find a preexisting model you can be happy with.
A fiberglass pool has a slick, smooth surface, making it somewhat algae resistant. The downside is that fiberglass deteriorates after 10 to 15 years of exposure to the elements and starts to crack and fade.
While you can make repairs with fiberglass pools, they frequently don't match the original color, which sometimes makes the repair stick out like a sore thumb. Recoating it isn't a good option because a new coat doesn't readily stick to the old one. Fiberglass pools are usually more flexible than concrete ones, making them a better choice in areas where earthquakes frequently occur.
Note: No More Boring Blandness! At one time, fiberglass pools were boringly bland, with a generic and uninspired white bathtub look. However, fiberglass pools have come a long way over the years and are now frequently stunningly beautiful and elegant.
Concrete
Concrete is the most popular in-ground pool type because it's exceptionally durable. A concrete pool is poured on-site, which allows you to custom design virtually any shape or size.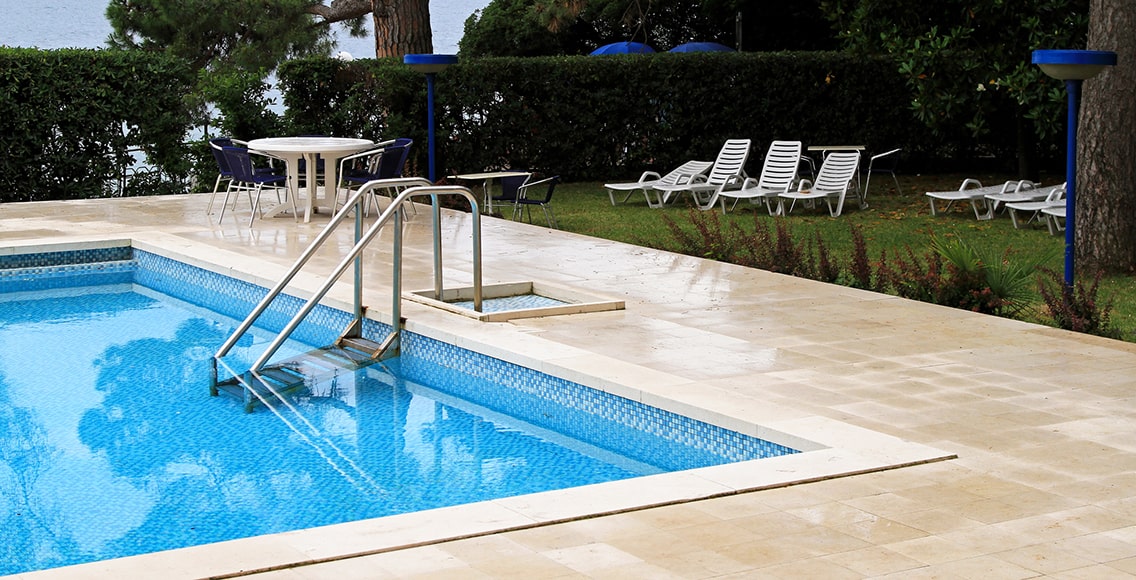 Concrete Pool Finishes
Concrete pool construction begins with excavation and a steel framework. Then you pour the concrete and seal it with a coat of plaster, which can be reapplied over time as needed. In recent years, alternatives to plaster sealants have become popular, including pebble or glass aggregates and tile.
Choosing stone, tile, plaster, paint, or Pebble Tec as a pool finish instead of plaster is merely an aesthetic choice and doesn't add to the longevity of your backyard swimming hole. These finishes typically last between eight and 12 years and can be challenging to repair and replace.
Highest Lifetime Value and Highest Cost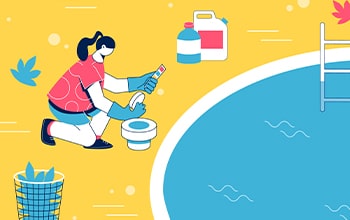 While concrete pools have the highest lifetime value, they also have the highest cost and take longer to install than other pool types (approximately three to six months). Concrete pools also require more maintenance than other types of pools.
Even if you properly take care of it, the surface could eventually break down and feel rough to the touch. This can lead to scraped feet and other minor injuries.
Another problem with concrete pools is they're susceptible to cracking if the ground shifts. While saltwater pools have become increasingly popular worldwide, don't go with this option if you have a concrete pool because salt can damage concrete.
Concrete vs. Fiberglass Pools
Fiberglass pools are easier to maintain than concrete because they're almost entirely non-porous. On the other hand, concrete pools are very porous.
A porous pool surface gives algae a hiding place, making it much more difficult to clean a concrete pool. To keep algae at bay in a concrete pool, you'll need to brush the entire pool surface weekly. Also, you'll end up using more chemicals in a concrete pool because of the need for the chemical to penetrate the surface to eradicate the algae.
Concrete pools also require daily doses of muriatic acid to lower water pH. That's because a concrete pool is highly alkaline and constantly raises pH levels. On the other hand, fiberglass pools are inert and don't affect pool chemistry.
Because of these reasons, individuals who own fiberglass pools usually spend 75% less time and money maintaining their pools than owners of concrete pools do.
Gunite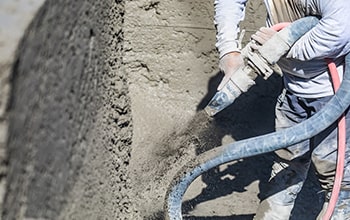 While gunite is a type of concrete pool, a different construction process is involved. A builder sprays the concrete mixture into a steel framework rather than pouring it like a typical concrete pool.
This is the preferred method used to create irregular shapes. A skilled pool builder can sculpt nearly any shape, from squares and rectangles to L and kidney shapes. Once the concrete sets, it's topped with plaster, making the pool waterproof.
Gunite pools typically cost between $29,000 and $60,000, with the average homeowner shelling out about $51,000 for one. They last from 10 to 15 years. It can take a long time to finish a gunite pool—up to three months in some cases.
Vinyl
A vinyl pool has the lowest installation cost and can come in any size and shape. To build a vinyl pool, take a metal or plastic frame and set it into an excavated hole. Then, join prefabricated supporting walls to the frame.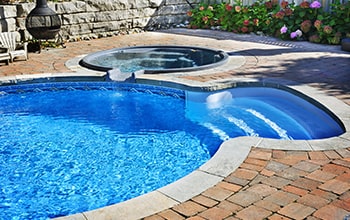 Line this structure with heavy plastic to form the pool shell. Sit the bottom of the liner on a bed of sand or other material. Hold the top down with some coping, which creates not only a finished edge but a border for the pool deck.
Like other pool materials, vinyl deteriorates over time because it's exposed to wind, rain, and sun. Manufacturers sometimes embed vinyl liners with fungus and UV inhibitors, which can extend the useful life of a vinyl liner from 10 to 18 years.
The cost to replace a vinyl liner is high, costing up to $5,000. Dogs, tree branches, and patio furniture blowing into the pool are the usual costs of vinyl liner punctures. However, there's usually no puncture danger from ordinary use.
Because vinyl pools are the most affordable of all pool types, they allow families who don't have the budget for other kinds of pools to enjoy the benefits of an in-ground pool.
One disadvantage of a vinyl pool is that it's not as aesthetically appealing as concrete or fiberglass. That means that, unlike concrete and fiberglass, vinyl pools won't add value to your home. Vinyl liners also need to be replaced every five to ten years.
Infinity Pools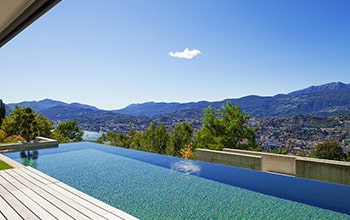 Infinity pools dramatically highlight a view and feature one or more walls with a vanishing edge design that sits just below the water level. This lets water flow over the wall, creating the stunning illusion that the pool extends into infinity.
Affluent homeowners who own property with steep drop-offs install infinity pools to showcase breathtaking views of mountains, oceans, lakes, and other striking landscape features. Because of their highly specialized design, these pools are typically more expensive than other options.
Lap Pools
If you only want a pool to get into the best shape of your life, go with a lap pool. These pools are designed specifically for swimming laps and are long, narrow, and usually rectangular.
They're typically about 30 to 70 feet long, don't have a shallow end, and are deep throughout. That way, turns can be made on either end. Because they're small, they're perfect for small yards.
Swim Spas
A swim spa is a combination pool and spa with water jets that let a person swim against a constant flow of water. Like lap pools, they're terrific for tiny properties and can be as small as 12 feet in length. Because swimmers aren't moving through the water, the dimensions can be smaller than lap pools.
Final Thoughts
If you want to build a pool, carefully consider all the different types, sizes, and costs. That way, you'll ensure that you'll have one that you can be happy with long term.
If you need some help cleaning that brand-new pool, think about getting a robotic pool cleaner. Check out our guide of the top-rated pool robots before deciding which one to buy.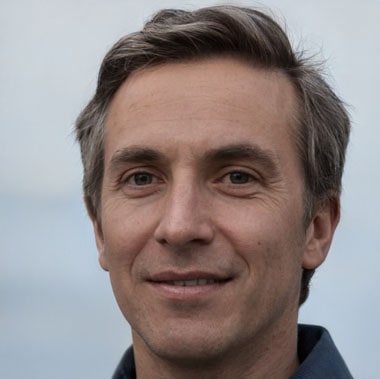 Author
Our pool maintenance expert, Luke Reed, earned his BS in Civil Engineering from Georgia Tech in 1998. Since then, he's worked in a variety of industries, including design and construction of luxury swimming pools.
Pool Maintenance Tips & Tricks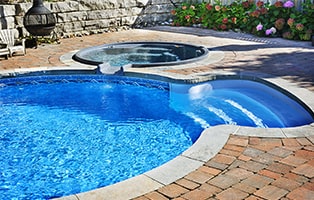 With all the different types of swimming pools available, such as in-ground and above-ground, it can be difficult to decide which one to get. Our guide including pros and cons can help you make that choice.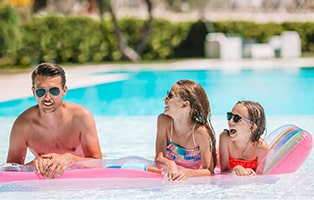 Germs and bacteria can cause life-threatening illnesses in a swimming pool. Find out what the dangers are and what you can do about them by reading our article.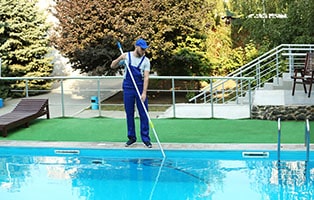 Dreaming of entrepreneurial success? Check out our guide on how to start a pool cleaning business. You'll find everything you need to know to set one up.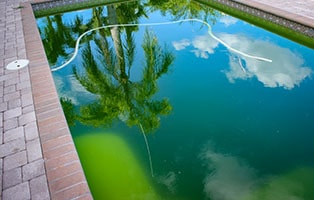 Is your swimming pool too murky to swim in? In our informative article, you'll discover the causes of a cloudy pool and how to fix the problem.