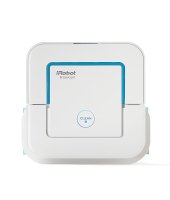 The iRobot Braava jet 240 robot mop's compact design reaches places other mops won't. Find out more in our 2022 review!
We select, test, review and suggest the best products. We may earn a commission, if you buy something through our links.
If you've got small spaces, the iRobot Braava jet 240 is designed to tackle them. This compact robotic mop does 3 types of floor cleaning – dry, damp, or wet. With precision jet spray, water goes where it's needed rather than showering your furniture and walls. The vibrating cleaning head really scrubs those sticky stains, plus it detects which cleaning pad is on it to automatically choose the proper cleaning mode.
The 240 is short and narrow enough to reach places other robot mops can't, like under cabinets, corners, behind toilets, and more. The best part is it won't hurt your wallet. It's the cheapest device iRobot makes.
While it's not as advanced with smart tech as some of the higher-priced mops, navigation is still efficient. It maps where it's been so that it won't miss anything. There are also simple mobile controls via the iHOME app.
This mop is for light-duty maintenance cleaning only. It's performance is comparable to a Swiffer trigger spray wet mop. But, it's a good starter robot mop for those who haven't tried one before. Let's dive into the deets.
What's in the box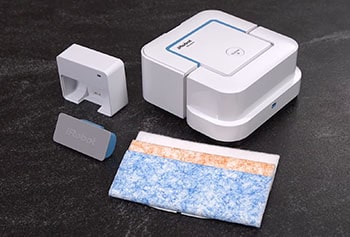 When you unbox your new Braava jet 240, you'll find:
iRobot Braava jet 240 robot mop (of course)
2 dry pads
2 damp pads
2 wet pads
Battery (rechargeable lithium ion)
Charger
Owner's manual
Unlike other robot mops and vacuums, the 240 does not have a charging dock, but it does go back to its starting point once a cycle is complete. You have to remove the battery and put it in a separate battery charger that plugs right into the wall.
On a positive note, you don't have to sacrifice extra floor space for a big charging dock. The downside is it can't charge itself, so you'll have to be there to rescue it when the battery dies.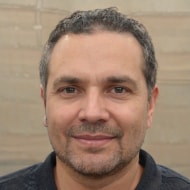 Don't leave your robot mop sitting on a wood floor with a wet pad. The moisture could soak in and warp the wood or contribute to mold growth.
iRobot Braava jet 240 design and size
Dimensions: 6.7"W x 7"L x 3.3"H
Weight: 2.7 pounds
Charge time: Up to 2 hours
1-year limited warranty (mop)
12-month limited warranty (battery)
A simplistic square, white body with blue accents give this robot mop a bright and cheery look as it humbly rolls across your floor. It has a fold-down handle on top that makes it easy to pick up and move.
Right under the handle is a quick-release button to release the wet/dirty pads into the trash. There's also a rubber cap that you lift to fill the water reservoir. The battery goes in at the rear of the mop. The only other button on the mop is the CLEAN button. One tap is all it takes to get this little guy going. A few more controls can be found in the iRobot HOME app.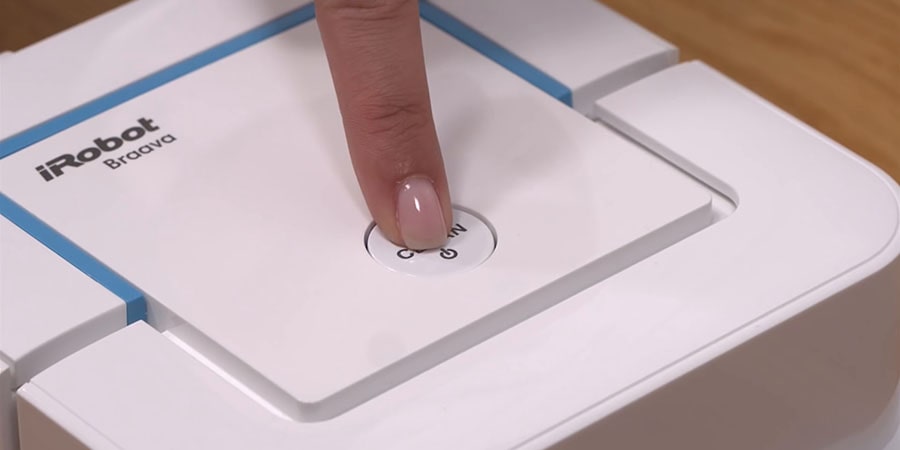 One tap is all it takes to get this little guy going.
Thanks to the shape and size, the 240 can easily reach under toe kicks in the kitchen and bath. It can get behind freestanding sinks and toilets depending on their placement. It's short enough to reach under a lot of furniture, sofas, beds, etc. Psst…be sure to vacuum first!
What makes the Braava jet 240 a good starter mop
Simplicity meets technology
Unlike the more advanced models, you won't need a degree in computer science to figure out how to operate the 240. Since it automatically detects which mop pad you put on it, all you have to do is fill up the water tank (or leave empty for dry sweeping), then press the CLEAN button.
If you want a little more control, the iRobot HOME app allows you to start the mop, adjust the water used per spray, check the battery charge, and set a virtual wall. There's also a spot clean mode that tells the mop to concentrate several passes over a 4' x 4' area. You'll have to place the mop there yourself since there's no dirt detection or ability to send it out to a specific spot via the app.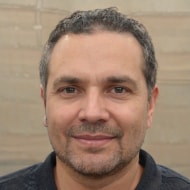 According to iRobot, it's automatic pattern is to keep moving in columns from left to right. They suggest starting it in the lower-left part of the room or area you want cleaned, and at least a foot away from any walls.
If the thought of setting a "virtual wall" sounds intimidating, don't worry. The virtual wall isn't all that advanced. It basically works by telling the mop not to go anywhere behind where it's facing when you start it. So for example, if you're standing in front of the cat's food bowl and don't want the mop to bother it, set the 240 with the front (where the pad is) facing AWAY from the bowl. Then pull up the app, turn on the virtual wall, and start the mop.
A full suite of obstacle-detecting sensors combined with iRobot's navigation ensure the whole room gets clean.
Advanced mopping pads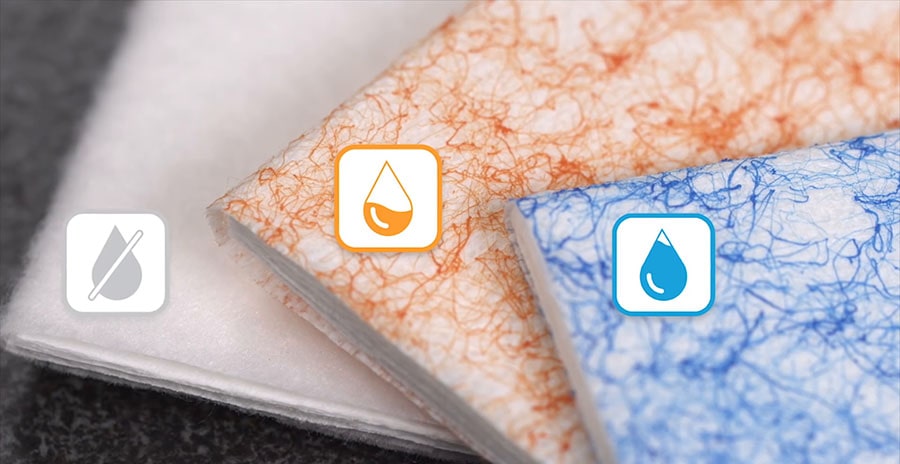 The 240 detects what kind of pad you place on it through a little plastic thing that looks like a punch card. Both damp and wet pads contain a pretreated cleaner that is activated when wet.
Damp mode (orange pad) cleans with a double pass over each area and is good for very light mopping and dust removal. Also good for wood or laminate floors that can't handle much water.
Wet mode (blue pad) cleans with a triple pass and is only for well-sealed floors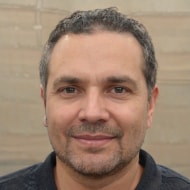 The disposable pads can only be used once or twice before needing to throw away. Reusable cloths are available, which will last through about 50 washes and can save you money.
The dry mode (white pad) works just like a regular Swiffer to pick up dust and hair in a single pass.
Things that make this mop not-so-great
The Braava jet 240 is good at detecting most big obstacles like walls and furniture. But it can't tell if it's on carpet or on a hard floor. If there's a big enough threshold, it may avoid a carpeted area. But if you have a lot of smooth transitions between hard floor and carpet areas, you'll need to use the virtual wall feature to keep the carpet dry.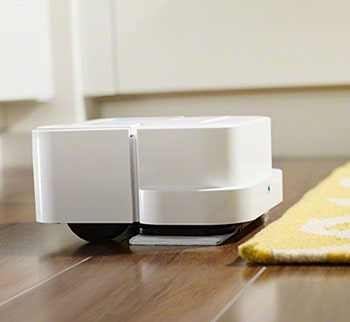 When using wet mode, it'll burn through the battery quicker. Also, there's no signal to tell you when the tank is empty. The tank is rather small (~150mL), so the bigger the room and wetter the mopping, the more often you'll be going back and forth to the sink. It's built into the machine so you have to add water directly to the unit, and you can't easily see how much water is left.
Big rooms or multiple rooms are a bit too much for the 240 to handle in one go-round. It's pretty much a one small room at a time kind of robot. In dry and damp mode, it can cover up to 250 square feet. In wet mode, it will struggle to cover 200 square feet. Compare that to its predecessor, the Braava 380t, which could cover 300 – 1000 square feet, and you can see the difference.
For small spaces, though, the 240's vibrating cleaning head, precision spray, and pretreated mop pads mean it's tough on dirt. Comparatively speaking, the end result could even rival those that can cover more ground.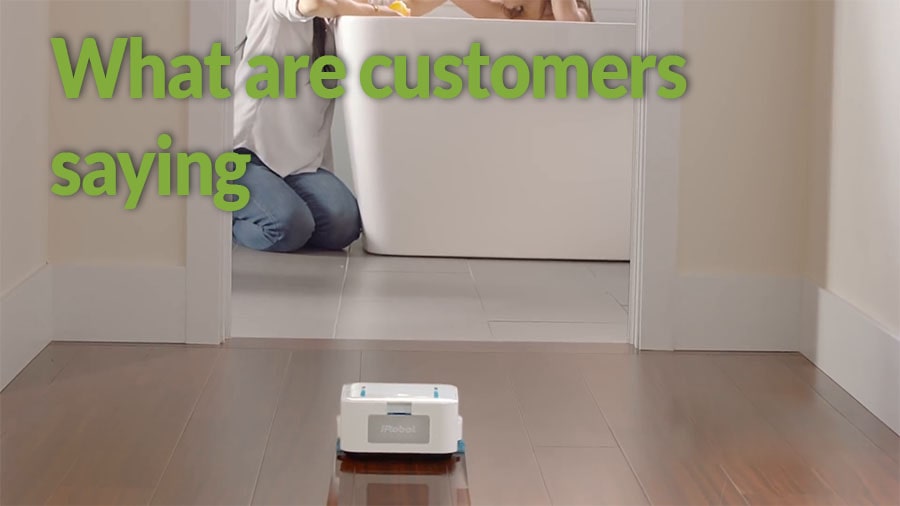 Overall, customers love the Braava jet 240, especially for small rooms. They agree that it's not built for heavy-duty mopping, but are happy with it for maintenance cleaning. Customers have reported good results for muddy paw prints, dust, and light spills.
The biggest issues reported were streaks left behind on darker floors (possibly due to the cleaner in the pads), the small water tank, no low battery or water level alerts, and trouble getting it paired up to the app with bluetooth.
Should you try the Braava jet 240
For the price, this little robot mop is hard to beat for light maintenance cleaning. If you've never bought a robot mop before, this is a good place to start. The simple setup and controls won't be overwhelming and will prepare you for more advanced controls should you wish to upgrade later on.

PROS:

Affordable
Great for small rooms/spaces
Auto-detects type of mop pad
Vibrating cleaning head
Compact to fit in corners and tight spaces
Simple controls
Virtual wall
Spot cleaning


CONS:

Small water tank
Disposable pads can be costly
No auto-docking
No scheduling features
Can't detect carpet well
No low battery or water level alerts
May leave streaks on darker floors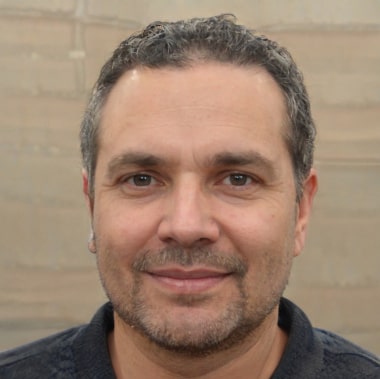 Author
Stephen A. Hancock received his M.S. in Mechanical Engineering (Robotics Track) from University of Utah in 2004. Since then, he's contributed to numerous articles and has been a consultant for many technical publications and websites.
---
Robot Tips & Tricks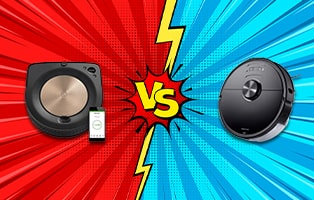 If you want to know which company wins the "Roomba vs. Roborock" battle, check out our article. You'll learn what makes each model exceptional, and things you'll need to know before buying.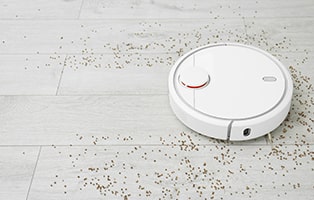 Robotic vacuum navigation systems include sensor mapping, camera mapping, gyroscopes, LiDAR, and SLAM. Read all about this technology in our informative article.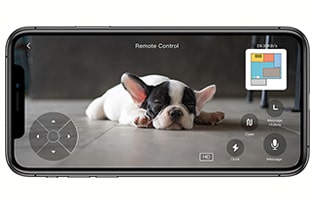 If you're worried that your robot vacuum is spying on you, you're not alone. Read our information-packed article to find out if it is, and what you can do about it.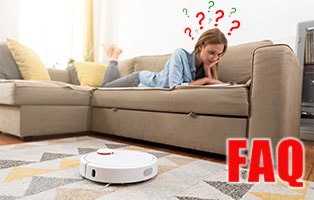 Robot Vacuum Cleaners are evolving at a rapid pace and have indeed become the new necessity for any modern household. Here's a breakdown on some of the most frequently asked questions about these devices