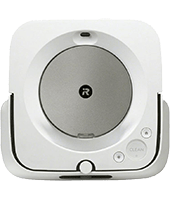 How smart is the iRobot Braava Jet m6 robot floor mop? And is it a smart investment? Find out in our detailed review.
We select, test, review and suggest the best products. We may earn a commission, if you buy something through our links.
The iRobot Braava Jet m6 may look like a simple little box. But in reality, it's an extensively upgraded version of the Jet 240. The Jet m6 is a tech lover's kind of mop, complete with mobile app control and Alexa /Google Home voice commands. It's also versatile, acting as both a dust mop and a wet mop.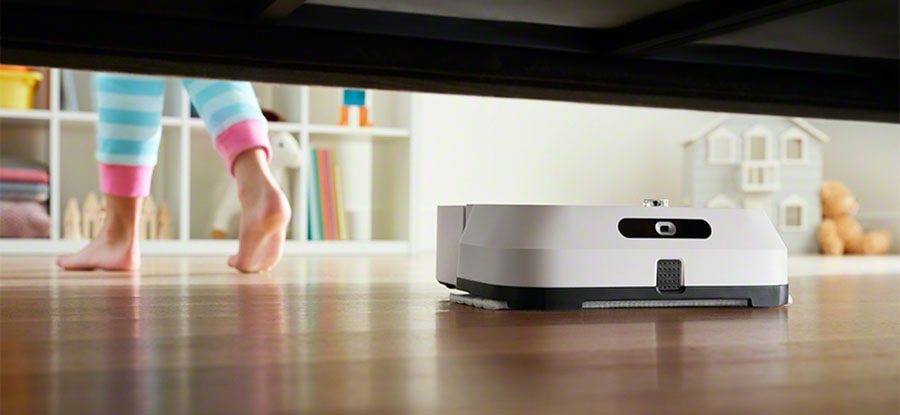 iRobot Braava is the versatile model, acting as both a dust mop and a wet mop.
So, what's the catch? Like every other product on the market, the Jet m6 has its limitations. One being price. It's an expensive little machine, so you'll have to decide if all its features are worth it to keep you from dragging out the mop and bucket so often.
What's in the box
When you unbox your Jet m6, you should find the following:
iRobot Braava Jet m6 robot mop (duh)
2 wet mop pads
2 dry mop pads
Charging dock with power cord
Sample size of Braava Jet Hard Floor Cleaning Solution
One of the smartest features on this mop occurs when you attach the cleaning pads. The robot mop knows which pad you put on it and will start the cleaning cycle based on that pad – either a dry sweep or a wet mop cycle.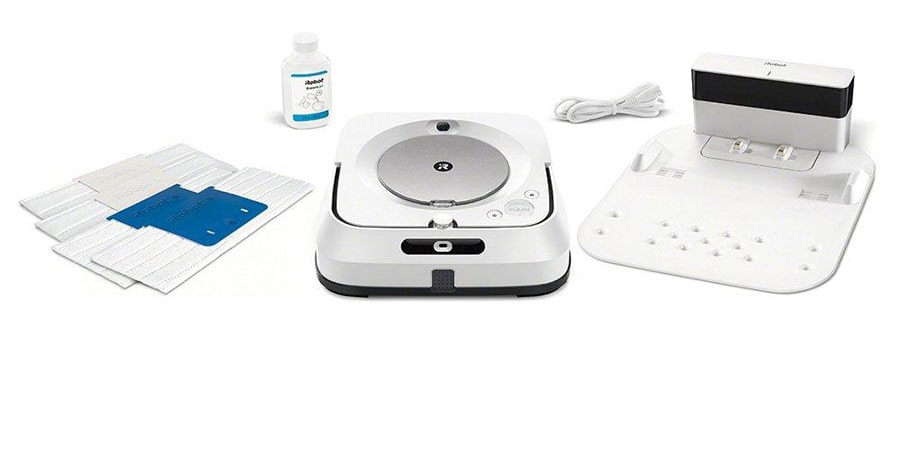 iRobot Braava Jet m6 unboxed.
These pads are disposable, however, so you're not going to get a lot of use out of them. There are washable pads available. The only issues there are that they're pricey and also gray, which somewhat camouflages all that satisfying dirt and grime the pad has picked up.
The manufacturer recommends using only water and the Braava Jet Hard Floor Cleaning Solution. If anything happens to your machine while you're using a different cleaner, it may void the warranty. Consider yourself warned.
Braava Jet m6 design and size
Dimensions: 10.6" W x 10.6" L x 3.5"H
Weight: 4.85 pounds
Warranty: 1-year limited
An entirely white body with gray, black, and silver accents give this mop a modern, techy appeal. The m6 has a maximized edge design (it's square) to help it better reach corners, under furniture, and along edges. It's not very tall so it can get under most toe kicks in the kitchen and bathroom.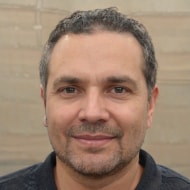 You will need a good WiFi and bluetooth connection to get this app (and those of other robotic appliances) synced to your devices.
There are 3 onboard buttons to power it on, tell it to clean, or go to the charging dock. More advanced controls are available through the iRobot HOME app.
What makes the Braava Jet m6 so smart
It's good at geography
At least when it comes to mapping out your home. With iAdapt 3.0 Navigation with Imprint Smart Mapping, the m6 learns, maps, and adapts to your home. This allows it to know exactly where it needs to go, even in complicated layouts, so it's not wandering in circles like lost shoppers in a mall parking lot on Black Friday. It also keeps the robot from hitting furniture and walls.
With the app, you can choose different zones and name them. So when you click "kitchen", it'll go right there and get busy. The more it travels, the better it learns the area so it can keep up with where it's already cleaned vs. where it hasn't. You can even set Keep Out Zones and virtual walls so it won't try to mop pet beds, shoes, power cords, etc.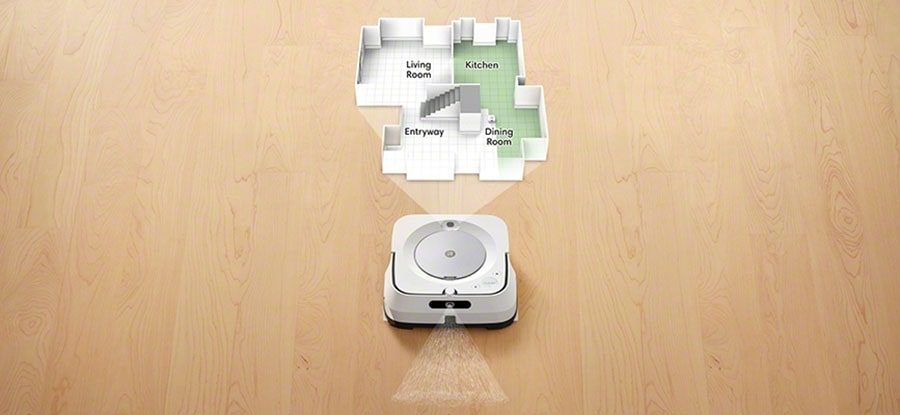 It could take a few rounds for m6 to get maps right but it learns and adapts to your home.
Yes, this may take a few rounds to get it right, so be patient with m6. He's just a little robot.
Now, what he does struggle with is dark flooring. The cliff sensors that keep the m6 from falling down stairs tend to freak out when they come across black tile floors or black patterns on rugs. It just won't go over some of these areas. It also struggles in rooms that are too dark, so don't expect it to work the night shift while you sleep.
It listens
Pair your m6 up with Alexa or Google Home Assistant. Once you've named the particular zones in your house, you can say, "Braava, clean my kitchen (bathroom, hallway, etc.)." And off it will go like a good little soldier.
Conserves water
A generous 15 oz. (540 ml) reservoir holds enough water to mop multiple rooms without wasting water. The tank is accessible from the top of the robot and removable for easy refilling.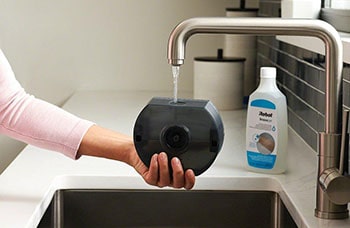 The precision jet spray sprays water where you want it – on the sticky messes and grime rather than all over the cabinets, furniture and walls. Oh, and get this – you can adjust the amount of spray from full to half, which is better for some floors.
The iRobot app will alert you when it's time to refill the tank. For those of you with particularly big rooms, you may find yourself having to refill the tank mid-cycle, which is kind of a pain if you want it to mop while you're out of the house.
Knows when to relax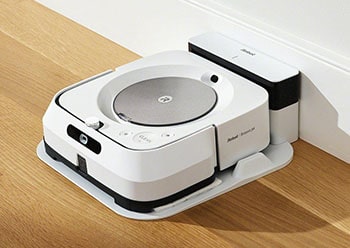 When the cycle is complete or if the battery runs low mid-cycle, the m6 will automatically return to the charging dock to juice up. This robot mop can cover up to 1,000 square feet in one cycle. Dry mopping, of course, covers more ground per charge.
The only big downside is the battery life isn't as long as comparable robot mops. It will run for 30 – 60 minutes depending on which cycle and cleaning modes you use.
If it recharges during a cycle, it will go to the last place it cleaned and start mopping again.
Plays well with others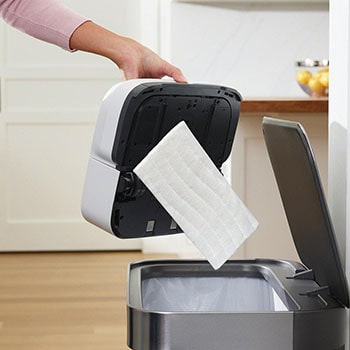 If you happen to be the proud owner of a Roomba i7 or Roomba S9, with Imprint Link, you can pair the m6 with either of them for a cool vacuum/mop duo.
You do this through the iRobot HOME app (of course) by choosing a specific area or room to clean. The vacuum will be the first to deploy. Once it's done the deed and come back to its dock, the m6 will set out to mop the freshly vacuumed floor.
How's that for smart?
When it's done mopping, just press the pad release button over your garbage can or washing machine, and you'll never have to touch the wet, dirty pads.
What are customers saying about it
They love all the control they have via the iRobot HOME app, especially the ability to set specific cleaning zones. Other customer praises include how the m6 automatically detects which cleaning pad you've attached to it and that it returns to the charging dock on its own.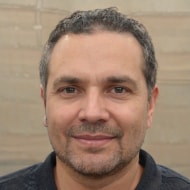 Robot mops should only be used on completely sealed floors. Unsealed wood floors (like hardwood) should not be wet-mopped.
Besides not doing well on dark floors, several customers said their mops wouldn't cross thresholds that were higher than 3 mm. If you have continuous flooring, that won't be an issue. Some people thought it left too many visible streaks on darker floors and left too much moisture on wood floors.
Is the Braava Jet m6 worth the cost
For tech lovers who aren't on a tight budget and those with good WiFi connections, the m6 will probably become one of your favorite cleaning buddies. It will do especially well if you have rooms with continuous sealed flooring that's not too dark.

PROS:

Excellent, customizable navigation
Easy to set zones and virtual barriers
WiFi connectivity through smartphone, Alexa, and Google Home
Precision water spray
Auto detects the type of cleaning pad
Auto return to charging dock
Pairs with Roomba i7 or S9 for vacuum/mop combo


CONS:

Expensive
Doesn't navigate well on very dark floors or in dim light
May leave streaks on darker flooring
Battery life per charge is relatively short
Comes with only 4 disposable pads
Washable pads are pricey
Has trouble going over thresholds higher than 3mm

Optional accessories

16 oz. Ideal for all sealed hard floors. Compatible with all Braava robot mops.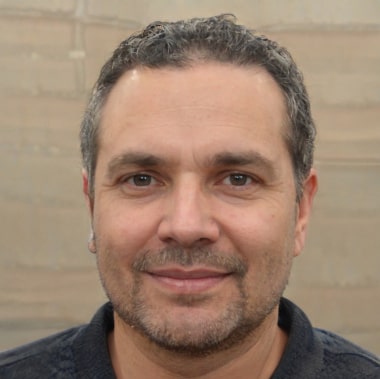 Author
Stephen A. Hancock received his M.S. in Mechanical Engineering (Robotics Track) from University of Utah in 2004. Since then, he's contributed to numerous articles and has been a consultant for many technical publications and websites.
---
Robot Tips & Tricks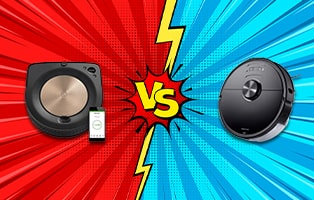 If you want to know which company wins the "Roomba vs. Roborock" battle, check out our article. You'll learn what makes each model exceptional, and things you'll need to know before buying.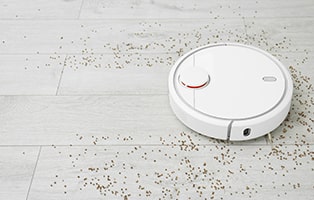 Robotic vacuum navigation systems include sensor mapping, camera mapping, gyroscopes, LiDAR, and SLAM. Read all about this technology in our informative article.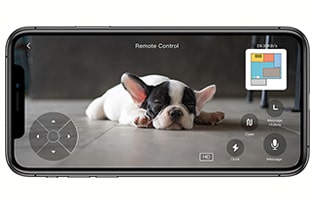 If you're worried that your robot vacuum is spying on you, you're not alone. Read our information-packed article to find out if it is, and what you can do about it.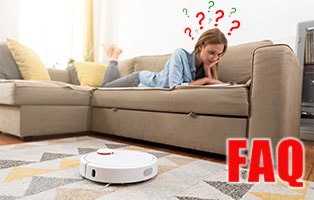 Robot Vacuum Cleaners are evolving at a rapid pace and have indeed become the new necessity for any modern household. Here's a breakdown on some of the most frequently asked questions about these devices