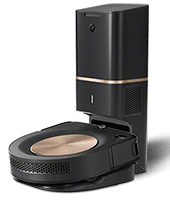 The iRobot Roomba s9+ may be the best vacuum robot money can buy. But when paired with the Braava M6 robot mop, it's a winning team! Here, we review both.
We select, test, review and suggest the best products. We may earn a commission, if you buy something through our links.
Just when we thought Roombas couldn't get any better, iRobot went and did it again with the Roomba s9+. They already wowed us with the self-emptying technology of the i7+. We were still coming off that high when they took it a step further with the new s series.
While this new generation doesn't feature anything new per se, it does have some improvements over the i7+. There's an updated design, increased suction, even more accurate navigation, etc. Like the i7+, this vacuum can also be linked to the iRobot Braava Jet m6 robot mop.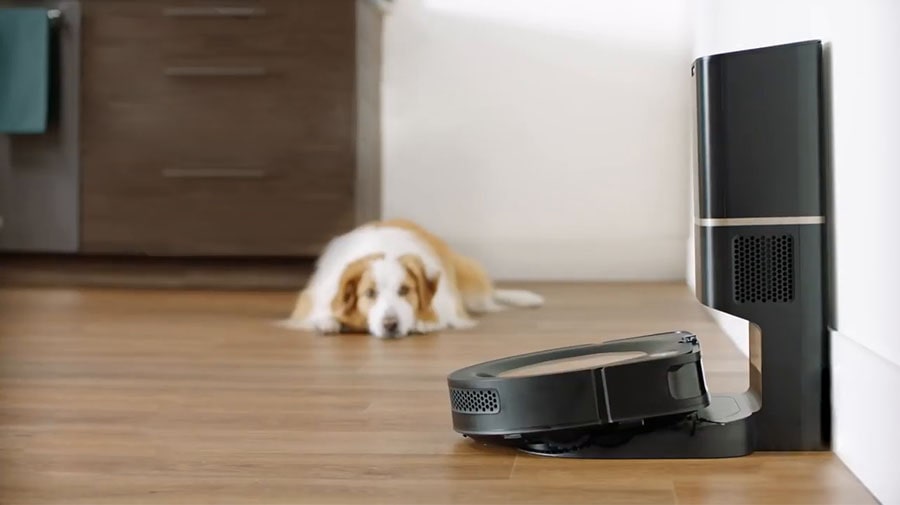 The iRobot did it again and took it a step further with the Roomba s9+.
What's the catch? Well, there's the cost. The average homeowner won't be rushing out to get this vacuum on a whim. It's a serious investment. Those who have the extra cash and who jive with the technology will be the first in line to snatch up the s9+.
What do you get with the Roomba s9+
As with the i7+, the + signifies the addition of the self-emptying base. When you open the box, you'll find the Roomba s9 vacuum, a Clean Base automatic dirt disposal, 2 dirt disposal bags, power cord, 1 extra high-efficiency filter, and 1 extra corner brush.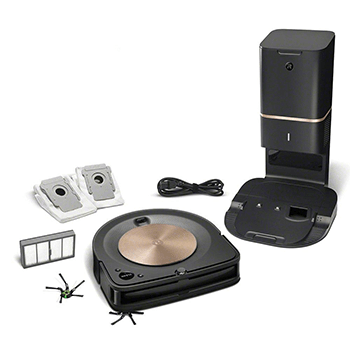 Battery run time: Up to 120 minutes per cycle
Charge time (from empty battery): 3 – 4 hours
Noise level: 65 – 68 dB
Roomba s9 Dimensions: 12.5" W x 3.5" H
Clean Base Dimensions: 11.5" W x 14.9"D x 19.02"H
Weight: 8.15 pounds
Warranty: 1- year limited
With the recharge and resume feature, the vacuum will return to the dock up to 3 times to recharge enough to finish a single run. On high power, the battery runtime will be shorter, down to 50 minutes and up to 120 minutes on low power. Keeping it on auto mode is probably the most efficient use of the battery for optimal performance.
Like the 900 series and the i7, the s9 can be controlled via the iHOME App or voice control via Alexa or Google Assistant. You will need a good WiFi connection for this to work properly however. If you don't have that, this vacuum will simply frustrate you.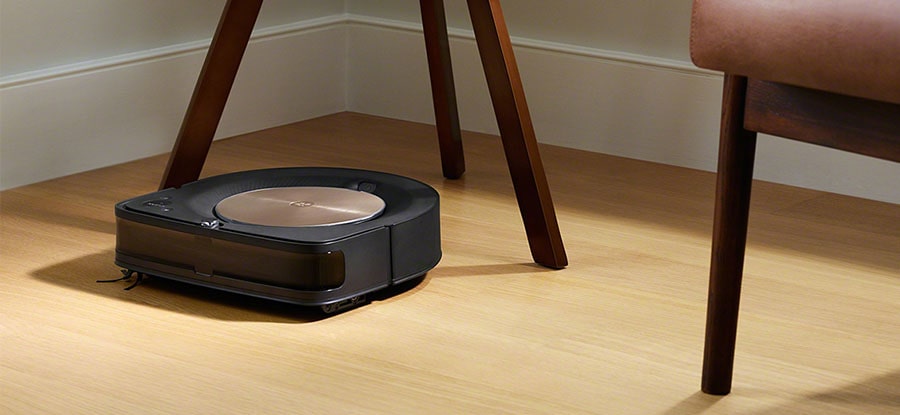 Unfortunately, at an average of 65 – 68 dB, the s9 is pretty noisy. You'll notice it more on hard floors and when it's emptying at the Clean Base.
More suction? Yes please.
One of the big improvements the s9 has over the i7 is increased suction power. The s9 has an estimated 2,500 Pa of suction power compared to the i7's 2,000. That's approximately 4 x the power of the i7 and a full 40 times the power of the earlier 600 series.
This makes it even better for carpets. Earlier designs, including the newer 900 series, often struggled on high-pile carpets. The s9's more powerful motor plus the Carpet Boost feature automatically adjusts the suction when it senses a change in elevation.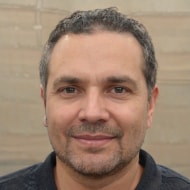 More suction means the more likely charging cables, shoe strings, etc. will get tangled up in the vacuum. So do a quick check, and get those things out of the way to avoid damage to both the objects and the machine
Mind you, this Roomba and all other robot vacuums will still not play well with thick shag carpeting. Anything over ½ to ⅝ inches thick will be a little iffy in terms of how well it can clean and maneuver.
If you have loose throw rugs without a non-slip backing on your hard floors, the s9 will likely just push them around and bunch them up rather than rolling over them. Loose shag throw rugs or those with fringes may pose a problem for the corner brushes, which can get tangled in the long fibers as they spin. Keep an eye out for the first couple of cycles. If it won't work well with your rugs, you may want to remove them altogether before you run the vacuum.?
Design upgrades
Earlier Roombas feature a classic round shape, whereas the s9 comes in a D-shape like other brands such as the Neato Robotics D7 have been using for a while now. Why is this cool?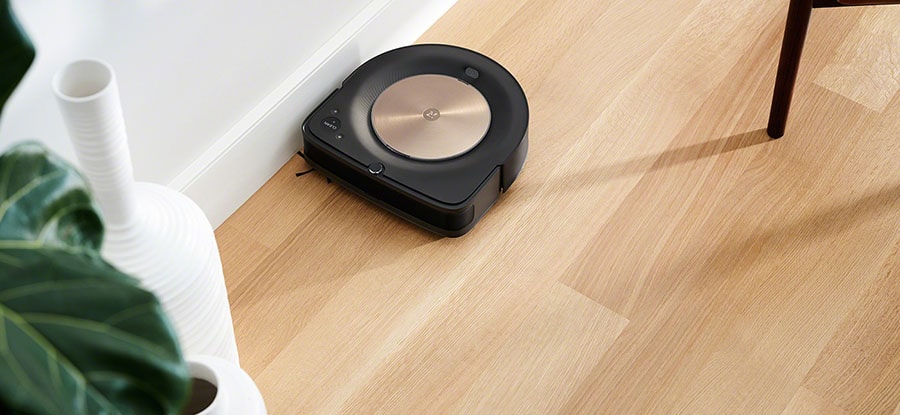 The squared-off front edge allows the s9 to clean edges and corners better.
The squared-off front edge allows the s9 to clean edges and corners better. Makes sense, right? A wider brush roll and gentler corner brush (formerly called a "side brush") also helps with this. Previous corner brushes were a little overzealous and tended to knock dirt away rather than sweeping it into the machine. The only problem is that the corner brushes don't hold up well on high-pile carpet, so you'll have to change them out often if you have thick carpeting.
Another subtle change was a redesigned and diffused exhaust which prevents hair and dust from getting blown around. You'll appreciate that more on hard floors.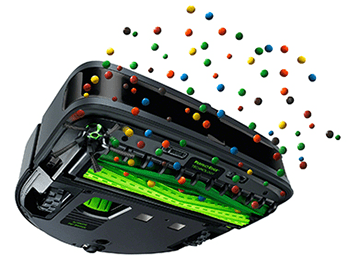 Like other Roombas, the brush rollers are silicone, which prevents hair getting tangled in them. The hair tends to accumulate on the edges of the brush roll. You can easily pop it out and slide the hair off, unlike a traditional bristle brush roller. The updated brush rollers are 30% longer with a slightly different surface pattern. Plus, they're positioned more toward the front, which works great with the straight side of the machine for edge cleaning.
The dustbin itself is now fully sealed for better allergen containment. It also has a bottom hatch that you can open just by pushing a button on top. That is, if you ever need to empty it manually.
Upgraded S9+ superpower
Yes, even the self-emptying feature got an upgrade with the s9. The Clean Base for the s9 has a more efficient and quieter motor. The filter is now a HEPA-quality, which works better to keep allergens contained within the dirt collection bag.
The only other change on the Clean Base is a slight relocation of the holes where the dirt is emptied. That being said, the s9 Clean Base is NOT compatible with the Roomba i7 mainly due to that little change.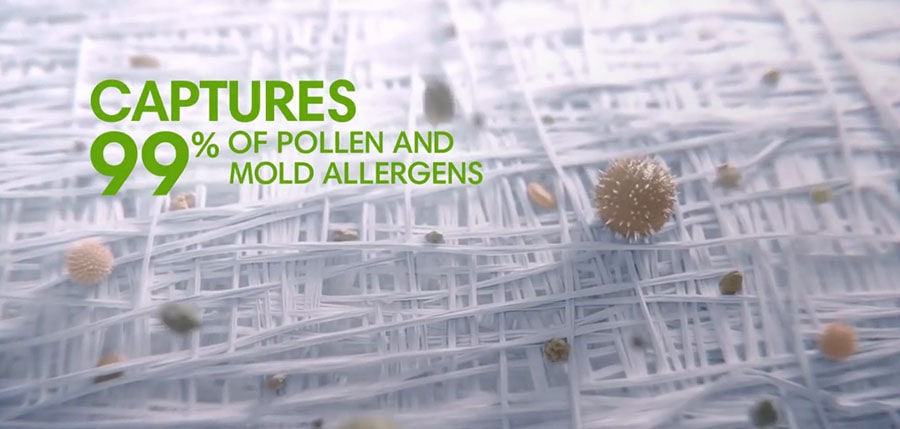 But it still holds up to 30 bins full of dirt. The only downside is that it's super loud when emptying. If you work at home and need to be on the phone, it would be wise to place the Clean Base as far from you as possible.
Improved cleaning modes
Corner cleaning – need we say more? The s9 can determine both inner and outer corners and will seamlessly navigate along the wall. Then it backs up and turns until it gets right into those corners with the corner brush.
Spot cleaning is also improved. No more spinning in a dizzying circle. It still spins, but better senses the dirt so that it can back up and go at it again if needed.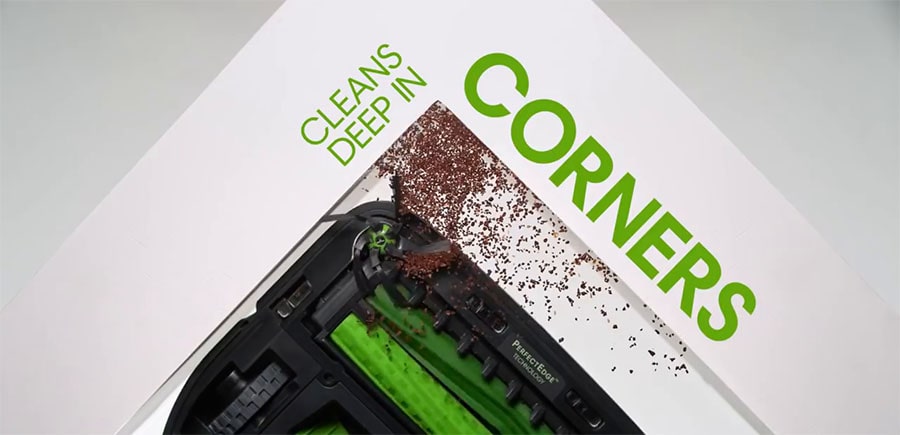 Enhanced cliff detector sensors (also in the i7) mean the s9 won't avoid dark floors. That's been a sore point for many robot vacuum owners.
Navigation genius?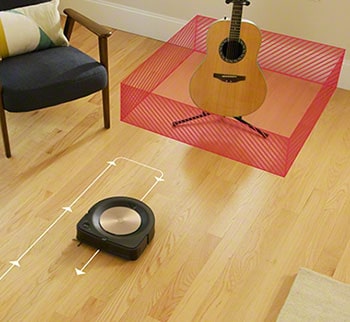 The s9 has basically the same navigation prowess as the i7, but has been upgraded to work more efficiently. It makes a sort of a rough draft pass the first go-round, then goes back to places it missed. Then it follows up all that with an edge-cleaning pass. The i7 struggles with some random navigation like circling chair and table legs multiple times.
Now one thing the s9 and i7 both lacked at first were the ability to set virtual walls (or no-go zones) in the app. However, in mid-2019, they rolled out Keep Out Zones as updates to the software, first for the i7, then for the s9. If you recently bought one and don't see the Keep Out Zones feature, check for software updates. If it's not there yet, it should be soon.
You can still limit the vacuum by setting it to clean specific rooms. So it won't go rolling into the nursery when the baby's napping if you don't tell it to.
For edge-cleaning, the s9 can get a little overzealous. The straight edge may bump against the wall or furniture and leave scratches. Hopefully that issue will be addressed in future software updates.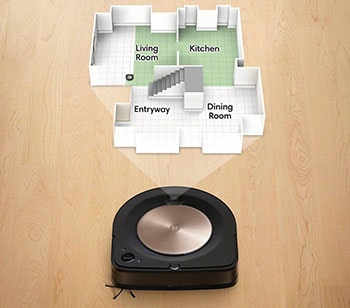 One important thing to note if you're upgrading from a 900 series or an i7 – maps cannot be shared between devices, so you can't transfer maps to your new Roomba. It will have to relearn your floor plans all over again.
But hey, it remembers up to 10 floor plans, so multi-level home? No problem. The only thing you'll have to do is carry it up or down the stairs. As of yet, these machines can't sprout legs and climb stairs. But would it really surprise us if robot vacuums with legs became a thing?
Probably not.


What are customers saying about the Roomba s9+
With this still being a relatively new product, reviews aren't plentiful and are pretty mixed. Those who loved the vacuum appreciated the upgrades for corner cleaning, longer battery life, and the self-emptying dustbin. They loved the better suction, and most people felt it cleaned better than any other robot vacuum they've owned. Pet owners were especially thrilled with the stronger suction and self-emptying bin.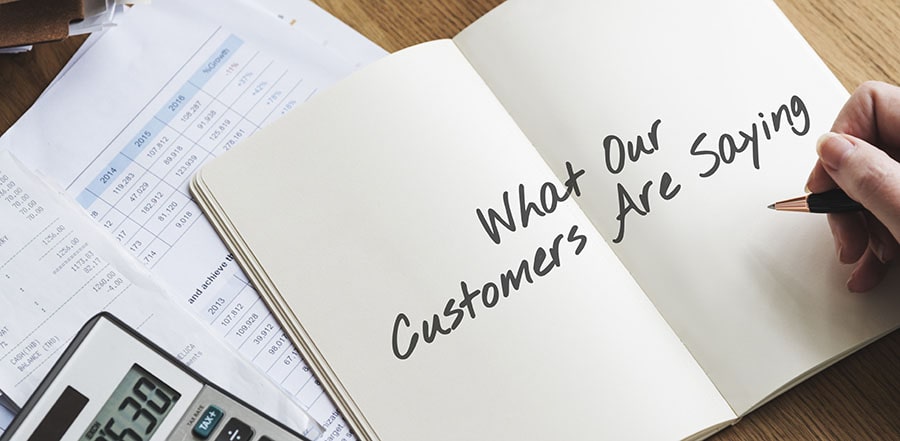 It was more of a hit with those who were upgrading their previous Roombas or other robot vacuums.
Customers weren't crazy about the price, which is no surprise. But those who didn't like the vacuum really didn't think it was worth the cost. One big issue several people had was how quickly the corner brushes wore out. Many people felt it took too long for the vacuum to learn the floor plans. There's also no handle to easily pick up the machine as in the i7 and previous models.
Those who weren't comfortable with the technology or who had bad WiFi seemed to have the most problems. Also, those who got the very first run of the s9 were more likely to encounter software bugs. iRobot has been consistently rolling out software updates, so these have improved a lot since the summer of 2023.

PROS:

More powerful suction
Better corner cleaning
Better allergy containment
Longer battery life
Integrates with Braava Jet m6 mop
Works great on carpet
Improved navigation


CONS:

Expensive
No carry handle
Not for those who aren't tech-savvy
Needs good WiFi connection
Loud, especially when emptying
Corner brush wears out quickly

---
Would you like a mop with that? Check out our review of the iRobot Roomba s9 + iRobot Braava Jet M6 combo!
We already like the iRobot Braava Jet M6 so much that it tops our list of the top mopping robots of 2023. It has the most advanced technology of the robot mops we reviewed. One of the smartest of those tech features being something called Imprint Link. This lets the iRobot Roomba i7 and s9 vacuums pair up with the Braava Jet m6 mop for the first truly automatic vacuum and mop collaboration.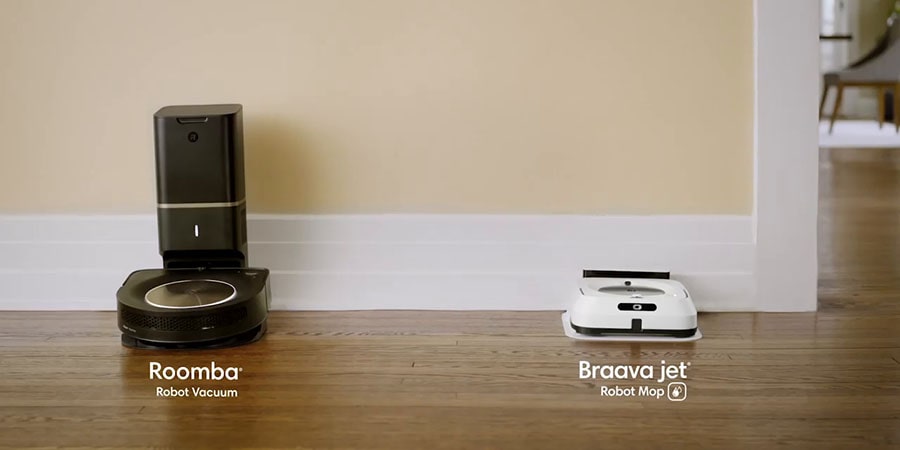 Wait, what about the hybrid vacuum/mops? Aren't they the first combo? Well technically, yes. But in terms of performance, they don't hold a candle to single-function machines. So let's just ignore those for now.
As of November 2019, some retailers have begun selling these in a combo package. However, the only real money savings in buying them together may be for shipping. It's very possible you may find seasonal sales, so keep an eye out for those.
Do they really play well together?
Yes! Both devices can be controlled with the iHOME app. You can choose specific rooms for them to dual clean or clean separately. When the Roomba is done with the vacuuming, it sends a signal to the mop, which then sets out to mop the freshly-swept hard floors. There may be a slight delay of 30 seconds or so after the vacuum is docked.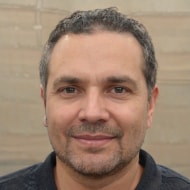 The vacuum and mop store mapping data separately and can't share maps…yet. But that makes sense because the mop can only traverse over hard floors, whereas the vacuum can clean hard floors AND carpet.
Both vacuum and mop work with Google Assistant or Alexa voice commands. Each robot will learn the floor plan better with every cycle. They'll begin to recognize rooms plus keep track of where they've already cleaned and where they need to go next.
What's so great about the Braava Jet m6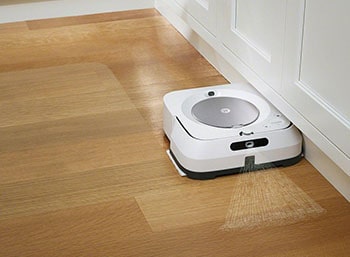 For robot mops which still aren't quite as technologically advanced as their vacuum counterparts, the m6 is ahead of the pack. It's navigation is top-notch, with laser sensors that detect when its approaching carpet, as well as cliff sensors and an infrared sensor on the back. That sensor allows it to dock backwards so the wet pad isn't on the charging contacts.
You can also set Keep Out Zones in the app to form virtual barriers so the mop won't roll over thin rugs or pet food or whatever.
It also covers a huge amount of surface area – up to 1,000 square feet. Its predecessors barely covered 100 square feet. The water tank holds a generous half liter of water. You can use either dry or wet pads, and those can be reusable or disposable. The m6 can actually recognize which pad is attached so it knows whether to use water or not.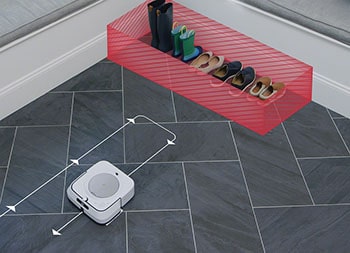 Whether you want a little or a lot of water, you're in total control on the app. Choose from standard, deep clean, or extended coverage modes. Deep clean will use more water with shorter strokes and is better for sticky stains.
Extended coverage uses the least water with longer strokes for light-duty cleaning. There's also a slider for you to adjust the amount of spray.
While you'll still have to be more hands-on with the mop than the vacuum for filling the water tank and attaching the pads, you won't have to handle a wet, dirty pad. Just hold the mop over the washing machine or trash, press the eject button, and boom, done. Out of sight, out of mind.
What are customers saying about the Roomba s9+ & Braava Jet m6 combo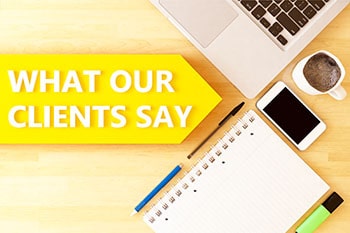 As this is a relatively new offering, there aren't a ton of customer reviews yet. However, those who have tried the two robots together have reported great results. Several customers said their floors have never been cleaner. One even commented that she hasn't used a regular vacuum in over a month. Mind you, that's not the norm, especially for pet owners and high traffic floors.
But, overall, customers have been happy with the way these two work in tandem. They do wish maps could be shared between the devices so each one doesn't have to spend time learning the floor plans. Also, the m6 still has some issues like not being able to climb over short thresholds. Plus, it tends to leave tire marks on dark floors.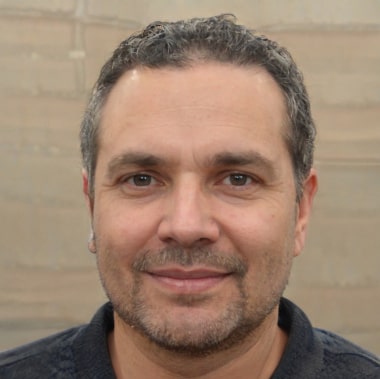 Author
Stephen A. Hancock received his M.S. in Mechanical Engineering (Robotics Track) from University of Utah in 2004. Since then, he's contributed to numerous articles and has been a consultant for many technical publications and websites.
---
Robot Tips & Tricks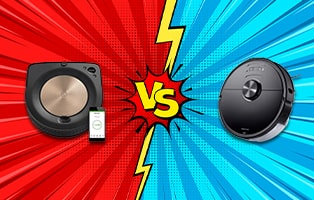 If you want to know which company wins the "Roomba vs. Roborock" battle, check out our article. You'll learn what makes each model exceptional, and things you'll need to know before buying.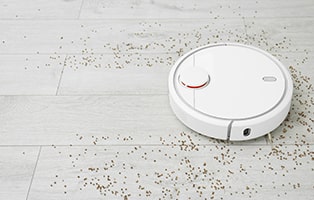 Robotic vacuum navigation systems include sensor mapping, camera mapping, gyroscopes, LiDAR, and SLAM. Read all about this technology in our informative article.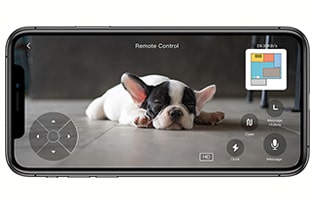 If you're worried that your robot vacuum is spying on you, you're not alone. Read our information-packed article to find out if it is, and what you can do about it.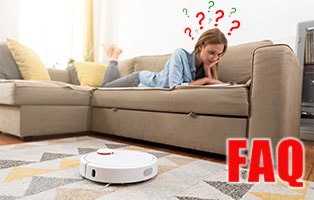 Robot Vacuum Cleaners are evolving at a rapid pace and have indeed become the new necessity for any modern household. Here's a breakdown on some of the most frequently asked questions about these devices