Pool maintenance expert, Luke Reed, BS Civil Engineering
Our pool maintenance expert, Luke Reed, earned his BS in Civil Engineering from Georgia Tech in 1998. Since then, he's worked in a variety of industries, beginning his career with the Georgia Department of Transportation's Bridge Maintenance Program.
Luke has always been a swimming junkie. When he was in high school, Luke won top honors in his high school swim team at state and national competitions. His fondest childhood memory was when his dad surprised the family with a 4-foot deep above-ground pool. It seemed huge to him and his brother.
Now Luke spends most of his time doing residential pool construction for families across the Southwest US. His pool projects are much bigger than what he started with, consisting of huge, multi-level pools, infinity pools, and more. He enjoys teaching homeowners how to properly maintain their pools so they can enjoy them to the fullest.
His contributions include consulting and writing for trade-influential magazines such as PoolProMag and Luxury Pools Magazine. We're happy to have his expert advice so our pool product and maintenance content is accurate and relevant.
Luke resides in Tucson, AZ with his wife Eleanor and twins Sam and Sean, who love to swim as much as their dad does. They think their robot pool cleaner is the coolest thing ever.
Pool Maintenance Tips & Tricks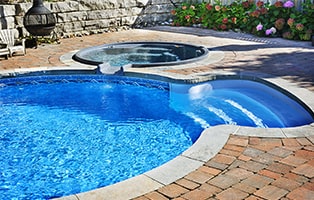 With all the different types of swimming pools available, such as in-ground and above-ground, it can be difficult to decide which one to get. Our guide including pros and cons can help you make that choice.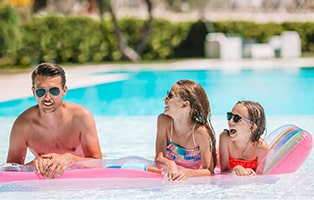 Germs and bacteria can cause life-threatening illnesses in a swimming pool. Find out what the dangers are and what you can do about them by reading our article.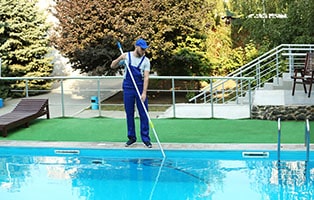 Dreaming of entrepreneurial success? Check out our guide on how to start a pool cleaning business. You'll find everything you need to know to set one up.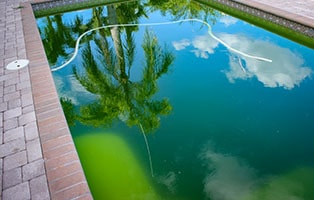 Is your swimming pool too murky to swim in? In our informative article, you'll discover the causes of a cloudy pool and how to fix the problem.