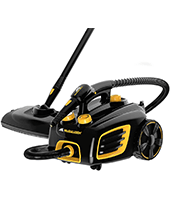 Here's our 2023 review of the fantastic McCulloch MC1375 steam system. This exceptional machine makes light work of household chores.
We select, test, review and suggest the best products. We may earn a commission, if you buy something through our links.
The fantastic McCulloch MC1375 multi-purpose steam cleaning machine is perfect for all kinds of household jobs. It's much more versatile than a steam mop, and you don't even have to use distilled water because ordinary water will do.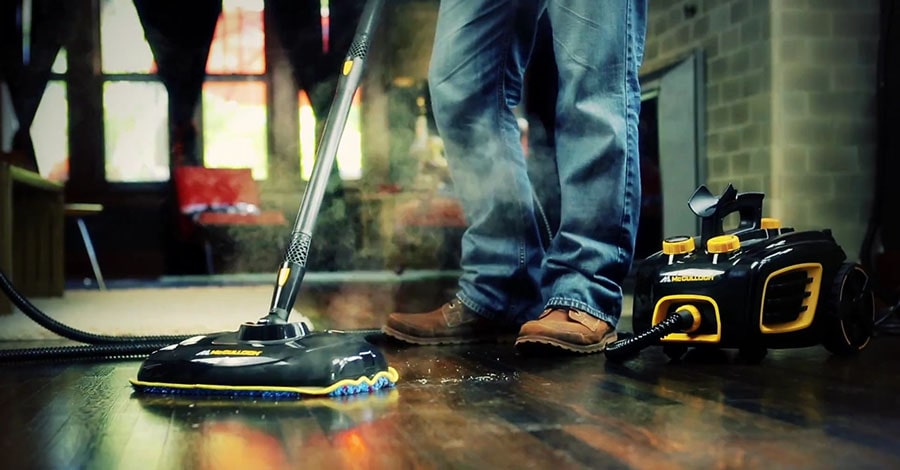 MC1375 is much more versatile than a regular steam mop
For more than 70 years, McCulloch has gained a well-deserved reputation for being an innovative manufacturer of reliable outdoor power equipment. Their heavy-duty steam cleaners blast away dirt, muck, and assorted other filth better than most other machines on the market.
Features
20 attachments add tons of versatility;
Get into crevices with the extra-long power cord;
Chemical-free family-friendly cleaning;
On-demand variable steam control;
Powers away disease-causing pathogens;
The perfect auto-detailing accessory.
Who's the McCulloch MC1375 For
If you have tiny tykes or pets and want to keep them safe from harsh chemicals, this is the machine for you. It's easy to clean all the gunk and grime from pet enclosures, such as birdcages or cat carriers. That's much better than having to lug them outdoors and spray them down with a garden hose!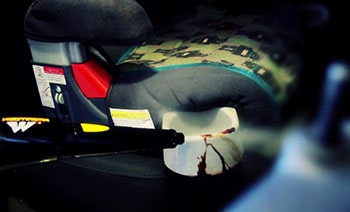 If you want to sanitize a disgustingly dirty mattress, you could throw it out. However, you could also use the MC1375 to make it look almost new again. Use the unit to sterilize your countertops so there are no more illness-causing pathogens. You can also clean unsightly filth from your glass shower doors and tracks.
It's the perfect machine if you want to detail your car like a pro. With the MC1375, you'll transform formerly arduous automobile-cleaning chores into a relatively easy process.
It works exceptionally well on cupholders with coffee residue, peanut chews that made a yucky mess on dashboards, and filthy fabric seats. You can even use the MC1275 to scrub lake detritus from boat hulls, power away algae and mold from your deck, or remove wallpaper you suddenly decide is taking away from the carefully-cultivated aesthetics of your home.
You'll find dozens of uses for this endlessly versatile cleaning machine!
Pros

Harness the Pristine Power of Nature
Properly cleaning household surfaces requires so much more than merely going over them lightly with a vacuum cleaner or duster. So much crud can get bypassed if you only do this. This makes your cleaning surfaces perfect breeding spots for bacteria, viruses, and other disease-causing microorganisms.
To get your home thoroughly clean, consider harnessing the extraordinary power of steam. With the MC1375, high-pressure jets of superheated water instantly obliterate caked-on residue, powering away even stubborn stains. What's more, it does all this without emitting harmful VOCs (volatile organic compounds) into your household ecosystem.
Many cleaning products contain VOCs, which can cause all kinds of health problems. You can reduce your risk of incurring these ailments by using the MC1375.
By adding this device to your arsenal of cleaning gadgets, you'll never have to breathe in harsh chemicals again!
Ability to Modulate Spray Intensity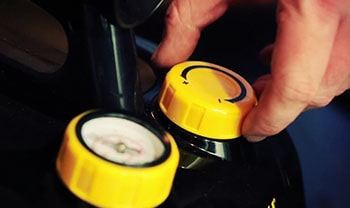 The MC1375 doesn't just blast out steam at one intensity level. A dial near the hose port allows you to choose how much or how little steam to use.
That way, if you're blasting away years of baked-on grease on a backyard grill, you can dial the cleaner up to top power. Let's say you're cleaning your expensive Theodore Alexander Alexa Hamption Sofa Couch and don't want to damage the material. In that case, you can turn the nozzle down.
With the easy-to-read pressure gauge, you'll always know how much pressure you're using.
Extra-long Cord
The MC1375 has an extra-long 18-foot power cord and 10-foot steam hose that's insulated with a proprietary and highly durable material to keep it from melting or cracking. That way, hot steam gets safely channeled to the nozzle and not to your face.
However, don't worry that the cord and hose aren't flexible enough to get into those hard-to-reach places. That's because they're both sufficiently pliant to allow for the inevitable twisting and turning necessary to maneuver the machine into tight spaces.
Endless Versatility
You get 20 endlessly versatile accessories that will become indispensable weapons in your fight to keep your home dirt and pathogen-free. Here's some of what you get: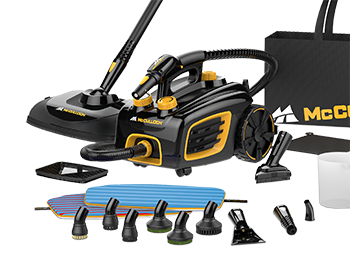 Mop pads
Floor mop
Nylon brushes
Brass brush
Angled nozzle
Squeegee
Scraper
Scrub pad
Wield the handy-dandy utility brushes to blast away repulsive grime from ovens. If you have larger surfaces to clean, use the scrub pads to boost your scrubbing power.
The most useful tools are the three-inch scraper for quickly getting rid of caked-on messes and the four-inch triangular brush for getting into tiny crannies and nooks. Also, the extra-wide scrubbing mop pad to get all sealed floors sparkling clean.
The 58 pounds of steam pressure the machine is capable of generating can be used on all kinds of surfaces, including: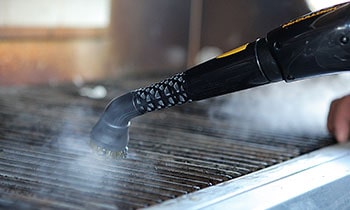 grout;
laminate;
ceramic tile;
granite;
sealed wood flooring;
grills;
automobiles.
Ergonomically Designed Wand And Handle
The tools attach to the end of a 16 ½-inch ergonomically designed extension wand, and the steam gun has a nice, soft grip. This makes them comfortable to use when you're doing lots of deep cleaning. It also comes with a trigger lock that significantly reduces finger fatigue and gives you the option of continuous steam.
Large-capacity Water Tank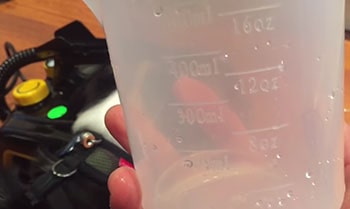 According to the manual, the 48-ounce water tank heats up in under 12 minutes and provides up to 90 minutes of steam. However, it usually doesn't take more than 10 minutes, even if I fill it with ice-cold water.
Because the tank has a large capacity, you'll spend less time refilling and more time cleaning. Usually, one tank is sufficient to wash a car. However, if your vehicle is filthy, you might have to fill it again.
The tank has a sturdy brass cap that holds up well under continued use.
Additional Benefits
If your steam cleaner fails within the first two years, the company will replace it free of charge. I've heard that the company is particularly good at honoring this guarantee.
The unit is light and easy to move around, so you're less likely to feel tired after an all-day cleaning session. It maintains pressure extraordinarily well, even after extended use.
Cons

Although the MC1375 is in so many ways an exceptional machine, it's not perfect. For example, some users have had the unfortunate experience of the hose inside the floor attachment becoming disconnected after only a few short months of use. When that happens, steam shoots out from the top of the attachment, rendering the unit utterly useless unless you want to recreate Yellowstone's Old Faithful geyser in the middle of your living room.
I couldn't believe how unbelievably flimsy the accessory bag is. It's more akin to a cheap fabric shopping bag than the high-durability tote I would have expected from this outstanding manufacturer of quality cleaning products. Lastly, the bristles on the attachments are too stiff and don't hold up very well over long-term use.
Final Verdict: Should You Buy the McCulloch MC1375
Although the McCulloch MC1375 does have a few flaws, it's still a well-designed unit that'll help keep your home blessedly free of grunge and crud.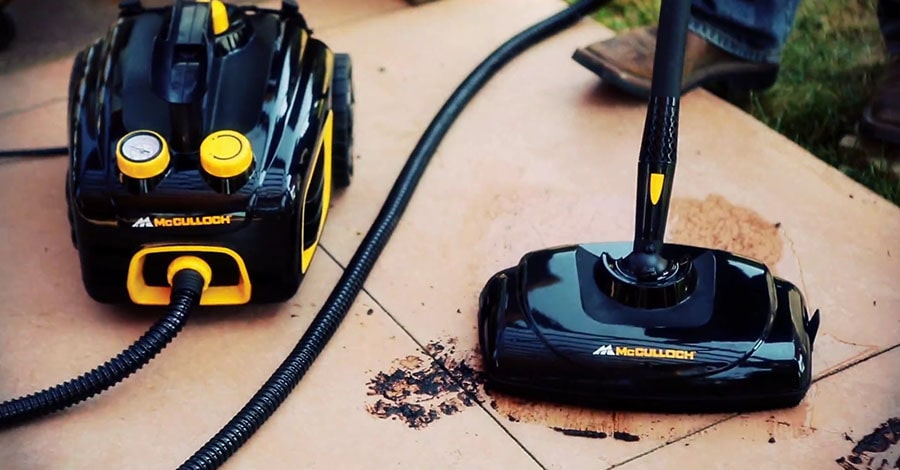 McCulloch MC1375 is a well-designed unit
That's why I'm recommending this machine. However, only buy it if you want to make housework a more effortless, less strenuous process. If you're a glutton for punishment, keep cleaning things the old-fashioned way. I think a majority of households will want to go with the former option!
For more steam mop reviews, check out our guide.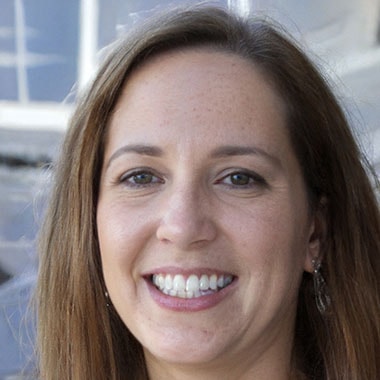 Author
Melba Espinal is a proud mother and self-professed "neat-freak." She started a successful cleaning service to earn money while obtaining her degree in Environmental Engineering from the University of Washington. After growing the business from a part-time job to a full operation with a fleet of vehicles and a team of employees, she now focuses on helping homeowners with her expert tips and advice!
---
Mop Tips & Tricks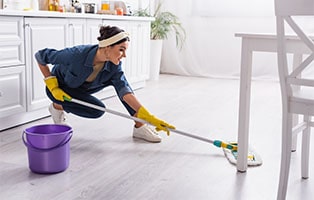 Everyone thinks they know how to clean floors. However, do you really know the steps you need to follow so you don't damage expensive surfaces? Check out what we wrote to find out.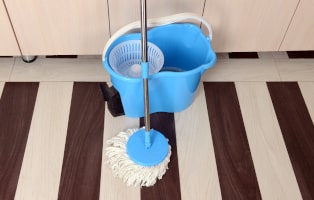 Wood floors need a bit more TLC than other hard floors. The wrong cleaners can dull them, hard shoes can scratch them, and water can warp them. Here are our tips to clean, mop, and maintain any wood flooring.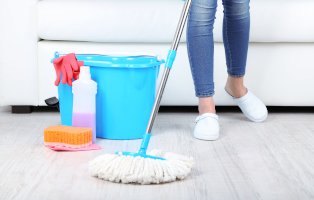 Mopping isn't rocket science, but there are some tips and tricks to get the most out of that not-so-fun task. Here, we'll tell you some of the best ways to mop floors using spin and steam mops.