Best Pool Skimmers of 2021: Automatic (Robotic Floating, Basket) And Manual
Having a pool in your backyard can be a GLORIOUS way to go on vacation without traveling—that is, if you're regularly cleaning it. If you need a device to help do this, read our reviews and buying guide of the best automatic (floating, basket, or robotic) pool skimmers.
Then, you'll know exactly which one to buy so the waters of your pool can be crystal-clear and sparkling clean as can be! This way, you can minimize the health risks of dirty swimming pool water.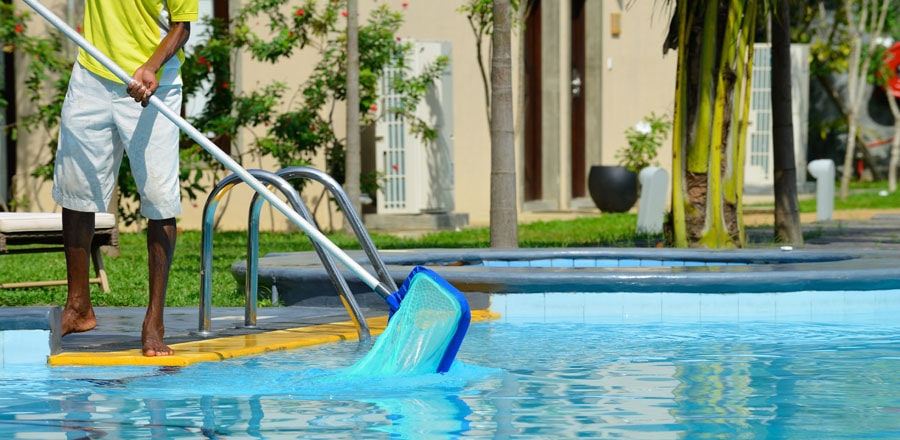 Pool Skimmers make skimming water an effortless task
A good swim pool skimmer helps you keep all the nasty leaves and debris out of your inground or above ground pool. It makes skimming water an effortless task. With all the unsightly, potentially unhealthy scum gone, your pump will work so much more efficiently.
So, slap that telescoping pole on your skimmer and whip that pool into shape!
Best Pool Skimmers of 2021 – Ratings & Reviews
---
---
---
---
---
---
More About Pool Skimmers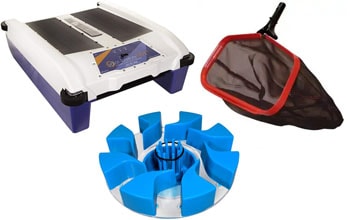 A skimmer's primary purpose is to remove all the nasty debris from your pool. That way, you can take a nice refreshing dip without worrying about getting out of the water covered with slimy leaves, dead grasshoppers, and God knows what else.
More antiquated pools have concrete skimmers built right in them. Others are designed to hang on the side.
Newer types include floating automatic or robotic skimmers that work independently from the pool's main filtration system.
Basically, there are three kinds:
Manual
Automatic
Self-Propelled
Manual Skimmers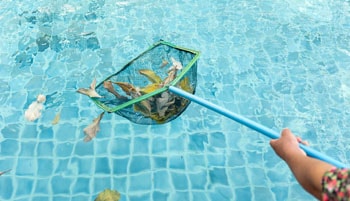 Manual skimmers are the most inexpensive type because they're just fine mesh netting mounted on telescoping poles.
You can't get more low-tech than that!
They're only suitable for capturing large debris such as leaves.
Automatic Skimmers
If even the thought of skimming your pool by hand exhausts you, it's time to part with a little bit of your hard-earned money and buy an automatic pool skimmer.
An automatic pool skimmer (as its name might suggest) is a device that AUTOMATICALLY sucks up all the garbage floating around your pool. It's designed to filter out whatever is in the upper 1/3 inch of your pool water.
Some automatic skimmers work all by their lonesome–solitary sentinels prowling the pool for intruding impurities.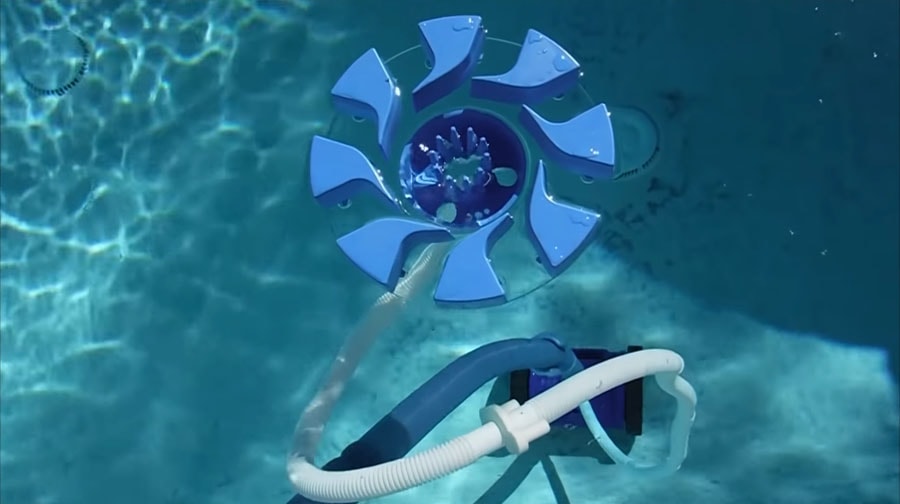 Others team up to get rid of aqueous garbage with bottom-feeding cleaners, whether they be suction side devices or pressure side machines.
An automatic skimmer is a fantastic way to reduce the time you spend on pool maintenance. This gives you more time to enjoy the delights of the summer.
If you want to keep your pool water as clean as possible, you should have more than one automatic skimmer.
A good rule of thumb is there should be one skimmer for every 500 square feet of pool surface. That way, you can make sure your pool always stays clean.
Automatic skimmers work best when strategically placed downwind. Then, the breeze can push the floating litter right into the maw of the unit.
Suction Vs. Return Jet Types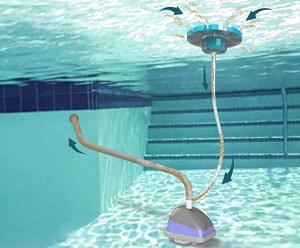 Automatic pool skimmers of the suction variety connect to your pool's output jet.
These machines generate a powerful vortex that captures floating surface junk and sends it directly to the pool's dedicated filtration system. They're MUCH better at getting rid of swirling surface debris than skimmers that stay in one place.
Then, there's the return jet style of skimmers. Because they're powered by water returning to the pool, they put ZERO strain on your pool's pump, preventing premature burnout.
Self-Propelled
Self-propelled pool skimmers are floating devices that use an onboard energy source to effortlessly glide along the surface. Along the way, they pick up unsightly floating garbage and deposit it into a collection canister.
These units aren't connected to your filter or pump, so they don't put any strain on either of them.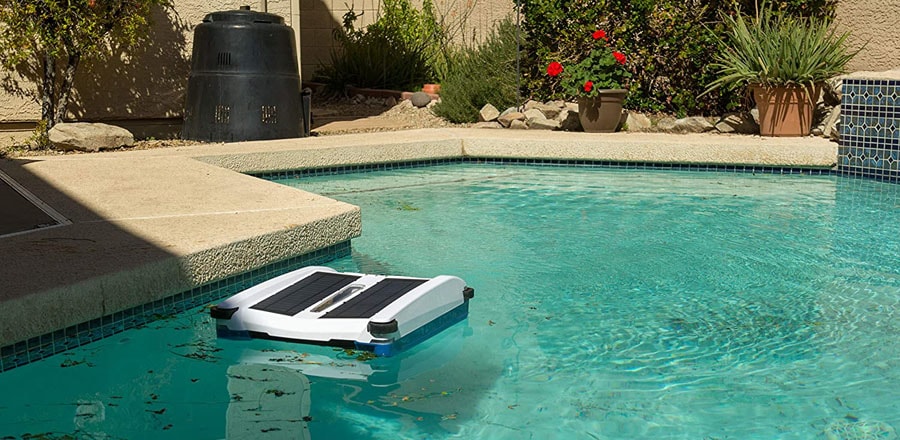 Most self-propelled skimmers use solar energy
Most of them use solar energy as their power source. They're way more expensive than other types of skimmers, but you'll save money on electricity in the long run.
Battery corrosion can be a HUGE problem in these skimmers because water has a nasty habit of getting into the compartment. Another problem is the blistering UV rays of the sun can cause the plastic in the propellers to degrade over time.
Then, your poor mechanical cleaner won't be able to carry out its mission anymore.
Cleaning the Skimmer Basket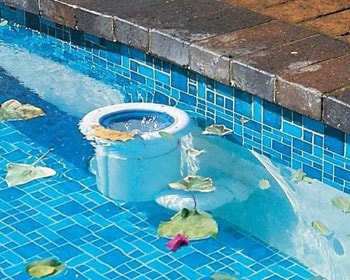 It's crucial that you regularly clean skimmers that are connected to your pool's pump. If the debris gathered by the skimmer is left to accumulate, it can strain the pump, potentially causing it to burn out.
That's why, during the summer, the basket should be cleaned out every single day. If storms have recently ravaged your area, you'll want to check it more frequently.
You can clean your pool skimmer by taking the cover off, pulling the basket out, and tossing whatever is in the basket into a nearby garbage can. If the basket looks grungy, give it a good spraying with a hose.
Some people say it's okay to drop chlorine tablets right into the skimmer basket. This isn't the best idea because the high chemical content can damage the unit.
However, you can put a couple of tennis balls in the basket to absorb floating oils, including sunscreen and makeup residue. Replace the tennis balls when they start to look worn out.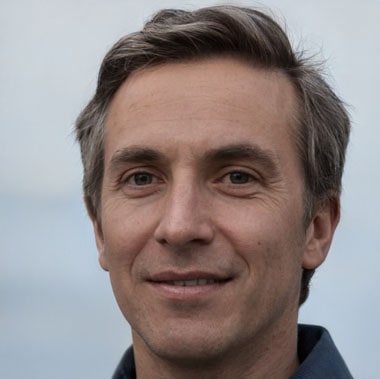 Author
Our pool maintenance expert, Luke Reed, earned his BS in Civil Engineering from Georgia Tech in 1998. Since then, he's worked in a variety of industries, including design and construction of luxury swimming pools.
Pool Maintenance Tips & Tricks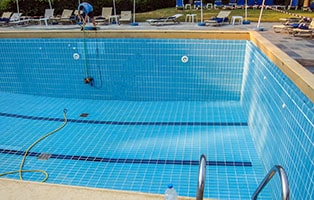 We've written an article on how to empty a swimming pool drain. Doing it wrong can result in damage in the thousands of dollars. Read what we have to say so you can avoid a costly mistake.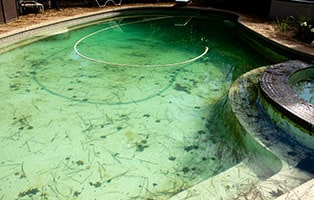 If you want to know how to get rid of black algae from your pool, you'll want to read our informative article. Our valuable tips will help you to get rid of this aquatic menace so you can enjoy the fun-filled delights of summer.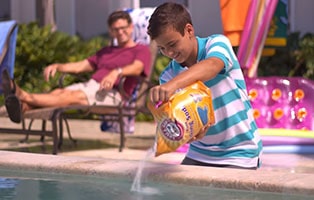 If you want to know the answer to the question "How much baking soda to add to your pool?" as well as other ways to make pool maintenance easier and cheaper, read our highly informative article.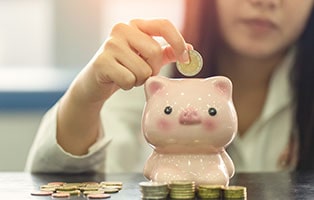 Want swimming pool advice that can save you lots of money? Our article will provide you with all the tips you need to make owning a pool less expensive.