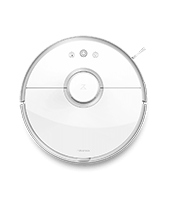 Is the Roborock S5 vacuum robot & mop a good alternative for the latest Roombas? Read our review to find out.
We select, test, review and suggest the best products. We may earn a commission, if you buy something through our links.
The Roborock S5 is the second generation of robot vacuums produced by electronics company Xiaomi. The first gen device was a single functioning vacuum. Now we have the 2nd gen S5, a hybrid robotic vacuum and mop in one.
There's a little confusion among customers over the model numbers. If you see model number S50 or S55, the third digit just signifies a different color. This machine currently comes in the default white (S5 or S50), black (S55), and rose gold (S51). Color is the only difference between them.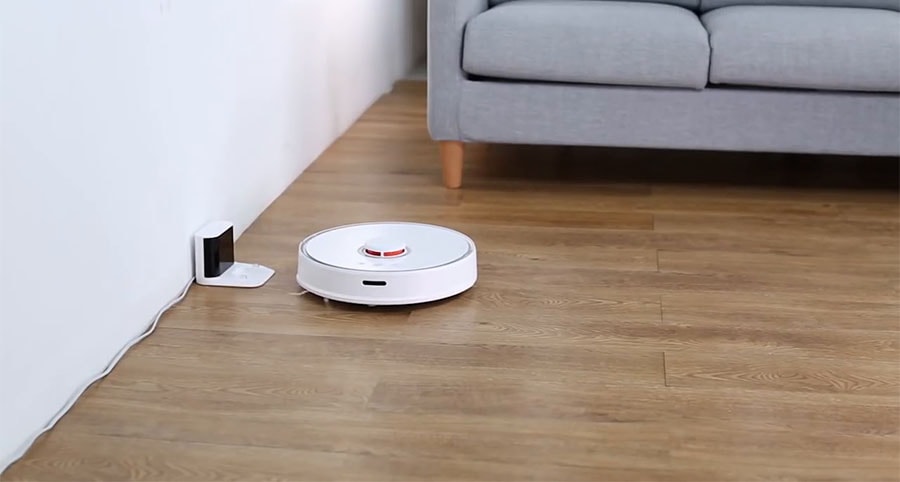 Roborock S5 is a hybrid robotic vacuum and a mop in one device.
Generally, we shy away from the hybrid vacuums since multitasking machines usually aren't that impressive in overall performance. The Roborock S5, however, is an exception. The price is reasonable for the features it has, including smart navigation, app controls, and more.
There is a BUT coming up here – this machine is still a much better vacuum than mop. Let's not get ahead of ourselves, though. Let's dive into the deets about the Roborock S5.
What do you get with the Roborock S5
When you unbox your new floor cleaning robot, you'll find the robot vacuum/mop, user manual, 2 mop pads, charging dock with power cord, 2 washable HEPA-style filters, 4 water tank filters, brush cleaning tool (tucked into the machine itself), and a plastic waterproof base.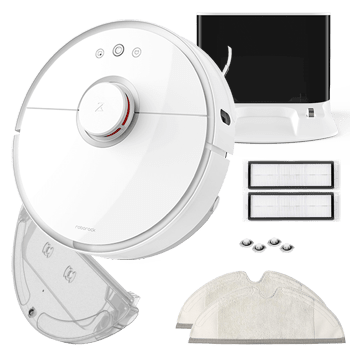 Battery run time: Up to 150 minutes per cycle
Noise level: ~64 dB
Roborock S5 dimensions: 13.8" W x 3.8" H
Water tank capacity: 140 mL
Weight: 7 pounds
Warranty: 1-year
As soon as you download the Mi Home app, check for firmware updates. This is important, as new features and tweaks seem to be released every time you blink. This applies to all app-operated electronics, since technology is constantly changing.
At 3.8 inches high, the S5 isn't much of a low-profile player. It probably won't fit under most sofas and may even struggle with toe-kicks under cabinets.
The waterproof base is a round, thin plastic sheet that sits under the S5 at the charging base to prevent the damp mop pad from damaging the floor. If you have a tile or other water-resistant flooring, it probably isn't necessary.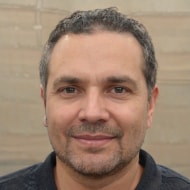 For most self-contained mops, including steam and robotic, you should only add water to the tank. Chemical cleaners can damage the valves and other inner workings, which could void your warranty. If you want to use a cleaner, spray it only on the mop pad itself or directly onto the floor.
Unlike many robot mops, this one also includes filters for the water tank. This means you can probably get away with tap water rather than filtered or distilled. But the manufacturer does NOT recommend adding any cleaning solution to the tank – only water.
Cleaning à la modes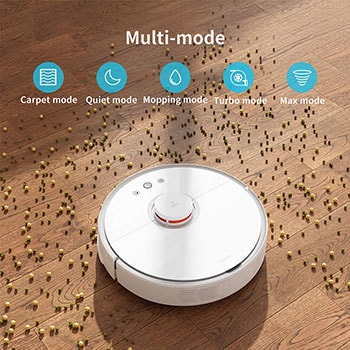 Besides the mop mode, there are 4 vacuum cleaning modes, which you can choose in the MiHome app:
Quiet – good for hard floors, lower traffic areas, and times when you need a quiet environment.
Balanced – allows for automatic adjusting of suction power to maximize battery life and noise level on different flooring types.
Turbo – faster cleaning, which may not provide as deep a clean on high traffic areas. Good for those, "Uh-oh, the mother-in-law will be here in ten minutes" kind of days.
Max – operates at the highest suction possible at a slower rate to clean high traffic areas or spot cleaning.
It does have a carpet mode that you can turn on and off, which will let the vacuum automatically detect carpets so it can increase the suction. It's also part of the "balanced" mode.
Controls from the machine itself are limited to 4 buttons – on/off, start/pause cycle, spot clean, and send to charger. Most of the control lies within the Mi Home app, which we'll discuss below.
Impressive navigation & neat carpet lines!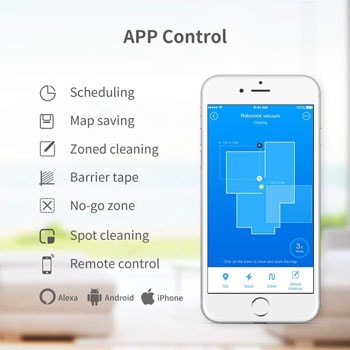 The Mi Home app is super versatile. With the app, you can start or stop the machine and send the S5 to specific zones when needed. You can also choose from any of the cleaning modes and applicable settings. The app shows you a map of where the mop is and has been. It also shows you updates on the condition of each part that will eventually need replacing or cleaning such as the brush roller, side brush, sensors, and filter. You can also schedule cleanings and alter a bunch of other settings.
Though the S5 is really smart when vacuuming, earlier models lost some IQ points when in mopping mode. It won't stop at your carpets and rugs while mopping. So if you don't want wet carpets, you may not want to run the mop while you're out of the house.
However…
Important updates in the app over the last year have made some big improvements in navigation compared to what it had originally. Now the Mi Home app actually SAVES maps of your house with up to 3 complete floor plans. This allows you to select certain zones for the machine to clean, which in turn means it can avoid carpeted areas while in mopping mode. You can also set no-go zones, which are just drawn with your finger on a digital map in the app.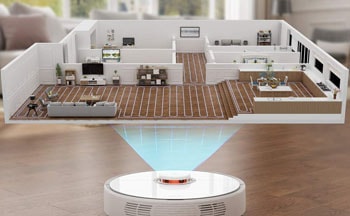 Interestingly enough, Roborock was actually ahead of the game over Roomba for virtual no-go zones for a little while. But recent updates in the iRobot HOME app gave the new Roombas no-go zone control as well.
Cliff detection is superb in the S5. Just remember to keep an eye on those sensors and clean them regularly. The app helps with this by giving you stats on how dirty it is, but it's up to you to remember to check that and to clean the sensors manually.
Cleaning patterns and obstacle avoidance for the Roborock is on par with the latest Roomba vacs, which is impressive. It does not clean in a random pattern, but will go around the room perimeter, then continue in straight lines and a Z pattern until the entire area is cleaned. If you're one of those people who are OCD about seeing those neat vacuum lines, you'll really appreciate this.
Every bot has its weaknesses
Like we mentioned earlier, the mopping capability of the Roborock S5 is not great. It doesn't come close to cleaning as well as a regular mop. But that's the case with robot mops in general. The mop function on the S5 is strictly for light maintenance cleaning between manual mop sessions.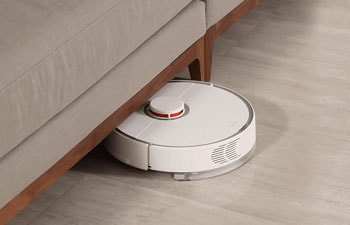 Though the S5 is almost on par with the newest Roombas (i7 & s9) in terms of navigation, it lacks the self-emptying ability that has made these new Roombas so innovative. The Roomba s9 also has better suction power for cleaning thicker carpets, whereas the Rororock S5 struggles with that.
Neither of them do great on thick shag, but that's a common weakness in all robot vacs. One could argue that the S5 has the advantage of having the mopping feature. But it's not that brag-worthy.
With the Roomba's innovation, however, comes a hefty price tag. This is what makes the Roborock S5 so appealing – it's nearly half the price of the latest Roombas. And while it's still not cheap, it's a good value for the money.
What are customers saying about the Roborock S5
Right away, customers noticed that the S5 performed much better as a vacuum than a mop. They love the mapping features, especially the updated app controls. Pet owners were happy with how well it picked up hair.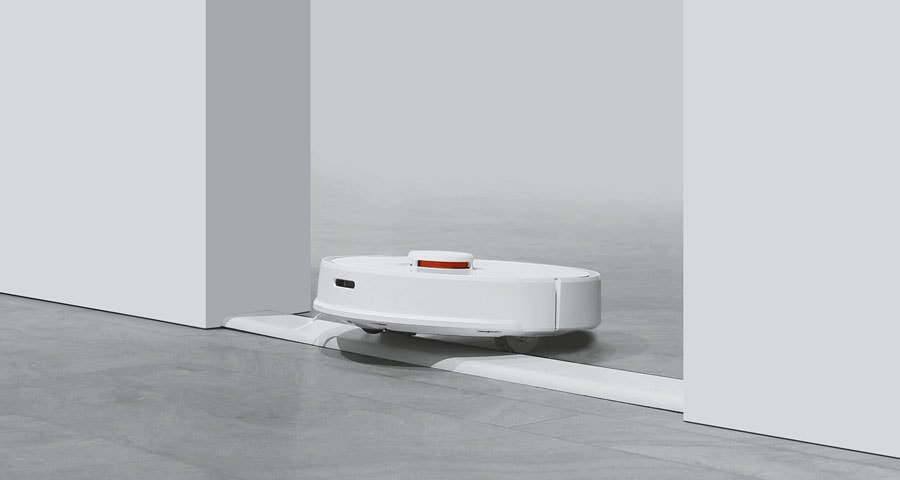 The S5 can cross over obstacles or threshold of maximum 2cm height (w/o water tank installed)
Those who bought earlier versions complained about not having the ability to set cleaning zones and virtual barriers. But now that those features have been added, customers are happier with the navigation.
Though it's a little thing, several customers were glad that the brush cleaning tool is stored onboard the machine so it's not easily lost. They also liked how easily the S5 climbed over thresholds between rooms.
One thing that's still really buggy is the connectivity of the app to WiFi and smartphones. It seems to struggle with 5G wireless connections, but does better with 2G. You may have to disable the 5G altogether just to get it to pair. The manual isn't much help with this. Directions for pairing aren't very clear.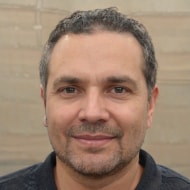 The app itself isn't intuitive, either. Even people familiar with similar smart tech had trouble navigating through all the settings. For instance, the Go icon, which would start a cycle on most robot vacs, instead initiates a spot cleaning cycle in the S5.
Some customers had problems getting the map saving to work, but a few customers figured it out. The main thing is that you have to be patient and babysit it while it learns each room's layout. This means blocking off rooms one at a time so you can then save and name the zone. You can also manually drive the bot around to help it form a map.
Conclusions
The Roborock S5 is good for those who want high-tech smart features and navigation without paying a steep price. It's good for large homes and rooms with a mix of low / medium pile carpet and hard floors. It won't be good for homeowners who don't have smartphones or good WiFi connections. It's also not good for those who aren't tech-savvy since most of the controls are accessed via the app, which is not very intuitive for anyone.

PROS:

Good value for the money
Carpet boost suction
Functions as mop and vacuum
Long battery life
Upgraded mapping and virtual barriers
4 vacuum modes
Saves 3 floor plans
Crosses thresholds up to 2 cm easily


CONS:

Not a great mop
App is not intuitive
Owners manual isn't clear
Connectivity can be buggy
Taller profile may not fit under low furniture
In mop mode, doesn't avoid carpet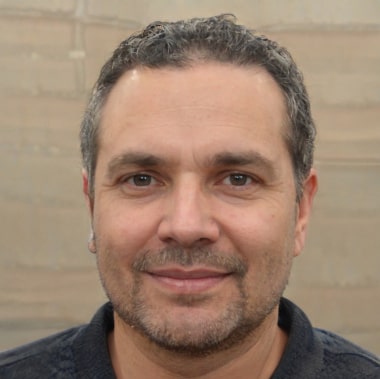 Author
Stephen A. Hancock received his M.S. in Mechanical Engineering (Robotics Track) from University of Utah in 2004. Since then, he's contributed to numerous articles and has been a consultant for many technical publications and websites.
---
Robot Tips & Tricks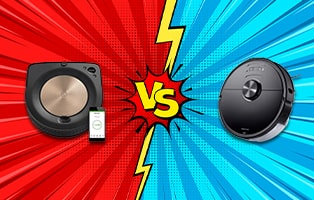 If you want to know which company wins the "Roomba vs. Roborock" battle, check out our article. You'll learn what makes each model exceptional, and things you'll need to know before buying.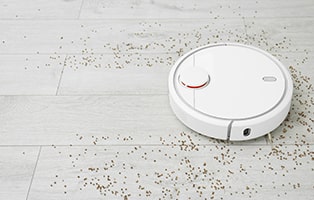 Robotic vacuum navigation systems include sensor mapping, camera mapping, gyroscopes, LiDAR, and SLAM. Read all about this technology in our informative article.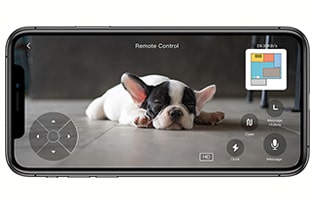 If you're worried that your robot vacuum is spying on you, you're not alone. Read our information-packed article to find out if it is, and what you can do about it.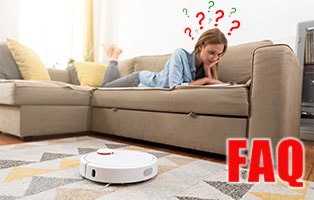 Robot Vacuum Cleaners are evolving at a rapid pace and have indeed become the new necessity for any modern household. Here's a breakdown on some of the most frequently asked questions about these devices