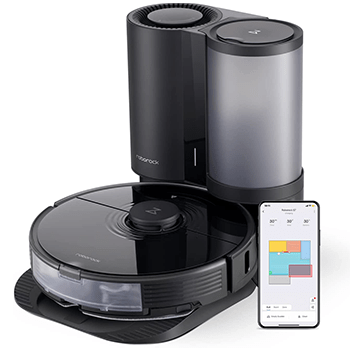 Explore all the wonderful features of the Roborock S7+ Robot Vacuum and Sonic Mop in our 2023 review!
We select, test, review and suggest the best products. We may earn a commission, if you buy something through our links.
The Roborock S7+ Robot Vacuum and Mop is a fantastic hybrid machine. Impressive features such as an automatic emptying dustbin, cutting-edge LiDAR mapping and navigation, and seamless integration with an easy-to-use app will help you stay on top of household cleaning—especially if you're super busy.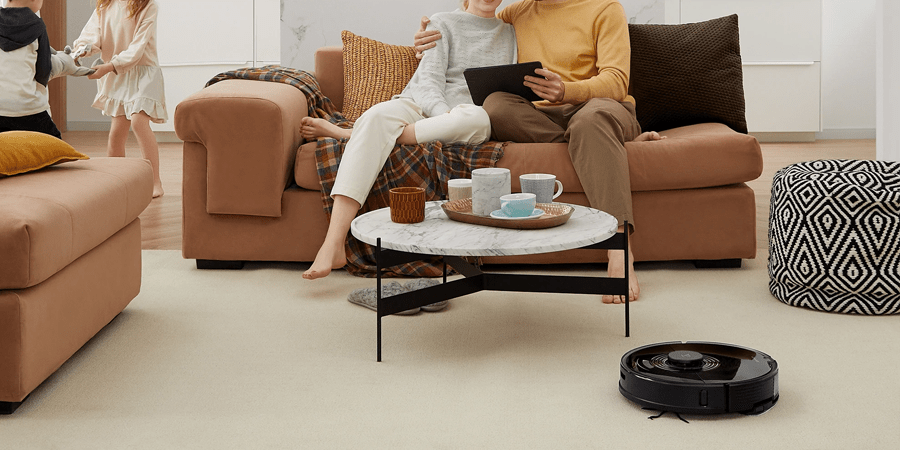 Roborock S7+ Robot Vacuum and Mop
This exceptional model is light years ahead of the competition. Let's dive in and explore what makes the Roborock S7+ an unbeatable buy!
Features
Simultaneous mopping and vacuuming capabilities;
Innovative mop-lifting feature prevents soaked carpets;
Intelligent mapping for the utmost in efficiency;
Bumper sensors prevent damage to furniture;
Groundbreaking sonic technology powerfully loosens dirt;
HEPA air filtration captures 99.99% of particles;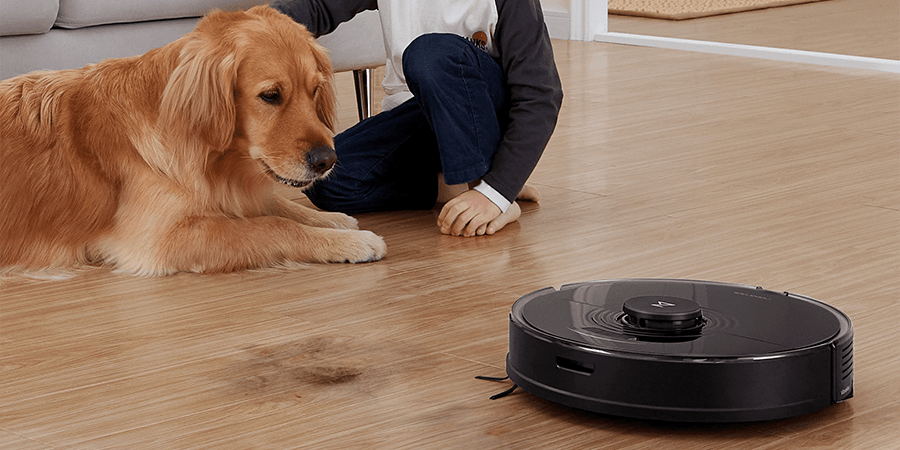 Who's The Roborock S7+ For
If you're a parent with rambunctious kids or pets that track a lot of dirt, muck, ooze, and mud into your home, you'll love the S7+'s ability to clean up their messes, so you don't have to. It's fantastic for people with dogs that incessantly shed and those who have hard flooring and carpet in their homes.
If you're one of those whose rampant technophobia keeps them at arm's length from most devices, you'll be ecstatic at how incredibly easy it is to set up and operate this machine. Even if your Blu-Ray player has a perpetually blinking light because you could never figure out how to set up the time, this might be the cleaning bot for you.
Pros

Intelligent Mapping
Unlike some cheap robotic cleaners, the Roborock S7+ doesn't randomly bop from wall to wall but intelligently makes its way through your home. This well-built bot comes with cutting-edge LiDAR technology, allowing for super-accurate navigation and efficient mapping.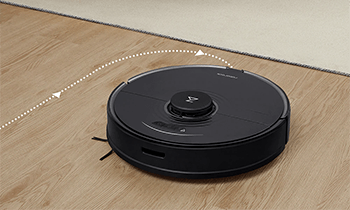 Some machines need to make a bunch of trips before they're able to learn a home's layout. However, the Roborock S7 is a quick learner and can map the totality of your residence during its first few cleaning cycles. If your home has multiple levels, the Roborock S7+ has enough onboard memory to internalize them all.
Put your bot on the floor, and it'll automatically figure out which map to use. Once it maps your home, you can set up invisible walls, no-go zones, name each room, divide rooms, and more.
Another issue with some robotic mops and vacuum cleaners is they can't find their docking station. The Roborock doesn't have this problem and will be able to find its home base almost 100% of the time. You can move the dock to another floor, and the machine will still find it regardless of its position.
Stair Avoidance and Obstacle Handling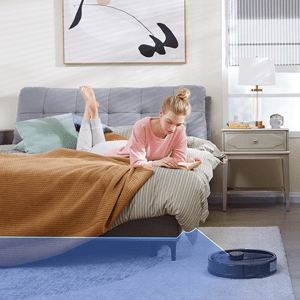 The Roborock S7 has cliff sensors that prevent it from tumbling down the stairs–an event that would undoubtedly cause catastrophic damage to the unit. While it doesn't have obstacle avoidance capabilities, it can climb over things standing its way up to two centimeters high. If it cannot surmount an obstacle, its bumper sensors will touch an obstacle lightly and then go in another direction.
The Roborock S7+ rarely gets stuck and can climb over obstacles that defeat second-rate bots, including billowing curtains, dangling cords, and bunched-up area rugs.
At almost 14″ in diameter and 3.8″ tall, the S7+ is a big boy. However, it's small enough to slide under most low couches with the greatest of ease and between the legs of most stools and chairs. Furthermore, it's a bit gentler than some other units with a nasty habit of tipping over chairs.
The manufacturer encased its roller brush in a flexible housing which lets the unit move up and down as it encounters differentials in floor surfaces. Most other bots have immovable housing, so this is a nice feature.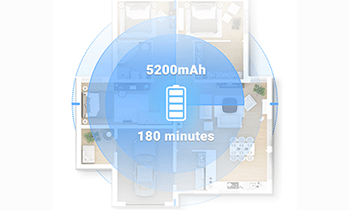 Large Battery Capacity
The Roborock S7+ has a large 5,200mAh Li-ion battery with a run time of up to 180 minutes. If you have a large home, you won't have to worry that the bot will conk out before completing its job. If the bot's battery starts to run low, it will automatically return to its home base to recharge.
Intuitive Easy-To-Use App
The Roborock app gives you incredible control right in your hands, allowing for seemingly endless customization. For example, you can establish no-go zones if you want your little cleaning droid to steer clear of rooms with too many extension cords or other obstacles you would prefer your bot not to bump into.
The app lets you fine-tune how you want the bot to clean your home, including choosing from four suction levels and mopping intensities. Using the app, you can create a maintenance schedule so you can know precisely when you need to replace the brushes, filters, and mop pads. Here are a few other things the app lets you do:
see precise mopping and vacuuming routes
see precise mopping and vacuuming routes
set emptying modes
adjust suction power, vibration strength, and water flow
establish invisible walls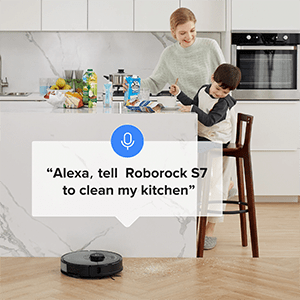 Voice Control
The Roborock S7+ is compatible with Alexa, Siri, and Google Home. Setting up the S7+ with Google Assistant couldn't be easier. Merely link your Roborock account from the Google Home app.
You can even set up an Alexa Routine that automatically sends the robot on a cleaning spree whenever you walk out your door. Voice recognition works in over 20 languages, and there is a dizzying array of available voice commands, which gives you unprecedented control over your household android using only a few words.
Mopping
Many hybrid mopping and vacuuming robots leave a lot to be desired. All-too-often, the mopping functionality on these machines is laughable, doing a horrible job while taking up too much space. Often, vacuuming capabilities aren't much better.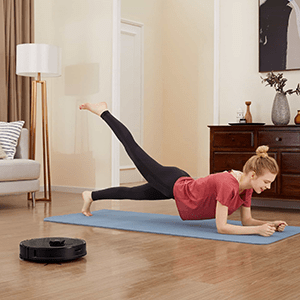 However, the Roborock S7+ is a consummate multitasker worth every penny of its hefty price. This machine does both jobs exceedingly well because it has features sorely lacking in comparable models. For example, the extra-large 300 ml water tank means your robot has all the water it'll need to eradicate dried-on stains, including muddy footprints, coffee, and pet stains.
The Roborock S7+ boasts innovative sonic technology that vibrates the mop pad 3,000 times per minute, powerfully loosening stuck-on dirt. This feature, combined with the consistent mopping pressure of up to 600g, helps ensure that the dried-up muck lesser bots leave behind gets eliminated.
This machine is so gosh darn smart, it has the good sense to lift its mop the second it encounters a carpet edge, preventing your rug from becoming a water-logged mess. You can choose between standard mopping or deep mopping, which means mopping an area twice in a tighter formation.
The mop pad is removable and machine washable.
Vacuuming
At 2500Pa, the suction on this machine is intense, with enough power to easily lift dust from floors and grime out of carpets.
Many cheap robotic mop/vacuum cleaner combos blow dirt around instead of sucking it up, but the S7+ doesn't have this problem. The multi-stage HEPA air filtration captures up to 99.99% of particles as small as 0.3 microns, keeping the air in your home delightfully fresh and blessedly free from allergens.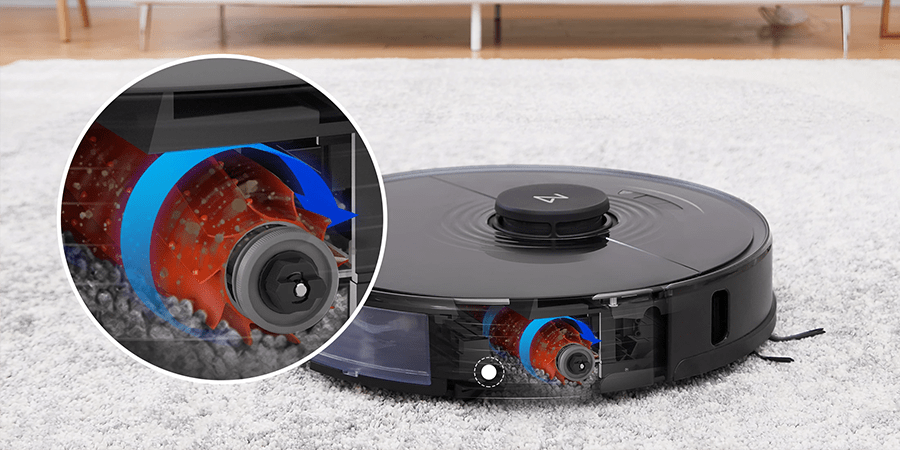 Roborock S7+ cleans dust from floors and carpets very well
The Roborock S7+ has the unique ability to detect a carpet's edge using ultrasonic sound. Once it recognizes a rug, it automatically boosts suction power for more thorough cleaning. This helpful feature isn't available on most hybrid models.
Peek at the underside of the S7+, and you'll see a studded rubber-finned floating brush between two black rubber wheels. This brush gets closer to the floor for a more thorough cleaning.
The roller brush is so well-designed that hair doesn't get tangled up, unlike units with bristle brushes, which often come with a hair-cutting tool. The Roborock S7+ floats on a patented multi-directional frame which helps it remain close to the ground even on uneven surfaces for more effective cleaning.
The S7+ is the first Roborock to come with an auto-emptying dock, which sucks the dirt out of the bot's bin at the conclusion of a cleaning cycle. This means you won't have to get your fingers dirty by emptying it yourself. The dustbin has a 470 ml capacity, which means you typically can clean up to 120 days with only a single bag change.
Note: While your trusty bot doesn't come with a remote, you can control it using the buttons at the top of the unit, your phone via the Roborock app, and your voice. The Roborock's S7+'s plastic chassis looks and feels sturdy enough to last a long time—even with heavy use.
Cons

The Roborock S7+ could be quieter, particularly when vacuuming rugs. When sucking up dirt on hard floors, it has a decibel level of approximately 58, which is somewhat loud.
On carpeting, its decibel level is 69, approaching the sound levels that start to aggravate the average human being. Schedule your bot to operate when you're not at home if you'd prefer not to deal with the noise.
The manufacturer only allows you to clean with water, not commercial cleaning solutions. While the cleaning power of this bot is decent, it probably would be better if you could add a liquid cleaner to the water tank instead of pure water.
There's no notification that the water tank is empty, which might mean that your bot could be mopping with a dry tank. Some users report that when the Roborock S7+ gets stuck, they don't get a notification on their phones.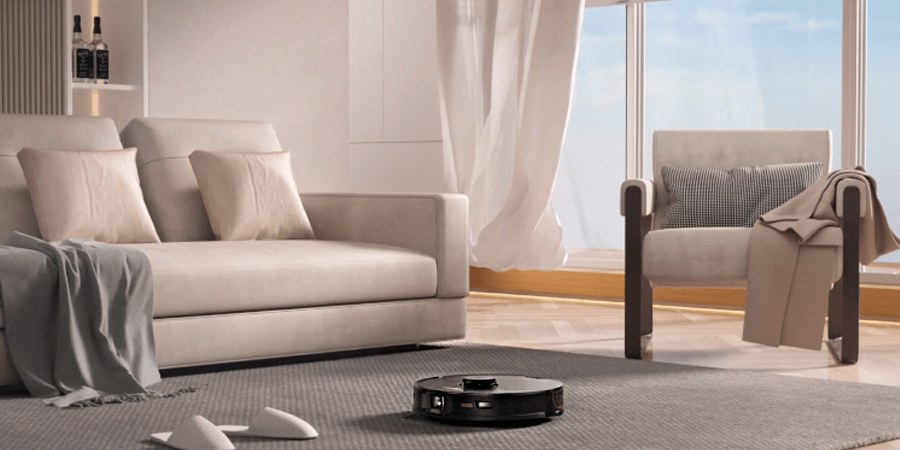 Should You Buy the Roborock S7+
Final Verdict
When you plunk your money down for the S7+, you'll get customized cleaning capabilities, impressive maneuverability, long battery life, and all the suction power you'll ever need.
It's cheaper than hiring a cleaning person and is relatively hassle-free. This machine is a time and back saver, easily sliding into places conventional vacuum cleaners can't get into.
The robot's cutting-edge mop-lifting ability allows it to vacuum rugs and scrub hard floors in a single trip. Because of all this and more, we wholeheartedly recommend the Roborock S7+.
For more robot mop and vacuum reviews, check out our comprehensive guide.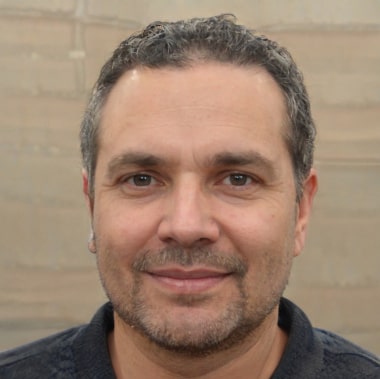 Author
Stephen A. Hancock received his M.S. in Mechanical Engineering (Robotics Track) from University of Utah in 2004. Since then, he's contributed to numerous articles and has been a consultant for many technical publications and websites.
---
Robot Tips & Tricks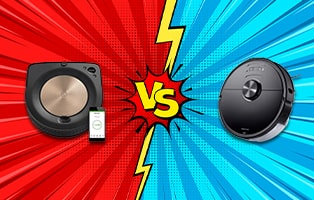 If you want to know which company wins the "Roomba vs. Roborock" battle, check out our article. You'll learn what makes each model exceptional, and things you'll need to know before buying.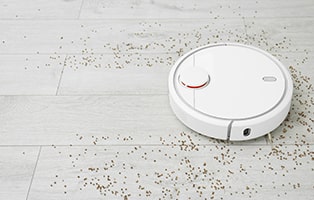 Robotic vacuum navigation systems include sensor mapping, camera mapping, gyroscopes, LiDAR, and SLAM. Read all about this technology in our informative article.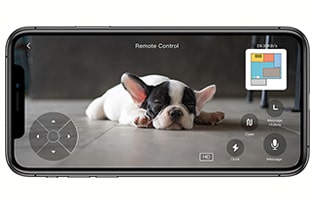 If you're worried that your robot vacuum is spying on you, you're not alone. Read our information-packed article to find out if it is, and what you can do about it.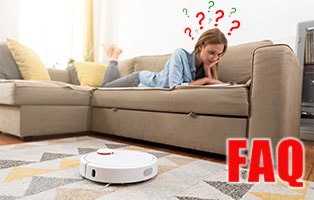 Robot Vacuum Cleaners are evolving at a rapid pace and have indeed become the new necessity for any modern household. Here's a breakdown on some of the most frequently asked questions about these devices