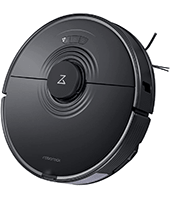 The Roborock S7 is an innovative robot vacuum and mop, revolutionizing home cleaning and pleasing homeowners worldwide. So what makes it so great? Find out in our 2023 Cleanup Expert review!
We select, test, review and suggest the best products. We may earn a commission, if you buy something through our links.
Roborock remains a revolutionary and innovative force in the robotic appliance industry, and the sonic-mopping Roborock S7 robotic mop and vacuum keeps that legacy alive and well. In addition to sonic mopping, this little cleaning machine offers up to 2500PA of suction, multi-level mapping capabilities, and can seamlessly navigate between carpeting and hard flooring.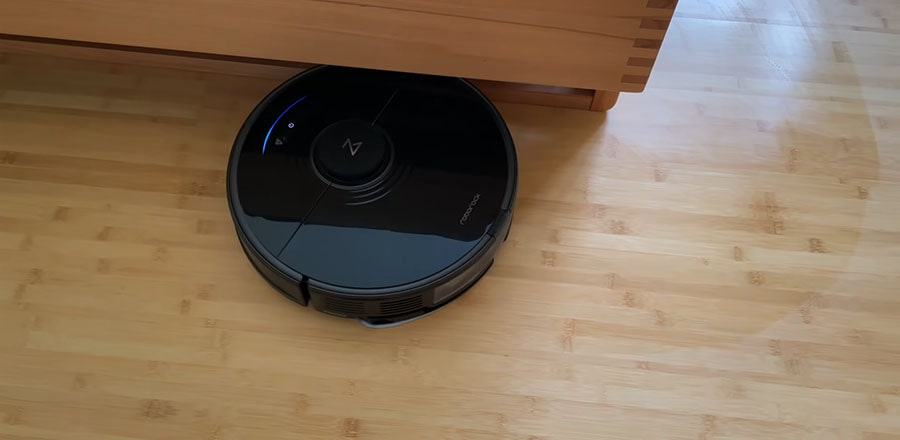 S7 is a great addition to the Roborock hybrid vacuums lineup
While still a young startup, only being founded in 2014, Roborock immediately changed the home cleaning scene with various breakthroughs that shifted the industry forward. From their breakthrough Mi Home to the current S7, their products continue to innovate to this very day.
So what in particular makes their current offering, the Roborock S7, so special? Let's break down all of that and more, in another in-depth Cleanup Expert review.
Key Features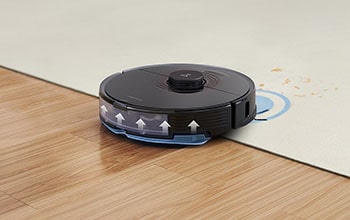 Powerful 2500PA Of Suction Handles Spills And Messes
Sonic Mopping Offers A Deeper Clean Than Competitors
Automatic Room Recognition Ensures Proper Cleaning
Intelligent Lifting Seamlessly Transitions Between Carpeting And Flooring
Multi-Directional Floating Brush Allow For More Precise Cleaning
Multi-Level Mapping Allows For Easier Navigation
Compatible With Alexa And Google Home
LIDAR Navigation Prevents Collisions
Unboxing The Roborock S7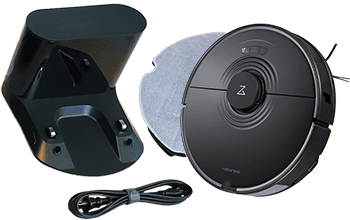 One of the immediate perks of purchasing the Roborock S7 is the sense of confidence you're given with your decision. This cleaning machine manages to pack premium features that place it at the top of the market, while still being priced quite competitively among the competition. Along with the tremendous value proposition you're facing, you also get to rest easy knowing you're secure in your purchase with the support offered by Roborock.
Out of the box, you're faced with a beautiful and compact machine. This thing is simply gorgeous, with a black (white is also available) glossy finish on a body only a bit bigger than a large dinner plate, and a slimline profile only coming in at 3.8" tall. It's not that heavy at all considering the extraordinary amount of technology packed into this machine, weighing in at just a touch over 10 pounds.
Getting Started
While you can get the Roborock S7 up and running manually using the onboard buttons featured on the top, you can open up this robot's true potential using the proprietary app. Once downloaded, you connect your smartphone or tablet to a WiFi connection within the machine, and then you're ready to begin. This is where the device really shines.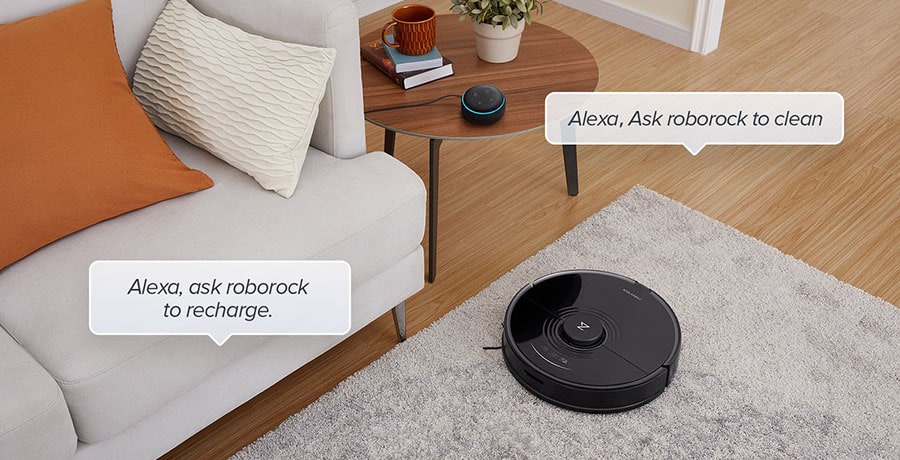 Through the Roborock app, you're able to control the robot using voice commands through smart-home offerings such as Alexa or Google Home. Furthermore, you're able to schedule cleanings in advance, send the robot to clean specific rooms or areas, and even manually operate the device.
Navigation
The S7 uses LIDAR technology to intelligently navigate and map out your home. These maps are stored locally and gradually improved upon over time as it gathers more information about its surroundings and the layout of your home. Please note that depending on updates, you may need to manually enable map saving through the app settings for this feature to work properly.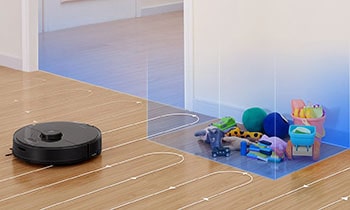 Upon the initial run, you may notice the S7 making some, let's say interesting, maneuvers as it begins to map out your home. Don't worry though, this is completely normal, the robot is simply gathering information about its surroundings as it vacuums and mops. Over time as more information is gathered, its pathfinding will improve.
It features multi-floor mapping, allowing this robot to not only store multiple rooms throughout your home, but across multiple floors as well. Not only that, but it can intelligently discern between carpeting and flooring. It dynamically lifts and lowers based on the height of the surface it's cleaning, and automatically stops mopping when it detects carpeting, meaning no more wet rugs.
Cleaning
Let's discuss perhaps the most essential aspect of any robotic vacuum and mop hybrid, how well it actually cleans. Thankfully, the Roborock S7 once again fails to disappoint and manages to shine strong. Starting with suction, the S7 impresses with a rated maximum of 2500PA of suction. This is impressive enough for a standalone robotic vacuum, let alone a hybrid unit.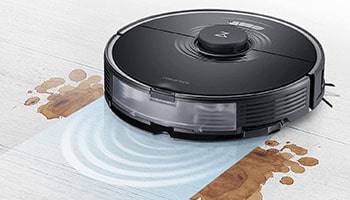 Unlike previous units, the multi-directional floating brush dynamically shifts as the machine moves over surfaces, allowing it to track tighter to the ground than prior or competing machines. Also unlike prior iterations, gone are the bristled brushes of before, replaced now with rubber brushes with strong bristles that dig deeper than ever.
Sonic mopping represents another revolution in how well this thing manages to improve your cleaning. Rather than simply dragging a damp cloth around, as most robot mops do, the machine uses vibration as a form of agitation, meaning the machine actively scrubs as it cleans. This allows the S7 to mop more effectively than any hybrid or standalone before it or competing against it.
What Do Customers Enjoy About It

First and foremost, people love how well the Roborock S7 truly manages to clean, with both the vacuum and the mop impressing independently. The mopping functionality manages to stand well above the rest of the competition in the eyes of customers, with many claiming it manages to outperform their old standalone robot mops.
While the 2500PA suction rating has some dispute to it, there's no denying this little thing manages an impressive clean using a fair amount of force. The dustbin is fairly generous, although most recommend the self-emptying base for additional convenience.
The use of LIDAR is very much welcomed by users, who tend to prefer it over laser and other forms of navigation. The mapping tends to function very well and is greatly enjoyed by users too, although there are sporadic issues with maps being properly stored and saved.
What Do Customers Not Like About It

While the suction is strong, performance on carpeting can vary greatly depending on the height and density of the pile it's tackling. Tougher, shaggier carpeting may represent a real challenge, requiring multiple pass-throughs to clean similarly to a standalone vacuum. However, you may be able to work around this with some manual adjustment when cleaning rugs.
According to some criticisms, the UI of the Roborock app leaves a bit to be desired. Experience with customer support may vary based on the state of your warranty.
Is The Roborock S7 Right For Your Home
When it comes to any significant purchasing decision, it's critical to do some of your own research, and compare this model against others available. To help guide you, we've crafted a list of the top-rated mopping robots you can buy, with more detailed information on each to assist in your decision.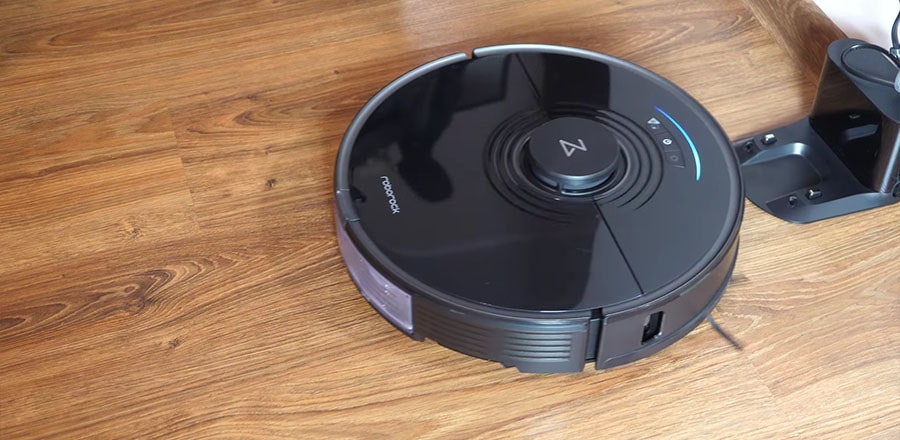 Roborock S7 manages to stand out tall on top
While nothing is perfect, when it comes to hybrid robot vacuum and mops, the Roborock S7 manages to stand out tall on top. It includes all of the premium features you would expect out of a high-end model, a few unexpected innovations, all at a price that stands comparable to the rest of the market.
With various smart features, innovative mopping and vacuuming technology, along with impressive navigation and maneuvering, you can quickly see why there's so much to love. Again, it's not perfect; but as far as the current offerings in the industry go, the Roborock S7 manages to get as close as you can get.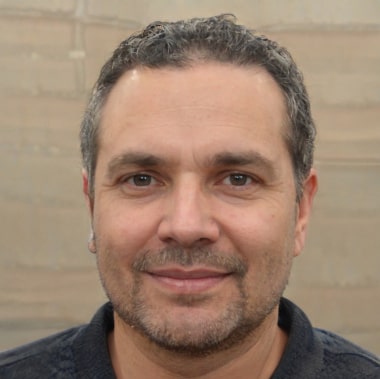 Author
Stephen A. Hancock received his M.S. in Mechanical Engineering (Robotics Track) from University of Utah in 2004. Since then, he's contributed to numerous articles and has been a consultant for many technical publications and websites.
---
Robot Tips & Tricks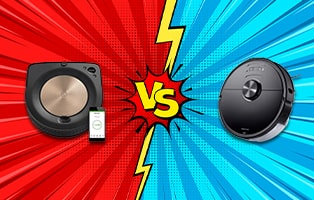 If you want to know which company wins the "Roomba vs. Roborock" battle, check out our article. You'll learn what makes each model exceptional, and things you'll need to know before buying.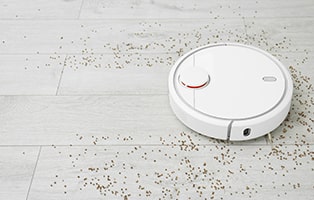 Robotic vacuum navigation systems include sensor mapping, camera mapping, gyroscopes, LiDAR, and SLAM. Read all about this technology in our informative article.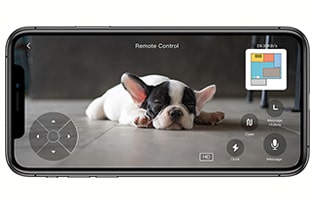 If you're worried that your robot vacuum is spying on you, you're not alone. Read our information-packed article to find out if it is, and what you can do about it.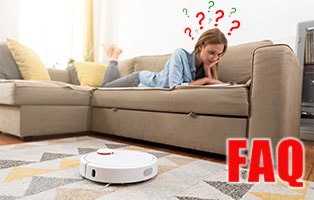 Robot Vacuum Cleaners are evolving at a rapid pace and have indeed become the new necessity for any modern household. Here's a breakdown on some of the most frequently asked questions about these devices