The Best Automatic Robot Lawn Mowers (aka Roomba Lawn Mowers) of 2023: Ratings and Buyer's Guide
Here are our 2023 reviews of the Best Robot Lawn Mowers (aka Roomba Lawn Mowers) on the planet. By reading them, you'll be able to purchase the one that's best for you! How does mowing your lawn make you feel? Does the mere thought of it get you excited or fill you with dread?
Our Top Picks
We select, test, review and suggest the best products. We may earn a commission, if you buy something through our links.
Even if you start the summer in total ecstasy because you love mowing your lawn, you probably won't stay that way the entire season.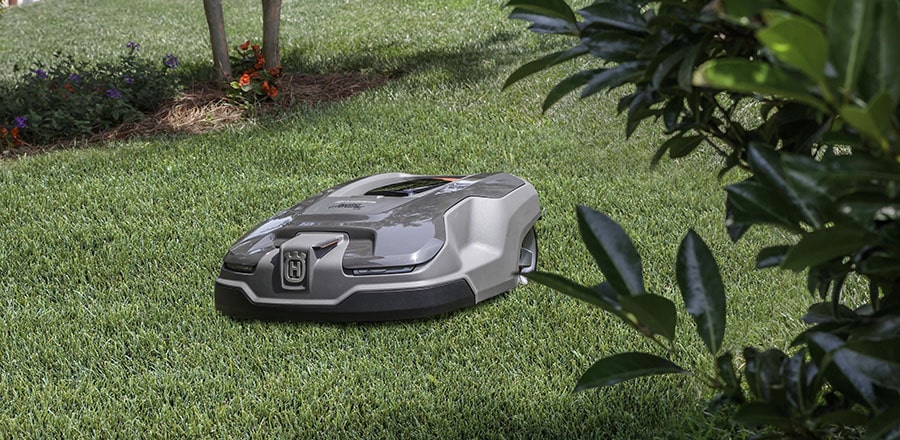 Invariably, there will come a time when you've done the chore so many times you start to utterly detest it. When that happens, you might want to get yourself a robotic lawn mower.
Are Robotic Lawn Mowers Effective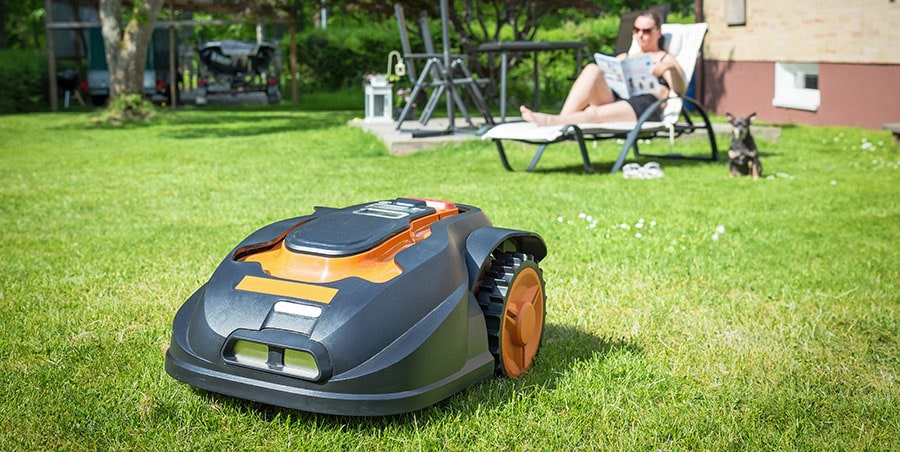 Lawn care just got a lot easier
With a reliable lawn roomba, you'll get to enjoy the delightfully fragrant aroma of fresh-cut grass without having to lift a finger.
Lawn care just got a zillion times easier!
These tiny tank-like mobile gizmos tirelessly cut your grass while you're basking in the beautiful summer sunshine drinking your favorite beer. You won't have to push a noisy gas-powered mower around your yard anymore because you'll have a lean green cutting machine doing it for you!
Are you excited now?
How Do Remote Lawn Mowers Work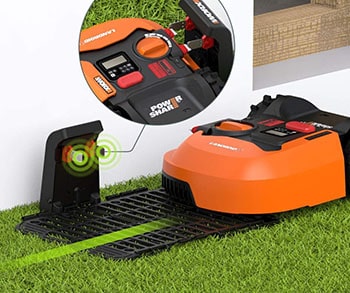 Robot lawn mowers operate on the same principle as robotic vacuum cleaners.
So, they're pretty much like a Roomba, only for your lawn.
Robot mowers consist of the unit itself plus a base that charges the mower and supplies a perimeter wire with electricity. The robot has sensors that detect this charge, so it won't wander off into a busy street or your neighbor's backyard. That way, it stays within an area that you pre-determine.
When the lawn is finished, or the battery needs to be recharged, the mower returns to home base. Most robotic mowers have options for setting a timer, creating a cutting schedule, setting up a zone, configuring edge cutting settings, running diagnostics, and reviewing cutting history.
Some robotic mowers even have built-in Bluetooth, WIFI, and cellular circuitry. This means you can track the progress your bot is making from anywhere on the planet you happen to be.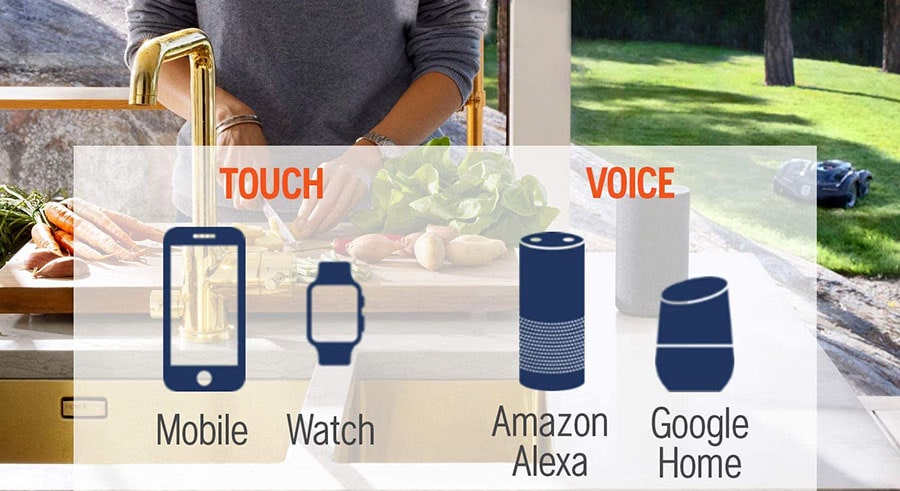 You can get robotic mowers that use your phone as a de facto remote control to invisibly guide your automated friend to any area you'd like. This means these machines are capable of spot maintenance, a nice feature to have if some areas of your lawn grow faster than others.
Other models have Amazon Alexa built right in, so you can use voice commands to start and stop mowing.
Do Robotic Lawn Mowers Pick Up the Grass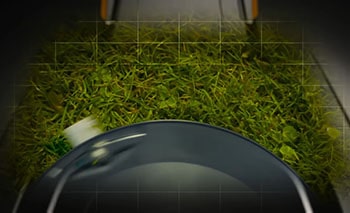 If you need to cut grass, a robot mower is a fantastic gadget to have.
It does this by chopping the grass into superfine, sandpiper-like cuttings and then returning the clippings to the lawn as mulch. This provides added nutrients for your hungry grass, making it greener and healthier.
In fact, it makes your grass so astonishingly robust, many robot-mower owners find that they can drastically cut down on the amount of fertilizer they use!
Robotic lawn mowers have two types of cutting systems: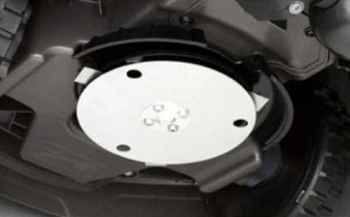 Rotating Disks: Rotating disks have several freely rotating cutting blades attached to them. The blades are the same size as razor blades. The cutting diameter of these mowers tends to be relatively narrow, but they make less noise than your other choice.
Solid Cutting Blades: Solid cutting blades increase the width and rate at which your yard is cut. The disadvantage is that they're louder and consume more power. This means you're going to need a bigger battery to get the same amount of cutting time.
Most robotic mowers use what's known as a floating disk design. This lets you adjust the cutting height while the mower is in operation.
This way, you won't scalp the grass.
The robot's cutting width determines how wide a path it will cut on a single pass.
How Long Do Robotic Lawn Mowers Last
If you take good care of your remote lawn mower, it should last around ten years or so.
More
Best Robot Lawn Mowers: 2023 Ratings and Reviews
---
---
---
---
Do Robo-Mowers Cost a Lot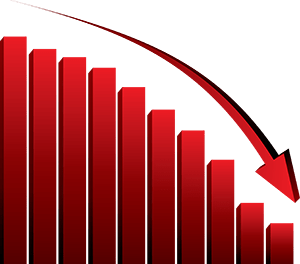 Once upon a time, robot mowers had a reputation for being exorbitantly expensive, putting them out of the range of most homeowners.
However, as the years pass away and the market for robotic lawn mowers skyrockets, the costs are steadily going down. If you want to save wads of cash on your automatic lawn mower purchase, choose a robot that's appropriate for your lawn size. While those designed to cut large lawns can be expensive, the ones for small yards are surprisingly affordable.
You don't need all the technologically sophisticated bells and whistles to get an exceptional robotic lawn mower.
Think about the features you can live with and those you can live without.
Consider Lifetime Value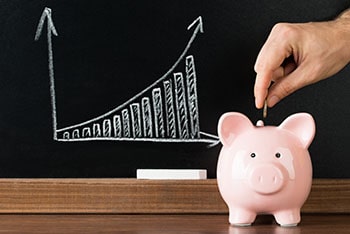 Even though robotic lawn cutters remain somewhat pricey, they're more cost-effective than their gasoline-powered counterparts.
When you're thinking about whether to buy a robot mower, it's all too easy to just focus on the upfront cost and not the lifetime value the machine will give you. Robotic lawn mowers have low maintenance and repair expenses and don't need to be professionally serviced every year.
The fuel for conventional mowers is more expensive than the costs of running a robotic lawn mower. Traditional gasoline-powered lawn mowers have more mechanical parts than robots, making these types of machines more susceptible to breakdowns.
Even if you compare a manual electric lawn mower to a robot one, you'll find the robot mower has lower electricity expenses. This is because a manual electric lawn mower uses cutting technology, which requires far more power than robotic lawn mowers.
When you add everything up, you'll discover that robot lawn mowers are cheaper than conventional ones.
Are Robo-Mowers Safe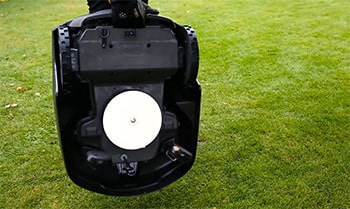 Robot mowers have lift sensors. This means if the mower's wheels are lifted off the ground, the emergency stop is activated. This stops the blades from spinning.
This is an excellent safety feature. Robo-mower blades use way less energy than conventional mowers.
This means that even if a person was to touch a moving part, there would be no injuries, or they would be minimal.
What Kind of Batteries are Used in a Robo-Mower
Battery type is an important consideration when choosing a robot lawn mower.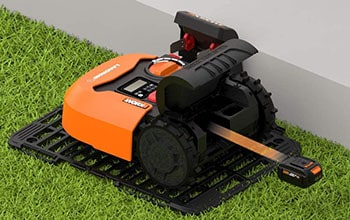 Not all use lithium-ion batteries.
Some still use lead-acid ones.
Avoid these models because while lead-acid batteries are cheaper, they don't hold a charge for as long.
Plus, they take a lot longer to charge.
The charging time for lead-acid batteries is 16 to 20 hours vs. one to two hours for a lithium-ion battery.
Mowers using lithium-ion rechargeable batteries can last anywhere from half an hour for small machines and up to four hours or more for high-end mowers.
How Do Robo-Mowers Avoid Collisions
Robots use a combination of perimeter wire and onboard collision detection systems to avoid lawn obstacles.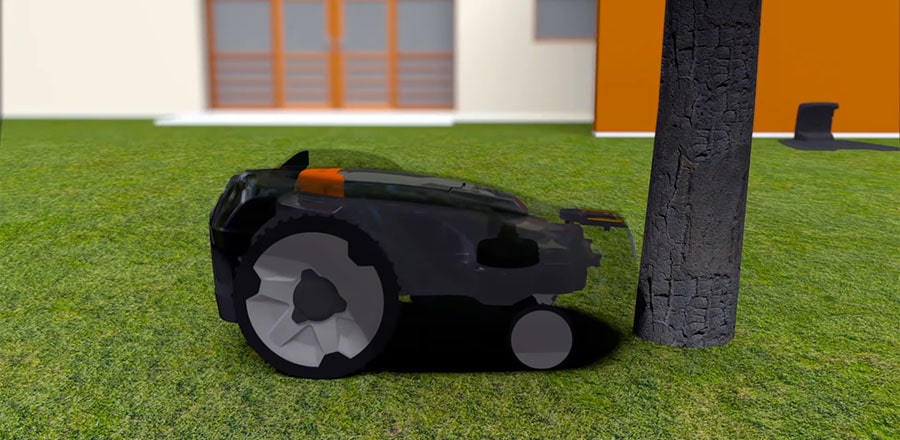 Roomba Lawn Mowers are equipped with a collision detection system
You can decide whether to install perimeter wire around a hurdle or let your robot's collision detection system avoid it. Each wire end is connected to the base unit, forming a continuous loop. Low voltage electricity is applied to the wire. This produces an electromagnetic field that the robot can detect.
Installing the perimeter wire on your lawn is super easy.
It can either be pegged down to your grass or buried a few inches underneath the lawn. The only obstacles that won't be recognized by the collision detection system are those that are small and lightweight, like a crumpled-up paper cup.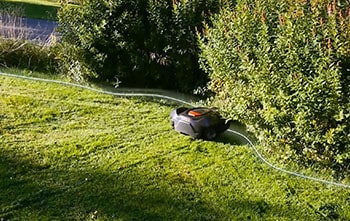 One collision system some robots use is a floating shell surrounding the motor chassis that becomes displaced if an obstacle is encountered. This tells the mower to turn around and go in the other direction.
Other robots use soft bumpers along with one or more accelerometers mounted to the mower's outer shell. Accelerometers can detect obstacles when there's an impact.
Yet another method robot-mowers use to prevent lawn fender benders is by detecting abrupt changes in wheel speed. This usually indicates that there's been a crash, so the mower can go the other way.
Some advanced models even use sonar and lidar (like sonar only using laser light) for collision prevention.
Should I Peg My Perimeter Wire Down or Just Bury It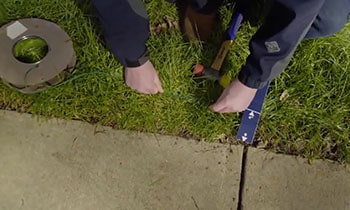 While pegging the perimeter wire down is a quicker option, it's not as good as burying it.
This involves cutting a small slit in the ground and burying it between five and 10 centimeters deep. If you peg the wire down, it should sit flush with the grass. Over the first few weeks, there's a risk that the growing grass will push the wire up into the blades of the mower, causing the perimeter wire to break.
For this reason, run the blades of your robot at the highest setting. Then, gradually lower them until you achieve the ideal cutting height over the space of a couple of weeks.
Eventually, the perimeter wire will disappear as the grass grows over the top of it.
Do I Have to Clean My Robotic Lawn Mower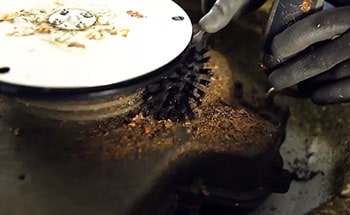 Regularly cleaning your lawn mower is crucial to preventing the buildup of grass clippings around moving parts such as the cutting mechanism and wheels.
A buildup of grass clippings over time can deteriorate the cutting performance and mobility of your robot. It could also cost excessive wear on your machine, shortening its lifespan.
Cleaning a robotic lawn mower is an effortless task requiring no special tools. All you need is a coarsely bristled handheld brush and a damp cloth.
You should also either wear protective gloves or remove the lawn mower blades when spiffing up your machine.
What Size Robotic Lawn Mower Do I Need
Before buying a robotic lawn mower, figure out the size of your yard.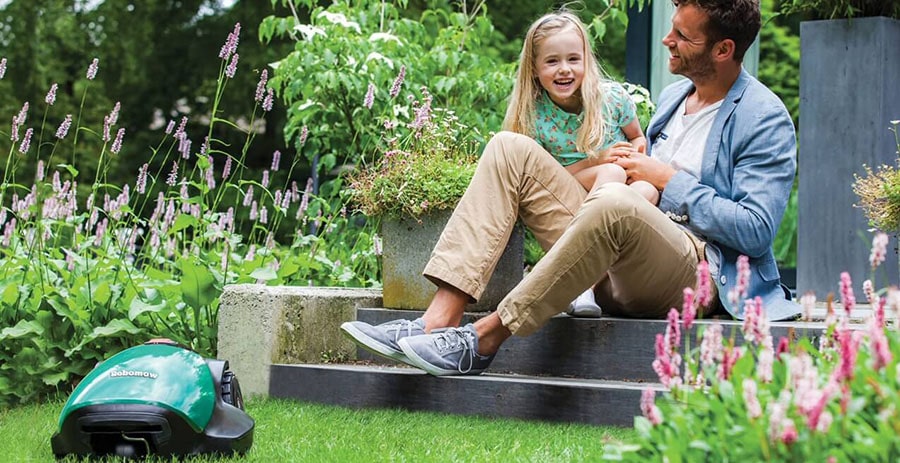 This is what's called the lawn mower's working capacity. Residential models usually have a working capacity of 0.20 to 1.25 acres. A mower suitable for bigger lawns has a high-capacity battery back that lets it work longer and travel farther between charges.
The shape of your lawn matters too.
If your lawn is an obstacle course, your machine must use more battery power to navigate hurdles than if it was just cutting a rectangular plot.
Can I Use My Robotic Mower in the Rain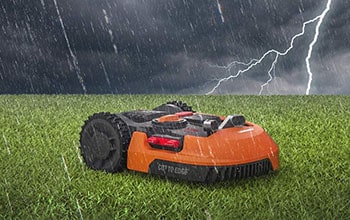 Most robotic mowers can do their job even when it's raining out.
However, that might not be a good idea because grass cuttings can stick to the cutting deck, making quite a mess. Consider purchasing a robot with a rain detection system that stops your bot from mowing the grass when it's raining.
A garage specifically made for your bot can protect it from the elements.
This will help it last longer.
Can Robotic Mowers Climb Hills
Slope performance is one of the most important things to research before considering a robot lawn mower purchase.
You don't want to set up your brand-new robotic mower only to find out that the slope of your hill was too much for the bot to surmount!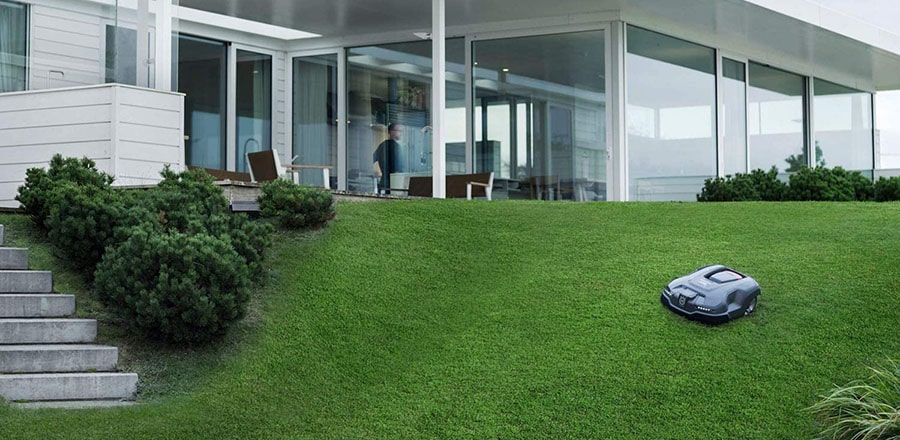 Robot mowers can handle steep inclines easily
If you have a particularly hilly yard, it can be torturous to haul a heavy conventional lawn mower up and down the side of your yard. Robot lawn mowers have a low center of gravity, which means they can handle steep inclines without fear of tumbling down.
If your lawn has some treacherous hills, get a mower with big wheels to better navigate the challenging landscape. Robotic lawn mowers depend on well-gripping wheels with deep treads to give them the traction they need.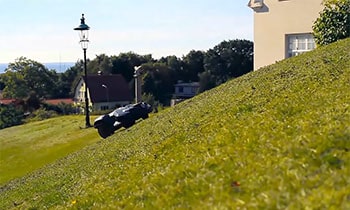 Cheaper models generally don't have as good slope performance as the more expensive models. However, this isn't always true. Like the Worx Landroid, some entry-level machines can handle steep gradients at a very reasonable price.
Rain can cause your grass to be slippery, which will limit your unit's traction.
Over time, your lawn bot will pick up significant dirt and grass clippings in the wheels' treads. This will reduce the depth of the treads and the traction of the wheels on the ground.
That's why you should clean the treads every few weeks. Clean them more frequently in wet weather.
Can You Adjust the Cutting Height on a Robot Mower
Every robotic mower lets you adjust the cutting height using a handy-dandy dial on the mower.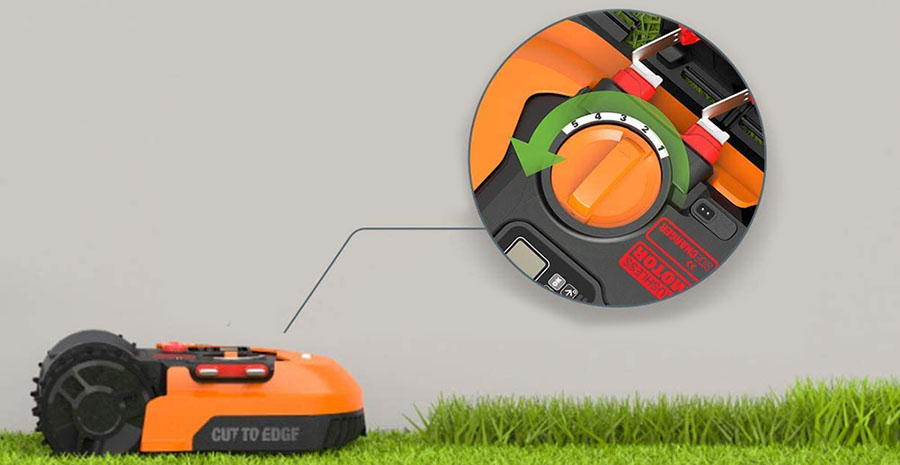 Some models even let you do this adjustment using a mobile app.
What Anti-Theft Features Do Robotic Mowers Have
You might think robot mowers would be an easy target for thieves, but you'd be wrong.
Robo-mowers are equipped with features that render them impervious to the evil designs of burglars, bandits, and assorted other no-good-doers. The onboard safety mechanisms deter theft and help you recover your bot on the off chance someone makes off with it.
One way robotic lawn mowers keep themselves out of thieves' hands is technology that only lets authorized users with the right PIN code turn them on.
Your robot-friend can be programmed to request the pin code every time the motor is started and/or the access panel is opened. If a user doesn't know the correct pin, he won't be able to operate the mower.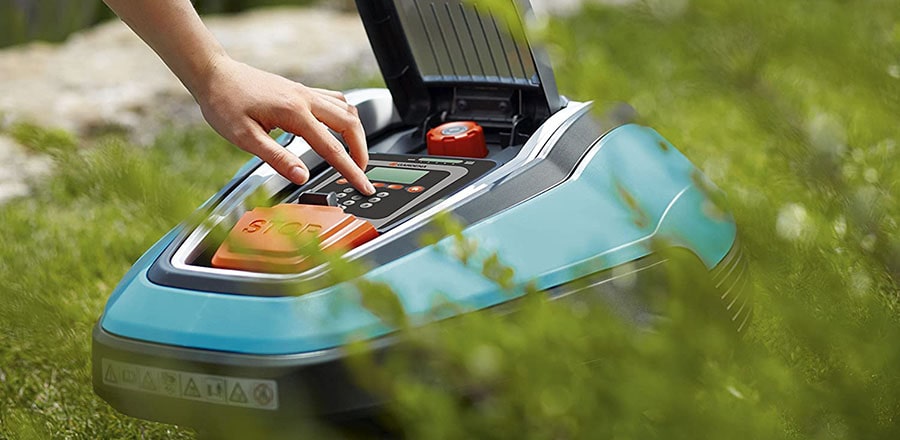 Only authorized users with the right PIN code could turn the robot on.
After a specified number of incorrect attempts, the robot will lock, preventing further tries until a predetermined period has elapsed.
You can purchase mowers with time locks. This means they'll run for the amount of time you select before asking for your PIN again. Since a robber could use your machine until it's time for PIN entry, you'll only want to use this setting if the risk of theft is low.
Like, if you live out in the boonies somewhere.
It's best to set it up so that it asks for a PIN code every time to make sure your robot mower doesn't end up getting stolen.
GPS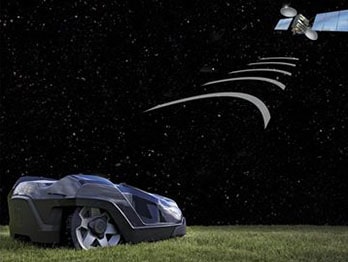 Some robot mowers have GPS functionality. This allows for location tracking, making it easier to recover your mower.
From a security perspective, GPS functionality lets you know precisely where your robotic mower is at any time of the day or night.
Your smartphone app connected to the GPS will let you instantly know if it's been taken outside of the predetermined cutting area. There have been many cases where this anti-theft functionality resulted in the safe recovery of the robotic lawn mower and the perpetrator's arrest.
Alarms
Some mowers sound an ear-shattering alarm if a would-be thief tries to take them.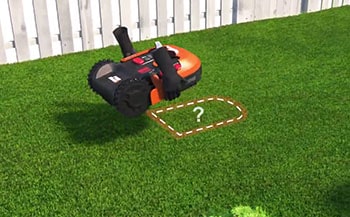 Most of them can be set to make a deafening noise if an unauthorized user lifts the mower off the ground. The alarm will also sound if the unit is removed from its charging station without inputting the PIN.
If a user presses the "STOP" button, a timer will be immediately activated. During this countdown (usually ten seconds), the correct code must be entered to prevent the alarm from going off.
The alarm's duration can be adjusted on the control panel. Most models allow you to adjust it for a time interval of between one minute and 20 minutes.
Pairing with the Charging Base
Some robotic lawn mowers are paired to their charging base.
This means that if your unit is stolen, it will be rendered useless to the thief because he won't be able to charge it with the right base.
Low Incidence of Theft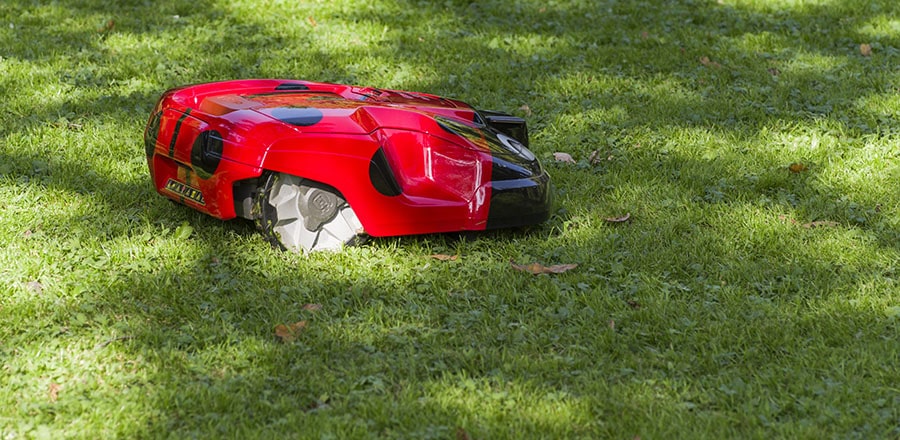 Stolen robots could be blacklisted in service centers.
Because of all these anti-theft features, the incidence of stolen robot lawn mowers is extremely low.
However, if you do get your unit stolen, you should contact the manufacturer to have your unit blacklisted.
This usually results in the model being added to a central database. If it's brought in for servicing, the service center will be immediately alerted.
Will Automowers Be Able to Cut Every Part of My Lawn
While robot mowers can cut up right next to the edge of your lawn, they usually won't be able to do this next to flower beds or ponds.
This will leave a narrow strip of uncut grass. You'll then have to manually trim the edges with a trimmer.
How Quiet are Robotic Mowers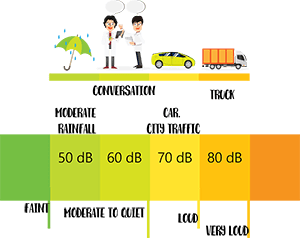 Almost all robotic lawn mowers are extremely quiet, operating in the 55dB to 74dB range. This is the same range difference between being almost entirely silent and two people having an enjoyable conversation.
However, there are a few mowers that can generate up to 75dB of noise.
The quieter models can be operated during the evening hours. In fact, some of them even have headlights. Because robot-mowers are whisper quiet, you can run them at any hour of the day or night without disturbing your neighbors.
What are the Main Differences Between Conventional Mowers and Robotic Lawn Mowers
Robot lawn mowers use significantly different cutting technology from manual lawn mowers.
Manual lawn mowers are energy-inefficient. That's because they use high powered cutting blades to let somebody cutting their lawn do it quickly and efficiently. As conventional lawn mowers cut a large volume of grass per unit time, the blades need to be more powerful.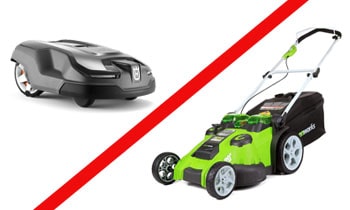 This, along with the fact that they're gasoline-powered, makes them much louder than robot lawn mowers. Robot lawn mowers have smaller cutting blades and move slowly, cutting a narrower volume of grass per minute than a manual mower.
Robot lawn mowers have sharp blades that slice through the blades of grass. This is in contrast to conventional rotary lawn mowers, which knock the tops off the blades. Sharp blades cause significantly less damage to the growing grass and ensure the grass recovers quickly after being cut.
This is why a lawn cut by a robot will be greener and more vibrant than a lawn mowed by a conventional rotary mower.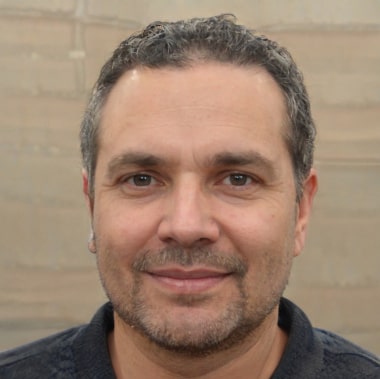 Author
Stephen A. Hancock received his M.S. in Mechanical Engineering (Robotics Track) from University of Utah in 2004. Since then, he's contributed to numerous articles and has been a consultant for many technical publications and websites.
Robot Tips & Tricks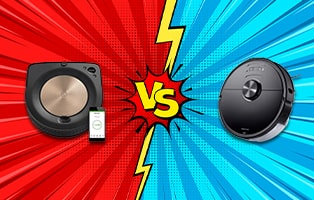 If you want to know which company wins the "Roomba vs. Roborock" battle, check out our article. You'll learn what makes each model exceptional, and things you'll need to know before buying.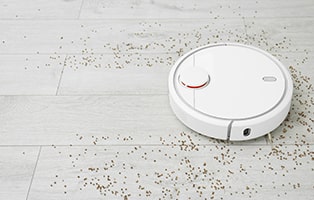 Robotic vacuum navigation systems include sensor mapping, camera mapping, gyroscopes, LiDAR, and SLAM. Read all about this technology in our informative article.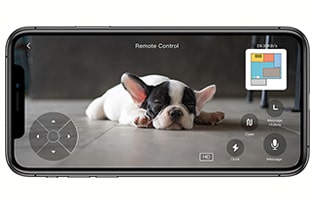 If you're worried that your robot vacuum is spying on you, you're not alone. Read our information-packed article to find out if it is, and what you can do about it.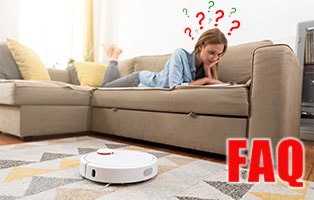 Robot Vacuum Cleaners are evolving at a rapid pace and have indeed become the new necessity for any modern household. Here's a breakdown on some of the most frequently asked questions about these devices