The Best Robotic Pool Cleaners – Ratings and Buyer's Guide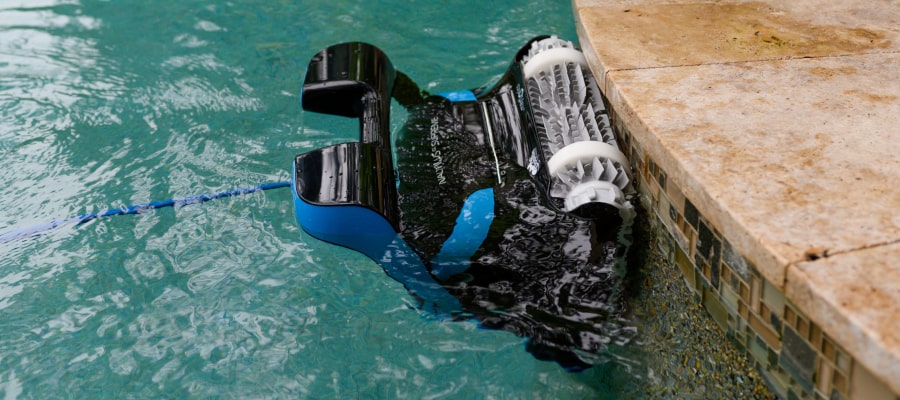 Robotic pool cleaners make short work out of what was once a much-dreaded task. No one wants a filthy pool, but pools don't clean themselves. You must be proactive about pool maintenance. Pool robots can shorten your cleaning time so you can take advantage of a cool dip any time you want during those hot summer days.
Being proactive about pool cleaning doesn't mean you have to work harder. You just need to work smarter. This is where an automatic pool cleaner can save the day. But they're not all created equally. Suction cleaners and pressure-side cleaners are okay, but they make your pool pump work harder. Therefore, we'll show you how to find the best robotic pool cleaner in this handy guide.
What to look for in a robotic pool cleaner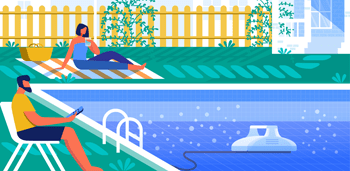 To find a pool cleaner that's right for you, there are 3 main questions you need to ask:
What kind of pool do you have?
How much cleaning do you want?
What features on a pool cleaner are important to you?
Types of pools
Many robotic pool cleaners can tackle any kind of pool surface. However, some are made specifically for in-ground or above-ground pools. Also, if you have a vinyl, fiberglass or smooth tile pool, you won't want a cleaner with a rough brush. You'll want a robotic cleaner with a soft, grippy PVA brush.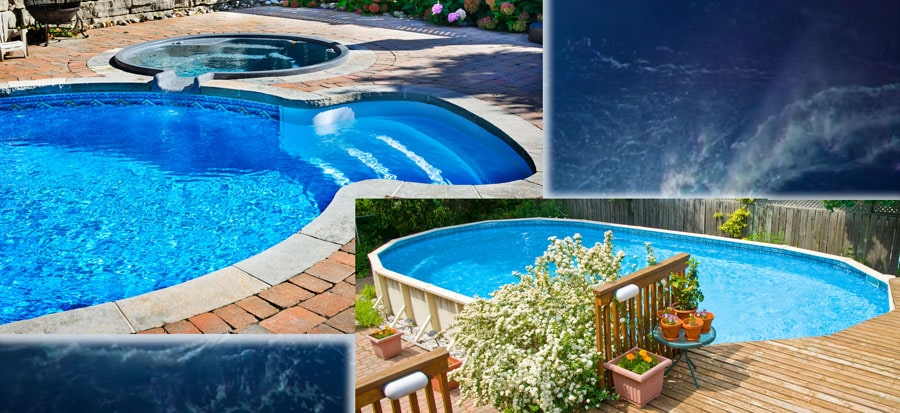 Size matters, too. You'll need a robotic pool cleaner that can reach all the way from one side to the other without you having to unplug it from one power source and plug it in somewhere else. Your power supply must also be 12 feet from the pool's edge. Make sure you know your pool's length, width and depth so you know how long of a cord you need.
How much cleaning do you want?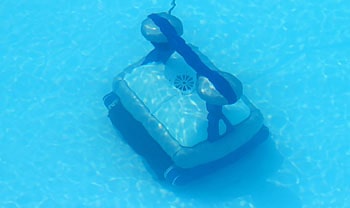 Depending on how much you use your pool or your budget, you may opt for a pool cleaner that only vacuums the pool floor. These may or may not come with brushes, and are often the simplest and cheapest. You could invest a little more in a premium pool cleaner that will be more efficient and cover more area.
Higher-end pool cleaning robots can clean the floor, cove, and part of the wall. They have rotating brushes and features that help them climb, so they'll be more expensive.
Then you have the top-notch ones that can clean the floor, cove, the entire wall, and the waterline. These are the most advanced and often have smart features that can be controlled via mobile apps.
What features are important to you?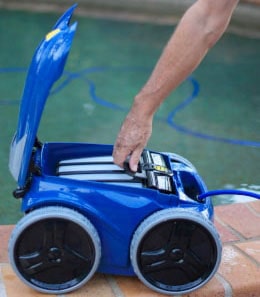 If you're new to buying pool cleaners, you may not know exactly what features you want yet. That's okay. Things you'll want to consider are:
Suction power
Swiveling cables
Filtration
Power washing jets
Warranty
Programming features
Pool cleaning robot maintenance
If you spend a few hundred bucks on a new automatic pool cleaner, you want to make sure it lasts as long as possible. Unlike simpler pool cleaners such as brushes and nets, robotic pool cleaners need a little extra TLC to keep functioning well.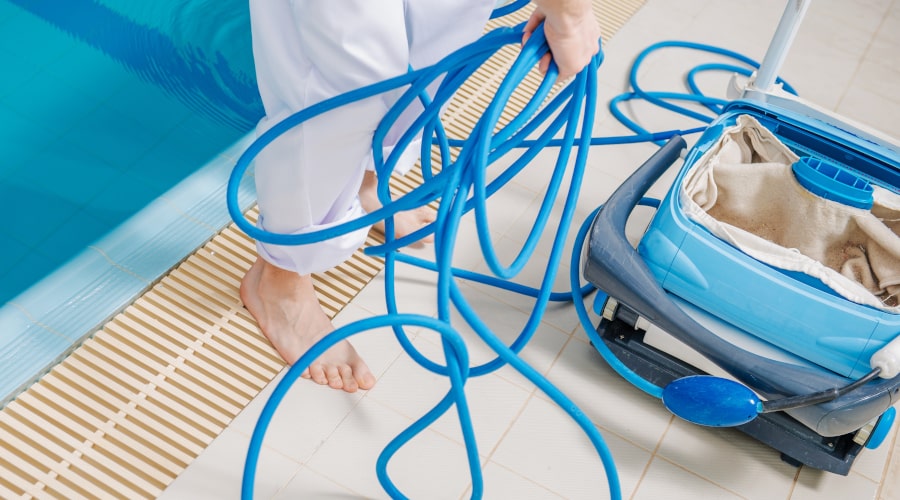 The best pool vacuums will keep going like the Energizer Bunny so long as you follow maintenance rules. First, you should ALWAYS follow the guidelines in the owner's manual. Keep it handy for reference.
Here are some general tips to keep your pool cleaning robot running smoothly:
When the cycle is complete, remove the robot from the pool. Prolonged submersion can damage the motor, and there's always a risk of electrical shock if you swim with it in the water.

Thoroughly drain all the water from the cleaner when you take it out. Your owner's manual should tell you how. If not, look for videos online.
Clean the unit after each cycle – clear brushes and wheels of debris, and empty and rinse the filters.
Replace any worn brushes or filters ASAP.
Store your pool robot out of direct sunlight, and protect it from the elements. The power supply is susceptible to damage if left in the rain.
Skip any of these steps, and you'll be out a lot of money and time. It may not sound fun to clean filters and bother with proper storage, but just keep in mind all the hours of cleaning time you're saving. That's more time for you to enjoy a poolside drink and splash around with the kiddos.
Browse our reviews of the best pool robots to find one that fits your budget and pool cleaning needs.
More
Best Robotic Pool Cleaners of 2021 – Ratings & Reviews
---
---
---
---
---
---
---
---
---
---
---
Why buy a robotic pool cleaner?
When it comes to pool cleaning, you have several options. Most depend on your time and budget. Of course, for those who can afford it, hiring someone to keep your pool clean is the easiest option. But since most pool owners can't shell out that kind of cash, they need to invest in some good pool cleaning tools. Robotic pool cleaners are a big investment, but for most people, they're worth it.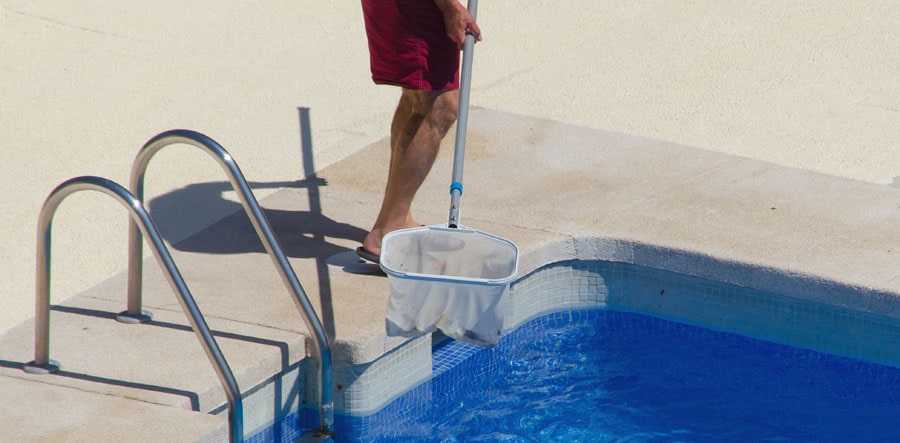 The cheapest options are manual brushes, nets and vacuums, but they're also the most labor and time intensive. A happy medium lies in automatic pool cleaners, including suction-side, pressure-side, and robotic cleaners.
Robotic cleaners tend to be the most expensive, but not always. They are also the least labor-intensive of the automatic cleaners. Here are a few reasons to invest in one: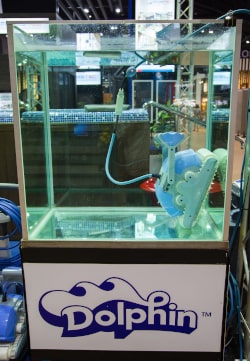 You don't have a lot of spare time. If you're working full time and raising a family, you'd rather be in the pool when you get some time off rather than cleaning it. We get you.
You have health issues. Manual cleaning can be good exercise, but all that reaching and scrubbing can be a nightmare if you have a bad back or other physical limitations.
You want a healthier pool. A good robotic cleaner has just the right scrubbing and filtration power to remove things you can't see with a regular pool vacuum. Those with smart navigation ensure every part of the pool gets a good cleaning.
You want to prolong the life of your pool pump. Many pool cleaners and vacuums rely on your pool's pump to power them, which puts extra strain on it and your pool filters. A robotic cleaner uses its own power source and filters, which prolongs the life of your pool system.
You care about the environment. A clean pool means fewer chemicals are needed, plus robotic cleaners are very energy efficient.
What to consider before buying a robotic pool cleaner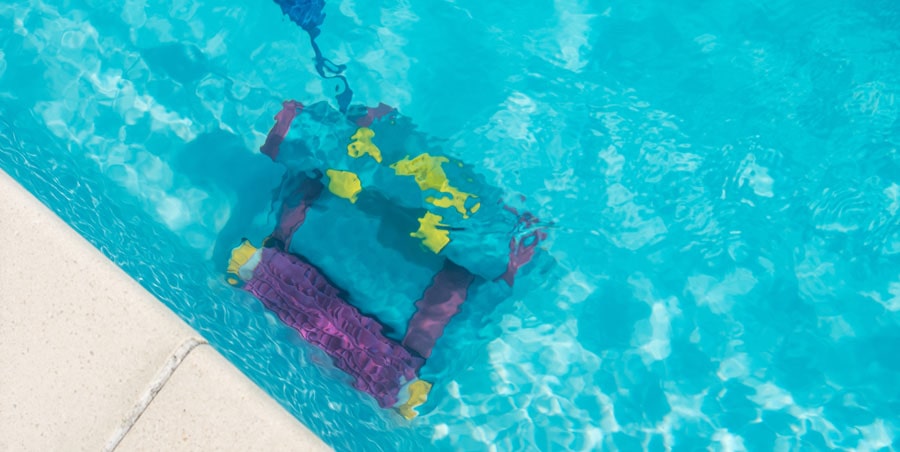 What you buy will depend on your type of pool, its features, and how much cleaning you'll need. Write down all these things so you can easily refer to them to find the best robotic pool cleaner that fits your budget.
Type of pool – Some cleaners are meant to work for both in-ground and above-ground pools, but others are made for one or the other. Also, some are better at reaching corners than others, so the shape of your pool matters.
Size of pool– Cord length on the machine will determine how far it can reach across your pool. The larger your pool, the longer the cord you'll need. Too short, and you may have to move the power supply from one side of the pool to another.
Steps, stairs, walls, and waterlines – Pretty much every pool cleaning robot can tackle the pool floor with no issues. But some can't clean stairs and steps or climb walls. Some can't clean sharp corners. Others won't clean up to the waterline. Generally the more abilities the cleaner has, the more expensive it gets.
The debris your pool collects– Depending on where you live, your pool may collect a lot of small particles like dirt, sand and pollen or a lot of large debris like leaves, seeds, and twigs. If you tend to have a lot of large debris, you'll want a cleaner with a big filter basket so it doesn't fill up too quickly. For very small debris, look for those with ultra-fine filters.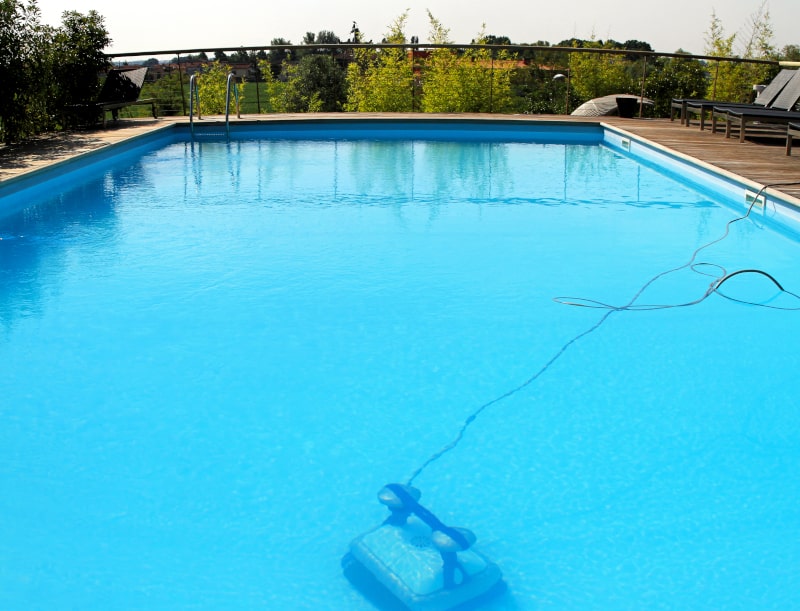 Other pool cleaner features to look for
Once you've determined what you need, you'll want to look for those extra features that can help make the difference between an okay cleaner and a great cleaner.
Robotic pool cleaners have a wide array of cleaning methods. For instance, cleaners that come with good scrub brushes can do a better job at dislodging debris like algae so it can be sucked up. Some cleaners only have suction power, so any additional brushing will need to be done manually.

Dolphin Premier Scrub Brushes
Smart scanning systems work to map out the shape and size of your pool for an efficient cleaning path. These can be great for oddly shaped pools so that the cleaner doesn't end up going over the same area multiple times, therefore wasting energy.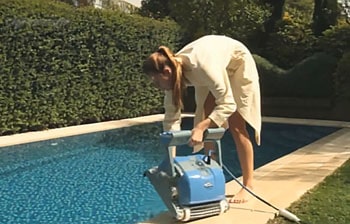 How much the unit weighs is also important since you'll need to lift it out of the pool. Remember that the water and collected debris will make it weigh more. For heavy units, wheeled caddies can be a real lifesaver as well, so you can roll the cleaner from storage rather than carrying it.
Swivel cords are also a good feature since they keep the cord from tangling up. They don't always work, but they're important if you're not going to be there while the pool cleaner is running.
Other features that are nice but not really must-haves are remote controls and programmability. If you want to run your cleaner on a set schedule while you're not home or at night, etc, then a programmable timer would be a benefit.
What are the drawbacks to robotic pool cleaners?
As nice as they are to have for saving time and effort, there are a few cons when it comes to pool robots.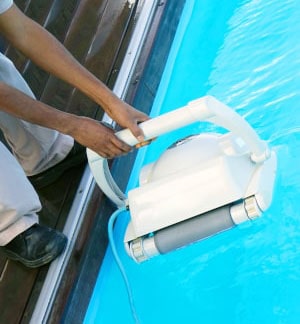 Price – Pool robots are usually the most expensive type of automatic cleaner. The cheapest ones may be about the same price as a mid-range pressure or side-suction cleaner, but the cheapest ones don't have nearly as many features and tend to break more often.
Maintenance – With all the moving parts, there's more to break and replace on a pool robot. The most common complaints are about the machines breaking down. Hint: Look for machines with good warranties, and purchase extended warranties if available!
Filter cleaning – Unless you want to waste money on disposable filters, you'll need to clean out the filter bags or cartridges after every cycle. If you have a big, busy pool with lots of debris, you may have to clean them a lot.
Tangled up cables – Swivel cables help, but don't always work. There's always a chance your cable can get tangled on something or be a trip hazard. It's a good idea to watch it the first few cycles to see if it will be a problem.

Limited warranties and specialized internal parts mean repairs can be costly. Therefore, robotic pool cleaners require regular and specific maintenance.

Can damage some vinyl surfaces – If you have a vinyl-lined pool, make sure the cleaner is compatible with it. Some of the brushes can scratch the ink or remove the patterns on the vinyl. Always make sure your vinyl's in good shape before using a pool robot with brushes.
Can't swim with it in the pool – All pool robots are grounded with GFCI plugs that are supposed to shut off at the first hint of any electrical imbalance. However, there's always a risk of electric shock any time you have electricity and water together. So, while it's running, you should play it safe and keep everyone out of the pool.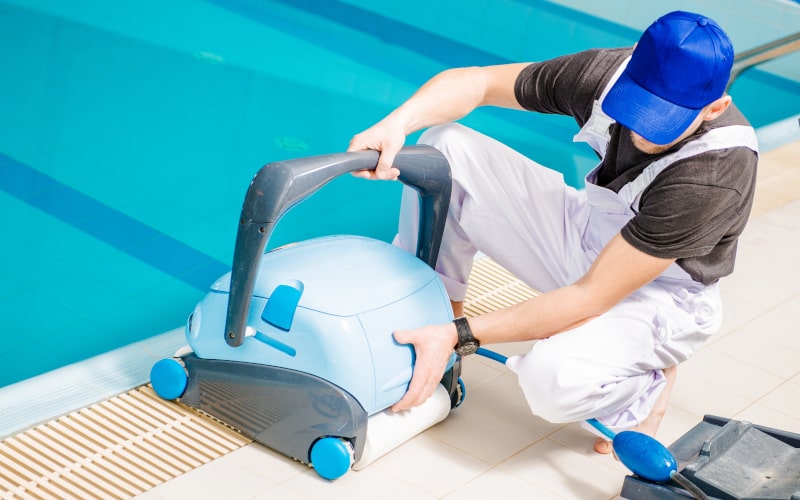 Quick tips & hints
These quick tips and hints come from customers who've used the products listed above. They might help you if you need some troubleshooting.
If debris tends to fall out when removing your cleaner from the pool, try either removing it really quickly or really slowly and keep it upright at all times.
If you have a beach entrance style of pool, a robotic cleaner may get flipped over if it's climbing a nearby wall. The water at the entrance may be too shallow for it to turn itself back over. Most cleaners have auto-shut off if this happens.
To help prevent cord tangling, try stretching the power cord out straight and leave it in the sun for a few hours.

Make sure the filters are completely enclosed with the door fully locked down, or the cleaner may not run.
Don't neglect the usual pool maintenance with regular brushing, testing water pH and chemistry, etc. There's only so much your pool robot can do. If your pool is neglected and filthy, you need to manually clean it first, then use the pool robot for maintenance cleaning.
The tracks on the rollers will stretch and loosen after a while, so if you notice it's not climbing like it used to, try replacing the tracks.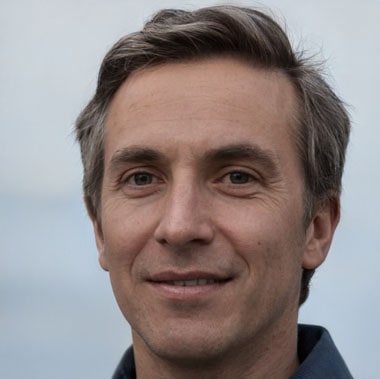 Author
Our pool maintenance expert, Luke Reed, earned his BS in Civil Engineering from Georgia Tech in 1998. Since then, he's worked in a variety of industries, including design and construction of luxury swimming pools.
Pool Maintenance Tips & Tricks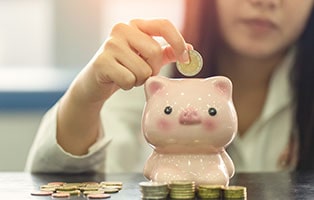 Want swimming pool advice that can save you lots of money? Our article will provide you with all the tips you need to make owning a pool less expensive.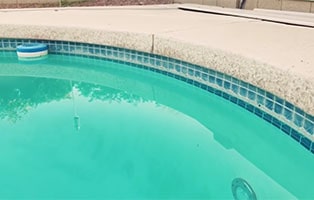 Balancing swimming pool water requires doing things like adding calcium hardness increaser or trying to decrease calcium content. Our guide will tell you what you need to do so there's no confusion.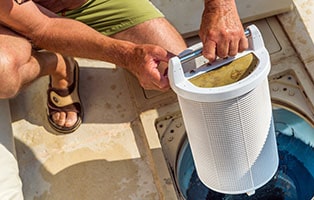 Pool filter cartridges can keep your pool water stunningly translucent. If you want to know how often you should clean or replace them, you've come to the right place.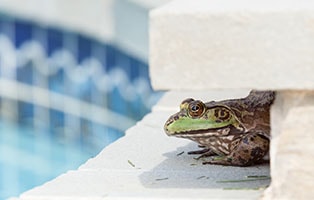 Got a frog in your swimming pool? Read our article to find out 12 easy-to-implement tips to keep these amphibians (and the eggs they lay) out of your pool water.