The Best Robotic Pool Cleaners – Ratings and Buyer's Guide
If you want to know what the best robotic pool cleaners for 2023 are, you've come to the right place. You'll find all the information you need to make an informed buying decision in this buyer's guide, including ratings and reviews.
Our Top Picks
We select, test, review and suggest the best products. We may earn a commission, if you buy something through our links.
We have recommendations on pool robots for both in-ground and above-ground pools, how to choose the best robotic pool cleaner for your needs, why every automatic pool cleaner isn't created equal, troubleshooting your pool robot, and so much more.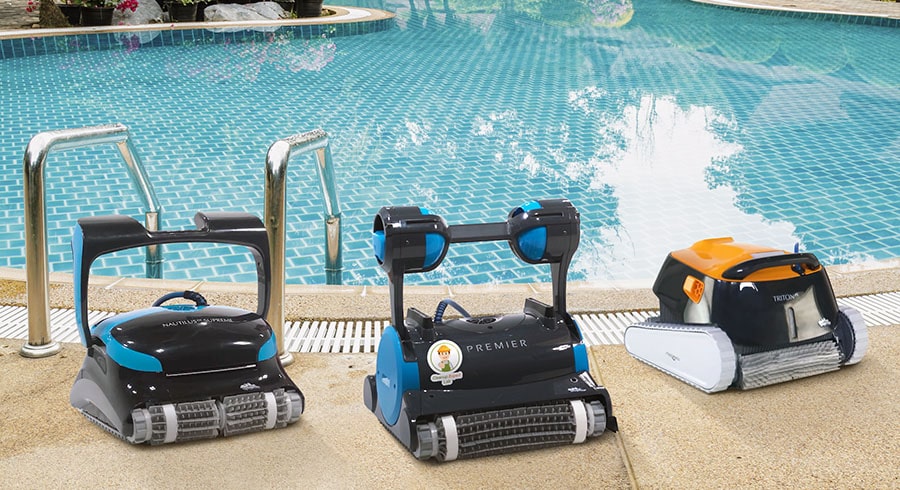 When cleaning the pool work smarter, not harder!
What To Look For In a Robot Pool Cleaner
A robotic pool vacuum is a totally self-contained electrically powered unit that works independently of your pool's pump. They have motorized wheels or tank-like tire treads to firmly grip pool surfaces. Robot cleaners meticulously scrub the walls and waterline, capturing countless volumes of debris in their onboard filter canisters.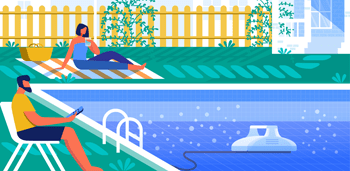 To find a pool cleaner that's right for you, there are three main questions to ask:
What kind of pool do you have?
How much cleaning do you want to do?
What features on a pool cleaner are most important to you?
How Robots Make Pool Maintenance Easier
Owning a pool can be a challenging and time-consuming responsibility. For starters, you need to vacuum the pool to get rid of all the yucky crud (possibly harboring disease-causing bacteria) at least once a week to make it safe for swimming. If you have oodles of leaf-producing trees on your property, you'll probably have to significantly boost the frequency of your vacuuming.
Every pool has a dedicated filtration system that uses diatomaceous earth or another filter medium to get rid of fine particles. However, most of them don't do an adequate job of getting rid of decaying organic matter such as rotten berries, nauseating bugs, and other nasty debris that can quickly accumulate in your backyard swimming hole. To eradicate this icky stuff, people in the past needed to expend herculean amounts of effort by manually cleaning their pools.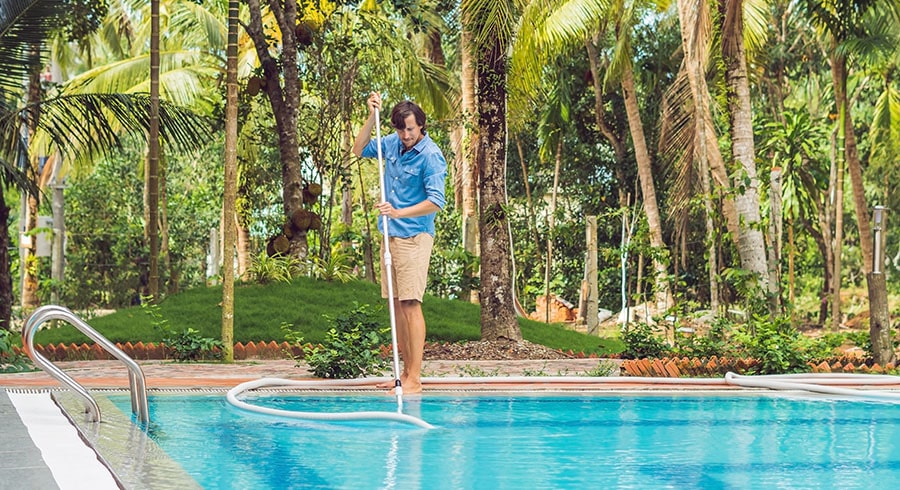 Cleaning a pool manually is a time-consuming task
This could sometimes prove to be a Sisyphean task. For example, an owner who just vacuumed their pool could find that a huge wind gust deposited a truckload of leaves in it. This could demoralize even the most positive of human beings.
While no one in their right mind wants a disgustingly filthy pool, cleaning a pool by hand was always an arduous and time-consuming task. This caused legions of pool owners to not give their pool the love and attention it needed to keep it sparkling clean at all times. However, all that changed with the advent of automatic pool cleaners. These handy dandy machines are a godsend, making pool maintenance a breeze (for the most part).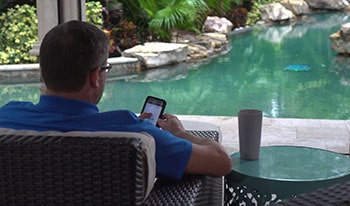 A New Age of Automation
Automatic pool cleaners ushered pool cleaning into a new, technologically sophisticated age, where formerly tedious household tasks were made less so through automation. A pool robot cleaner has cutting-edge features such as Bluetooth and Wi-Fi capability, rudimentary artificial intelligence, and mobile apps to give you control over your bot wherever in the world you happen to be.
However, they're not all created equally. While suction cleaners and pressure-side cleaners do an adequate job of cleaning your pool water, they put a lot of stress on the pump. Robotic pool cleaners work independently of your pool's dedicated equipment, cutting down on expensive wear and tear.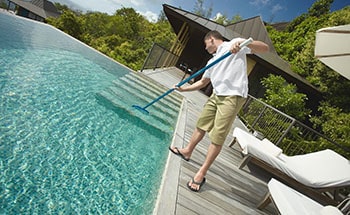 A pool cleaner robot won't be able to eliminate all manual pool maintenance — only about 99% of it. You'll still have to occasionally scrub the steps or parts of the wall, for example. However, instead of spending countless hours on the weekends arduously scrubbing and vacuuming your pool by hand, you'll have more time to enjoy it.
That's because pool robots can shorten your cleaning time to a fraction of what it used to be, giving you the glorious opportunity of having a deliciously delectable Mai Tai on your patio as you watch your mechanical friend selflessly toil for your benefit.
How Often Should I Use My Robotic Pool Vacuum
If you use your pool frequently, you should probably run your pool robot every day. If you don't use your pool that much, running it once a week should be enough.
How Long Do Robot Pool Cleaners Last
Even the best pool robot cleaner robot on the market won't last forever. The longevity of a robotic pool cleaner varies depending on the frequency of use and how well you maintain it. The average lifespan is approximately five years. However, if you meticulously maintain your pool robot vacuum, you might be able to stretch that time to seven years (as some users have done).
Robotic vs. Suction vs. Pressure Cleaners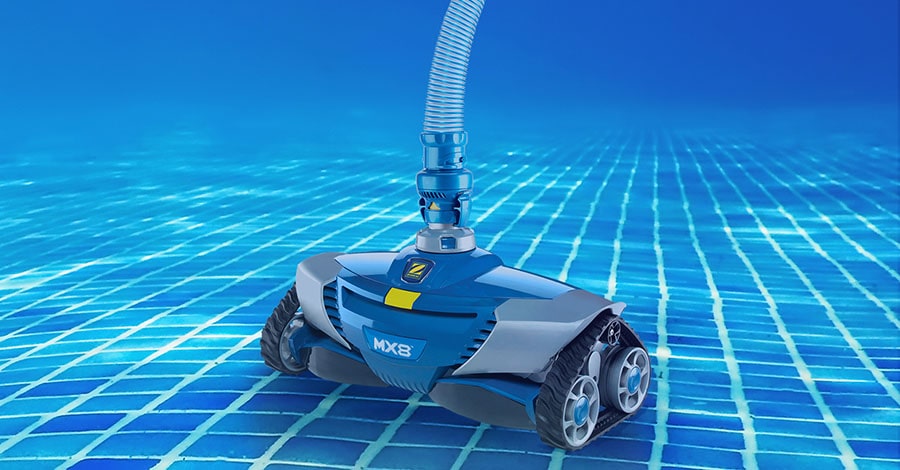 Suction-side Cleaners
Suction-side cleaners are fantastic for pool owners on a tight budget because they usually cost less than the other types. With few moving parts to break down, maintenance is easy.
Even if you have to occasionally replace a part, it's relatively inexpensive to do so. They're perfect for pools that have a more powerful pump than the pool and filter need, which means there's a surplus of energy the suction cleaner can tap into.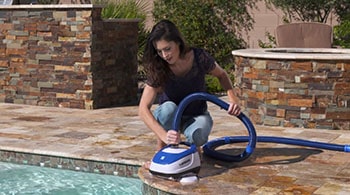 Suction cleaners attach to your pool's primary filtration pump and use its power to move from one end of your pool to the other. Suction cleaners have a throat mechanism that allows dirt, dust, and sand to pass through but can clog if larger debris gets stuck.
This means the unit will remain inoperable until someone comes along and performs an impromptu tracheotomy on the poor thing by removing whatever got lodged in its windpipe.
If sand or silt is what you need to remove, suction-side cleaners are an excellent choice. However, if your pool is plagued with a superabundance of leaves or sticks, you should probably get another kind of pool cleaner because suction machines struggle with this type of debris.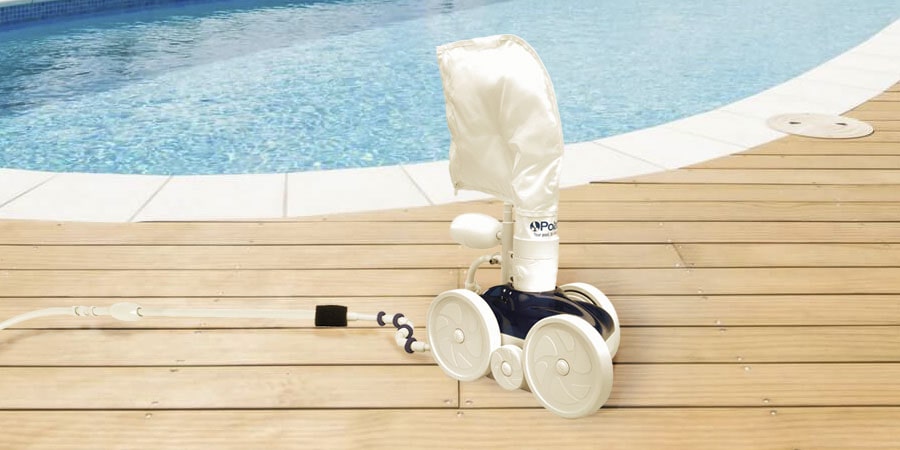 Pressure-side Cleaners
Pressure cleaners don't use your pool's filtration system to get rid of debris. Instead, they use a filtration bag to capture all the unsightly flotsam and jetsam detracting from your pool's carefully cultivated aesthetics.
Pressure-side cleaners aren't as expensive as robotic pool cleaners and are relatively easy to maintain. They attach to one of your pool's return jets and get their power from the water returning to the pool via an existing pressure-side line.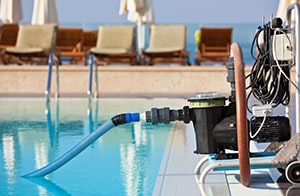 Unlike a suction-side cleaner, you won't have to empty the pump basket or backwash the filter to keep your pool's equipment in good working order. The internal filter bag reduces stress on your pool's pump and filter, saving you buckets of cash down the line.
However, there are drawbacks. For example, although they're terrific at picking up medium and heavy debris, they're not so good at capturing fine particles or tiny scraps of trash. This stuff tends to flow right through the filter bag, where it gets trapped up by the pool's filter.
Another downside is these cleaners often require a booster pump, and not every pool has the plumbing to accommodate this type of setup. Also, you'll incur additional electricity costs by running a second pump.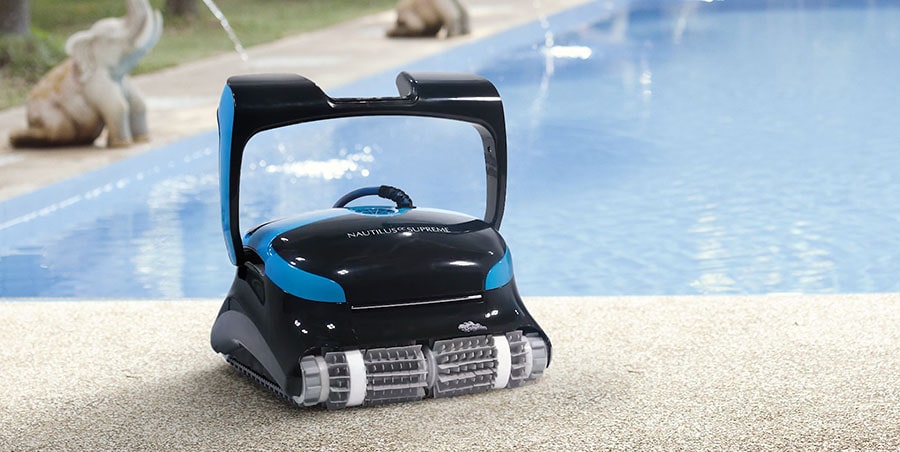 Pool Cleaning Robots
Having a robotic cleaner to defend your pool from invading armies of aqueous junk takes pool maintenance to a whole new level. These devices not only take a tremendous burden off your pool's dedicated filtration system (saving you tons of money in the process), they also save you from the horrors of laborious manual work.
What's fantastic about pool cleaning robots is everything needed to restore your pool to a state of crystal clear cleanliness is contained right inside the unit. This makes them fully autonomous cleaning machines that won't place a lot of stress on your pool's dedicated pump and filtration system. Simply plug your bot in and watch as it goes to town on all the dirt, filth, and grime that pools seem to magically attract.
While a robotic pool cleaner can be expensive, the long-term savings more than make up for the initial monetary outlay. For example, having a robot to hungrily suck up all the disgusting debris that your pool's dedicated filtration system would otherwise choke on saves on expensive equipment repairs.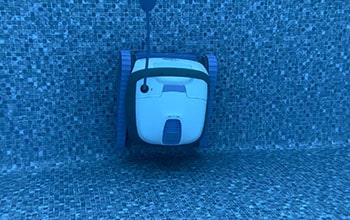 You'll be able to sock away even more of your hard-earned cash because you won't need to hire expensive pool boys to do the work for you. Pool robots are also exceedingly energy-efficient, helping to reduce your overall power usage and costs. This makes them environmentally friendly.
With an ever-vigilant robot patrolling for floating fragments of organic matter and algae stuck to the walls and bottom of your pool, you won't be using manual brushes much anymore, if at all. The virtually maintenance-free design of robotic pool cleaners makes them an excellent choice for pool owners everywhere.
Types of Pools
Whether it's pools with vinyl liners, or gunite or plaster pools, most robotic pool vacuums can tackle any kind of pool surface. However, sometimes a robot pool cleaner is made specifically for either in-ground or above-ground pools.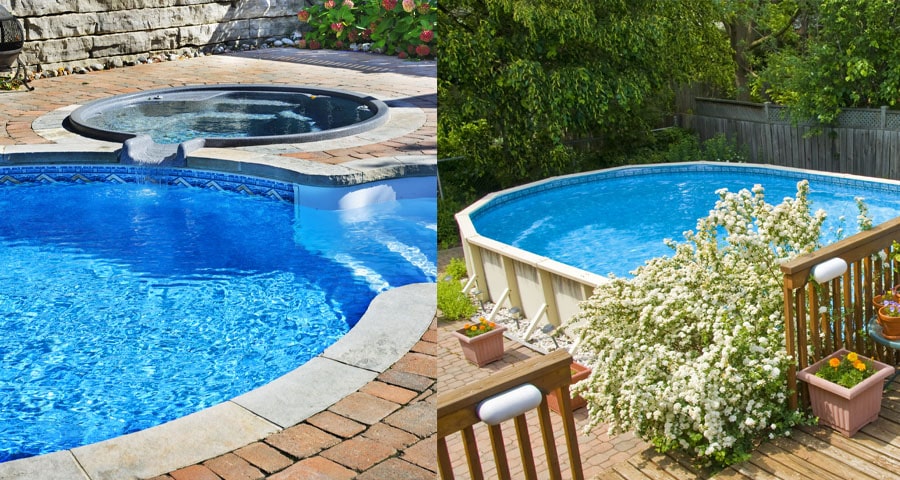 You'll need a robotic pool cleaner that can reach all the way from one side to the other without having to unplug it from one power source and connecting it somewhere else. Your power supply must also be 12 feet from the pool's edge. Make sure you know your pool's length, width and depth so you know how long of a cord you need.
Also, if you have a vinyl, fiberglass or smooth tile pool, you won't want a cleaner with a rough brush. Instead, you'll want a bot with a soft, grippy PVC brush.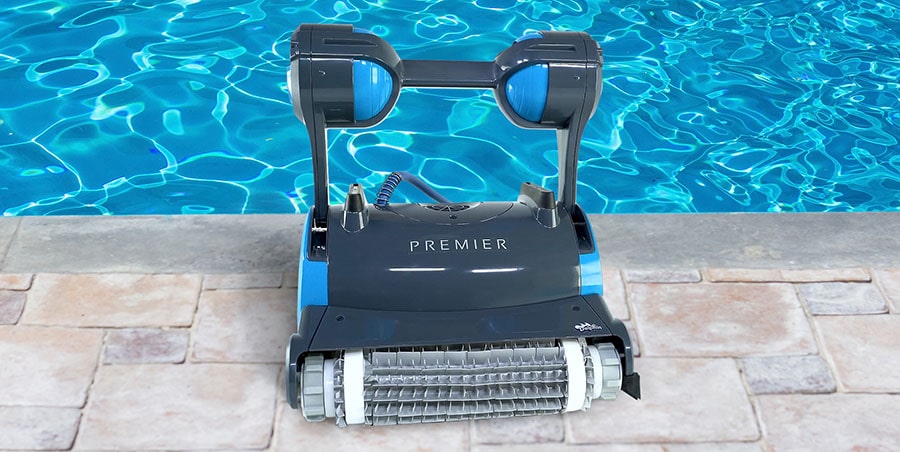 How Much Cleaning Do You Need
Depending on how much you use your pool and what your budget is, you may opt for a pool cleaner that only vacuums the pool floor. A pool vacuum robot sometimes doesn't come with brushes, which means its cleaning capability is going to be somewhat limited. However, these types of bots are often the simplest to operate and are the cheapest.
However, the best pool vacuum for you is probably one that can clean every pool surface, including the floor, coves, walls, and waterlines. Because these cleaners will likely have rotating brushes, tank-like treads, and other high-tech features, they're going to be more expensive.
Browse our reviews of the best pool robots to find one that fits your budget and pool cleaning needs!
How We Test Robotic Pool Cleaners
We meticulously analyze the performance of robotic pool cleaners by running each one through a six-hour cleaning cycle in a swimming pool best suited to that model's use. We start the rigorous process by cleaning the pool and filter before dumping a precisely measured amount of contaminants in the water, such as leaves, pebbles, and twigs. Then, we set up and place the bot in the water according to the manufacturer's instructions.
We meticulously record the number of times the unit gets stuck and what caused the stoppages. We measure how much debris it collects and how good it is at scrubbing away stubborn debris to assess cleaning performance. We look at how simple it is to clean all the junk out at the end of a cleaning cycle. We also look at anything else directly related to the user experience, such as the smartphone app and voice assistant compatibility.
However, we don't stop there. We pore over hundreds of reviews on manufacturers' websites, forum posts, and other places to see what buyers really think of their pool-cleaning machines. Most importantly, we update our buying guides at least once a year, so you always have the latest information at your fingertips.
More
Best Robotic Pool Cleaners of 2023 – Ratings & Reviews
---
---
---
---
---
---
---
---
---
---
---
---
---
---
---
---
Why Buy a Robotic Pool Cleaner
You have several options when it comes to pool cleaning. If you can afford to shell out big bucks, you can always go with an expensive pool cleaning service. However, many pool owners are either unable or unwilling to fork over that kind of cash. Some owners might decide to manually clean their pools. This means laboriously scrubbing with brushes, and painstakingly using nets and vacuums.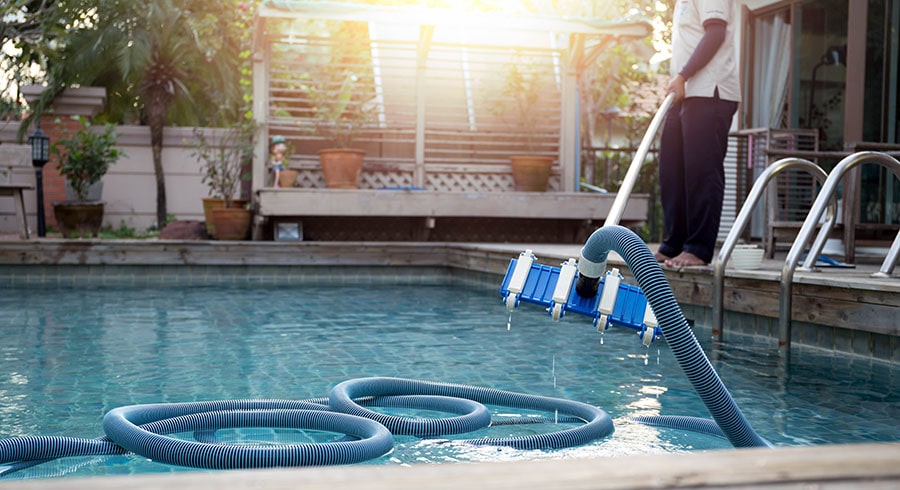 The old-school approach works too but requires a lot of time and effort.
A way to clean your pool that's not time-consuming and overly expensive is by deploying automatic pool cleaners to get rid of the aquatic crud. Pool vacuum robots tend to be the most expensive, but not always. Robotic pool cleaners are also the least labor-intensive of the automatic cleaners. Here are a few reasons to invest in one:
You don't have a lot of spare time. You don't have a lot of spare time. If you're working full time and raising a family, you'd probably rather be in the pool when you get some time off than cleaning it.

You have health issues. Manual cleaning can be excellent exercise. However, all that bending over and scrubbing can be a painful nightmare if you have a bad back or other physical limitations.
You want a healthier pool. A good robotic cleaner has just the right scrubbing and filtration power to remove things you can't see with a regular pool vacuum. Those with smart navigation ensure every nook, cranny, and crevice of your pool gets a thorough cleaning.
You want to prolong the life of your pool pump. Many pool cleaners and vacuums rely on your pool's pump to power them, which puts extra strain on it and your pool filters. A robotic cleaner uses its own power source and filters, which prolongs the life of your pool's dedicated equipment.
You care about the environment. A clean pool means you'll need fewer chemicals, which makes for a reduced carbon footprint. Also, robotic cleaners have superior energy efficiency.
What To Consider Before Buying a Pool Robot Vacuum
When looking for the best pool robot cleaner, what you'll buy will depend on your pool type, its features, and how much cleaning you'll need. To help you make an informed buying decision, it's a good idea to write down all the features you want in a pool robot. That way, you can easily refer to this list to help you find the best one that also fits your budget.
Type of Pool
While robots are most often deployed to clean inground pools, some models can also clean the floors of above-ground ones. However, most robots won't be able to clean the sides of above-ground pools. Also, some bots are better at getting into the sinuous corners of irregularly shaped pools. That's why you need to keep your pool shape in mind when looking at pool possibilities.
Size of Pool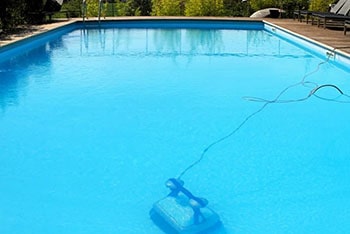 Check the maximum pool size the robotic cleaner is designed for. Cord length on the machine will determine how far it can reach across your pool. If it's not mentioned, see what the length of the cable is and subtract 10 feet. The larger your pool, the longer the cord you'll need. If it's too short, you may have to move the power supply from one side of the pool to another.
Most in-ground robot cleaners come with a 60 foot cable, which means they can cover a pool up to 50 feet long. Most above ground robotic pool cleaners have a 40 feet cable, meaning they can clean pools up to 30 feet long.
Steps, Stairs, Walls, and Waterlines
Pretty much every pool cleaning robot can tackle the pool floor with no issues. However, some can't clean stairs and steps or climb walls. Others can't scrub the waterline. Generally the more capabilities a cleaner has, the more expensive it will be.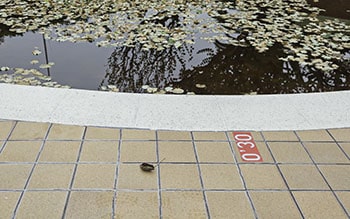 The Debris Your Pool Collects
You'll get better results from a pool-cleaning robot if you consider the kind of debris that lands in your pool. This is wholly dependent on your climate, geographical location, and landscape. All these factors contribute to the types of junk that end up floating around in your pool.
For example, if your property has a lot of trees on it, you'll probably want a robot that has a large filtration basket. This way, it won't fill up too quickly, saving you the annoyance of having to empty the device every two seconds. If your pool is plagued by finer debris such as pollen or dust, think about buying a robotic pool cleaner with ultra-fine filters.
Features To Consider
Here are some of the features that make the difference between a merely okay cleaner and a truly exceptional one: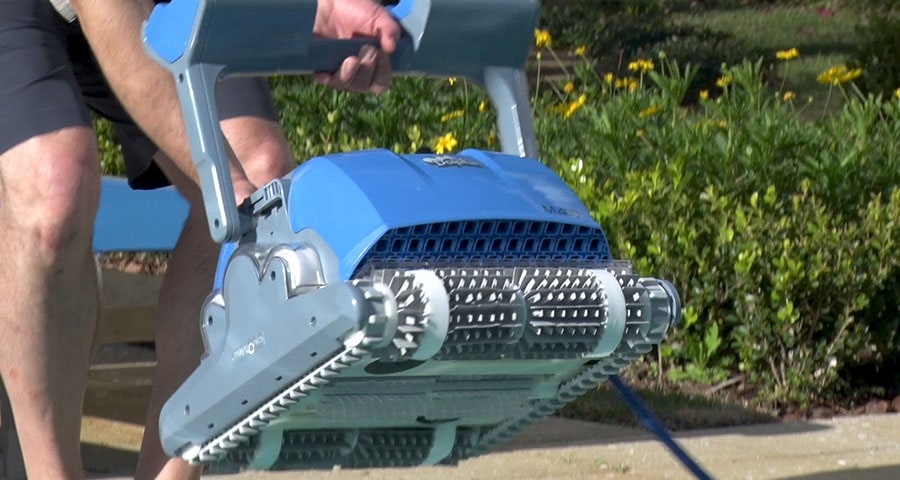 Active Scrub Brushes
Machines that have active scrubbing can do a better job at dislodging debris from pool surfaces than machines that don't have this capability. Some cleaners only have suction power, which means you'll have to do all your brushing manually.
Smart Scanning Systems
Smart scanning systems use advanced algorithms and mapping technology to plot the most efficient cleaning path. These can be great for oddly shaped pools so that the cleaner doesn't end up going over the same area multiple times, thereby wasting energy.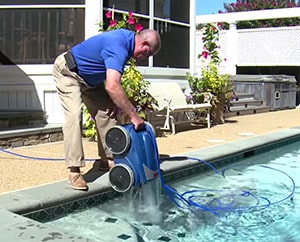 Weight of Unit
How much the unit weighs is also crucial since you'll need to lift it out of the pool. Keep in mind that the water and collected debris make it heavier. Wheeled caddies can be a real backsaver because you can roll the cleaner from the storage area rather than carrying it.
Anti-Tangle Swivels
Anti-tangle swivels keep the cord from getting all tangled up. This is a good thing to have if you're not going to be at home when the unit is running.
Easy to Clean Debris Canisters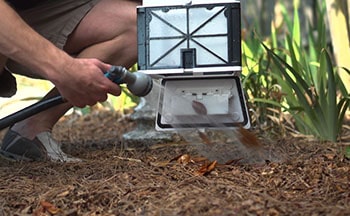 A robot's filtration system is crucial to cleaning performance. You can either get a unit with a cloth filter bag, or one with a basket that has a fine mesh screen for filtering. Keep in mind that filter bags are more challenging to clean and need time to dry. On the other hand, filter baskets or cartridges only require a quick hosing down.
Some bots have multimedia capability, which means they come with multiple filters for different types of debris. For example, one model could have a bag for acorns and leaves, and a basket to capture smaller scraps. Other models have cartridges for fine and ultra-fine debris that fit in with each other.
Machines with archaic technology typically provide filter access from the bottom. On these models, you need to turn the unit over to get to the cartridge or bag. Top-loading models are easier to maintain.
Features That Are Nice To Have
Other features that are nice to have but not really necessary are a remote control, programmability, and Bluetooth and Wi-Fi capability. A remote control allows you to navigate your bot to a specific area for precision cleaning.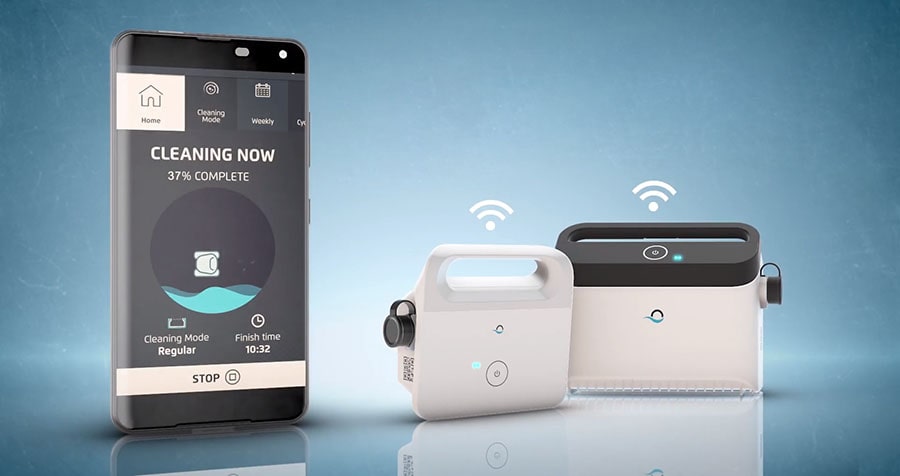 Bluetooth and Wi-Fi capabilities are nice to have but not mandatory
If you want to run your cleaner on a set schedule while you're not home or at night, being able to program weekly cleaning cycles certainly would be beneficial. However, if you do that, you'll have to leave it in the water all the time. This means that the chlorine and other pool chemicals could shorten its useful life.
What Are the Drawbacks to Pool Robot Cleaners
As nice as they are to have for saving time and effort, there are a few cons when it comes to pool robots:
Price: Pool robots are usually the most expensive type of automatic cleaner. The cheapest ones may be about the same price as a mid-range pressure or side-suction cleaner. However, these models don't have nearly as many features and tend to break down more often.
Maintenance: With all the moving parts, there's more to break and replace on a pool robot. In fact, the most common complaints when it comes to robotic cleaners are all about them suffering mechanical malfunctions. That's why you should probably purchase a machine with a decent warranty, including an extended warranty if it's available.
Filter cleaning: Unless you want to waste money on disposable filters, you'll need to clean out the filter bags or cartridges after every cycle. If your pool is big and gets used a lot, you're going to have to clean them with annoying regularity.
Tangled up cables: Because anti-tangle swivels don't always work, it's a good idea to watch your unit the first few cleaning cycles to ensure the tangle-free swivel is doing its job.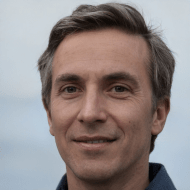 Limited warranties and specialized internal parts mean repairs can be costly. Therefore, robotic pool cleaners require regular and specific maintenance.
Can damage some vinyl surfaces: If you have a vinyl-lined pool, make sure the cleaner is compatible with it. Some of the brushes can scratch the ink or remove the patterns on the vinyl. Always make sure your vinyl is in good shape before using a pool robot with brushes.
Can't swim with it in the pool: All pool robots are grounded with GFCI plugs that are supposed to shut off at the first hint of any electrical imbalance. However, there's always a risk of electric shock any time you have electricity and water together. That's why while it's running, you should keep everyone out of the pool to make it safe for swimmers.
Pool Cleaning Robot Maintenance
If you spend several hundred bucks on a new automatic pool cleaner, you probably want to ensure it lasts as long as possible. Unlike simpler pool cleaners such as brushes and nets, robotic pool cleaners need a little extra TLC to keep them functioning at their peak condition.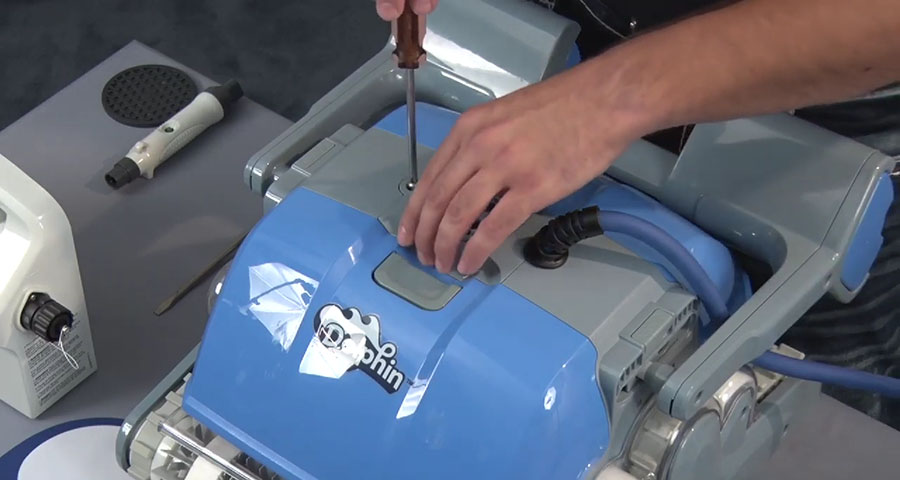 The best pool vacuums will keep going like the Energizer Bunny so long as you maintain them properly. This means always adhering to the guidelines in the owner's manual. Keep it handy for reference.
Here are some general tips to keep your pool vacuum robot running smoothly:
Remove the robot from the pool at the end of the cleaning cycle. Prolonged submersion can damage the motor, and there's always a risk of electrical shock if you swim with it in the water.

Thoroughly drain all the water from the cleaner when you take it out. Your owner's manual should tell you how. If not, look for videos online.
Clean the unit after each cycle, including clearing brushes and wheels of debris, and emptying and rinsing the filters.
Replace any worn brushes or filters ASAP.
Store your pool robot out of direct sunlight, and protect it from the elements. The power supply can sustain damage if exposed to torrential rain or other inclement weather.
It may not sound like fun to keep up with a rigorous pool maintenance routine. However, skipping any of these steps can cost you a lot in both money and time.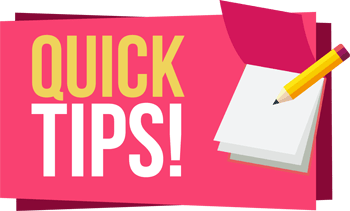 These quick tips and hints come from customers who've used the products listed above. They might help you if you need some troubleshooting.
If debris tends to fall out when removing your cleaner from the pool, try either removing it really quickly or really slowly and keep it upright at all times.
If you have a beach entrance style of pool, a robotic cleaner may get flipped over if it's climbing a nearby wall. The water at the entrance may be too shallow for it to turn itself back over. Most cleaners have auto-shut off if this happens.
To help prevent cord tangling, try stretching the power cord out straight and leave it in the sun for a few hours.
Make sure the filters are completely enclosed with the door fully locked down, or the cleaner may not run.
Don't neglect the usual pool maintenance with regular brushing, testing water pH and chemistry, etc. There's only so much your pool robot can do. If your pool is neglected and filthy, you need to manually clean it first, then use the pool robot for maintenance cleaning.
The tracks on the rollers will stretch and loosen after a while. If you notice it's not climbing like it used to, try replacing the tracks.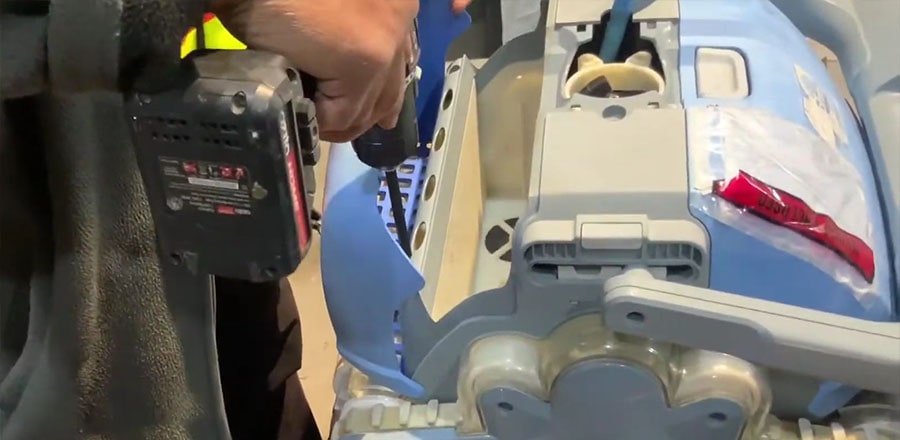 Pool Robot Troubleshooting
Unfortunately, every pool cleaner is going to break down now and then. If your unit is still under warranty, call the manufacturer's support hotline to see if the company will pay to fix the issue. If not, see if the problem is something you can take care of yourself before calling the professionals.
If your pool cleaning robot isn't working, follow these steps:
Check the Power Supply
Check to make sure that the power cord isn't damaged. If it isn't, ensure that the power cord is firmly plugged into the power supply transformer, which should be plugged into a GFCI outlet.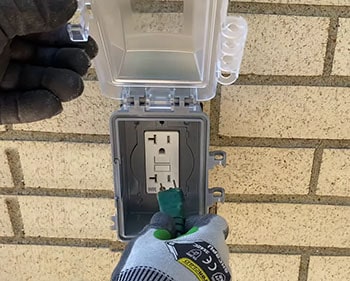 The power supply will have an indicator light telling you if power is flowing through it. If electricity is getting to the power supply, but the cleaner isn't moving, the problem lies elsewhere. The power cord could have a short, meaning the wires have broken away from the connection inside the rubber casing. This frequently happens at a point near the cleaner where the stress on the cord is the greatest.
Wires can break if a user exerts too much force when pulling on the cord to remove the unit from the pool. If the power cord is in good shape, check the resistance of the motor using a test meter.
This will tell you if power is reaching the motor. If it is and the motor isn't working, it looks like you might have to install a new motor.
Mobility Issues
If your robot is slow or doesn't climb walls the way it should, this could indicate cracked bearings, old brushes, or worn-out drive tracks. It could also mean there's debris stuck in tracks, brushes, or the impeller.
The debris basket could be full, which could interfere with the unit's ability to move around your pool. If none of these things are the source of the problem, lift the unit partially out of the water to see if it's sucking air. If it isn't, it might need professional attention.
Getting Stuck
Some robotic pool cleaners have an annoying habit of getting stuck behind ladders and handrails. A relatively inexpensive ladder guard can help prevent this problem from occurring. You can also try adjusting the cord length or moving your control box to a different location.
Leaving Areas Untouched
If your robotic cleaner leaves some areas untouched after you program it for an automatic cleaning cycle, it might be that the cord doesn't have enough slack. The cord needs to have enough length to reach every part of your pool.
Who are we
Our resident pool expert, Luke Reed, has had a burning passion for swimming as far back as he can remember. Even as a little kid, he was always the first one in his backyard pool and the last one out.
Luke channeled this obsession in high school by becoming a member of his high school swim team. He was ecstatic to discover he had a natural aptitude for the sport. Before he knew it, a profusion of swim trophies graced his living room mantel.
Luke received a BS in Civil Engineering from Georgia Tech in 1998. His first job out of college was with the Georgia Department of Transportation's Bridge Maintenance Program.
These days, you'll find Luke passionately engaged in the work he was born to do: residential pool construction. His aquatic masterpieces run the gamut from luxurious infinity pools to small family pools. Even though he is a master pool designer, one of his biggest joys in life is teaching homeowners the ABCs of pool maintenance.
Luke makes his home in Tucson, AZ, where his entire family shares his joy for swimming. His keen expertise is one of the driving forces behind this website. His mission is to make pool maintenance as easy and stress-free as possible. That way, pool owners can spend more time reveling in the unparalleled joy of swimming and less time cleaning their pools.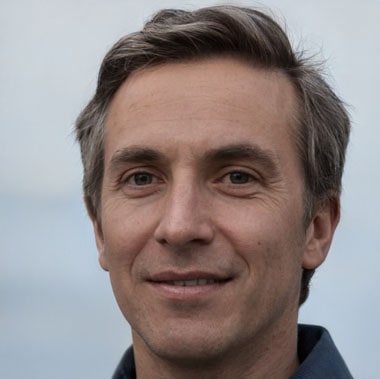 Author
Our pool maintenance expert, Luke Reed, earned his BS in Civil Engineering from Georgia Tech in 1998. Since then, he's worked in a variety of industries, including design and construction of luxury swimming pools.
Pool Maintenance Tips & Tricks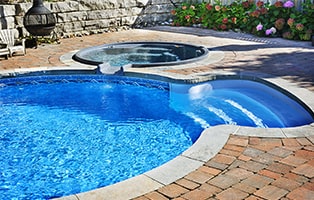 With all the different types of swimming pools available, such as in-ground and above-ground, it can be difficult to decide which one to get. Our guide including pros and cons can help you make that choice.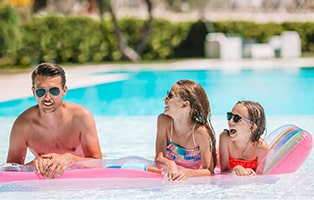 Germs and bacteria can cause life-threatening illnesses in a swimming pool. Find out what the dangers are and what you can do about them by reading our article.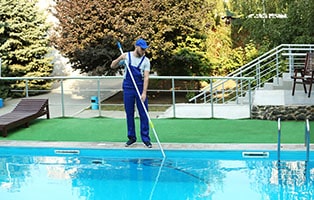 Dreaming of entrepreneurial success? Check out our guide on how to start a pool cleaning business. You'll find everything you need to know to set one up.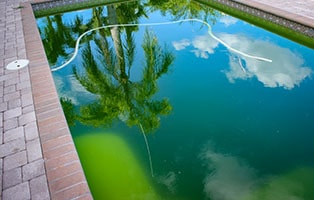 Is your swimming pool too murky to swim in? In our informative article, you'll discover the causes of a cloudy pool and how to fix the problem.