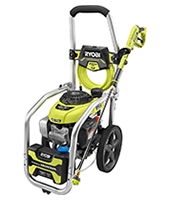 Read our 2023 review of the RYOBI 3300 PSI RY80942 gas pressure washer to find out all the features that make it exceptional!
We select, test, review and suggest the best products. We may earn a commission, if you buy something through our links.
The Ryobi RY80942 pressure washer is an exceptional labor-saving machine perfect for homeowners wanting to keep every part of their property looking clean. It'll blast away accumulated filth, caked-on grime, and nasty grease from patio furniture, grills, trucks, motorcycles, and more.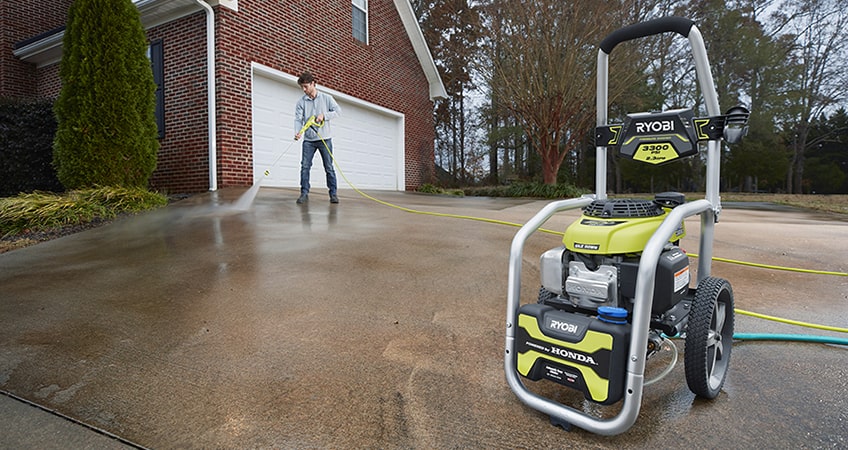 The Ryobi RY80942 3300 PSI
Features
Honda dependability and Ryobi excellence in one machine
Unsurpassed cleaning power and exceptional durability;
Handy and easy-to-fold storage caddy;
Idle-reducing technology decreases noise levels;
Incredibly lightweight, so it's easy to move;
Five spray nozzles provide greater versatility;
Who's It For
The Ryobi RY80942 gives you all the cleaning power you'll ever need right at your fingertips. For example, it's fantastic for individuals embarrassed by their cruddy concrete walkways. Switch on the RY80942, and they'll be cleaned in no time. Mobile home dwellers will love how easily it removes all the grime off the sides of their house.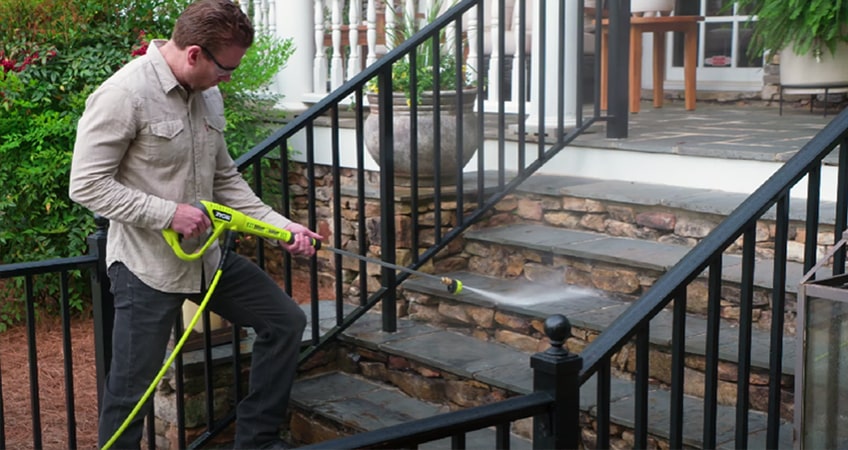 Powerfull cleaning with RYOBI 3300 PSI RY80942
If you have a filthy shed with a bad habit of collecting green slime, deploy this powerful gadget on all that nastiness. It'll clean algae-stained vinyl fences with a single pass, with more oomph than many commercial models. Use it to annihilate moss from siding, mildew off decks, and stubborn bug scum from automobile windshields.
Pros

If you need an outstanding pressure washer capable of delivering over 3000 pounds of pressure, is easy to start, and has an extra-large detergent tank, this is the model for you. Some users even report that the unit performs better than any other power washers they've owned. What's more, it's built to last, unlike some other models.
The Ryobi RY80942 is engineered to handle tough jobs and is one of the most efficient gas-powered pressure washers in its price range. It's a heavy-duty workhorse that delivers 3300 pounds of pressure, which is approximately 55 times more pressure than a standard garden hose. This is more than enough power for most household uses.
Exceptional Honda Engine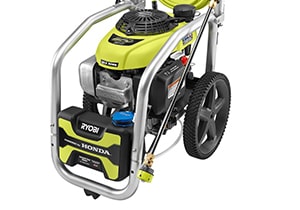 The 187 cc Honda engine gives you the dependability of Honda and the unsurpassed excellence of Ryobi all in one incredible machine. Instead of the constant hum of a pressure washer at full power, the engine drops to a low idle when you release the trigger. This saves your ears and your fuel and prolongs engine life. The internal timing belt further reduces vibration and noise.
Because it has a four-stroke engine, you never have to do any oil and gas mixing. The pump unit is sealed, so you won't have to worry about changing the pump oil. You won't ever have to prime the pump, and the engine starts with a single pull. What's more, it purrs like a pussycat.
Handy Storage Caddy
The Ryobi features a handy storage caddy that allows you to neatly store nozzles and other accessories. That way, they're always right where you can find them, and you'll always be prepared for every type of cleaning job.
Note: You get a folding handle for easy and compact storage, which means it takes up less space in your garage.
Internal Protection Mechanisms
A trigger lock mechanism prevents accidental operation, so you don't end up hurting yourself by spraying a powerful jet of water on body parts. A thermal relief valve means that if your unit ever overheats, hot water is immediately expelled, minimizing the chances of internal pump damage.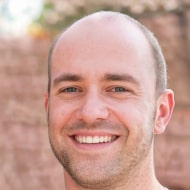 There's a two-year warranty on the engine and a three-year limited warranty on everything else. A five-in-one nozzle allows you to easily adjust your spray pattern mid-stream. At 68 pounds, the unit is incredibly lightweight, which means it's exceptionally easy to move —even on uneven terrain. Large 12-inch wheels increase maneuverability. An extra-long 50-foot hose makes it easy to wash large areas without having to move the unit. That's fantastic, considering most pressure washers only have 25 feet hoses.
Cons

While the RY80942 is one of the best pressure washers on the market, it's not perfect (which gadget ever is?). For example, the ¼ gallon gas tank means the unit will run approximately 45 minutes to one hour on a tank of gas.
That means that you could refuel more often than you'd like on bigger projects. A bigger fuel tank would rectify this problem. Because the hose is a little stiff, you might have trouble rolling it up at the end of the day.
The unit takes a few minutes to start generating pressure. However, once it gets going, it's second to none. Some users report that the lower wand assembly fell off after a short period of use. The good news is, with exceptional customer support, they quickly got a replacement.
Alternative Models to the Ryobi RY80942
Let's compare the RY80942 to other models. We'll start with the Simpson ALH3425. At 3600 PSI, this unit has slightly more cleaning power than the Ryobi, which only gives you 3300 PSI. However, the RY80942 has 50 feet of hose, and the Simpson only has 35 feet.
Ryobi RY80942 VS Simpson ALH3425
Next, we'll see how the Ryobi stacks up against the Westinghouse WPX3200. This model has a one-gallon gas tank, while the RY80942 has a ¼-gallon one. On the other hand, the WPX3200 has four nozzles, and the Ryobi has five.
Finally, we'll compare the RY80942 to the Stanley SXPW3124. This latter model delivers 3100 pounds of pressure, while the Ryobi only gives you 3300 pounds.
The Stanley has a guarantee that's a bit better than the RY80942, offering a five-year limited warranty on the frame, a two-year limited warranty on the engine, and a one-year limited warranty for the pump. The Ryobi only has a two-year warranty on the engine and a three-year limited warranty on everything else.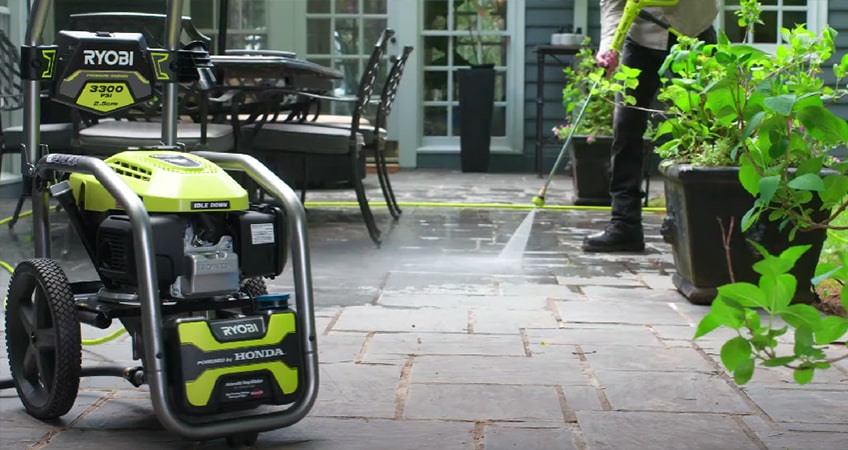 Final Verdict: Should You Buy the Ryobi RY80942
Because of the dizzying number of things you can do with a pressure washer, every homeowner on the planet should have one. One good thing about a gas-powered pressure washer is that it's portable, which means it's usable even in remote areas with no electricity or water hookups.
However, with so many models, it can be overwhelming to decide which one to buy. At Cleanup Expert, we want to make your buying decision easier. That's why we're recommending that you purchase the Ryobi RY80942. It's one of the best gas-powered models with an exceptional user experience.
If you want to know what our TOP-10 gas pressure washers are, check out our guide.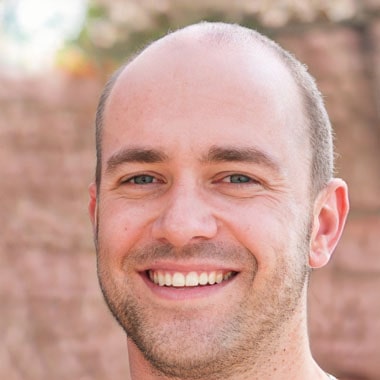 Author
Alex owns a home improvement and restoration company in Vancouver. He obtained his Bachelor's degree in Construction Management from Saskatchewan Polytechnic and is a NARI Certified Remodeler. His team does a wide range of home restoration products, both interior and exterior.
---
Pressure Washer Tips & Tricks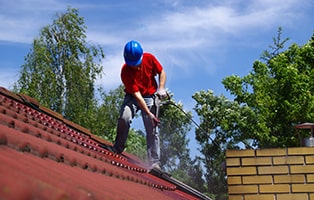 The leaves are starting to fall, and you may be thinking about power washing your gutters. Why? It's the perfect time of year to maintain those dirty drainage systems. The cool weather brings out dirt build-up, which can cause more problems.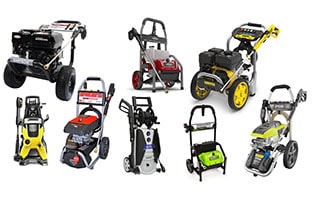 When it comes to cleaning grungy patio furniture, dirt-encrusted siding, and oily driveways, power washers are an indispensable tool. Read our article to find out which companies make the best ones.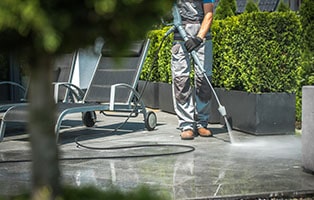 A pressure washer is a way to clean your patio that doesn't involve lots of strenuous scrubbing. Read about the 7 steps you'll need to follow if you want your patio cleaning to be a smash success.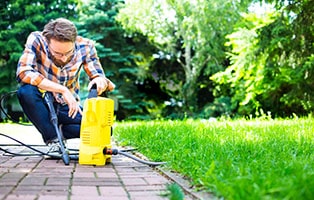 If your pressure washer is getting hot too frequently, this could be a sign that there's either something wrong with it, or you're doing something wrong. Read our article to diagnose these problems.