Self-Emptying Robot Vacuums can make life so much easier. Here are the Best Models for 2023!
If you want to know what's the best self-emptying robot vacuum on the market, you've come to the right place! These days, as the average human being gets inundated with endless demands on their time, people are desperately searching for ways to lighten their workload. Enter the robotic vacuum cleaner, a device that was nothing short of revolutionary when it was released to the public just over two decades ago.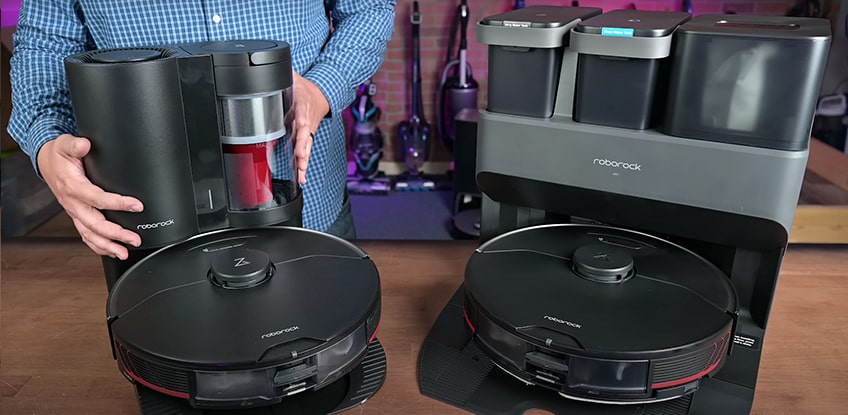 Best Self-Emptying Robot Vacuums on the Market in 2023
For years, robotic vacuum cleaners have been automating what was previously an unpleasant household chore: vacuuming floors. However, it's only been relatively recently that emptying the onboard dustbin has been fully outsourced to a robot. That's because robotic vacuum cleaner manufacturers finally realized that emptying the onboard dustbin isn't the most pleasant job a person could do.
Our Top Picks
We select, test, review and suggest the best products. We may earn a commission, if you buy something through our links.
Self cleaning robot vacuums eliminate the somewhat disgusting scenario of your hands being covered with dust and debris because there's no way to avoid emptying the dustbin yourself. They magically transform floor cleaning from a laborious, time-intensive effort to something that's hands-free , effortless, and automatic.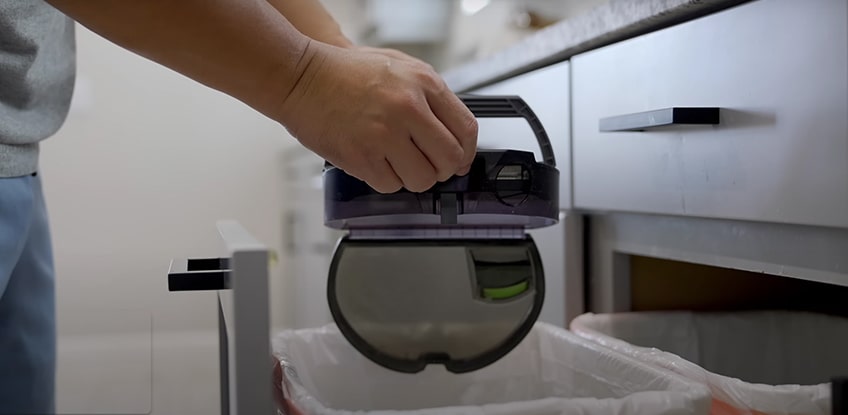 Forget about Emptying the Dustbin Yourself
The reason why people plunk down their hard-earned cash for a robotic vacuum cleaner is so that they can be free from having to do housework themselves. Unfortunately, if you own a robotic vacuum, you'll still need to empty all the dirt your bot collected during a cleaning session.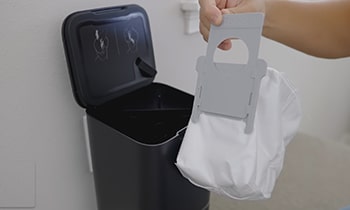 Doing this is not only messy but causes dust to be re-released back into the air, which isn't very healthy (particularly for allergy sufferers). On the other hand, if you buy a self-sufficient model with the ability to empty its own dustbin, your days of doing this unpleasant task are over forever.
If all this sounds fantastic, it might be high time to upgrade to a self-emptying model. Once you decide to invest in this type of cleaner, you'll never want to go back!
How Do Self-Emptying Robot Vacuums Work
The problem with regular robotic vacs is that they're small, not much taller than four inches. Their tiny size leaves little room for a dustbin, meaning you'll need to empty it yourself every couple of cleaning sessions.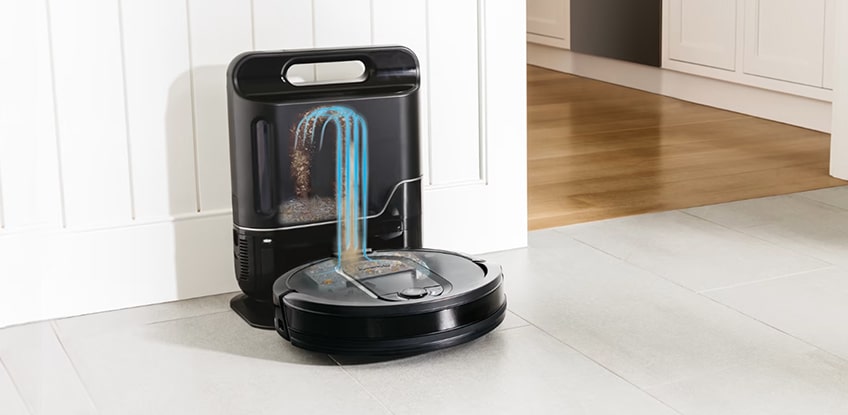 Charging Base Generates a Robust Suction that Removes all Dirt
Manufacturers designed self-emptying bots to overcome this problem. Because they empty their collection canisters all by themselves, they bring the glorious dream of a fully automated household one step closer to reality.
Once a self-emptying vacuum droid docks, the charging base generates a robust suction that removes all the dirt and debris from the onboard canisters and transfers it to an internal bag that seals up when it's full. That way, you'll never see, touch, or smell anything unpleasant or get your fingers dirty. Once it dumps out all the dirt and debris it collected, it goes on its merry way, resuming its cleaning mission precisely where it left off.
How Do Self-Emptying Vacuum Cleaners Compare to Canister and Upright Vacuums?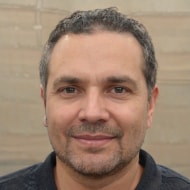 Self-emptying robotic vacuum cleaners are almost 100% autonomous, while canister and upright models require a human to push them arduously along a floor. On the other hand, old-fashioned vacuum cleaners have more powerful suction. However, having less power is irrelevant because self-emptying robotic vacuums can run for hours. That's because if you run your self-emptying bot long enough, cleaning performance will meet or exceed that of traditional vacuums.
Are Self-Emptying Vacuum Cleaners Worth It
While it might seem that a robovac with self-emptying capability is an unnecessary luxury, you'll most likely never want to go back to a less autonomous model after enjoying the effortless convenience a device like this affords. Let's say you're an allergy sufferer who detests regular robovacs because you need to empty the dustbin yourself, and this aggravates your symptoms to the nth degree. In that case, it's worth investing in a self-emptying robovac.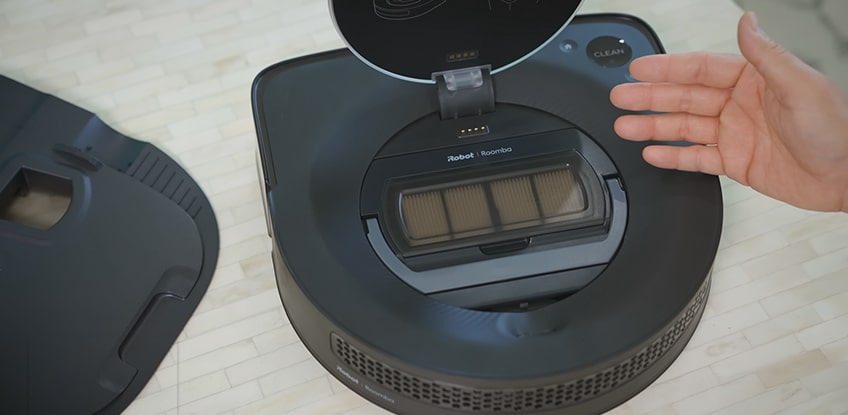 When you make one of these units an integral part of your cleaning arsenal, you'll be able to kick back and relax with an adult beverage while you watch your faithful bot do all your dirty work. You'll no longer need to put up with the endless coughing, sneezing, and feeling miserable caused by dumping a dirty and dust-filled canister into your kitchen garbage can.
These models are a godsend for people with mobility issues, such as the elderly or the chronically ill, and are excellent for larger homes where there are pets. That's because canine and feline hair can quickly fill up the onboard canisters of less advanced robotic vacuum cleaners. If you have animals living with you and are wondering what the best robot vacuum for pet hair of 2023 is, read our informative guide.
NOTE: If you want to run your vacuum droid while at work but are afraid it'll quit halfway through a cleaning session when it gets stuffed to the gills with crud, you'll love how much more self-sufficient your vacuum cleaner is with this superb feature.
Merely create a schedule that directs your bot to clean while you're away, and your unit will go to town on all the filth embedded in your carpets and hard floors. If you want a machine that can not only vacuum but mop too, check out our choices for the best robot mop and vacuum.
Self-Emptying Hybrids
If you want a self-emptying vac that takes self-sufficiency to a whole new level, invest in a model that also mops. Some of these units wash their own mop pads, clean their own docks, and refill their own tanks.
When a self-cleaning robovac senses its microfiber pad is dirty, it immediately returns to the charging dock. Then, a powerful bristle brush inside the station thoroughly cleans the pad. While docked at home base, the bot sucks out filthy water and dumps it into the dirty water tank. Then, it tops off the onboard water tank with fresh water.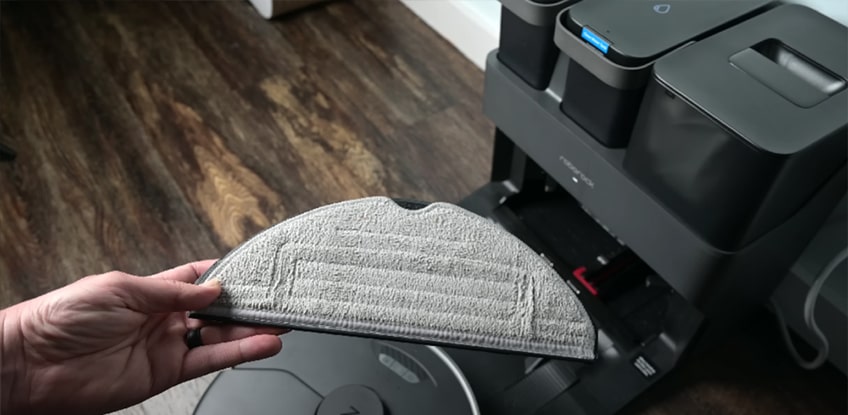 You can purchase a self-emptying unit that raises its mopping plates when detecting a carpet. This allows it to vacuum rugs and mop hard floors during a single cleaning session, making it a consummate multitasker. You can also get a vacuum and mop hybrid that dumps out its own dirt that comes with cutting-edge sonic vibration technology. This adds powerful scrubbing action to its operation.
One of the best multi-tasking self-emptying units is the Roborock S7 MaxV Ultra. It can vacuum your carpets, empty the dirt and debris it collects, mop your hard floors, clean its own mop pad, and refill its onboard tank on its own, all without you needing to lift a finger!
More
Best Self-Emptying Robot Vacuums for 2023
---
---
---
---
What To Look for in a Self-Emptying Robotic Vacuum Cleaner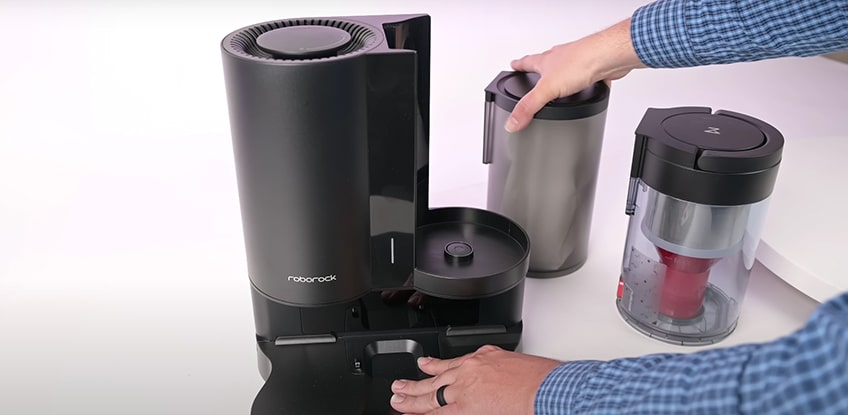 Choose a Big Canister for your Cleaning Frequency and House Size
When looking for the best self-emptying robot vacuum for your needs, you'll want one with a big enough canister for your cleaning frequency and house size. This means ensuring that the capacity of the external dustbin on your unit is sufficient to make the self-emptying feature worth your while. If you're like most people, you'll probably want a model you only need to empty every couple of months or so.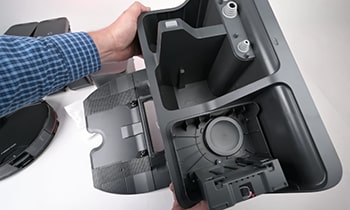 Most makers of robotic vacs usually rate their devices on how many days or cleaning sessions worth of dirt their external canisters can store—most often between 30 and 60. If a manufacturer says that its unit can hold 60 days of filth, and you vacuum twice weekly, you won't need to empty the canister for over six months. You'll know when it's time to dump out the canister's contents because your helpful little bot will send an alert to your smartphone.
What are the Drawbacks of Self-Emptying Robotic Cleaners

Bases for self-emptying robovacs aren't as compact as their non-self-emptying counterparts. In fact, they can be downright bulky and tend to take up a lot of space. Docking stations need to be bigger for self-emptying vacuums than regular robovacs because there needs to be enough capacity for the collection canister to take in large amounts of junk.
Self-Emptying Docks are Bigger than Charging Bases
While this reduces the number of times you need to empty the external dustbin, you probably should check the product dimensions before buying one to ensure that it will fit in the space you're planning to put it in. Because self-emptying docks are taller than charging bases for regular robovacs, they cause vacuums to protrude further out into a room than models without this feature. This makes them less inconspicuous than non-emptying models.
Self-emptying docks generate a loud noise for approximately a minute when offloading dirt and debris from the smaller onboard canister to the larger external one. This mechanical din is typically noisier than the sound emitted by an old-fashioned upright model.
What are the Benefits of Self-Emptying Robovacs

The ability to self-empty is one of the most exciting developments in the evolution of self cleaning robot vacuums. Because these models are more autonomous than their less technologically sophisticated predecessors, It goes without saying that they offer a better user experience than regular robovacs.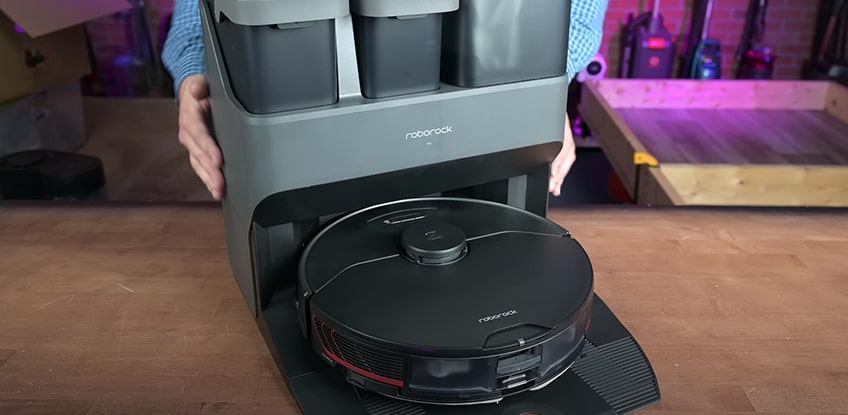 Robovac with a Self-Emptying Dock can Save Up Hours
Self-emptying robot vacuum technology has made quantum leaps, with performance that would have been undreamed of a few short years ago. It's true that robot vacuums with self emptying capabilities are more expensive than regular robotic cleaners. However, their price has dropped significantly in the last few years, putting them within financial reach of consumers who could never afford the more expensive models.
Buying a robovac with a self-emptying dock can save up to 110 hours of floor maintenance a year, or approximately two hours every week. Think of what you can do with all that extra time!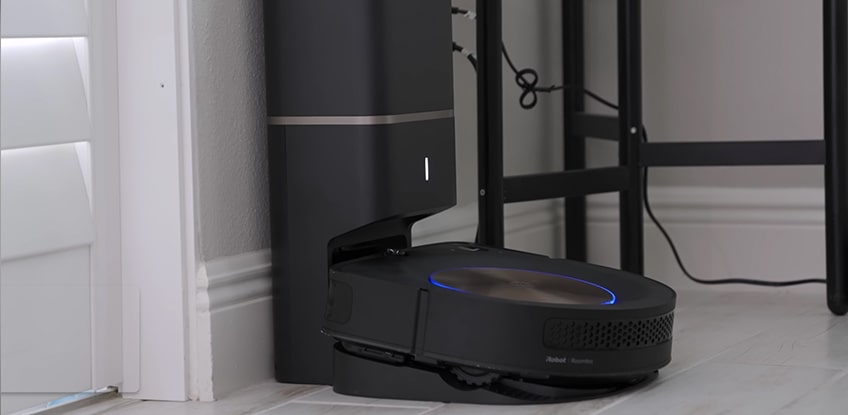 A self-emptying unit allows you to use your robovac more frequently. That's because, with an ordinary robotic vacuum cleaner, you need to empty the onboard dustbin throughout the day periodically.
Because you're not there to empty it, you might be hesitant to run the vac when you're away from home. With a model that does this task for you, you won't have this problem, resulting in a cleaner house.For more on the best robot vacuums 2023, read our enlightening article.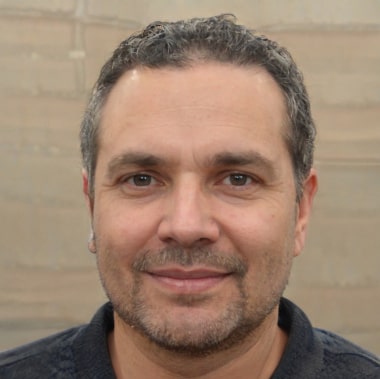 Author
Stephen A. Hancock received his M.S. in Mechanical Engineering (Robotics Track) from University of Utah in 2004. Since then, he's contributed to numerous articles and has been a consultant for many technical publications and websites.
Robot Tips & Tricks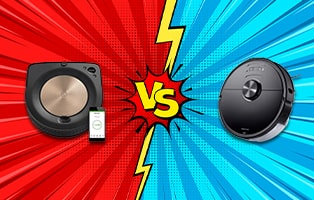 If you want to know which company wins the "Roomba vs. Roborock" battle, check out our article. You'll learn what makes each model exceptional, and things you'll need to know before buying.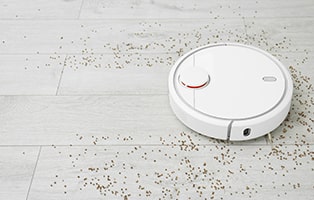 Robotic vacuum navigation systems include sensor mapping, camera mapping, gyroscopes, LiDAR, and SLAM. Read all about this technology in our informative article.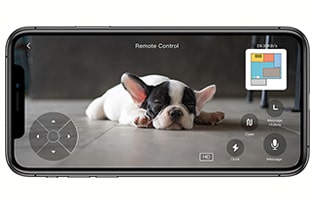 If you're worried that your robot vacuum is spying on you, you're not alone. Read our information-packed article to find out if it is, and what you can do about it.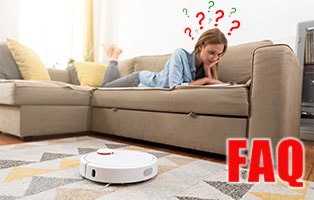 Robot Vacuum Cleaners are evolving at a rapid pace and have indeed become the new necessity for any modern household. Here's a breakdown on some of the most frequently asked questions about these devices