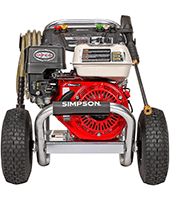 The Simpson Cleaning ALH3425 gas pressure washer is one of the finest pressure washers currently available, find out why in our comprehensive Cleanup Expert review.
We select, test, review and suggest the best products. We may earn a commission, if you buy something through our links.
The Simpson ALH325 is one of the finest gas-powered pressure washers available, from one of the most respected names in the world of outdoor power equipment. For over 50 years, Simpson Cleaning has developed some of the most impressive world-class consumer-grade pressure washers to hit the market, and the ALH3425 is no exception, perhaps being one of their exceptional units to date.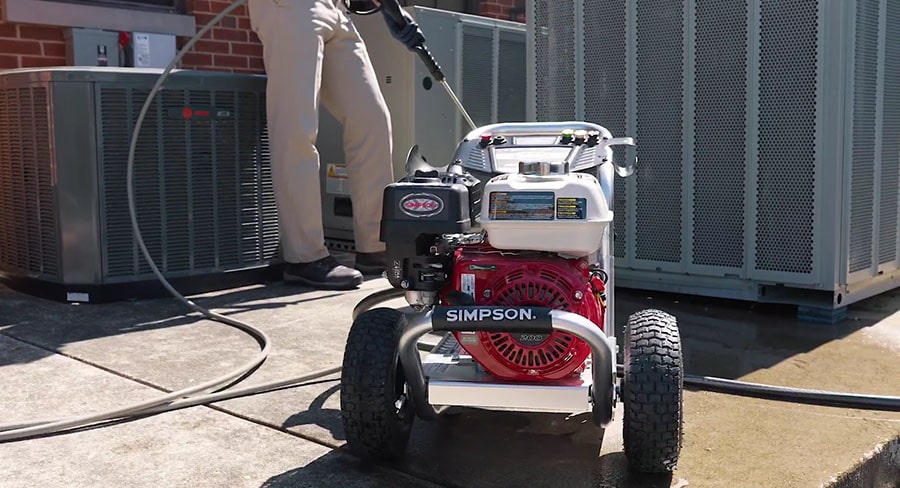 Simpson ALH342 – Powerful Pressure Washer
With a powerful Honda engine delivering peak performance, an industry-leading industrial pump producing incredible pressure, all delivered in a premium ultra-lightweight aircraft-grade aluminum frame, Simpson's latest offering is perhaps one of the most superior gas-powered pressure washers currently available. So what else makes the Simpson ALH3425 so unique? We'll cover the good, the bad, and everything in-between in our in-depth Cleanup Expert review.
Key Features
Powered by 4-Stroke Honda GX200 engine
Capable of producing up to 3600 PSI at 2.5 GPM
AAA industrial-grade triplex plunger pump
Aircraft-Grade aluminum frame with brushed extruded aluminum tubing
Ergonomically-designed sprayer offers long-lasting comfort and improved control
Powered By Honda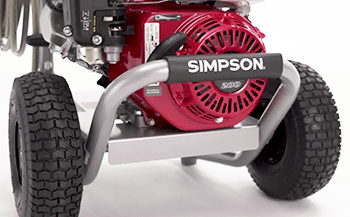 The Honda GX200 Engine behind the Simpson ALH3425 is capable of producing a mighty 3600 PSI of pressure flowing at a rate of 2.5 GPM, leading to an impressive CU score of 9000. This 4-stroke engine is utilized across a variety of industries and applications due to its reliability and performance, including agricultural, commercial gardening, and construction equipment.
With modern features such as Oil Alert, where sensors prevent engine seizures due to a low oil condition, the GX200 matches proven performance with advanced engineering. This proven powerhouse is the perfect pick for the Simpson ALH3425, producing unrivaled power and unmatched cleaning results and is backed by a 3-year limited warranty to ensure peace of mind.
AAA Industrial-Grade Triplex Plunger Pump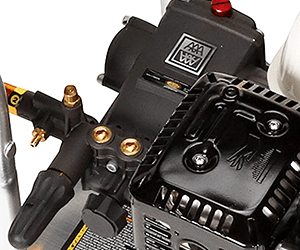 Another standout star of the Simpson ALH3425 is it's AAA industrial pump featuring a triplex plunger. These powerful pumps have been powering Simpson's pressure washers for well over a decade, and for good reason as well. These efficient pumps produce top performance, all while minimizing engine load.
Patented PowerBoost technology provides higher pressure at the spray nozzle, delivering enhanced cleaning capability. Premium ceramic pumps in brass housing ensure prolonged peak performance over the device's lifetime, and it is backed by a 5-year limited warranty for peace of mind.
The PROS

This compact yet powerful cleaner is capable of handling a wide variety of heavier-duty projects, offering commercial-grade performance out of a consumer-grade machine. It's capable of basic projects like removing grime buildup, to tougher tasks such as stripping paint or cleaning industrial equipment. While Simpson recommends this pressure washer for professionals, its relative ease-of-use makes it the perfect pick for handling those various cleaning projects around your home.
The ergonomically-designed spray gun feels great in your hands, especially during those bigger and longer jobs. However, taller users may want to opt for an extension wand for short-height projects to prevent hunching over. The ultra-lightweight aircraft-grade aluminum frame with brushed aluminum extruded tubing provides a premium build quality and reassuring durability to the device. The generous 35-foot MorFlex hose is kink and abrasion resistant, non-marring, and is equipped with M22 threaded fittings for rapid attachment.
The CONS

While compact machines are great for storage, the limitations of this design become obvious during use. The low handle on the pressure washer can make moving it around tedious, and taller users may need to hunch a bit just to reach it. Adding to the short-list of problems for the taller among us, users may want to consider the purchase of an extension wand to allow for more comfortable cleaning for ground-level jobs.
Some may find the convoluted warranty system confusing, as the device is protected by a series of warranties for individual components rather than an all-encompassing one for the entire machine. While convoluted, many of the elements of the machine are covered and protected. In some instances, such as the frame, they're covered for quite generous lengths of time as well.
What Do Customers Say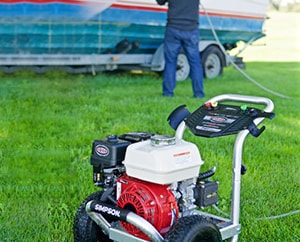 People love the power provided by the Simpson ALH3425, noting it's remarkable performance for a wide variety of home cleaning projects and tasks, even being capable of light-to-medium commercial cleaning.
The premium build quality of the machine itself is a welcome change to users who stated they were coming from electric pressure washers, as these are often largely built from plastic and can feel quite cheap as a result. Finally, many rave about the comfort provided by the ergonomically-designed sprayer, which allows ease of use for vastly extended periods of time compared to other consumer-focused units.
Some users have voiced concerns over receiving faulty devices that didn't work out of the box, or broke down after minimal use, although these same users commend Simpson's support for offering to repair or replace eligible items. In a similar vein, some users wish there was a comprehensive warranty that covered the entire machine itself, rather than a series of individual warranties for specific components.
What's Included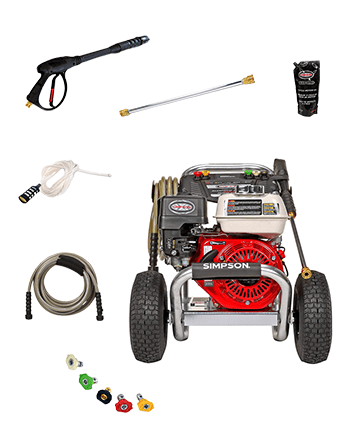 Simpson ALH3425 pressure washer
35-foot MorFlex hose with M22 threaded fittings
16-inch steel spray wand
Ergonomic spray gun
5 quick-connect nozzles
Detergent siphon tube with filter
Engine oil for initial usage
Quick-start setup guide
Comprehensive owner's manual
10-year limited frame warranty
5-year limited pump warranty
3-year limited engine warranty
90-day limited accessory warranty
Final Thoughts
As noted by Consumer Reports, gas-powered pressure washers offer improved performance and cleaning capability over their electric-driven counterparts. The ALH3425 by Simpson represents the pinnacle of consumer-grade pressure-washing performance, readily handling pretty much any residential cleaning project you can throw at it. Premium build quality backed by generous warranties and world-class customer service allow you to focus on cleaning and tackling those tough tasks, rather than worrying about repairs.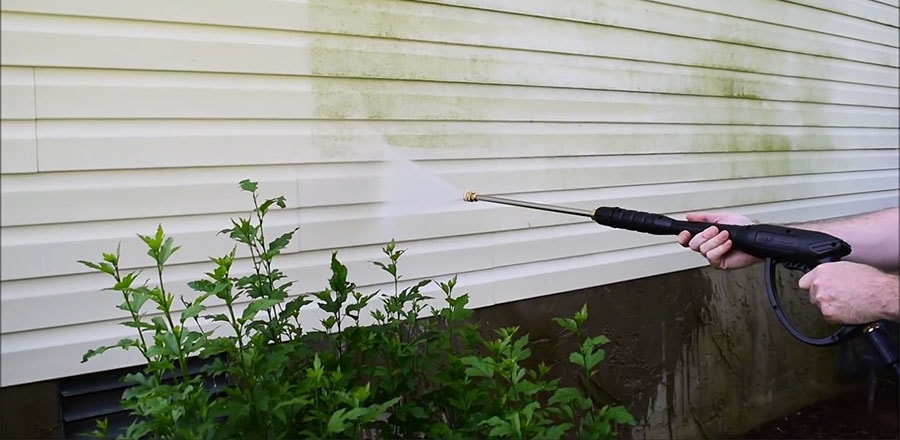 None match the performance or quality of the Simpson ALH3425
While there are more budget-friendly alternatives available, none match the performance or quality delivered by Simpson's premier offering. These machines have been trusted for over half a century thanks to their reliability and support, and will continue to be for many years to come.
For those looking for additional information and reviews on similar products, you can discover more here. As always, be sure to follow us on social media and check back often to stay up to date on the latest tips, advice, and reviews from the Cleanup Expert!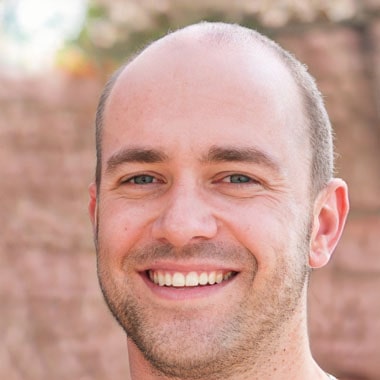 Author
Alex owns a home improvement and restoration company in Vancouver. He obtained his Bachelor's degree in Construction Management from Saskatchewan Polytechnic and is a NARI Certified Remodeler. His team does a wide range of home restoration products, both interior and exterior.
---
Pressure Washer Tips & Tricks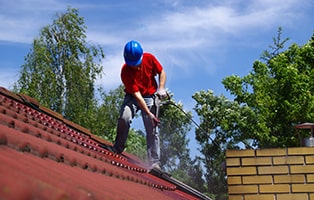 The leaves are starting to fall, and you may be thinking about power washing your gutters. Why? It's the perfect time of year to maintain those dirty drainage systems. The cool weather brings out dirt build-up, which can cause more problems.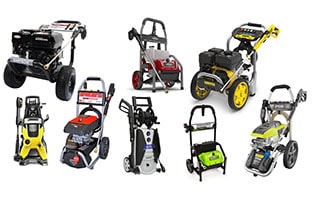 When it comes to cleaning grungy patio furniture, dirt-encrusted siding, and oily driveways, power washers are an indispensable tool. Read our article to find out which companies make the best ones.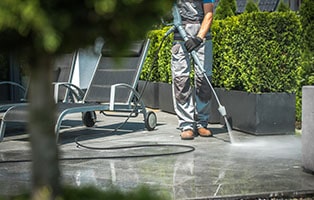 A pressure washer is a way to clean your patio that doesn't involve lots of strenuous scrubbing. Read about the 7 steps you'll need to follow if you want your patio cleaning to be a smash success.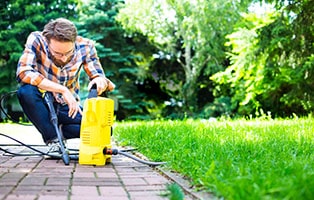 If your pressure washer is getting hot too frequently, this could be a sign that there's either something wrong with it, or you're doing something wrong. Read our article to diagnose these problems.